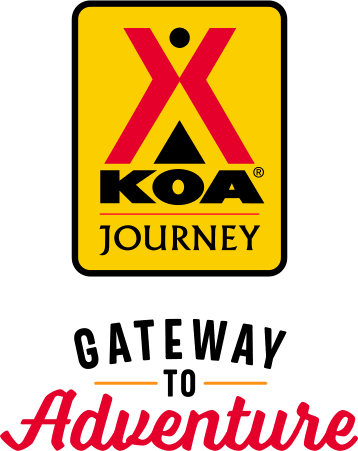 KOA Journey Campgrounds
KOA Journey campgrounds are the perfect oases after a day on the road. Whether it's along the way or a quick getaway, they've got you covered. Located near the highways and byways of North America with long Pull-thru RV Sites, they deliver convenience to the traveling camper. Pull in, ease back and take a load off.
KOA Journeys Feature:
Pull-through RV Sites with 50-amp service
Premium Tent Sites
Well lit after hours check-in service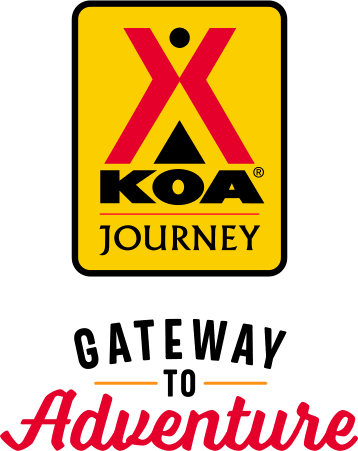 KOA Journey Campgrounds
KOA Journey campgrounds are the perfect oases after a day on the road. Whether it's along the way or a quick getaway, they've got you covered. Located near the highways and byways of North America with long Pull-thru RV Sites, they deliver convenience to the traveling camper. Pull in, ease back and take a load off.
KOA Journeys Feature:
Pull-through RV Sites with 50-amp service
Premium Tent Sites
Well lit after hours check-in service
Directions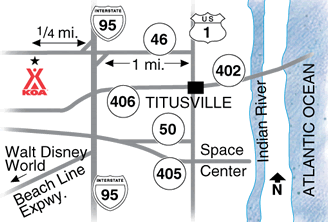 Take I-95 to Exit 223 (SR 46) west 1/4 mile (1 1/4 miles west of US 1).
GPS: N28.665884, W80.875371
Get Google Directions
Jun 29, 2020
Friendly staff. Very clean facility. Very quiet.
Jun 29, 2020
Wonderful stay !!!
Jun 18, 2020
The staff r wonderful and housekeeping did a awesome job to make us feel at home we will definitely be staying there again ...we also had a great with meeting new people any everyone at the park r wonderful thank you too All of you and doing 6 foot apart and keeping us feel safe !!
Jun 15, 2020
Had NO issues checking in and getting the key to the cabin. Staff friendly and the cabin was clean. This is my second time staying at KOA in Titusville/Kennedy Space Center and there has not been any issues. We will stay here again next year when we are in the area. Thank you for a great weekend.
Jun 15, 2020
We stayed in deluxe lodge cabin 1 and the BBQ and patio with seating by the side really made a difference. We enjoyed having friends next door who ate with us and the pool was a great size for the kids. We will definitely be back!
Jun 12, 2020
The staff was So friendly. The Kamping Kabin was so clean.
Jun 07, 2020
The place is quiet and ok if you want that. The cabin that we stayed at did not meet our standards. We have stayed in bettet KOAs before. Windows were filthy. Floor was dusty. Parking can use some gravel or rocks. Very muddy if rains. Small tree by steps can use some trimming. Large bed should be changed. People were nice.
Jun 01, 2020
Enjoyed our stay. We were kind of surprised by our full time neighbor across the street using the grill and picnic table on our site while we were in our cabin.
May 31, 2020
As always, the cabin was great, everything was clean & the staff super friendly! This is the 3rd time staying here & we can't wait to come back again!
May 31, 2020
Excellent price! Nice facilities!
May 28, 2020
The only thing that I did not like was the truck parked behind my cabin. Not sure who the owner was but it appeared they were working on it in the morning.
May 26, 2020
Love this place!!! Thats why we keep coming!
May 26, 2020
Clean cabin, accommodating staff and super friendly cleaning staff.
May 13, 2020
We had great relaxing expirence. We look forward to visiting again with family and friends. Enjoyed the cookouts in front of our cabin .staff was very friendly.
May 11, 2020
Well it's to small for big people n they need to clean better floors was super dirty need to pressure wash buildings didn't visit pool but looked nice from a distance
Apr 02, 2020
Good people, good location, happy with stay there. KOA had full time rv park attached to campground, makes it feel like your living in trailer park instead of on vacation, Wish koa would inform us of this type of setup on websites.
Mar 25, 2020
It was perfect for me and my little family to have a quiet get away !! We will definitely be back !!
Mar 21, 2020
Need new blinds and curtains in cottage 4. And a really good deep clean. The place was filthy.
Mar 20, 2020
We had to leave early because of the coronavirus. So I'm still waiting for a refund. Lady said she would email me with confirmation. But I still haven't gotten the email. Really poor customer service.
Mar 16, 2020
This KOA is excellent location; lots of destinations within 20-40 mins. The staff that we encountered was very pleasant and friendly. Overall, the deluxe cabin was worth the price because of location and amenities. The cabin could use a little TLC but worked for us. Many tall trees, lot of leaves and squirrels. Note: you are not able to have a campfire at the location. This was disappointing.
Mar 08, 2020
We booked the 4 person cabin with washroom and found that it suited our needs perfectly. The only reason that I would not give this KOA campground a 5-star rating is due to the extremely poor internet connection. Because of this we were unable to book our Seaworld tickets the day before we went and it cost us nearly $100 more than if we could have done the booking online - not pleased with this
Mar 04, 2020
We stayed in a 'deluxe cabin' w/ bunk beds and double bed, perfect for two adults. There was plenty of storage room under the bunk beds for storing suitcases, backpacks & laundry baskets. The kitchen was well equipped with mugs, dishes, silverware, pots and pans and a coffee maker. The refrigerator is small, but adequate. Campground is well maintained, staff friendly & helpful, we will go b
Mar 01, 2020
The cabin was rustic but functional. The main disappointment was not having wi-fi as was advertised. We will probably use up all our data allowance because it was not working the days we were there. Given the nightly rate we paid, wi-fi service should have been working.
Feb 25, 2020
Two room cabin was the only one available for my dates. Back room heater did not heat. Front room heater heated, but the electrical outlets did not work. Both heaters lacked control knobs. Only working electrical outlets were in back room. Gap around door let cold air in. Wifi did not work. No chair and no nightstand.
Feb 10, 2020
Easy check in and check out between office hours. Warm bath house. Great stay!
Feb 03, 2020
Although the staff was all very welcoming, the condition of our deluxe cabin was not what we were expecting. We understand that FL has extremely humid weather but there was the smell of mold in the cabin &signs of water damageThe cabin seem to have not been swept before our arrival therefore the floor was sandy&moist. The cabin had all the amenities promised but the smell and feel was off-putting.
Feb 03, 2020
Great Cabin, Cabin was clean and exactly as described! Plan on using again. The4 public facilities were clean as well and I commend teh staff on keeping them usable at any hour of the day!
Jan 20, 2020
It's was nice, staff was friendly. The only thing was the cottage wasn't very clean. Overall it was nice.
Jan 15, 2020
Staff was friendly. Grounds in dire need of tlc. Very run down and tired looking. Pool is advertised as heated, but it isn't. When I inquired I was told "well they told me it was". Store has no curb appeal.
Jan 02, 2020
Clean and very nice staff
Dec 30, 2019
Great cabin experience! Everything you need and more! Added bonus was a comfy bed too! Friendly front desk staff!
Dec 27, 2019
It's been better. Have stayed here numerous times. We noticed that it's a bit run down. Needs money and time put into it to return it to where it had been. Staff continues to be very professional, friendly, and welcoming. We've talked about not staying here next Christmas when we come to visit grandkids. Maybe a small motel.... unless it's upgraded. That'd be sad. I've loved this KOA.
Dec 23, 2019
Cabin was fine. However, the surrounding lots were filled with many abandoned RVs. The grounds themselves had no unique qualities to make me want to walk around and explore. Instead they had a couple streets where they crammed in campers next to a busy road.
Dec 21, 2019
The cabin I stayed in was cozy and clean. The kitchenette was well equipped for a small family on a short stay. Although, if you're a larger individual, like me, the doorway to the bathroom is tricky.
Dec 02, 2019
The staff was very nice, and the cabin was very cozy, it was a nice, and relaxing stay.
Nov 18, 2019
The cabin I rented as well as the restrooms were clean and well maintained. The facilities are due for some minor renovations, but the store itself was barren of goods and had lots of empty shelves.
Nov 12, 2019
The cabin was meticulously clean!! Everything was perfect. The water heater is tiny, however, if you plan ahead and have 15-20 min between showers, then four people can shower in the same morning. We stayed here for my Navy son's wedding at the Kennedy Space center and the cabin was the perfect choice. I will most definitely be staying here again.
Nov 11, 2019
Neighbor cabin had bed bugs. There was an aggressive and anti-social man in a trailer who yelled obscenities at our kids because they walked too close to the trailer. Bathrooms dirty - women's bins in the cubicle overflowing with used sanitary products.
Nov 04, 2019
The reservation process was outstanding. Tara was very accommodating in handling three reservation and last minute changes. Stay was great. The spots were perfect for our rv's.
Nov 04, 2019
Camper cabin was clean; restroom was close by. The cabin I was in was close to the entrance and right across from the dump station so it was very busy and noisy around the cabin. At night it quieted down. Beds were comfortable.
Nov 03, 2019
All Cabin could use pressure washing and varnish soon. Fire hose boxes & Grills need repaired. I saw window trim falling off #9 & #7 front door hinge is sprung. <- Rubbing floor. The Place was surprisingly Quiet & friendly. We seen No bugs, but way too many squirrels & stray cats. We did have a good time & may swing out to do it again...... Thank You.
Jun 29, 2020
I'm not KOA fan, but this campground really surprised me. Very nice and friendly staff, the paved sites are very nice and clean. It's close to highway but we didn't hear any traffic. Small but nice heated pool, playground for kids. The bath house could be updated but was fairly clean. Grill on site, no fire pit for paved sites which i didn't like. Overall nice campground for night or two.
- Kasia on Google
Jun 08, 2020
Great place to stay if you want to go to Dixie Crossroad Restaurant or to drive the Merritt Island Black Point Wildlife Drive. We saw alligators. Wild hogs. And lots of different birds. A couple of cars in front of us saw a bob cat.
- Glenda Luke on Google
May 31, 2020
This KOA is always clean, the rooms are nice & the staff is great! We've stayed here a few times & each time gets better! Can't wait to go back!
- Nicole Lowe on Google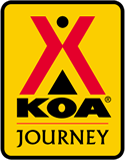 Titusville / Kennedy Space Center KOA
Open All Year
4513 West Main Street
Mims, FL 32754
Titusville / Kennedy Space Center KOA
Get Google Directions