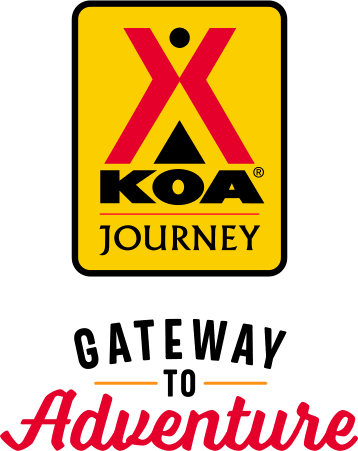 KOA Journey Campgrounds
KOA Journey campgrounds are the perfect oases after a day on the road. Whether it's along the way or a quick getaway, they've got you covered. Located near the highways and byways of North America with long Pull-thru RV Sites, they deliver convenience to the traveling camper. Pull in, ease back and take a load off.
KOA Journeys Feature:
Pull-through RV Sites with 50-amp service
Premium Tent Sites
Well lit after hours check-in service
Directions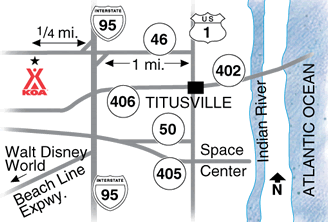 Take I-95 to Exit 223 (SR 46) west 1/4 mile (1 1/4 miles west of US 1).
GPS: N28.665884, W80.875371
Get Google Directions
Jul 27, 2021
We misunderstood what we needed to bring. We brought linen but had to go buy paper products.
Jul 25, 2021
Read the previous reviews. Our experience was Fantastic. Shared the Vacation Rental (2 Bdr) cabin. When shared it is $65.00 per nite!!! The cabin for the 4 of us was beyond any expectation. Comfortable pillow top mattress. The POOL was GREAT!!! Firepit-Grill- picnic bench very nice touch. Room for both cars right at the entrance of the Cabin. Campground store. Great. Staff campers friendly.
Jul 21, 2021
Very dissatisfied- law enforcement patrolling the grounds multiple times a day/ night?! Many shady permanent residents here. Main buildings in various stages of disrepair, old broken down trailers and campers stored throughout. Our cabin was dated and not cleaned to KOA standards. No planned activities for kids except the pool and playground (pool was clean and playground was ok). Will not return.
Jul 21, 2021
I liked this KOA because the people were very nice. I would recommend an a good cleaning and upgrade of the bathroom facility.
Jul 20, 2021
Nice to relax, friendly people. Will be back again.. Clean KOA.
Jul 20, 2021
The inside could have been a little cleaner especially with Covid but overall a great place to stay! Location of the cabin and quiet was the best!
Jul 12, 2021
First time staying in a cabin. We were pleasantly surprised as to the cleanliness of this cabin. The only negative was the mattress covers had torn sections which, although was workable under our sheets, was not appealing to see. The staff member who checked us in was very friendly and made us feel appreciated as valued guests. We will stay at this KOA. again in the future!
Jul 12, 2021
Loved! Loved! Loved! The cabin.
Jul 11, 2021
Really clean, super friendly staff, dog friendly. Perfect spot!
Jul 06, 2021
Great location right off I-95 and thirty minutes from Cocoa Beach. We stayed in one of the bigger cabins and it was as expected, clean and ready for us. The pool and playground were well kept as was the small store at the front. The staff was very welcoming and happy to answer any questions we had.
Jul 06, 2021
Good location for visiting Kennedy Space Center. The cabin we stayed in was pretty messy but ok.
Jul 05, 2021
The employees were all very nice and our cabin was awesome!
Jul 01, 2021
Very nice cabin. Staff was amazing. Keep up the good work we will be back i September
Jun 30, 2021
Rented a cabin which was nice as was the park itself. Person in the cabin next to us however had dogs, which barked so much we had to complain at the office. All cabins have a "no dog" sign, which apparently didn't apply to this individual. There was a dog leash on the front porch so it was obvious he had dogs. Other than the dog issue, the park and cabin were great and we had a good stay,
Jun 28, 2021
The staff was extremely friendly and knowledgeable on the area which we appreciated. The cabin was fun but we wished it had been cleaned better Overall a fun stay
Jun 25, 2021
Dirty cabins, shower curtain had numerous stains on it. Bathroom door wouldn't lock. Table was sticky and disgusting. Fridge was freezing all food items and wouldn't adjust when I set the new temp. Ants everywhere. Really debating if we ever stay at a KOA again.
Jun 17, 2021
It was awesome and affordable! I hope you make it so all over our USA! Ruby; one of your permanent residents, helped me find my registration papers and my cabin! Your personnel in Lake Charles, LA, was not friendly and did not offer any refunds as your other locations did!
Jun 15, 2021
I so enjoyed my stay! The natural setting was relaxing and I was sad to have to leave. I will be staying again when I get a chance. Everyone is so nice, I had a great experience.
Jun 12, 2021
The place and the cabin were fantastic, the big complaint was the cleaning and the beds.
Jun 02, 2021
Tara was at the front desk when we checked she is very friendly, I would recommend that campground needs to keep her on board. The cabin that we stayed in was one of the best I have ever rented. The campground it self was clean and quite at night. The playground is great for the kids and safe. The pool area was clean and pleasant to be at. I would recommend this campground to everyone.
Jun 01, 2021
Staff was friendly and check-in was a breeze. Cabin 10 was clean and sanitized. Restroom didn't look too bad but there was hot showers and toilets worked which was nice. Had a great time as always and looking forward to coming back to the KOA next year and stay for our annual fishing trip.
Jun 01, 2021
I stayed in cabin L3 with my two youngest grandchildren and my small dog. The cabin and campground were clean and the staff was friendly and helpful. I do wish there was at least one table within the swimming pool area that I could have sat with my dog (understanding that dogs IN the pool would be forbidden) but we made do as best we could.
Jun 01, 2021
First trip here without my RV I like this area. Took the Grandkids to "the cabin" we loved it!
Jun 01, 2021
Stay was excellent.staff was friendly.but one problem I think can't be rectified that is the position of the camp ground. True nature feel was missing there due to the position.
May 17, 2021
The place is nice but in my cabin only 1 light bulb was working in each room and it was very dark (cabin 7 ). The bathrooms were ok and I think I will feel more secure if they put a gate to enter the place.
May 10, 2021
First time staying at a KOA and definitely won't be our last. Actually we had soo much fun that it was just the start to something we look forward to doing much more often.
May 10, 2021
It was a nice Mother's Day get away
May 10, 2021
Very clean and cute cabins, enjoyed the stay.
May 01, 2021
Great cabin !
Apr 28, 2021
Filthy, poop clogged bathrooms, pool was closed, dump station was right in front of our cabin, grill was rotted away, and gross. We probably won't be staying there again.
Apr 26, 2021
Each time I've stayed in a lodge. Each time I have given the concierge a list of corrections required before the next occupant: items broken, malfunctioning, insuffient or filthy. The check-in desk employees are wonderfully accommodating and hospitable. And I'm sure it's difficult to get knowledgeable and responsible housekeeping staff. But that would be my only suggestion for improvement.
Apr 25, 2021
Cabin was nice. Campground could use a little better upkeep and such but the cabin itself was awesome.
Apr 19, 2021
Dirty cabin, camp needs many repairs. frdige was filthy, there was soap & toothpaste spit on mirrors & sink from previous guests. There were stains on the chair cushions & the sleep sofa mattress covered in dog hair, and stains. The pool was closed cause some kids broke the ladder. The ladder was already loose from the pool.If it had been repaired when it first came loose we could use the pool.
Apr 19, 2021
RENTED A CABIN IT WAS VERY NASTY, DIRTY, AND THE MOLD MUSTY SMELL WAS OVERWHELMING. FOR A PERSON WITH SEVERE ALLERGIES IT WAS A NIGHTMARE. I HAVE STAYED AT ALOT OF KOA'S AND I DO FOR THE REASON OF STANDARDS THEY ARE TO LIVE UP TO AND THIS WAS AN EYE OPENER TO FIND OUT THAT THERE ARE NO STANDARDS AT THIS LOCATION. I WOULD ALSO NOT BE VERY SUPRISED TO FIND OUT THERE ARE SEX OFFENDERS LIVING HERE
Apr 17, 2021
Our stay was amazing will do again for sure
Apr 13, 2021
Enjoyed the stay-clean cabin and efficient check in process
Apr 12, 2021
We had a great time with family but our cabin was filthy. It smelled like bleach was sprayed inside but everything was black with mold and dirt. I spent an hour wiping down kitchen so I felt safe putting something down. Dishes and utensils provided had food still on them. With COVID protocol this was unacceptable
Apr 12, 2021
Very clean, pleasant staff. Will stay here anytime we are in area.
Apr 10, 2021
Me and my kids loved the stay. It was quite and everyone was nice. We had such a great time and can't wait to go back again.
Apr 06, 2021
The heat didn't work and the internet wasn't connected. The cabin was not very clean either
Apr 03, 2021
Nice accommodations and outstanding staff working while we were there. Thank you...we shall return ����
Mar 26, 2021
Staff was helpful and very friendly. Enjoyed our stay again for the third time!
Mar 24, 2021
This is definitely the worst KOA I have stayed at. The cabins are lined right next to a highway and noisy. The campground is not up to KOA standards too close together. Roads super narrow. The bathrooms are a mess. The dump site is right next to 2 of the cabins.
Mar 22, 2021
I love there, I've been there 3 times, the only thing the cabins could use a little more cleaning , wipe mattresses and floors very dirt . So bring your stuff to clean a little before you go inside .
Mar 21, 2021
We had a nice time staying here. Thank you for what you provide.
Jul 20, 2021
Our sight had litter. Dog park was not good. Restrooms were clean and staff were friendly.
- Carol Steigerwalt on Google
Jul 19, 2021
This is a good KOA. I was a bit worried about some of the reviews, but the actual campsite that I stayed was nice (back-in deluxe if I'm not mistaken), leveled, paved. Charcoal BBQ grill was good and clean. I do believe that this campground needs some improvements, but overall, it is quite nice. Service at the reception was good too. Wifi was not working properly for me.
- Cszepak on Trip Advisor