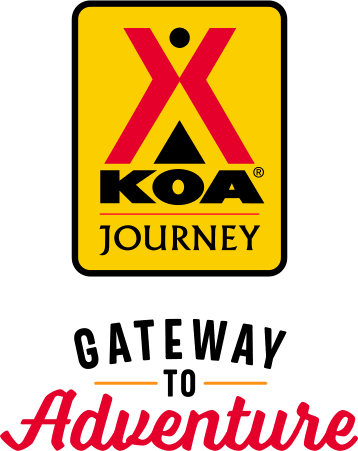 KOA Journey Campgrounds
KOA Journey campgrounds are the perfect oases after a day on the road. Whether it's along the way or a quick getaway, they've got you covered. Located near the highways and byways of North America with long Pull-thru RV Sites, they deliver convenience to the traveling camper. Pull in, ease back and take a load off.
KOA Journeys Feature:
Pull-through RV Sites with 50-amp service
Premium Tent Sites
Well lit after hours check-in service
Directions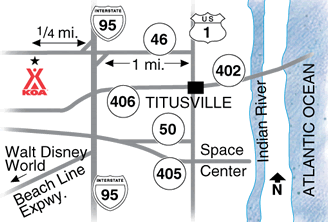 Take I-95 to Exit 223 (SR 46) west 1/4 mile (1 1/4 miles west of US 1).
GPS: N28.665884, W80.875371
Get Google Directions
Jun 25, 2021
Relaxing, quiet, clean, enjoyable
Jun 25, 2021
Needs updated. Store shelves low to empty. Clean bathrooms.
Jun 24, 2021
Very shady spot which was helpful considering the temps and humidity. Staff was very friendly and extremely helpful. We could not get the cable to work and a guy came right away and helped us with that and showed us how to get it to work. The bathrooms were very clean and very convenient to our site.
Jun 23, 2021
Beautiful trees Clean bathrooms Nice pool Close to things to do Only one negative: store needs to have more common needs in stock Otherwise, all was great!
Jun 23, 2021
I have stayed at this location several times and each time the staff was very helpful, friendly and professional! Would recommend this location to anyone!!
Jun 22, 2021
Staff was great. Pad was large and level. Roads are narrow, and in pretty bad shape, which made the ride to the site pretty hairy in our 40 foot do.
Jun 22, 2021
Workers friendly, check in was nice and easy. But the campground seemed a bit trashy. Looked like a bunch of campers have been there for years-folks living there for a long time. We can't recommend this place to anyone, it was also located in a trashy area of town and a bit further from the Kennedy Space center, Starbucks and Walmart than we care to be.
Jun 22, 2021
Love this KOA Park, Close to Space Center and Beaches. Also if you just want to stay and enjoy the tranquility of the Park.
Jun 21, 2021
Very nice place
Jun 20, 2021
Nice campground, friendly staff. Would stay again!
Jun 20, 2021
We had a great time. Our kids are older but your playground was one of the best. We would definitely recommend to people with young kids.
Jun 19, 2021
Staff was very nice. Although we were gone most days visiting the area, we enjoyed our time there and will return the next time we want to go to the Space Center.
Jun 17, 2021
Bathrooms were the cleanest I have seen in a campground. Staff was very friendly. The only thing I did not like was the website showed pull throughs on concrete the one I got was all dirt makes it hard to keep dirt out of the camper.
Jun 17, 2021
It was awesome and affordable! I hope you make it so all over our USA! Ruby; one of your permanent residents, helped me find my registration papers and my cabin! Your personnel in Lake Charles, LA, was not friendly and did not offer any refunds as your other locations did!
Jun 16, 2021
Loved the large pads
Jun 15, 2021
We had 2 patio sites for motorhomes reserved and 1 cabin for a 2 day family get together. The Patio sites not available. We received a partial credit. The cabin would be ready "around 1:00 or 2:00PM". It was ready at 5:00 pm. Information for the cabin was to bring linens. Kitchen had 1bowl, no coffee cups but other utensils. Departed after 1 day. Staff was friendly. Tight sites for slide-outs.
Jun 15, 2021
I so enjoyed my stay! The natural setting was relaxing and I was sad to have to leave. I will be staying again when I get a chance. Everyone is so nice, I had a great experience.
Jun 14, 2021
The site was large, with concrete pad and patio, hook ups were in great condition, refreshing salt water pool, friendly staff in the store and a very organized bingo on Saturday night. Bathrooms were clean. Playground was fun and shaded! We enjoyed our stay.
Jun 14, 2021
The landscaping is kept up terrible. The WiFi is not strong enough to run a streaming device The trees are super close to the road making maneuvers very difficult I will not be coming back to this location
Jun 14, 2021
Very nice area. Well kept and young lady in office, although new, was very courteous and informative. Only complaint would be pool cleanliness. Tons of bugs floating.
Jun 12, 2021
The place and the cabin were fantastic, the big complaint was the cleaning and the beds.
Jun 11, 2021
Our campsite was next to the private section and too much traffic of cars and children. Very dirty. Would not recommend to anyone due to this reason. Staff was not friendly at all. Glad we only stayed two nights.
Jun 11, 2021
I'm getting very frustrated with Koa I've been staying out the last year saying they have WiFi and it either doesn't work or works for a short time. Will we rethink booking at koas
Jun 11, 2021
We enjoyed your campground, especially the shade provided by the lovely trees. Thank you!
Jun 09, 2021
The staff was outstanding and so helpful. Quiet beautiful setting!
Jun 09, 2021
Very nice campground with clean bathrooms, pool, and great playground.
Jun 08, 2021
We have 2 small dogs and were given camp spot next to another camper with a cat which was on a leash outside. Our dogs starting barking ( of course) because of the outside cat. There was no way we could stay. Our dogs would never had been able to hang out next to a cat. We left and went to a pet friendly hotel. Very disappointed plus it cost us the camping spot which we had already paid for.
Jun 07, 2021
Facilities are in poor condition. The large 'private' campground connected to the KoA creates an unpleasant surrounding. The staff were pleasant and helpful, so Kudos to them! I didn't have reliable power the first evening and only after asking for the Owner to have it inspected was the post repaired. The owner offered no apology for the condition or follow-up.
Jun 07, 2021
Facilities need cosmetic updates. Otherwise everything okay.
Jun 02, 2021
Park was old Not very big rig friendly. Sites were very close together. I would say 60% or more of park was permanent sites that were ratty looking Staff was friendly
Jun 02, 2021
Dirty bathrooms. Women's did not appear to be cleaned on Saturday since I saw the same piece of cereal in same location Friday pm and Sunday morning. Too many residents. Spaces extremely small. Only perk was that staff in office was friendly.
Jun 02, 2021
Tara was at the front desk when we checked she is very friendly, I would recommend that campground needs to keep her on board. The cabin that we stayed in was one of the best I have ever rented. The campground it self was clean and quite at night. The playground is great for the kids and safe. The pool area was clean and pleasant to be at. I would recommend this campground to everyone.
Jun 02, 2021
We only stayed two nights, but the park was lovely. When we needed help it was there immediately. All amenities were well-kept. The grounds were well attended. The people and management were friendly and helpful.
Jun 01, 2021
Staff was friendly and check-in was a breeze. Cabin 10 was clean and sanitized. Restroom didn't look too bad but there was hot showers and toilets worked which was nice. Had a great time as always and looking forward to coming back to the KOA next year and stay for our annual fishing trip.
Jun 01, 2021
sp 19 | AAA+
Jun 01, 2021
Very nice place and the host was very nice people
Jun 01, 2021
I stayed in cabin L3 with my two youngest grandchildren and my small dog. The cabin and campground were clean and the staff was friendly and helpful. I do wish there was at least one table within the swimming pool area that I could have sat with my dog (understanding that dogs IN the pool would be forbidden) but we made do as best we could.
Jun 01, 2021
First trip here without my RV I like this area. Took the Grandkids to "the cabin" we loved it!
Jun 01, 2021
The staff is exceptionally friendly and helpful. The campsite was nice and plenty of trees for shade. We visited Kennedy Space Center so this location is convenient. We met a lot of wonderful people. The bathrooms were not as clean as they should have been would be my only negative.
Jul 20, 2021
Our sight had litter. Dog park was not good. Restrooms were clean and staff were friendly.
- Carol Steigerwalt on Google
Jul 19, 2021
This is a good KOA. I was a bit worried about some of the reviews, but the actual campsite that I stayed was nice (back-in deluxe if I'm not mistaken), leveled, paved. Charcoal BBQ grill was good and clean. I do believe that this campground needs some improvements, but overall, it is quite nice. Service at the reception was good too. Wifi was not working properly for me.
- Cszepak on Trip Advisor