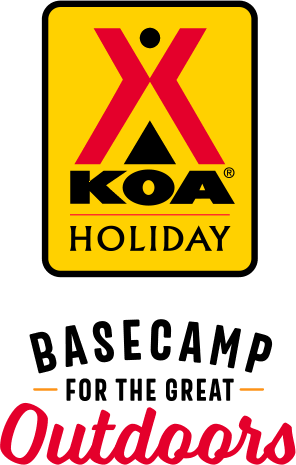 KOA Holiday Campgrounds
Whether you're exploring the local area or hanging out at the campground, KOA Holidays are an ideal place to relax and play. There's plenty to do, with amenities and services to make your stay memorable. Plus, you'll enjoy the outdoor experience with upgraded RV Sites with KOA Patio® and Deluxe Cabins with full baths for camping in comfort. Bring your family, bring your friends, or bring the whole group – there's plenty of ways to stay and explore.
KOA Holidays Feature:
RV Sites with a KOA Patio®
Deluxe Cabins with full baths
Premium Tent Sites
Group meeting facilities
Directions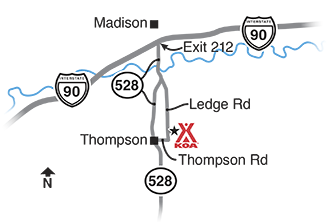 Located only 4 miles off Route 90 Exit 212/Route 528. Take 528 South 2 miles to Ledge Rd. Head east 2 miles; campground is on the left.  Road is dirt for about a mile.
If you would like to stay off dirt as much as possible.  Take 528 South past Ledge Rd.  Take the round about in the Thompson Square and head east on Thompson Rd.  Take a left on Ledge Rd. at the bottom of the hill.  You will still be on dirt but for a much shorter amount of time... less than 1/4 mile.
Get Google Directions
Sep 10, 2020
Excellent amenities. Clean. Excellent friendly service and maintenance.
Sep 10, 2020
The campground is so clean, peaceful and inviting. We absolutely love being there. So much to do for families. The farmhouse is amazing - highly recommend renting it at least once!
Sep 10, 2020
we stayed on site sp6 from Sept. 1 to Sept. 4. the site was beautiful, very well kept. had lovely flowers and a grill and darling setee. The staff are amazing, so friendly and helpful. gave us a list of things to do in the area, we did them-had so much fun. We had an incident with our refrigerator- the owner of the KOA told us where to get coolers for our food and had ice delivered to the site.
Sep 10, 2020
Good for kids
Sep 10, 2020
Always very clean and the staff are friendly and helpful. Enjoyed the pavilion on our site, what a special addition to the camp experience
Sep 09, 2020
This is one of our favorite KOA's. They are wonderful and always doing something to keep up and update the campground. They are super popular though so book your stay early.
Sep 09, 2020
By far our favorite campground! Super friendly staff and very clean facilities. A ton of activities and things to do, or as quiet and relaxing as you would like.
Sep 09, 2020
We had a great time. Everyone was so friendly and helpful. Will be staying more.
Sep 09, 2020
We had an unusual circumstance of selling our home quicker than we planned on. The owners were understanding of needing an extra day before Labor Day weekend campers. First, time at this KOA, staff is cordial and always willing to help you solve a problem. The owners are enlarging the campground but keeping the sites spacious and private. Will definitely stay again and recommend this KOA .
Sep 08, 2020
My only complaint is that there are many large dogs that spend a lot of time barking. The owners of them need to make more effort to keep them quite. They were barking continuously for at least ten minutes. I have a dog & when he barks we make sure it stops.
Sep 08, 2020
We love this campground and its owners. They work so hard to provide a wonderful place to camp. This is, by far, our favorite KOA! Once the get the WiFi issues worked out, it'll be even better. It's a problem they're aware of and are working on; not their fault.
Sep 08, 2020
Cabin was pretty clean overall. Top of microwave was pretty dusty and shelf in fridge had something brown and sticky on it so cleaned those things myself. The steps leading out of the cabin were kind of wobbly so we were very careful on those. Very slippery when wet. The mattresses were not to our taste but we realize that's personal preference. Lovely campground though, plenty to do.
Sep 08, 2020
The hosts were very nice and the facilities were very clean
Sep 07, 2020
We did not have a prior reservation, but were offered a tent site with water and electric at a very reasonable price. We were then upgraded to a rustic cabin for the same price. That was impressive. The campground was very clean and beautiful. The only fault I found was that we ordered firewood and it wasn't delivered, so we had to call again. When received, it was impossible to light the wood
Sep 07, 2020
It was perfect. My grandsons lived fishing in the lake. We will be back next summer and we will highly recommend this park.
Sep 07, 2020
The owners Cheryl and Don are very accommodating . Every season they update the sites and activities for children and adults . I love staying there !!
Sep 06, 2020
Best KOA we have stayed at! Personnel friendly and helpful, grounds so beautiful and well maintained. Campground kept immaculate from the camp sites to the BBQ's. I have never seen so many lush flowers! Restrooms neat and clean. I hated to leave.
Sep 05, 2020
Amazing customer service. Beautiful landscaping. I loved the little patio area outside the cabin.
Sep 05, 2020
I LOVE IT!!!!!
Sep 05, 2020
What a gem we found in the heart of Ohio wine country! Thank you for making our camping stay an incredible treat during these challenging vacation times of 2020. Every staff member was courteous and made us feel safe and welcome. Love the old west theme interspersed throughout! We'll be back soon. Keep up the great work!
Sep 05, 2020
From the staff to the amenities Thompson KOA is the best place around!
Sep 05, 2020
The grandkids had so much to do. Really enjoyed our stay even though it rained both days.
Sep 05, 2020
By far the best KOA we have ever stayed at. This beautiful park is very large and very clean. There is so much to do weather or not you have children or pets.
Sep 04, 2020
This koa is very clean and everyone is so nice
Sep 04, 2020
Stayed in the Farm House Cabin. Great location. Super comfy and clean. Everyone at was friendly and helpful. Will definitely be back. Thank You�
Sep 03, 2020
A beautiful campground - Don & Cheryl run the best KOA in the midwest
Sep 03, 2020
I grew up camping and have stayed at a few different campgrounds. This has to be one of the most family friendly campgrounds I've been to, my three daughters had a blast and were asking when we were going back as we were leaving. Thank you.
Sep 03, 2020
lovely campground and staff
Sep 03, 2020
Great facility with a lot of amenities and well designed with a large variety of campsites to choose from. It is immaculately maintained and the staff are friendly, knowledgeable and helpful.
Sep 01, 2020
Your KOA is very clean and the grounds are beautiful. The only criticism is the gravel pad. It was nowhere near level. In looking at all of the sites in the SP section, none of them appeared to be level. I would rate you a 10 and a 5 to the questions above if the sites were even close to level.
Sep 01, 2020
We loved staying here! Even with social distancing, this KOA had plenty of activities for the kids, and adults to do. We will definitely be back!
Sep 01, 2020
Awesome facility. Great amenities, super clean sites, staff prompt and friendly
Aug 31, 2020
As usual the staff is great they bend over backwards to make your stay as enjoyable as they can. The bubbles at the beach was fun and my husband and I just walked around in a dippin dots. We had no kids with us this time. We already booked a week for next year thank you staff you're amazing
Aug 31, 2020
Awesome place to go and have fun
Aug 31, 2020
we loved it there very clean and tons of stuff to do
Aug 31, 2020
My stay was incredible, I have no complaints at all. Very peaceful environment, clean facilities, clean cabin and grounds, friendly staff, everything was perfect.
Aug 31, 2020
Amazing stay as always! One of our favorite camping spots. Super friendly and helpful staff. Great pizza! Beautiful campsites! I want to live here!!!!
Aug 31, 2020
Very nice park. Probably one of the best loss we have stayed in. Will be happy to come back.
Aug 31, 2020
We stayed a weekend enjoyed the pool, lake and fishing lake. Nice, clean and fun atmosphere.
Aug 31, 2020
Our family loved your camp. Thank you! Our cabin was beautiful and the outside was too! Only downfall was there was tree down in water that made it hard to fish and the door to the room with the queen size bed would not shut.
Aug 31, 2020
An excellent campground with extremely nice sites. Lots of things to do.
Aug 31, 2020
Awesome park for families and dogs. Wonderful staff. We had a family emergency and they worked with us to extend our stay. Would definitely recommend and if in this area stay again
Nov 01, 2020
Amazing KOA. We have always had excellent and friendly staff. The camp ground is immaculate and the sites are perfect. We have stayed many times here and we have never had a bad experience. I stayed out there for a golf outing in the area I called ahead to drop off the camper many hours before check in. After the outing I came back to my camper placed on my site.
- Nick Occhionero on Google
Oct 20, 2020
We have stayed at many, many KOA's and this has to be one of our favorites! The grounds and facilities are immaculate. We were here for one night with our pups and stayed in one of the teepees (there are 3 of them) that are along the pond, what a view! Very spacious inside, nice to have a mini fridge and air conditioning. One thing to be aware of is that there is no latch for the entrance in to the teepee and the tarp that zips up (the front door) doesn't completely reach the ground so there is a gap. We were concerned about maybe critters getting in, which didn't happen. We did put all of our food in the car at night. Also concerned about the dogs maybe sneaking out so we placed our suitcase and cooler to block that area (worked out perfectly). We walked around the campground in the morning checking out the different accommodation options and Halloween decorations that alot of folks had put up, seems like there are quite a bit of permanent, semi-permanent sites here. Staff was super friendly, easy check in and check out process. It's nice that they are gated so you have to check in to gain access to the campground. The location is off the beaten path but just a short drive to some of the wineries in the area. We loved it and plan to go back next season!
- MelissaLasVegas on Trip Advisor
Oct 19, 2020
This KOA with a western country theme has it all for families and friends. Fishing, boat and cart rentals and so much more. Wish we had stayed longer. Very relaxing.
- Craig Stow on Google