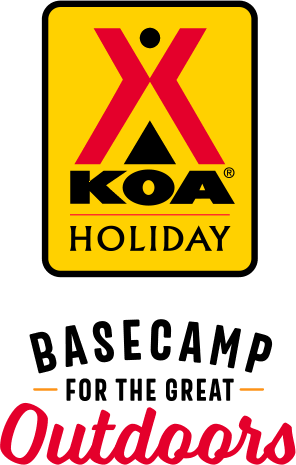 KOA Holiday Campgrounds
Whether you're exploring the local area or hanging out at the campground, KOA Holidays are an ideal place to relax and play. There's plenty to do, with amenities and services to make your stay memorable. Plus, you'll enjoy the outdoor experience with upgraded RV Sites with KOA Patio® and Deluxe Cabins with full baths for camping in comfort. Bring your family, bring your friends, or bring the whole group – there's plenty of ways to stay and explore.
KOA Holidays Feature:
RV Sites with a KOA Patio®
Deluxe Cabins with full baths
Premium Tent Sites
Group meeting facilities
Directions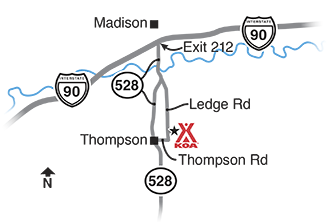 Located only 4 miles off Route 90 Exit 212/Route 528. Take 528 South 2 miles to Ledge Rd. Head east 2 miles; campground is on the left.  Road is dirt for about a mile.
If you would like to stay off dirt as much as possible.  Take 528 South past Ledge Rd.  Take the round about in the Thompson Square and head east on Thompson Rd.  Take a left on Ledge Rd. at the bottom of the hill.  You will still be on dirt but for a much shorter amount of time... less than 1/4 mile.
Get Google Directions
Aug 17, 2021
The roads could have been in better shape. Several pot holes. The wifi was pretty sketchy most of the time and no one let us know to use the 2K to start with which would have been useful to know. The staff was very friendly and went out of the way to be helpful. A shout out to Kenny who took care of us at the store and did a great job!
Aug 17, 2021
Didn't stay. Got there and there is zero cell service which is probably fine for some people. Looked nice but it was dark
Aug 16, 2021
Cabins were cleaner before and nicely made up. We had flies in our cabin. No garbage cans around camping area. Bathrooms by the pool were not cleaned well. I love this campground, must keep it up to par
Aug 16, 2021
Pool wasn't heated and lower playground is still not finished over a year later. Other than that, we had a great experience.
Aug 16, 2021
The buddy site is a great thing for companion camping. Our third camp companion was accomodated near us at short notice, THANK YOU! Cable service would be a plus. We had a great time!
Aug 16, 2021
Very nice. Reservations are made for next year.
Aug 16, 2021
This is not my fifth year in a row camping at this campground. For the past few years we have been able to look forward to something new being added for the guests. New owners = pool no longer heated, bathrooms by office were filthy, the roads are full of potholes, no beautiful landscaping, sites had to breathe such as mulch piles and broken tree limbs limiting your space. Hope they do better nxt
Aug 16, 2021
My family reunion has been here for years, alot of us rent cabins and tent sites. Once koa took over it seemed this place was adding something new every year.. after this year I'm very concerned. It seemed like it hasnt been upkept in the same way as prior years. The gravel roads were AWFUL. I hit a pothole and broke an led strip on my underbody. $50. Id write more but Im out of space to type.
Aug 16, 2021
So many fun things for the family to do. The campground is well maintained. The staff was friendly and helpful. Our family had a great stay.
Aug 16, 2021
Our 9 year old granddaughter loved the inflatables, kayak and circle boat in the pond and we all liked gem and fossil mining. The site was really nice and the store and the man working there was wonderful. Liked the heated pool and grand liked doing cannonballs.
Aug 16, 2021
We enjoyed our stay until a severe thunderstorm forced us to break camp a day early and soaked us in the process (not your fault...!). The staff was friendly, our site (P08) was level and quiet, with a little bit of mud from all the recent rain. We especially enjoyed the pool since the weather was so hot.
Aug 16, 2021
There was very limited food items in the store and they had nothing to make pizza's "because of the new manager".
Aug 16, 2021
always a great time, beautiful sites, pool , fishing pond. I will be booking here again for sure!
Aug 16, 2021
Bill was very helpful with us, he let us use a plug that we needed to get electric to our moterhome. Thanks Bill!!!
Aug 14, 2021
We had a nice time. Cabin was very cleaned and comfortable! We will back to stay!
Aug 14, 2021
Our camp site was ok. Too close to next campsite. The lake inflatables were fun, nice staff. The golf cart we rented for $53 kept dying and barely ran, very loud. Maintenance had to push it to the registration office because it completely died, and we only had it for one night. All registration said was, "yea, we know its an old cart". I felt I got ripped off on the golf cart rental.
Aug 13, 2021
Enjoyed my stay here. Lots of things to do. Staff very friendly. Clean and nice size lots. Already booked for next year!
Aug 13, 2021
K'Lora in the office was amazing !! I will be back.
Aug 13, 2021
Very clean quiet and nice pool
Aug 13, 2021
The facilities are so nice and clean. Everybody was very friendly even though the weather was less than stellar. And our dog loved having so many friends to play with, very dog friendly. We will definitely be back next year.
Aug 13, 2021
This campground is one of the nicest we've stayed at. Very friendly staff and lots to do for the kids.
Aug 13, 2021
Beautiful park, plan to go back next summer with the grandkids!!
Aug 13, 2021
Park was beautiful. Our site was new and not quite finished. Overall park was excellent. Nice people as well.
Aug 12, 2021
Great Camp Site! Well maintained and lots of shaded areas as we were there when it was super hot. Enjoyed the pool and the swimming pond. We will certainly be back
Aug 12, 2021
Great place! Loved the swimming hole!
Aug 12, 2021
We are bicycling across country this summer (Oregon to Maine). We've stayed at several KOA facilities along the way. I especially enjoyed the "off the beaten path" location of the GRV site. The balcony site with hookups was great. I'd definitely suggest booking one. The individual shower suites (3 to a building) were very well maintained. The laundry facility was one of the best we've se
Aug 11, 2021
The site they tried to put my 40ft 5th wheel in was not possible due to trees and rocks. The bathrooms were small and several were out of service. KOA just bought this site so I hope they fix some of the items that were broken. I am visiting family in the area and their aren't any better options yet.
Aug 11, 2021
The 11:00 quiet curfew is not being emphasized or monitored. Our neighbor was up and loud until 3:00 am. There were no scheduled activities for the kids like they've always had in the past which was a real bummer. The lake activities aren't being maintained and they're we're not improvements done to the playground that's been under construction for over a year.
Aug 10, 2021
Everything was wonderful, the grounds were very impressive. The only issues were the hornets around the bathrooms (multiple people got stung including myself), the staff did come and spray multiple times. My family always stays at KOAs and this was the best one yet! The young staff wasn't as friendly as most KOAS, but still professional . I would highly recommend this campground .
Aug 10, 2021
Very,very nice!!!
Aug 10, 2021
Clean tent sites, clean bathrooms, lots of activities. We had a great time!
Aug 10, 2021
It was a great trip! K in the office, she was amazing. Definitely will be back! :)
Aug 10, 2021
One night quick camping stay. lots to do around the area. The bathrooms were unkept but you are camping so that's expected. Stayed at a tent site. Pretty rocky area for your tent not much grass to set up on. However it was awesome they had covered areas over a picnic table for rain times at each camp site.
Aug 10, 2021
The stay was amazing. The only thing that would have been better would have been if there was enough staff to open their food place in the store at the front. (But we know it's been hard for companies to find help so this didn't effect our rating at all)
Aug 09, 2021
Great site for our dogs! Very friendly staff! Clean pool and even Adult swim time....already booked next year!
Aug 09, 2021
We loved the sits 7A and 7B. We have been coming to this KOA for the last several years. We do notice since corporate took over that some things aren't being addressed. The nature trails aren't being maintained. Aesthetically, there are alot of weeds and dead flower pots. The path around the lake near the gazebo isn't maintained. The neat stuff we liked about this KOA are being neglected.
Aug 09, 2021
Very nice and large campground. Lots of fun things for the kids to do. Very close to the area wineries. Site was decent, had a metal roof shelter over the picnic table which was nice. Overall we will stay here again
Aug 09, 2021
We had a comfortable and great stay. Staff was wonderful - no issues. The campground was clean, mowed and well kept. Very pleasant and good central location for all the activities we enjoyed in the area.
Aug 09, 2021
My friends and I have come to this campgrounds once a year for the last 23 years. The improvements every year are just phenomenal. As clean of a campgrounds as I have ever seen. The pool is great. I wish the pizza shop was open later than 6 p.m. Over all though, a terrific place to camp out.
Oct 12, 2021
We really enjoyed our stay here! Had a Deluxe Cabin for 2 nights and it had many amenities included which made our packing much easier. Amenities aren't listed clearly on website. (Bedding,Towels, dishcloths,cups, plates,bowls,silverware, microwave, small fridge, coffee maker, toaster,(nostove),propane grill(they furnish propane,) dish soap, garbage bags, toilet paper, etc. Great kids park with a huge bouncing pillow. Large dog park! Swimming pool, ponds, beautiful views and landscaping. If you're into Halloween this place fills up and most everyone decorates their places! I guess it is a big deal for all ages! (We stayed Sept. 29-Oct1)
- Sherry on Google
Sep 23, 2021
Nice place with lots of amenities.
- Matthew Ebert on Google
Sep 17, 2021
🌾 I love the folks KOA hires to run their campgrounds. The employees are always polite, always helpful, always happy and pleasant. For example, today K'Lora and Evan were working in the office. Not only were they Super wonderful when we checked in, they found my missing phone. And when I came to the office to see if it had been turned in, K'Lora said, " I'm so glad you came to get it; I noticed it only had 3% battery so we charged it in case someone called it". I mean, how considerate was that? 😊 Thompson KOA has worked To make improvements to the campground a little bit each year and it really is a special place to come. The lake is gorgeous. The pool is nice and well-kept. The grounds are always well kept and they try to make each campsite special in its own way for every visitor by adding something special to each site either for privacy or comfort.
- mary d on Google