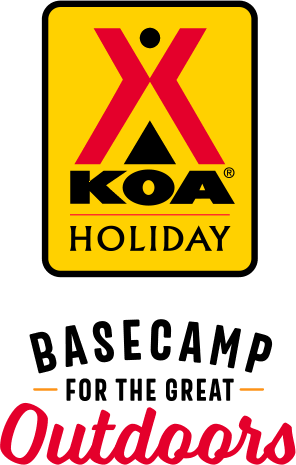 KOA Holiday Campgrounds
Whether you're exploring the local area or hanging out at the campground, KOA Holidays are an ideal place to relax and play. There's plenty to do, with amenities and services to make your stay memorable. Plus, you'll enjoy the outdoor experience with upgraded RV Sites with KOA Patio® and Deluxe Cabins with full baths for camping in comfort. Bring your family, bring your friends, or bring the whole group – there's plenty of ways to stay and explore.
KOA Holidays Feature:
RV Sites with a KOA Patio®
Deluxe Cabins with full baths
Premium Tent Sites
Group meeting facilities
Directions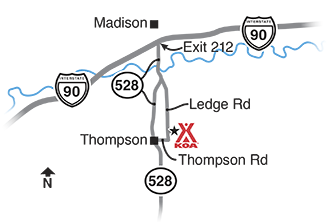 Located only 4 miles off Route 90 Exit 212/Route 528. Take 528 South 2 miles to Ledge Rd. Head east 2 miles; campground is on the left.  Road is dirt for about a mile.
If you would like to stay off dirt as much as possible.  Take 528 South past Ledge Rd.  Take the round about in the Thompson Square and head east on Thompson Rd.  Take a left on Ledge Rd. at the bottom of the hill.  You will still be on dirt but for a much shorter amount of time... less than 1/4 mile.
Get Google Directions
Aug 25, 2021
The stay was nice;we liked the campsite but there is no pool. If there was an actual swim beach as advertised no pool is ok. Although accurate, it is misleading. It is TINY and the # of geese makes it questionable as to the safety to be in the water. You are close to Breakwater Beach which is a big plus but we would warn anyone thinking about a stay to be aware. To be safe,one must leave to swim.
Aug 24, 2021
Our family had a great time. We had family and friends there this past weekend. A good time was had by all. The kids love the pool and pond, and hanging out by the campfire in the evening. We will be back.
Aug 24, 2021
very nice, great for families, clean, staff very pleasant and accomodating. Our only problem was that the sites were not level, had to put the motorhome on blocks, one site we couldnt even get level, 15 inches off, so had to move, we managed with the next site. the staff was great about having to move.
Aug 24, 2021
This campground was always a favorite of my wife and I. Unfortunately under new management our opinion has changed. All of the hard work the previous owners had done to make it great are being neglected. We have stayed here 4 times this year hoping things would improve. Unfortunately that is not the case. We normally would have already booked stays for next year but probably will not be back.
Aug 24, 2021
We stayed with friends - who had recommended this KOA. We spent time visiting the area as well as time at the campgrounds. We went swimming and took leisurely walks. Loved the uniqueness of all the areas at the KOA. Great for kids (none with us). The only thing that was disappointing, was that the restaurant wasn't open, but we understand that getting employees has been difficult everywhere.
Aug 23, 2021
Beautiful campground and very clean. Our cabin was so clean it was as if no one had ever stayed in it before. Only issue is lack of good cable tv for rainy days.
Aug 23, 2021
One of the nicest campgrounds we've ever been to. Going back next year!
Aug 23, 2021
Very happy. Loved the site!
Aug 23, 2021
We love the KOA Thompson! It's our favorite campground! The staff is tremendous and try to accommodate every request if possible.
Aug 23, 2021
Very nice staff and very clean campsite. Nice clean pool alittle chilly though. But one of the best camps around. Will return.
Aug 22, 2021
Great place to stay. Very clean. They even had a dog wash. Pool was nice.My grandson loved the pond with the water slide. Easy pull though sites.We will be back.
Aug 22, 2021
KOA sign routed us on 5 miles or so of washboarded dirt road, while a paved road with same timing was available. Not smart! Our site was in a mud hole ( granted it had rained, but still . . . ). The local water tasted like swimming pool water and undrinkable. Just not up to KOA standards.
Aug 21, 2021
The Thompson/Grand River Valley KOA is a great park. We have stayed here several times, but were a bit disappointed this time. The grounds were not nearly as well-kept as in our previous visits, and the store wasn't nearly as well-stocked either. We really like the FHU gazebo sites, but were disappointed that they were totally unlevel this time. Lots of small things that have been neglected.
Aug 21, 2021
We had a lovely full hookup camp site near the fishing pond. Great weather, bon fire. Great site!! A yappy yorky dog next door that owners apparently didn't hear?? But, we persevered through that �� We have a German Shepherd whom is well behaved and was not taunting yappy Yorky or even outside when YY barked. We hoped it would lose its voice!! �
Aug 20, 2021
Very nice campground. The girls in the office were friendly. The teepees were not set up, so our reservation was switched to a tent site, but we were notified ahead of time and were prepared. Beautiful scenery and lots for the kids to do on their own. Already booked a cabin on the fishing pond for next year
Aug 20, 2021
The pool was previously kept much warmer than 80. The pool needs to be warmer than it is currently kept. I have a medical condition where shocking cold water would do as it does everyone, raise your heart rate. For me this causes problems, where the previous temperature did not. Also the pond was not in as good shape for swimming as in the past. We of course had a great stay and the
Aug 20, 2021
The park is in great shape amenities were great. This is our second summer visiting this KOA, and we're looking to make it an annual thing. Met with and spoke to Glenn, the General Manager, and he clearly takes pride in the park. All the other staff were great. The pizza kitchen wasn't staffed during our trip, but I understand that's a circumstance of a labor shortage everyone is facing.
Aug 20, 2021
Great but roads need work. Too many holes and ruts
Aug 19, 2021
Everyone was so friendly and helpful. Restrooms were clean and the park was well maintained. Will be going backl
Aug 19, 2021
Kona Truck HOURS (Shaved Ice) were not the same as what was advertised (closed/packing up - when we went to get some). When discussed with Camp Store Staff - they just told us to call Corporate (with a smile). Swim Lake was disgusting, not clean/not blue, and the trampoline was out of commission. Swim Lake equipment is becoming scarce, missing paddle boards, paddles, kayaks and vests.
Aug 19, 2021
RV site, as well as overall site, was better than I expected (first time). Overall spacing between RVs was good, good spaces for kids and pets. Staff was friendly and helpful. Bathroom facilities were well maintained. Only suggestion I'd ask is parking site could be more level.
Aug 19, 2021
Beautiful grounds with level sites and lots of wonderful trees. Large open areas and plenty of activities for kids. Wonderful laundry room and friendly staff.
Aug 19, 2021
Love it here would highly recommend
Aug 18, 2021
So many amenities that used to be available just are not now. Many areas just not kept up as they were in previous years. Sad to say that this KOA is missing a large part of what made it great- the passion of the previous owners. Staff is still very nice.
Aug 18, 2021
Was great. But our neighbors brought 7 dogs which barked all day, was very unrelenting. A one dog limit would be great. Nice park, nice people. Nice amenities.
Aug 18, 2021
Very clean park and super friendly hosts. Nice to be escorted to our site.
Aug 18, 2021
This is a large and clean park with spacious sites and friendly staff. Lots of things to do. We would stay again.
Aug 18, 2021
Rain prohibited us from fully utilizing amenities
Aug 17, 2021
One of sites booked last year was in the wrong area, but was straightened out. Hopefully the ones booked for next year are ok.
Aug 17, 2021
The roads could have been in better shape. Several pot holes. The wifi was pretty sketchy most of the time and no one let us know to use the 2K to start with which would have been useful to know. The staff was very friendly and went out of the way to be helpful. A shout out to Kenny who took care of us at the store and did a great job!
Aug 17, 2021
Didn't stay. Got there and there is zero cell service which is probably fine for some people. Looked nice but it was dark
Aug 16, 2021
Cabins were cleaner before and nicely made up. We had flies in our cabin. No garbage cans around camping area. Bathrooms by the pool were not cleaned well. I love this campground, must keep it up to par
Aug 16, 2021
Pool wasn't heated and lower playground is still not finished over a year later. Other than that, we had a great experience.
Aug 16, 2021
The buddy site is a great thing for companion camping. Our third camp companion was accomodated near us at short notice, THANK YOU! Cable service would be a plus. We had a great time!
Aug 16, 2021
Very nice. Reservations are made for next year.
Oct 12, 2021
We really enjoyed our stay here! Had a Deluxe Cabin for 2 nights and it had many amenities included which made our packing much easier. Amenities aren't listed clearly on website. (Bedding,Towels, dishcloths,cups, plates,bowls,silverware, microwave, small fridge, coffee maker, toaster,(nostove),propane grill(they furnish propane,) dish soap, garbage bags, toilet paper, etc. Great kids park with a huge bouncing pillow. Large dog park! Swimming pool, ponds, beautiful views and landscaping. If you're into Halloween this place fills up and most everyone decorates their places! I guess it is a big deal for all ages! (We stayed Sept. 29-Oct1)
- Sherry on Google
Sep 23, 2021
Nice place with lots of amenities.
- Matthew Ebert on Google
Sep 17, 2021
🌾 I love the folks KOA hires to run their campgrounds. The employees are always polite, always helpful, always happy and pleasant. For example, today K'Lora and Evan were working in the office. Not only were they Super wonderful when we checked in, they found my missing phone. And when I came to the office to see if it had been turned in, K'Lora said, " I'm so glad you came to get it; I noticed it only had 3% battery so we charged it in case someone called it". I mean, how considerate was that? 😊 Thompson KOA has worked To make improvements to the campground a little bit each year and it really is a special place to come. The lake is gorgeous. The pool is nice and well-kept. The grounds are always well kept and they try to make each campsite special in its own way for every visitor by adding something special to each site either for privacy or comfort.
- mary d on Google