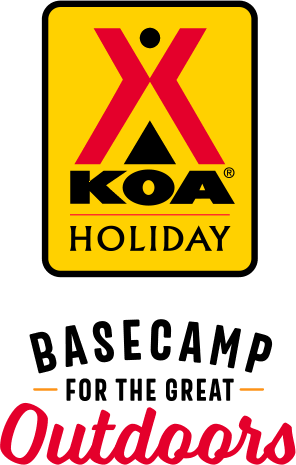 KOA Holiday Campgrounds
Whether you're exploring the local area or hanging out at the campground, KOA Holidays are an ideal place to relax and play. There's plenty to do, with amenities and services to make your stay memorable. Plus, you'll enjoy the outdoor experience with upgraded RV Sites with KOA Patio® and Deluxe Cabins with full baths for camping in comfort. Bring your family, bring your friends, or bring the whole group – there's plenty of ways to stay and explore.
KOA Holidays Feature:
RV Sites with a KOA Patio®
Deluxe Cabins with full baths
Premium Tent Sites
Group meeting facilities
Directions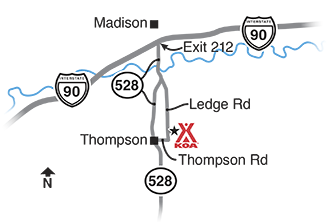 Located only 4 miles off Route 90 Exit 212/Route 528. Take 528 South 2 miles to Ledge Rd. Head east 2 miles; campground is on the left.  Road is dirt for about a mile.
If you would like to stay off dirt as much as possible.  Take 528 South past Ledge Rd.  Take the round about in the Thompson Square and head east on Thompson Rd.  Take a left on Ledge Rd. at the bottom of the hill.  You will still be on dirt but for a much shorter amount of time... less than 1/4 mile.
Get Google Directions
Sep 22, 2020
This is one of our favorite KOA's. Stayed in the TeePee this time and it was awesome waking up and being right so close to the water, so peaceful. We had TeePee #3; on the end which was awesome. We esp. appreciate the fire pit rack so we could cook with our iron skillets. It was so spacious, lots of room to spread out and play board games on the big run in the middle. Great experience!
Sep 22, 2020
Absolutely the most funniest and relaxing camp ground around. Clean and well sanitized
Sep 22, 2020
Everyone was very helpful, our sight was wonderful and very clean.we had a fantastic week and we are definitely coming back!!!
Sep 22, 2020
The cabin we stayed in was spotless and very comfortable! Will be booking again!!
Sep 20, 2020
Have stayed multiple times. Always a wonderful experience.
Sep 20, 2020
Nice facility with lots to do. While we had a large spacious lot, unfortunately we were next to a permanent lot that was loud the entire holiday weekend. Three generations of family and six dogs on one site continuously barking.
Sep 20, 2020
Perfect accommodations. I enjoyed the glider on the front porch of Cabin 7. The beautiful illustrated stamped patio, ready to go with fuel and the foil with air hole on the grill. Cutest little square fire pit. I truly liked the 4-chair, high top table and the additional wooden picnic table complete with umbrella. The inside of Cabin 7 was perfect. Made already my reservations for 2021.
Sep 20, 2020
My 5 yr. old grandson and I stayed in a teepee. I loved how roomy it was. He loved everything about it and cried when I took him home the next day because he wanted to stay. Playground and jumping pillow are awesome! Can't wait to come back in warmer weather to enjoy the water activities. PLEASE DON'T GET RID OF THE TEEPEES! �� Thank you for a great stay! �
Sep 19, 2020
Very nice campground, very well maintained .employees was very friendly
Sep 19, 2020
Not happy with sharing a pull through site but that was our first time sharing a site not again otherwise the campground was great �
CAMPGROUND RESPONSE / COMMENTS:
That is what you booked. We do not book someone in a buddy site without them knowing or asking for a buddy site.
Sep 18, 2020
Very clean and the staff was great. Nice couple of days for a get a way.
Sep 17, 2020
Thompson KOA was great. A little disappointed by the poison ivy on the trees just outside our cabin by the pond. Our kids are little so it was a constant concern. Also, the trees around the fishing pond need to pruned. We lost countless hooks and bobbers to the branches. The flys around the cabin were really bad, but I understand that's not something you can always control. Otherwise lovely!
Sep 17, 2020
Best Campground in Ohio!!! The owners couldn't have been any nicer! Great job! See you next year!
Sep 17, 2020
Great Thank you
Sep 15, 2020
I can never say enough about the owners and staff. You can't help but feel like family! As for the grounds, it just keeps getting better! We are so looking forward to living here as full-timers!
Sep 15, 2020
We LOVE this KOA!! By far one of the best campgrounds out there. The people who run it are super friendly. We've made friends with yearly campers there. Love it and we tell all our friends!
Sep 15, 2020
We love going to Grand River KOA a couple of times a year. We highly recommend it. The KOA is very quaint. The owners go out of their way to think of everything to make their guests comfortable. They just built a great play ground in the area by the overnight campers. Love it here!
Sep 15, 2020
Came in for the weekend. 2 birthday parties. Lots for the kids to do. Cabins were clean. Plenty of parking and space, even with a lot of campers. Paths were clear for walking, driving, & riding. People were friendly. Highly recommend.
Sep 15, 2020
Great as always, see you in October.
Sep 15, 2020
We had a great time, the cabin was very neat and clean. We love the view of the pond and all the outdoor furniture. Having a propane grill is also great to have!
Sep 15, 2020
I can't say enough this place is a beautiful park ! awesome atmosphere and people . We will be back for years to come
Sep 15, 2020
We love it at the Thompson/ Grand River Valley KOA! Clean facilities! Family friendly and so much to do!! We can't wait to come back!!
Sep 15, 2020
The Thompson KOA is what we call the child's paradise! There is so much to do and keep them busy, our kids just love it!
Sep 15, 2020
Really liked the site we were in. had brother in law visit and all of us are planning on coming back next year.
Sep 15, 2020
Love it here!
Sep 15, 2020
Amazing time, yet again. Thank you for giving my family another fun weekend!
Sep 15, 2020
nicest camp ground we have ever been to by far !!!!! we are full time R/Vers and have been to many camp grounds beautiful and large sites even had a dog beach and swim area wonderful place !!!!!!!!!!!
Sep 15, 2020
As always a great stay. The best campground in the area by far. This was our 3rd this year and have one more weekend planned.
Sep 15, 2020
Loves this campground! So much to do for the kids, even Dad joined in on the jumping! Our site was spacious and very clean. We will be back! Lake was the best part! Kids had so much fun on the inflatables.
Sep 15, 2020
Great KOA, will definitely stay again!
Sep 14, 2020
We stayed in deluxe cabin first night and rustic for 2 nights, very quiet and comfortable, . Would do it again���
Sep 12, 2020
Very nice campground!! The bathrooms need some updating. Doors are way to close to the toilet. Had an issue with a barking hippy dog one morning, but the staff took care of the matter right away and no more issues.
Sep 12, 2020
Very nice and clean campgrounds with tons to do for kids and fur babies.Prices are good for what you're getting and the staff is absolutely fantastic!!
Sep 12, 2020
We only stayed one night, but after arriving, we knew we wanted to come back and spend more time here!
Sep 11, 2020
Fantastic as always, we like the new sites in the back as they are very quiet. Keep up the good work!
Sep 11, 2020
Bathrooms and dishwashing stations are always clean. The kids always have something fun to do. Play ground to jumping pillow , fishing, swim lake. The grandkids learned how to paddle board this year. You cant go wrong with a heated pool. The best part is the staff. Always friendly and helpful. I have enjoyed talking to many of the staff this year.
Sep 11, 2020
It's a great place clean, friendly. The young lady checking us in so very pleasant. Clean cabin and campground. Enjoyed our stay!
Sep 11, 2020
I asked for 50 amp service and was guided to 30 amp site.
CAMPGROUND RESPONSE / COMMENTS:
Your site was 50 and 30 amp site.
Sep 10, 2020
Always a great time. The staff here is amazing!
Sep 10, 2020
Great campground. Lots of site options, wonderful pool and swimming lake. Very nice staff! Can't wait to go back.
Nov 01, 2020
Amazing KOA. We have always had excellent and friendly staff. The camp ground is immaculate and the sites are perfect. We have stayed many times here and we have never had a bad experience. I stayed out there for a golf outing in the area I called ahead to drop off the camper many hours before check in. After the outing I came back to my camper placed on my site.
- Nick Occhionero on Google
Oct 20, 2020
We have stayed at many, many KOA's and this has to be one of our favorites! The grounds and facilities are immaculate. We were here for one night with our pups and stayed in one of the teepees (there are 3 of them) that are along the pond, what a view! Very spacious inside, nice to have a mini fridge and air conditioning. One thing to be aware of is that there is no latch for the entrance in to the teepee and the tarp that zips up (the front door) doesn't completely reach the ground so there is a gap. We were concerned about maybe critters getting in, which didn't happen. We did put all of our food in the car at night. Also concerned about the dogs maybe sneaking out so we placed our suitcase and cooler to block that area (worked out perfectly). We walked around the campground in the morning checking out the different accommodation options and Halloween decorations that alot of folks had put up, seems like there are quite a bit of permanent, semi-permanent sites here. Staff was super friendly, easy check in and check out process. It's nice that they are gated so you have to check in to gain access to the campground. The location is off the beaten path but just a short drive to some of the wineries in the area. We loved it and plan to go back next season!
- MelissaLasVegas on Trip Advisor
Oct 19, 2020
This KOA with a western country theme has it all for families and friends. Fishing, boat and cart rentals and so much more. Wish we had stayed longer. Very relaxing.
- Craig Stow on Google