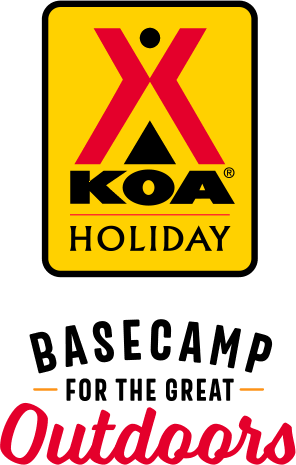 KOA Holiday Campgrounds
Whether you're exploring the local area or hanging out at the campground, KOA Holidays are an ideal place to relax and play. There's plenty to do, with amenities and services to make your stay memorable. Plus, you'll enjoy the outdoor experience with upgraded RV Sites with KOA Patio® and Deluxe Cabins with full baths for camping in comfort. Bring your family, bring your friends, or bring the whole group – there's plenty of ways to stay and explore.
KOA Holidays Feature:
RV Sites with a KOA Patio®
Deluxe Cabins with full baths
Premium Tent Sites
Group meeting facilities
Directions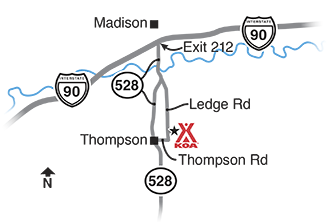 Located only 4 miles off Route 90 Exit 212/Route 528. Take 528 South 2 miles to Ledge Rd. Head east 2 miles; campground is on the left.  Road is dirt for about a mile.
If you would like to stay off dirt as much as possible.  Take 528 South past Ledge Rd.  Take the round about in the Thompson Square and head east on Thompson Rd.  Take a left on Ledge Rd. at the bottom of the hill.  You will still be on dirt but for a much shorter amount of time... less than 1/4 mile.
Get Google Directions
Sep 27, 2021
Site looked unmowed, no food or ice cream (there was a sign for Hershery's) and since you can fish in the pond there should be bait available but there wasn't. Lots of empty sites, but people we knew called for the weekend and were told they were all booked. New management seems like they may be in over their heads. Too bad.
Sep 27, 2021
We generally like this campground and book our stays well in advance to ensure a good spot...our last stay was nothing short of a disaster. It was three campsites that were booked in MAY for a SEPTEMBER stay. WE SPECIFICALLY booked buddy sites in May when we reserved for the weeked and they changed our spots without any good reason. Complete disreguard for customer satisfaction. Complete crap!
Sep 26, 2021
We only did an overnight stay but it was just what we needed. We had a pull thru site so that we didn't have to unhook. The site was easy to pull into and very level. All the hookups were just where we needed them. Very quiet and plenty of room between sites. Traveling in a 34ft travel trailer
Sep 25, 2021
We stayed one nite. The dog park was clean and our dog enjoyed the tunnel, would like to see a few more obstacles. The bathhouse was clean and user friendly. Halloween decorations and gardens simply beautiful. Wish we could have stayed another day. Staff friendly and attentive to campers needs. Site level�
Sep 25, 2021
Was mad that I was so far in the back p5. I was ok but they could of put me closer to bathroom. When I made my reservation was told that was the only spot. This clearly was not the case. All of p and t spots were open. Many in the front near the playground. I was isolated. Then the price was supposed to be prorated. I was not able to come in one day. The charge was the same. Getting frustrated.
Sep 25, 2021
Best KOA experience thus far - excellent campground.
Sep 24, 2021
Very clean, beautiful campground. The staff was very friendly and the checkin process was a breeze. Will definitely be back !
Sep 23, 2021
Probably the nicest campground that we have stayed at…
Sep 23, 2021
Loved it. so much to do want to come back
Sep 22, 2021
Above average campground
Sep 22, 2021
Just had a good weekend with the kids and grandkids
Sep 22, 2021
Excellent site. Beautiful location. We love this KOA. Will definitely be back. Our fur buddy is so happy when we stay here!
Sep 21, 2021
great activities nice facility staff is very helpful and nice
Sep 21, 2021
Traveling through on way to Maine. Office help friendly and helpful. Asked to move from reservation site due to distance to sewer connection. Office was accommodating and helpful. Sites are a little unlevel, but it's a beautiful campground. We'll stay again.
Sep 21, 2021
Nice campground, was very disappointed in how much noise and partying that was going on until 2am. No quite time enforcement
Sep 20, 2021
Site S2 if the wind is blowing out of the south big smell of the garbage dumpsters. Next was a smell coming from around OR under the patio of something that died LOTS of flies in and around the patio area. One of the sewer pipes is to high out of the ground if you use it you have to jack up your sewer hose to get it to drain.On the good side of things weather was hot and the pool was still open.
Sep 20, 2021
Our site was nice, but the timbers surrounding the site seemed dangerous at night, easy to stumble on. Was disappointed that the rest rooms below the F row still isn't working, it's been that way for over a year. The young lady at the desk was very cordial, and helpful. The band that played was awesome and we were glad we made it down to see them. ...we'd like to see Ledge road completely p
Sep 20, 2021
Checking in was easy. Our site was clean. The nearby bathrooms were clean. The park had many amenities. We were pleasantly surprised to find the pool still open in mid September. The free high speed internet was wonderful. We have no complaints.
Sep 20, 2021
Rented a buddy site with friends. Family visited. So perfect !
Sep 20, 2021
My kids had a blast. Very clean family friendly place.
Sep 20, 2021
We love the campground
Sep 20, 2021
Overnight stay. Good staff and good facilities.
Sep 20, 2021
This was our first time staying at KOA. For those with an RV I feel the 11am check out time is a bit early. We tried to partake in the live music. We got up to the club house at 8 and they were on break. We finally left around 8:45 since no music has resumed. Band started at 7. Thought that was a long break. Otherwise it was a nice weekend "away."
Sep 19, 2021
We like to stay here near fall, we tried a site with the double deck it was nice but our favorite site is still Lakeside 2. The ice cream was delish at the store. I forgot about the tie dye event, maybe next time. We were disappointed the Tipi's were gone as we planned on having friends who don't camp come stay in them and they were very excited about the uniqueness of those accommodations.
Sep 18, 2021
Nice park with plenty to do.
Sep 18, 2021
Awesome place
Sep 18, 2021
Beautiful sprawling grounds, well maintained. Loved the raised decks and the view they provided.
Sep 17, 2021
We enjoyed our short stay, everyone was very helpful and accommodating. The grounds are very well maintained, you have lots of choices of stay selections… we want to check out the patio site next visit �
Sep 16, 2021
We stayed one night n the rain, but it was an excellent location and park! Signage was confusing and dirt roads possible! But park was superb!
Sep 15, 2021
All positive. Great staff. Returning next year. Delicious ice cream.
Sep 15, 2021
Our stay was fantastic! We took a cross country trip and stayed here twice. It was by far the best park we stayed at the entire trip! Very clean very quiet and the staff was extremely friendly and helpful. Highly recommend this park!
Sep 14, 2021
We really enjoyed the great landscape, beautiful trees and lakes and hiking trails. Great RV site also with plenty of room!
Sep 14, 2021
This is our favorite KOA. It is beautiful, clean and well managed. We wish some of the amenities the former owners offered were still available, including the tractor/train ride for the kids, and the pizza. I hope the lack is simply due to staffing shortages, and that they will be back.
Sep 13, 2021
I really enjoyed my cabin! Cabin CA4 only thing wrong was the TV wouldn't give me more then 5 channels, wouldn't connect etc, otherwise it was great!!!
Sep 13, 2021
Loud and inappropriate music from the tent camping area Friday night. Then again Saturday afternoon and evening. It appeared the site was not limited to 6 people. Numerous attempts to contact the office, "saying they were aware and will look into it", but nothing. Turned the weekend from enjoyable to very stressful. Would not recommend going back here.
Sep 13, 2021
Very nice campground with plenty of ammenaties.
Sep 13, 2021
Little concerned about the number of people allowed to be on the sites. This has changed since the ownership changed.
Sep 13, 2021
We had a great stay, people are friendly and the cabin was well kept. We love the patio furniture and fire pit is awesome, it really cranks out the heat. This Koa is a very nice place!!
Oct 12, 2021
We really enjoyed our stay here! Had a Deluxe Cabin for 2 nights and it had many amenities included which made our packing much easier. Amenities aren't listed clearly on website. (Bedding,Towels, dishcloths,cups, plates,bowls,silverware, microwave, small fridge, coffee maker, toaster,(nostove),propane grill(they furnish propane,) dish soap, garbage bags, toilet paper, etc. Great kids park with a huge bouncing pillow. Large dog park! Swimming pool, ponds, beautiful views and landscaping. If you're into Halloween this place fills up and most everyone decorates their places! I guess it is a big deal for all ages! (We stayed Sept. 29-Oct1)
- Sherry on Google
Sep 23, 2021
Nice place with lots of amenities.
- Matthew Ebert on Google
Sep 17, 2021
🌾 I love the folks KOA hires to run their campgrounds. The employees are always polite, always helpful, always happy and pleasant. For example, today K'Lora and Evan were working in the office. Not only were they Super wonderful when we checked in, they found my missing phone. And when I came to the office to see if it had been turned in, K'Lora said, " I'm so glad you came to get it; I noticed it only had 3% battery so we charged it in case someone called it". I mean, how considerate was that? 😊 Thompson KOA has worked To make improvements to the campground a little bit each year and it really is a special place to come. The lake is gorgeous. The pool is nice and well-kept. The grounds are always well kept and they try to make each campsite special in its own way for every visitor by adding something special to each site either for privacy or comfort.
- mary d on Google