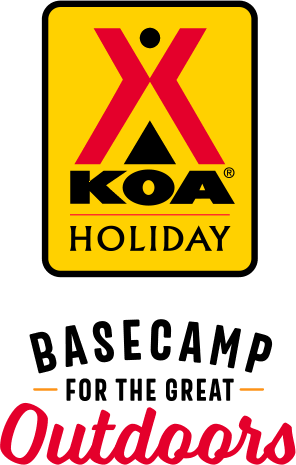 KOA Holiday Campgrounds
Whether you're exploring the local area or hanging out at the campground, KOA Holidays are an ideal place to relax and play. There's plenty to do, with amenities and services to make your stay memorable. Plus, you'll enjoy the outdoor experience with upgraded RV Sites with KOA Patio® and Deluxe Cabins with full baths for camping in comfort. Bring your family, bring your friends, or bring the whole group – there's plenty of ways to stay and explore.
KOA Holidays Feature:
RV Sites with a KOA Patio®
Deluxe Cabins with full baths
Premium Tent Sites
Group meeting facilities
Directions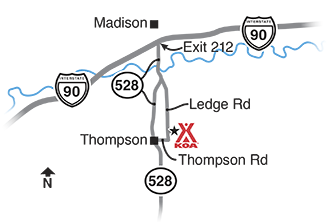 Located only 4 miles off Route 90 Exit 212/Route 528. Take 528 South 2 miles to Ledge Rd. Head east 2 miles; campground is on the left.  Road is dirt for about a mile.
If you would like to stay off dirt as much as possible.  Take 528 South past Ledge Rd.  Take the round about in the Thompson Square and head east on Thompson Rd.  Take a left on Ledge Rd. at the bottom of the hill.  You will still be on dirt but for a much shorter amount of time... less than 1/4 mile.
Get Google Directions
Oct 13, 2021
Had a wonderful weekend, enjoyed our pull through site and the patio furniture! Very friendly and staff- from check-in to the escort to our site we felt welcomed.
Oct 13, 2021
Like the big rig sites.
Oct 13, 2021
We try to spend at least one trip to this campground. It is so beautiful. Staff is so friendly and helpful. Our time last week was absolutely perfect including the weather.
Oct 12, 2021
Although the campground seemed nice, from the minute I stepped into the office and interrupted the kids on their phones, my visit went downhill. Not only did they make me feel unwanted, the kids actually acted like I was putting them out by checking in. Then they gave me a map and circled what ended up being a non existent or unmarked site. I tried calling the office 3 times and they wouldn't answ
Oct 11, 2021
Great place, can't wait to go back.
Oct 11, 2021
Always a nice clean and quiet campground. Thought there would of been some activities still going on.
Oct 11, 2021
First time there will be back next year great place
Oct 11, 2021
nice camp site. very friendly staff.
Oct 11, 2021
Amazing stay, Friendly staff, friendly people, clean camp grounds. I plan to camp there once to twice a year. Very nice scenery off the water from rustic cabins. My family and I had a blast.
Oct 10, 2021
I think one of the biggest disappointments was the hiking trail. It appears to have fallen into disrepair over the past year with ruts and non-trail markings. By non trail markings I mean that one part of the path diverted to the storage area and had to double back. Also every once in awhile outside the camper we had a wiff of septic and not from our trailer. Other than that enjoyed the days,
Oct 09, 2021
Very helpful in an unfortunate situation with our tow vehicle. We paid weekly for 8 week's waiting for our truck to get fixed. We found the kampground on the RV Parky app and glad we did. We couldn't have found a better place to stay. K Laura and Lisa we're very helpful.
Oct 09, 2021
So appreciate the ease of late night arrival! Love the dining shelter!!!! Tent sites were big! Bathrooms so clean, and hooray for all gender designation! Love the Halloween theme and the playgrounds. Other campers were friendly. Thank you!
Oct 09, 2021
One night only but all was fine and would have liked to stay longer.
Oct 08, 2021
Nice Place..... DNK Gravel roads were required.... But it was fine as they were dust treated, and not bumpy. Folks were great... site was great. Just what I thought I'd get.
Oct 07, 2021
Nice amenities, great showers, pretty area, friendly staff
Oct 06, 2021
Great campground, very friendly, clean and always have good programs for kids
Oct 04, 2021
We call out there and they tell us you are booked. You go on line and there are many open spots. Also this last weekend the spot next to us was empty the whole weekend. We were in SP3 and SP4 was open all weekend.
Oct 04, 2021
We had a great time. Our site was clean and staff was helpful. We will be back
Oct 04, 2021
There were many empty camp sites available, and when our friends called they said they were booked. There were 2 in our area and no one was there all weekend. Also bring back the haunted hay ride.
Oct 04, 2021
One of the nicest KOAs I've stayed at. They had a little of everything. Staff was friendly. Restrooms, showers and laundry space were clean. Internet worked well. The only negative was that the bathrooms were quite a walk from the tent sites.
Oct 02, 2021
The cabin was so clean and the seating for outside faced a pond which made it so relaxing. Very beautiful place!
Oct 02, 2021
Very nice .The cabin was very nice and clean .
Oct 01, 2021
Very helpful , pleasant staff. Grand Valley has over 30 vineyards nearby.
Oct 01, 2021
Everyone and everything is always amazing
Oct 01, 2021
I think things are getting a little better & am looking forward to next year.
Sep 29, 2021
This is the first KOA I've stayed at that has wooded lot views! The campground map is nicely spaced out. The tent sites are separate from the RV sites and are very private and wooded. This is a pure joy for a tent camper! The staff was very friendly and helpful.
Sep 29, 2021
Friendly staff, well maintained, large sites. Only drawback is the gravel road.
Sep 28, 2021
We use to enjoy camping here. Since it has become corporate it doesn't seem to be as good of a place to camp anymore. They need to enforce the fact that those who bring in their dogs need to be on a leash at all times when outside. We have witnessed too many families not having their dogs on a leash when outside. We always keep our dogs on a leash. Activities has decreased for the kids.
Sep 27, 2021
Site looked unmowed, no food or ice cream (there was a sign for Hershery's) and since you can fish in the pond there should be bait available but there wasn't. Lots of empty sites, but people we knew called for the weekend and were told they were all booked. New management seems like they may be in over their heads. Too bad.
Sep 27, 2021
We generally like this campground and book our stays well in advance to ensure a good spot...our last stay was nothing short of a disaster. It was three campsites that were booked in MAY for a SEPTEMBER stay. WE SPECIFICALLY booked buddy sites in May when we reserved for the weeked and they changed our spots without any good reason. Complete disreguard for customer satisfaction. Complete crap!
Sep 26, 2021
We only did an overnight stay but it was just what we needed. We had a pull thru site so that we didn't have to unhook. The site was easy to pull into and very level. All the hookups were just where we needed them. Very quiet and plenty of room between sites. Traveling in a 34ft travel trailer
Sep 25, 2021
We stayed one nite. The dog park was clean and our dog enjoyed the tunnel, would like to see a few more obstacles. The bathhouse was clean and user friendly. Halloween decorations and gardens simply beautiful. Wish we could have stayed another day. Staff friendly and attentive to campers needs. Site level�
Sep 25, 2021
Was mad that I was so far in the back p5. I was ok but they could of put me closer to bathroom. When I made my reservation was told that was the only spot. This clearly was not the case. All of p and t spots were open. Many in the front near the playground. I was isolated. Then the price was supposed to be prorated. I was not able to come in one day. The charge was the same. Getting frustrated.
Oct 12, 2021
We really enjoyed our stay here! Had a Deluxe Cabin for 2 nights and it had many amenities included which made our packing much easier. Amenities aren't listed clearly on website. (Bedding,Towels, dishcloths,cups, plates,bowls,silverware, microwave, small fridge, coffee maker, toaster,(nostove),propane grill(they furnish propane,) dish soap, garbage bags, toilet paper, etc. Great kids park with a huge bouncing pillow. Large dog park! Swimming pool, ponds, beautiful views and landscaping. If you're into Halloween this place fills up and most everyone decorates their places! I guess it is a big deal for all ages! (We stayed Sept. 29-Oct1)
- Sherry on Google
Sep 23, 2021
Nice place with lots of amenities.
- Matthew Ebert on Google
Sep 17, 2021
🌾 I love the folks KOA hires to run their campgrounds. The employees are always polite, always helpful, always happy and pleasant. For example, today K'Lora and Evan were working in the office. Not only were they Super wonderful when we checked in, they found my missing phone. And when I came to the office to see if it had been turned in, K'Lora said, " I'm so glad you came to get it; I noticed it only had 3% battery so we charged it in case someone called it". I mean, how considerate was that? 😊 Thompson KOA has worked To make improvements to the campground a little bit each year and it really is a special place to come. The lake is gorgeous. The pool is nice and well-kept. The grounds are always well kept and they try to make each campsite special in its own way for every visitor by adding something special to each site either for privacy or comfort.
- mary d on Google