Directions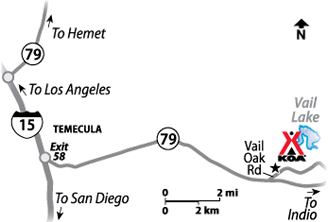 I-15 North: Take exit 58 for California 79/Temecula Pkwy toward Indio Turn East onto CA-79 S/Temecula Pkwy, continue for 8.9 miles Turn left onto Vail Oak Rd
Get Google Directions
Apr 07, 2021
Very nice, Coming back for Thanksgiving. The only negative thing was that our power box was dangerous. The panel below had fallen off completely and some improper up with the rock. Just a matter of maintenance. However it could be a serious problem for a kid jumping into bed
Apr 07, 2021
Pool/bar weren't open for spring break and we kept hearing different things "it will be open in March and heated!" on website, front desk said "not open until May" next day "not open until Fri" 3rd day one said "it's opening today!" the rest said, "no, not until Fri" or "no, it's not open until May", it was very confusing. Oaks was loud, rowdy, we loved the bike trails & upper mesa camping.
Apr 07, 2021
Chardonnay Mesa was amazing! Great views and it was so nice having a bit more space than Arroyo Seco area. It was so quiet and all campground that we passed by were super clean and ready for the next campers!!
Apr 07, 2021
Very good nice and clean , no problems.
Apr 07, 2021
Great place... Way more than I expected...
Apr 07, 2021
Nice large campsites, lots of shade plenty of room good amenities however bathrooms are a disgrace bathrooms need to be updated
Apr 07, 2021
I've been to alot of KOA's all over the US and this one just seems kind of run down like they don't put any money back into it. There isn't even a park for the kids. This park is huge I feel like it's comparable to the South Dakota KOA in size but doesn't even have a third of the things to do. There are plenty of places in the park where they could stick a playground or jump pillows or splash pad.
Apr 07, 2021
We love this campground! Great sites, bathrooms are clean, staff is amazing! Tons of things fir kids to do! The only thing is the pool... OMG it's freezing!!!!
Apr 07, 2021
Loved it �
Apr 06, 2021
Had a wonderful time again. We will be back soon.
Apr 06, 2021
We had such a great time and loved all the kid activities. Looking forward to our upcoming stays and Halloween!
Apr 06, 2021
Everything was great except for our spot had the tree cut down so we had no shade. Everything else was good!
Apr 06, 2021
My family and I loved it!! Loved the activities and the pizza was amazing!! Probably one of the best I've had �
Apr 06, 2021
This a great location to just get away for the weekend! Wonderful hiking trails and in the Oaks section big trees. The only negative, the staff in the office did not give the correct information about paying for additional wifi for other devices. The staff member said that I needed to call the number on the wifi card. That was incorrect. I felt one person's mistake did not warrant a lower rating.
Apr 06, 2021
was there for 4 nights over the Easter weekend. On Thursday/Friday the kids loved the pool. Then on Saturday we were stopped at the gate and told we had not made a reservation. I understand the need for a reservation system on a bust weekend, but during check in or any other time we were never notified of the need for a reservation on Saturday. Very poor communication on the side of the staff
Apr 06, 2021
We stayed for Easter and it was our first time for this holiday! We had so much fun and we weren't bothered by anyone about our music or generator this time!! This is our favorite place to stay we can't wait to come back soon!!
Apr 06, 2021
Loved the park. Great basic amenities, great trees. Would have enjoyed more info and functionality surrounding the "WiFi system". It wasn't useful as presented, which I found disappointing.
Apr 06, 2021
We had a good stay, enjoy Vail Lake and the proximity to our home. I wish you did not charge a $25 fee to lock in your site. Seems like you're penny pinching people!
Apr 06, 2021
Love lake vail and all the activities for kids
Apr 06, 2021
We love staying here however the quiet hours need to be enforced better. We stayed at Vail Lake on 4/03 and the group of neighbors next to us were up until 2:00 am with loud music, cornhole and screaming / yelling. I text security and not much happened. Something has to be done to enforce the rules better so that all campers can enjoy their stay. This has happened to us multiple times now.
Apr 06, 2021
Had a great time!! Good to see this place open for American families to enjoy the great outdoors!!!
Apr 06, 2021
Golf carts drive way too fast....and children are driving them as well. That is an accident waiting to happen. Didn't feel comfortable for my kids to ride their bikes, the golf carts could care less about bikers and there is not any KOA Workers regulating this.
Apr 05, 2021
Excellent grounds and staff. Had an issue with quiet hours not being enforced, and loud neighbors at 2am. But the staff refunded our last due.
Apr 05, 2021
Your night patrol people need to do a better job of enforcing the quiet hour. Two nights in a row we were kept awake to very loud music and yelling and screaming until 2 AM. What's the point of having a quiet time if you guys are not going to enforce it. This is not the first time this has happened to us. We really love your campsite but if this continues we will not return.
Apr 05, 2021
The snack bar needs to stay open longer. Great employees working in there. Just miss the nachos and ice cream after an evening walk.
Apr 05, 2021
Amazing! Clean, family friendly. Safe & clean environment
Apr 05, 2021
Such a wonderful time. Can't wait to come back!
Apr 05, 2021
Great stay. Love the mini golf, ice cream shop, and pool. It would be so much better if the pool had pool solar, so you could actually go swimming. Having the pool warmer would be a game changer for vail lake KOA.
Apr 05, 2021
This was our second stay here and we really enjoyed ourselves. The sites are large and great. We love the quick access to trails right outside of camp.
Apr 05, 2021
Great time for our first RV trip. Loved the mini golf, bmx tracks and the mountain bike trails.
Apr 05, 2021
Thanks for hosting us, we had a great time. One thing that was really helpful was being able to charge items from the store to our site.
Apr 05, 2021
Great!! We just wish that the sewer hookups were closer. They were positioned so far away from where we were able to park in the site that our tanks got full by the end of the trip.
Apr 05, 2021
Great facility for some family fun. This is our second time staying in a month we really enjoy the planned activities for kids and all the space to explore .
Apr 05, 2021
Went tent camping and our spot was nice. A group of Rv's near by played loud music till midnight. Quiet hours are from 10pm - 7 am. Nobody from the camp employees came to police them.
Apr 05, 2021
It was a great stay! The kids loved it. I just wish the pool was heated. It was absolutely too cold to get in at all.
Apr 05, 2021
Staff was amazing and the facilities were clean.
May 07, 2021
We have been camping here for years dating back to the 80s when it was called Butterfield Stage. Sites are always clean and well maintained. Staff is always friendly and helpful.
- Michael Buck on Google
Apr 25, 2021
On our return list
- anthony gaeta on Google
Apr 21, 2021
Awesome place
- john costa on Google