Directions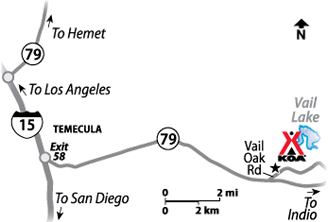 I-15 North: Take exit 58 for California 79/Temecula Pkwy toward Indio Turn East onto CA-79 S/Temecula Pkwy, continue for 8.9 miles Turn left onto Vail Oak Rd
Get Google Directions
Apr 15, 2021
My internet was cut off the night before we left Also the water was shut off the morning we were leaving and neither we nor the neighbor next to us could take showers .in the morning How does this stuff happen?
Apr 15, 2021
Everyone was very friendly.
Apr 15, 2021
Sophie is the best!!! She really helped us out and we appreciated her so much - thanks KOA and a special thank you to Sophie
Apr 15, 2021
My family's stayed at site 409 4/12-4/14. Nice large site that was fairly level with full hookups and 50a service. We love being there during the week with fewer campers to fully enjoy the woodpeckers, doves, and quail. Nice trails to walk. Will definitely return.
Apr 15, 2021
The staff at front desks were not very friendly or helpful when we checked in. In addition, although we arrived early Friday when there were many vacant camp sites, we were told we could not move to another site, seeking one with trees/shade. Otherwise, campground and restrooms were clean, area was nice and quiet.
Apr 15, 2021
very clean had a nice time
Apr 15, 2021
The spot was nice but because of the bathrooms and showers I would not recommend it. Someone who owns this park needs to go up and use the men's showers in the chateau area! Then they might see how it is!! Bathrooms are sooooo important to travelers!
Apr 14, 2021
Saturday decided to get dinner from Happy Camper Cafe we wanted pizza but were told that it wasn't available due to running out of 14 in boxes & using the 12 in boxes was wasteful One of the girls working was NOT a happy camper & was very rude, we weren't able to get her name. Since she wasn't wearing her mask properly we could see she had a nose ring. The other staff members were great & helpful
Apr 14, 2021
We were never told that our section had no WiFi. Even when we checked in we got the instruction for WiFi and wasted time trying to get it. One of us needed to work from there.
Apr 14, 2021
It was accessible clean and quiet
Apr 14, 2021
misleading advertising regarding wifi in the campground. You should make it clear that no. 300 and up do not have wifi at all. Very spotty cell coverage, not your fault.
Apr 14, 2021
stayed in Merlot section, everything was great. Was kinda surprised they let mountain bikers in the park if they are not guests of the rv resort. It was over-crowded near our section in the morning.
Apr 13, 2021
We always enjoy our stay at Temecula/Vail Lake KOA. The staff is wonderful, accommodations are clean, and overall we have great experiences.
Apr 13, 2021
Stayed at Upper Chardonay site, very nice and comfortable. Been trying to reserve the same area with no luck. I really wanted to explore, but had no transportation.
Apr 13, 2021
Loved the camp ground & the amenities. Staff was all so kind and the campground was very clean and well taken care of. Loved it and cant wait to go back!
Apr 13, 2021
There's almost too much to do in a weekend. Kids love it here. Adults loving coming. The Mai Tai cart is genius. Cannot wait to return.
Apr 13, 2021
Everything was perfect, thank you
Apr 13, 2021
Great time. First time in lower Chardonnay and it was nice.
Apr 13, 2021
Pool inaccessible. The last night we stayed, there was a drunk guy in the Arroyo Seco area that kept all those around him awake due to his deliberate ranting, laughing, and screaming. Others close to him were getting in arguments with him. We didn't really get to sleep until 3AM! I expect more from KOA's because they're expensive. We should have stayed in a hotel!
Apr 13, 2021
Our stay was very pleasant and would be looking forward to staying again in the near future! It seems there are endless bike and hike trails. Staff was very inviting!
Apr 13, 2021
KOA was a nice facility. Bathrooms were clean and had plenty of hot water. We used the MTB trails one day. We didn't use any of the other facilities but they looked nice.
Apr 13, 2021
Large campground, need to patrol more often and crack down on speeders, truck went they doing at least 25, had to slam on his brakes due to kids on bikes and then aggressively honked at them. But there were a lot more going at least 20.
Apr 13, 2021
Always a fun time at Vail Lake KOA. Staff is very friendly and the property always looks clean. Definitely going back again soon.
Apr 12, 2021
Enjoyed our stay, staff extremely helpful. Look forward to coming back
Apr 12, 2021
Our problem was with the number of dogs off leash running around invading other people's campgrounds. We have dogs of our own and mostly kept them inside the trailer as we didn't want any issues with other dogs coming into our campsite. On one occasion we were walking our dogs on their leashes of course and we were charged by a barking growling dog running off leash. Dangerous for the many kids
Apr 12, 2021
Always a great stay at Temecula. Lots of activities for the kids, pools are open, pump tracks are always fun can't wait to book again...
Apr 12, 2021
Our stay was amazing. We had a great weekend.
Apr 12, 2021
It was amazing. We really wished we had our grandkids with us, such an awesome campground for kids of all ages!!!
Apr 12, 2021
Everything we want in a campground we found here at Vail Lakes KOA. From wide, deep sites, to friendly helpful staff to all the amenities we look for and it's only a two hour drive away. We have a new campground on the top of our favorites list and we can't wait to book our next stay.
Apr 12, 2021
Great place,great mountain bike riding, nice camp grounds.
Apr 12, 2021
Great time! Great improvements to the park! One concern is the large golf cars that were literally speeding by in the Arroyo area with minors driving
Apr 12, 2021
We were pleasantly pleased with how beautiful this campground was. Everyone seemed to follow rules for noise and even though some of the sites are close together you don't feel crowded. We are already talking about the next time we come and staying for more days.
Apr 12, 2021
Nice staff members, great views from Chardonay Mesa and love the woodpeckers!
Apr 12, 2021
PLEASE READ ALL.... It was a great time and our friends first time going. They can't wait to go back. Our first day was not as pleasant as both my friends and my sewage line were backed up and was overflowing. We had to smell it all Friday night and Saturday morning until they came and snaked out the line in the morning. They took care of the problem and refunded 1 spot for the first night.
Apr 12, 2021
one of the best koa!!! very clean, organized, accomodating staff, safe, great for kids! a must visit place in temecula! good times! cheers koa vail lake , we had awesome stay ...
Apr 12, 2021
It was great. Friendly staff. The campgrounds are clean and well taken care of.
Apr 12, 2021
Such a lovely place and all staff we came in contact with were very polite and attentive.
Apr 12, 2021
Just wish electric available. Loved it
May 07, 2021
We have been camping here for years dating back to the 80s when it was called Butterfield Stage. Sites are always clean and well maintained. Staff is always friendly and helpful.
- Michael Buck on Google
Apr 25, 2021
On our return list
- anthony gaeta on Google
Apr 21, 2021
Awesome place
- john costa on Google