Directions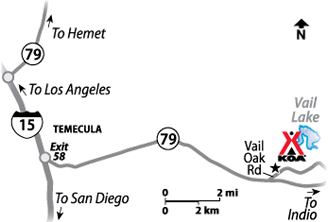 I-15 North: Take exit 58 for California 79/Temecula Pkwy toward Indio Turn East onto CA-79 S/Temecula Pkwy, continue for 8.9 miles Turn left onto Vail Oak Rd
Get Google Directions
Mar 23, 2021
Love it here! Love all of the activities. Our favorite place!
Mar 23, 2021
Wonderful stay, first time there and will definitely be back.
Mar 23, 2021
Too short, we didn't want to leave!
Mar 23, 2021
Best camping spot for families
Mar 23, 2021
Weekend 2 night stay. Spacious and clean sites. Great amenities, the General Store was well stocked, the bar and it's staff were professional and very friendly, the snack shack food was tasty and great for kids, and trash locations were close to sites and well maintained. The bike tracks and trails were so fun, and easily accommodates all riders. We will return many time in the future.
Mar 23, 2021
Loved everything but the bathrooms! They bathrooms need a makeover big time. No bench in shower, only a hook for clothes and towels, and the curtains didn't close very well. The first one I tried the cold knob didn't work and no hot water so I had to get dressed and move to a different shower. Toilet didn't flush great. No mirror in bathroom. All personal were super nice and friendly.
Mar 23, 2021
Had a great time friendly people great for kids and family very clean awesome staff dog friendly lots to do will definitely go back one of best Koa 's we've been to
Mar 23, 2021
everything was awesome. We were a little disappointed the cafe was closed for breakfast and coffee drinks, but other than that everything was perfect. The margaritas were great too! the staff was incredibly friendly and helpful. we can't wait to come back soon.
Mar 23, 2021
This is such a great campground live the cafe (and the bar), nice outdoor space. Wish the dog park was a little more spacious.
Mar 22, 2021
The campground is in great shape. Fun things to do for all ages. So many young families is so great to see.
Mar 22, 2021
Awesome weekend at Vail Lake KOA. Thank you so much. We will make it a yearly camping trip.
Mar 22, 2021
Great place for families. I was surprised how much shade there was. Lots of stuff to do. Hiking , biking, mini golf and swimming (even though the pool was closed and the website said it was open). I would definitely stay here again.
Mar 22, 2021
Got there and someone before us had not vacated the space we were assigned. Went back to check in & they were not happy either. They made it a great stay by giving us a great site with a great view! Everyone we came into contact there were so pleasant!! Very pleasant stay! Can't wait to see how they keep fixing up the place!! We will be back!!
Mar 22, 2021
The campground was beautiful and well maintained
Mar 22, 2021
They set us up in a very spacious site in Arroyo Secco w/out electricity. Not crowded in that section and it was very relaxing. Had to drive out to pick something up, boy was it crowded with families in The Oaks. Looked like all were having a blast riding bikes and socializing. Chardonnay is our favorite and will be staying there in April. Thank you Vail KOA for the great place close to home.
Mar 22, 2021
This KOA was great. We arrived at 2:30 in the morning due to my husbands crazy schedule. There guard shack personal was quick and considerate. We were all set up and in bed by 3. We love how clean the park was, the great riding trails for the kids and the friendly activities put on by the staff. Loved the Mobile Mai Tai Bar. Oh and they delivered 8 bundles of wood. Thank you
Mar 22, 2021
Great place! Shady sites with adequate spacing between them.
Mar 22, 2021
Restrooms need some work. All staff and employees of all areas were fantastic. Lots of activities.
Mar 22, 2021
This was our second stay! We stayed in the Chardonnay section this visit! The Chardonnay spaces are very large, provide great shade, and have a great view of the surrounding area! The staff we encountered are friendly and helpful! The difference with this stay compared to the last stay is the lack of ATV/UTV's. This stay was much more peaceful without them. We look forward to our next visit!!
Mar 22, 2021
Friendly,clean with large spaces and the people are very helpful
Mar 22, 2021
Great clean facility. Had a great time.
Mar 22, 2021
We liked staying at Vail, however the only thing we disliked was that other campers would walk behind my trailer to get to their friends trailers. two spots down from theirs.
Mar 22, 2021
The camp ground was amazing. Full of fun and life. Happy folks all over. The staff was great and the event staff was even better. Lot of events to keep everybody happy. Lot of staff makes sure our stay was great We will go back many many times this year.
Mar 22, 2021
Loved the access to all the mountain biking, and my kids loved the multiple pump tracks. The restrooms were clean, and the free hot showers were great. My only suggestions would that upon checking in we didn't get any biking information, and the counter person wasn't sure where the trails were. Pretty quiet, but some guy was speeding around in his car at 3am...not sure what the deal was.
Mar 22, 2021
I love this campground it was our first time staying here and the facility is great. fri there was a group drinking all day and the music got louder to where in the trailer with ear plugs it was still loud. Called the front to ask them if they can send someone to have them then it down but they said they couldn't send someone and they said they couldn't that was disappointing
Mar 22, 2021
This review has been removed by KOA due to profanity.
Mar 22, 2021
Very nice place and location. Great weather to enjoy ourselves...
Mar 22, 2021
GREAT STAFF, GREAT PLACE
Mar 22, 2021
We stayed in Lower Chardonnay, it was quiet and very clean. The only bad part was we did not get access to WiFi, we called customer service and the had us reset our phones and all of these steps and we just were never able to connect. That was the only issue we had, the highlight was the Mai-Tai cart, Owen ( I think that was his name) was awesome!!!! Your staff are all great and very helpful!
Mar 22, 2021
Spot 26 has an epic view. Loved it�
Mar 22, 2021
This is a great place to go to get away for a few days and relax, we really love the oaks sites.
Mar 22, 2021
We have camped at this campground many times in the past. We love it. My only complaint would be all the trash around camp. Soda/beer cans, chip bags, straws, etc. I have never seen the campground so dirty! We will definitely be coming back but hopefully to a cleaner campground..
Apr 08, 2021
U must visit vail lake
- Erum Baloch on Google
Apr 08, 2021
We attended a memorial for a dear friend. The staff were excellent!! They even guided directly to the site we were looking for. Beautiful grounds.
- kim Doria on Google
Apr 06, 2021
Beautiful place! I stayed on Easter weekend & they had different activities for the kids which I thought was sweet. Mini golf & swimming pool were also fun. Bathrooms were clean & showers worked great! Their store has anything you could've possibly forgotten. I will definitely be back!
- Esmeralda Ramirez on Google