Directions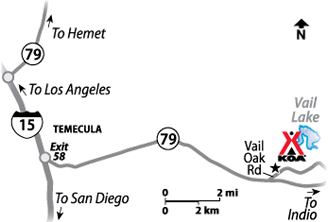 I-15 North: Take exit 58 for California 79/Temecula Pkwy toward Indio Turn East onto CA-79 S/Temecula Pkwy, continue for 8.9 miles Turn left onto Vail Oak Rd
Get Google Directions
Mar 31, 2021
Great place just could not figure out the wifi
Mar 30, 2021
First time staying here, even with COVID, campground had good trails and options for fun. Only thing that I had an issue with is the PPE was not always worn by some employees and face masks were not always enforced on visitors.
Mar 30, 2021
We love the improvements that we see around camp! Especially how the bike trails and open areas are being kept cleaner. Hopefully the lake access reopens sooN!
Mar 30, 2021
Beautiful setting and great views
Mar 29, 2021
I always love camping there.
Mar 28, 2021
First time out with our trailer...we enjoyed our stay!
Mar 28, 2021
This is the second time we have stayed here. The park is huge, and each site has plenty of space. Plenty of hiking and beautiful views. Extremely dog friendly. This is by far one of our favorite southern California campgrounds.
Mar 28, 2021
Everything went smoothly! Love the space between rigs and the open spaces. The bike paths are great too!
Mar 28, 2021
great, beautiful quiet site, friendly people, fully stocked convenience store. basketball and tennis court, bike trails, minigolf, tetherball. planned activities and crafts for the kids. some unpaved sites. no access to the lake. overall wonderful
Mar 28, 2021
I have been camping at this KOA campsite for over a year now and love staying for the weekend!
Mar 28, 2021
Great time here. Big camp sites. Friendly people. One of our favorite camp grounds.
Mar 28, 2021
Russ at the front gate is great! Kaylee helped with fixing reservations patiently and made sure we were all close! I appreciate her putting up with all my ?s and changes with such a great attitude! Awesome customer service from them both!
Mar 28, 2021
Vail Lake KOA was perfect in every way to spend quality time with my grand children. The location is 20 minutes from home. The view of rolling hills is breat taking. The campsites are WIDE! the grounds are well maintained. Lots of trees for shade. The office/store has improved greatly sine it opened three years ago. I look forward to my next visit!
Mar 28, 2021
Love the park!
Mar 28, 2021
We loved it. Close to home and yet gave us the feeling of being away from the hustle and bustle. Great trails and peaceful walks
Mar 28, 2021
Pleasantly surprised at how enjoyable this stay was. Clean campsites, pleasant personnel, and friendly co-RVers. Will definitely return.
Mar 28, 2021
This was our first time camping here and it was very nice, it was Peaceful and I like how the camp sites are spread apart, People who work there are very friendly.
Mar 28, 2021
Easy check in. Bar service was great. Was making reservations for a future trip and Kaylie was very helpful
Mar 27, 2021
Good stay. Really wish folks would slow down around the campground though - especially when towing a big trailer - makes it scary for my bike riding kids. Also wish the pools had been open as the website said they would be in March.
Mar 27, 2021
Very nice.....will come again our grandkids.... Our only complaint......bad cell reception,etc, in the Arroyo Seco section where we stayed...
Mar 27, 2021
Very clean and well kept sites
Mar 26, 2021
We had a very nice stay. First time at the campground. Staff was pleasant and informative. If you were doing it purposefully due to Covid-19 and spacing the sites to every other...thank you. Just a note: some of the amenities (electrical) could use an upgrade. We'll be back.
Mar 26, 2021
I made reservations online and requested not to be by a trash area. We were located one spot away from the restroom/trash area. The camp was not sold out, and we were relocated after contacting the front desk. The basketball court has one broken hoop and one missing, can this be repaired? The Wi-Fi repeatedly asked for a password to the point we just used our cell phone coverage.
Mar 26, 2021
First time renting a trailer and we had a great expedite at Vail Lake. The area is beautiful with gorgeous trees, amenities were great + clean and staff guided us well with our questions.
Mar 26, 2021
It would be great if you had a bin for recycling Place is beautiful and clean, all staff very professional and courteous Also paint guns should not be allowed, kids damage the trees and it's toxic to the animals
Mar 26, 2021
We stayed 3 nights, had an amazing time as usual! Bikes trails and hiking are great here. Only giving 4 stars for this visit as the bar and ice cream shop weren't open during the week- other then that, friendly staff, camp store has everything you forgot!
Mar 26, 2021
Great place to camp.. great trails friendly staff. Will definitely be coming back
Mar 26, 2021
No cable for TV. Wireless is complicated to get connected. Park area is fantastic. Lots of entertainment. Cafe was closed(Boo), and no groceries to speak of We like to visit during slower days, we will be back, we were just not stocked up on food.
Mar 26, 2021
Check in was easy, staff was friendly. I would love to see an area just for tent camping. Tent camping surrounded by RVs isn't as enjoyable.
Mar 25, 2021
So peaceful and beautiful Fun bike trails and large property to explore Pickleball court was unexpected (not listed on amenities) but an awesome surprise Camp neighbors didn't have good camp etiquette (continuously walked through our camp to visit friends on other side of us, didn't pick up dog poop), but that is not fault of KOA We joined KOA and will return to Vail Lake in July and Sept!
Mar 25, 2021
We will return. We really like the Lower Chardonnay area. Very quiet. Just wish the pool was open.
Mar 25, 2021
Driving a full size pickup with a gooseneck trailer (38') negotiating the entrance from the highway (the tight curves) was annoying (thankfully all entries and exits were during daylight hours) as well as the trees in my designated campground and site. But overall, thought it was a great venue. Appreciated having access to washer & dryer. Two of the three showers in womens restroom were broken.
Mar 25, 2021
Great place to mountain bike.
Mar 25, 2021
Great place ... recommend the oaks it's great place for the kids.
Mar 25, 2021
The wifi wasn't great. I needed to borrow a floor jack to change a tire and they had one. Pretty heavy piece of machinery that I dragged back to their garage and two maintenance guys watching me the last few hundred yards and didn't help me one bit. So I guess I've had experiences with more helpful staff at other KOAs.
Mar 25, 2021
This was our first time staying at VAil Lake KOA. It is now one of our favorite spots! Great family environment and lots to stay busy or not � we look forward to our next stay.
Mar 24, 2021
Love Vail Lake, not happy with the WiFi that I paid for and had to call in each day to deal with issues. I spent no joke 4hrs combined on the phone with guest services and had 4-6 tickets opened.
Mar 24, 2021
First time taking the rv out, first Koa and was very pleased. I stayed at a 30a full hook up site in Arroyo Seco area. Restrooms were older, they were clean. Everyone there was polite, quiet times were honored, not a single problem and the area is really nice. Only complaint was that every site's Sewage hookup is only about 15 ft from fire ring/bench
Mar 24, 2021
Campground is well maintained and staff available at the ready. The only thing that can be upgraded is the showers.
Mar 24, 2021
Really enjoyed the campground lots of open areas to hike and walk. Wish the cafe would have been open. Overall we will be back and would recommend to friends.
Mar 24, 2021
Great staff, except man at check in gate who violated your mask policy as he only wore the mask around his neck. Don't publish a policy and then have your initial staff member disregard it. Sends mixed message. Otherwise the four night stay was great.
Mar 24, 2021
Stay was nice. Check-in took too long. First timers-made reservation online. Website made it sound like we would get a view site (on the rim) in Chardonnay Mesa upon arrival we were assigned a horrible site (#57) crowded in, no view. We were able to change to an acceptable but still not great site. I suggest that KOA allow online reservations to select a site. Learned the hard way to call instead.
Mar 23, 2021
All staff members at Vail Lake were welcoming and helpful with any questions or requests. We enjoyed time spent at the outdoor cafe, the food was great. All in all it was a great weekend and we hope to visit again soon. By the way, the Mai tai mobile, awesome idea!
Apr 08, 2021
U must visit vail lake
- Erum Baloch on Google
Apr 08, 2021
We attended a memorial for a dear friend. The staff were excellent!! They even guided directly to the site we were looking for. Beautiful grounds.
- kim Doria on Google
Apr 06, 2021
Beautiful place! I stayed on Easter weekend & they had different activities for the kids which I thought was sweet. Mini golf & swimming pool were also fun. Bathrooms were clean & showers worked great! Their store has anything you could've possibly forgotten. I will definitely be back!
- Esmeralda Ramirez on Google