Directions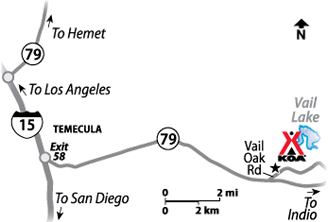 I-15 North: Take exit 58 for California 79/Temecula Pkwy toward Indio Turn East onto CA-79 S/Temecula Pkwy, continue for 8.9 miles Turn left onto Vail Oak Rd
Get Google Directions
Apr 01, 2021
We had a wonderful time. Wish you had heaters in the restrooms.
Apr 01, 2021
I had a great time. Very relaxing. They had a very nice young woman driving around in a golf cart selling mixed drinks, very nice! The pool was closed, that did not set well with the grand children though! But I will return!
Apr 01, 2021
Awesome just Awesome!!! Even under Covid-19 guidelines!!! 1st time. We ready re-booked.
Apr 01, 2021
We stayed for 2 nights. Loved the camp store and little cafe. We played miniature golf and horse shoes. It reminded me of my childhood camping experiences with the crafts and activities offered for my kids.
Apr 01, 2021
We love your campground and love all the improvements you have made. The activities for the kids are awesome. If I had one complaint it would be that people drive too fast through the campground. We watched several kids almost get hit by drivers that were driving way to fast.
Apr 01, 2021
it was late when i needed more firewood and i know everyone wanted to go home but i did order some more firewood just before the store closed knowing it was late and cold. i ask can i just pick up the wood now the girl at the counter said no and she would let someone know and it will be delivered it never arrived until the next day /a little Late to Burn i spent24.00 onvery small budle
Mar 31, 2021
Always a great experience, been coming for years. Unfortunately we've had to stay in Arroyo a few times this last year which is not problem since we our self contained, however, we have had people with commercial generators next to us both times and it was not pleasant, very loud, and very annoying during the campfire time, it would be nice to see a decibel limit on external generators. Thanks.
Mar 31, 2021
We had great sites and the best time. So much to do for the kids and family! We are looking forward to coming back in the fall.
Mar 31, 2021
Stayed as a group with 11 other sites had a great time. We did not use many of the facilities this trip because we had a lot going on as a group, but have used the bar, ice cream and general store in the past and everything is always great. Since KOA has taken over they are constantly upgrading. My only issue is the old power pedestals plug in from the bottom but I am sure that is on their list.
Mar 31, 2021
We love this place. Love the high ground . Love Chardonnay and Chardonnay Mesa. Looking forward to the Oaks next month
Mar 31, 2021
It was beautiful and relaxing, great place can't wait to book again
Mar 31, 2021
Had a great time with my son who also stayed there.
Mar 31, 2021
Stayed in the oaks. I guess i expected it to be more green. There wasn't t really a scenery other than seeing other trailers. I will have to try another campsite.
Mar 31, 2021
Really like this campground. I just feel like there's potential for so much more here. The ice cream and bar was open Friday and Saturday but closed Sunday. The pool was closed for supposed heaters. But who cares about a pool heater when summer is almost here. We all looked forward to the pool and the kids were very disappointed. This work should be done in the winter. Won't stay again this ye
Mar 31, 2021
Great campground! So much to do and see!
Mar 31, 2021
Had a blast! Bloody Mary's are always good � Beautiful!
Mar 31, 2021
Large campsites, huge grounds with tons of amenities. Was bummed the pool wasn't open since the weather was certainly warm enough and the website said pool opens in mid March. Great time and lots to do.
Mar 31, 2021
Just need to get Wi-Fi and electricity going in the arroyo section
Mar 31, 2021
Well, first off - we had a bad experience at the "cafe". Took 20 minutes to make 2 grilled cheese sandwiches and fries. When we got back to the campsite - a 10 minute drive, dodging golf carts the whole way, we tasted the fries and this is not hyperbole - they were the worst I've ever tasted in my 42 years of life - cold, and flavorless - not worth taking back. Bathrooms were filthy.
Mar 31, 2021
We've been staying there for years so of course we love it but we miss the water slide and just wondering why you don't have pancake breakfasts like other KOA's we've stayed in. Also the campground used to have BBQ on the week-end for a fee that was fun! Thank you for being there
Mar 31, 2021
One of the best KOAs we've stayed at! Large shady sites, great store, lots of hiking trails, courteous staff, and a really nice Bunkhouse Bar!
Mar 31, 2021
Delivery service of ice n wood was awesome, Mai tai lady's truck was great. Sad arroyo area had no internet when we were told it would.
Mar 31, 2021
This is my favorite places! Highly recommended.
Mar 31, 2021
Always a great time here! It's a convenient location and the kids love it.
Mar 31, 2021
We had a great weekend. The only negative was that our site did not have a picnic table.
Mar 31, 2021
Beautiful property with lots of campsites. Bathrooms could use updating.
Mar 31, 2021
Third time here in two months. This last time in the rear arroyo seco. Great time. Forces everyone off their phone due to no cell service or WiFi capability. Thanks again.
Mar 31, 2021
Love the mountain bike trails and pump tracks. Fun for the whole family. Love the Bar and the Mobile Mai Tai Truck! Staff is always super friendly. Easy to book and great communication.
Mar 31, 2021
It was great thank you
Mar 31, 2021
Wonderful location for cycling and hiking, and expansive facilities were made highly unpleasant by RV generators running at all hours, including during "quiet time". It's not KOA fault too many RVers think watching TV or entertaining their children is a normal activity when away from home. A more restrictive generator policy and strict enforcement is highly appreciated.
Mar 31, 2021
Mask wearing in the common areas near the store was not great. One of the sites next to us in the Aroyyo Secco section put something that smelled like plastic in their campfire and we had to take the kids inside our camper because of the poor air quality. Other than that we had a great stay as usual and we still recommend Vail Lake and loved the large campsite in our section.
Mar 31, 2021
Here for mountain bike racing. We got a spot in the Arroyo this time around.
Mar 31, 2021
Fleck to check out was great didn't get a answer if pool was going to be heated and whan it opens
Mar 31, 2021
I have stayed at your facility several times over the past few months due to kid's sports. The latest time was the only one I can complain about as I could not get in the spot 495. There is no sense asking the customer how long their rig is and if it has pop-outs if you can not accommodate the height. The tree limbs were easily 8' feet off the deck and my motorhome is 14' tall. Please trim.
Mar 31, 2021
Black top road need to be taken care of lots of pot holes, very unkept. Sites need to be updated and cleaned up and leveled for parking.
Mar 31, 2021
Great, LOVE the quiet hours and rules because at other places people can party and get crazy, without strict rules, people can easily can ruin a camping trip. Love the family vibe.
Mar 31, 2021
Biggest park I've ever seen. And still quiet at night. Helpful staff. Great experience for us. Thank you.
Mar 31, 2021
Booked a last minute available site and when we arrived the site wasn't enjoyable at all. My Wife called the office and they were more than helpful, in fact they offered us a different site to stay at. I was truly impressed by the customer service and professionalism. We ended up with a spot that we loved, had a great weekend and are already looking forward to returning. Thank you all!!
Apr 08, 2021
U must visit vail lake
- Erum Baloch on Google
Apr 08, 2021
We attended a memorial for a dear friend. The staff were excellent!! They even guided directly to the site we were looking for. Beautiful grounds.
- kim Doria on Google
Apr 06, 2021
Beautiful place! I stayed on Easter weekend & they had different activities for the kids which I thought was sweet. Mini golf & swimming pool were also fun. Bathrooms were clean & showers worked great! Their store has anything you could've possibly forgotten. I will definitely be back!
- Esmeralda Ramirez on Google