Directions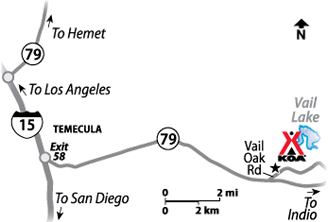 I-15 North: Take exit 58 for California 79/Temecula Pkwy toward Indio Turn East onto CA-79 S/Temecula Pkwy, continue for 8.9 miles Turn left onto Vail Oak Rd
Get Google Directions
Apr 04, 2021
We have enjoyed the Halloween events at Vail for the last 18 years! We are beginning to enjoy other events as well, however, the road situation has always been a problem. I would like to see all of the road maintained better. It's very difficult to ride bikes on most all of the roads and it's not easy on the RV. Also, it would be nice if all of the sites were full hookups.
Apr 04, 2021
Beautiful campground only problem is some people think everyone wants to listen to their music until 11 PM. I still think the place is great.
Apr 04, 2021
Beautiful experience. Such incredible family memories. PLUS, We had a water issue with our travel trailer, the staff went above and beyond to assist us in our time of need --going beyond our highest expectations! I felt so safe and secure as I watched my young grandchildren playing in the beauriful surroundings, learning new skills like bike riding,hiking and making smores around the campfire! .
Apr 04, 2021
Check-in materials state that rules are to be strictly enforced. The families surrounding us partied loudly until 1:30AM. They had an axe throwing board that they used all night long. If security is not going to enforce the 10 PM quiet rule, don't include it in your material.
Apr 03, 2021
WAY too many underage, I'm talking 10-13 year olds, driving golf carts around the campground.
Apr 03, 2021
Had lots of fun. Only thing we were sad about is the pool was freezing. Maybe watch for kids driving extremely fast in their golf carts at night. Felt like they were going to run someone over. Otherwise had a great stay
Apr 03, 2021
It would have been a very pleasant stay but the septic/sewerage smell at lot 313 was awful.. We spoke with Ian (general manager) , hopefully it will be taken cared of..
Apr 03, 2021
We stayed in Ricon. Awesome for family with children. Facilities are clean and staff very helpful. Definitely recommend and will stay again
Apr 03, 2021
We were super happy with our tent campsite and would definitely return. However, not all sites are equal. Some have dead trees and no cover. We would not had the same experience at another site. 362 was great. The biking is awesome.
Apr 03, 2021
Good stay, actually had WIFI this time at Chardonnay.
Apr 03, 2021
Great site! Lots of fun
Apr 03, 2021
This was out first time camping , your staff and place was amazing we will be back .
Apr 03, 2021
Great campground! Family friendly! Lots to do and well kept! Thank you!
Apr 03, 2021
Went for a three day stay. Good sized spaces with many having very good tree coverage. Enjoyed the mountain bike park. Very good shop and cafes. Did not get a chance to try everything. Mini Golf looked fun. Good pools, dog run and more.
Apr 02, 2021
We love staying here. Have no complaints, although we were dissapointed in the wifi service provider. We called on Thursday for help since it kept disconnecting. They didn't return our call until Saturday afternoon.
Apr 02, 2021
Peaceful, relaxing...
Apr 02, 2021
The stay was great! Clean sites, clean and stocked bathrooms. Staff was welcoming. Mask worn inside buildings. Lots to do for the kids. My petty complaints are : Bar was expensive (but you don't have to go there), and some of the RV sites (the one we stayed in) were back to back. I much prefer other campers next to us only, not all around us. I would chose a different site next time.
Apr 02, 2021
It was wonderful. It would be nice if the bar and restaurants were open during the week.
Apr 02, 2021
Other than trying to get the spot we originally requested and be with our group of 12 spots which we made rep aware of when we booked and there were so many open spaces in the area we were supposed to be in originally it finally worked out but not upon check in. I found the lady who checked us in rude and dismissive
Apr 02, 2021
Very nice park, clean and very well maintained
Apr 02, 2021
Except for my loud neighbor
Apr 02, 2021
Great! We loved our space and the grounds. The bike park is awesome. The internet could be much better.
Apr 02, 2021
Our space was clean and spacious. Tables at every space. Great scenery.
Apr 02, 2021
My family of 5 kids and 2 adults had a great stay. The staff was very attentive/responsive to our requests and provided quick service! Would definitely stay again!
Apr 02, 2021
The stay was excellent. The mountain bike trails are world class and the staff is always friendly.
Apr 02, 2021
I called the day of and they were able to get us in for two nights next to our friends. So awesome. Campground was very nice. A little disappointed that the pool and spa were not open. Hopefully, it will be open in May.
Apr 02, 2021
Great staff. Clean and quiet campground. Need to add recycle locations
Apr 02, 2021
We are very unhappy. We left our campsite for a couple hours to explore the local area and when we came back our camp chairs, firewood and our lights were stolen. And worst part the KOA staff just seemed to push us around to the next person and we're quite unapologetic / uncaring when we informed them. Our neighbors reported stolen items also. Seems to be unsafe and uncomfortable place to stay.
Apr 01, 2021
This was our 2nd time staying here & were in the lower merlot section both times, near the mountain bike trails. But this time there were mountain bike races going on all weekend & we had the end spot closest to the race. Very busy !! Im not against mountain bikes, I ride off road motorcycles. They should have told us about the races when we made our reservation Would have picked another spot.
Apr 01, 2021
Beautiful and well maintained grounds with lots of great amenities! A wonderful place to relax and unwind with family and friends!
Apr 01, 2021
That weekend was a big Bike tournament. When I booked back in January nothing was said about It and nothing posted on web. I had several cars parking in my space that was not with me. Was not an enjoyable trip, since I drove over six hours to get there.
Apr 01, 2021
Great weekend getaway
Apr 01, 2021
My family and I had a great time during our stay. We will be back!
Apr 01, 2021
We always have a great time here. We have stayed several times and enjoyed every moment. This last trip we did request to be near our friends, but we were a 5 minute walk from them. I was going to mention this to the manager, but since there was a huge bike event, I knew you were very busy and had to vacancy. We will be back soon!
Apr 01, 2021
One of the best campsites we have ever stayed in.
Apr 01, 2021
It was awesome
Apr 08, 2021
U must visit vail lake
- Erum Baloch on Google
Apr 08, 2021
We attended a memorial for a dear friend. The staff were excellent!! They even guided directly to the site we were looking for. Beautiful grounds.
- kim Doria on Google
Apr 06, 2021
Beautiful place! I stayed on Easter weekend & they had different activities for the kids which I thought was sweet. Mini golf & swimming pool were also fun. Bathrooms were clean & showers worked great! Their store has anything you could've possibly forgotten. I will definitely be back!
- Esmeralda Ramirez on Google