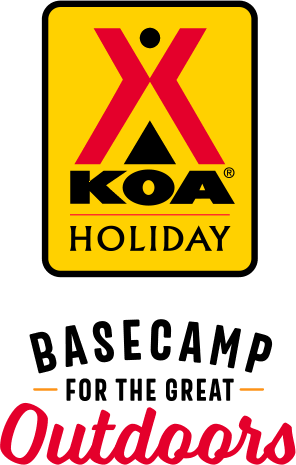 KOA Holiday Campgrounds
Whether you're exploring the local area or hanging out at the campground, KOA Holidays are an ideal place to relax and play. There's plenty to do, with amenities and services to make your stay memorable. Plus, you'll enjoy the outdoor experience with upgraded RV Sites with KOA Patio® and Deluxe Cabins with full baths for camping in comfort. Bring your family, bring your friends, or bring the whole group – there's plenty of ways to stay and explore.
KOA Holidays Feature:
RV Sites with a KOA Patio®
Deluxe Cabins with full baths
Premium Tent Sites
Group meeting facilities
Directions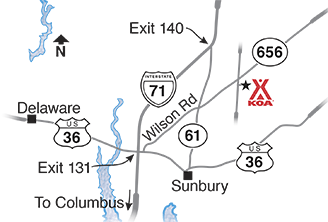 We are situated BETWEEN I-71 exits 131 & 140 approximately 8.5 miles off the interstate.  Your GPS may instruct you to take one of the other many routes but we have found that the routes below are the shorter with less turns. 
Headed North on I-71 (from Columbus): Take exit 131 (we are 8.5 mi off this exit).  Turn RIGHT off exit onto 36/37, get into left turning lane. LEFT onto Wilson Rd. (across from Burger King).  Never turn again (8.50 mi) until you reach PORTER CENTRAL RD. where you will turn RIGHT.  SPECIAL TRAVEL NOTES: (1) This is a busy exit.  If you notice it's busy and it's rush hour, stay on I-71 and just go up to exit 140.  (2) Wilson Rd. becomes 656 when you cross over 61 (3) Your GPS may instruct you to go through Sunbury, which is correct but is a longer route.   
 
Headed South on I-71 (from Cleveland): Take exit 140. LEFT onto St. Rt. 61 for 5 miles. LEFT onto 656 for 2.5 miles. RIGHT onto Porter Central Rd. SPECIAL TRAVEL NOTES: GPS will instruct you to take Chambers Road, which has a COVERED BRIDGE with height limit of 8' 10".  If your rig doesn't fit, go past Chambers and on up to either: 521 (left on 521 then left onto 656) or 656 (left on 656) to Porter Central.
Get Google Directions
Aug 24, 2020
Great time. Everything was great except the pool was very dirty...white film on the top of the water, bandaids and food floating in it, etc
Aug 24, 2020
Loved it very clean and friendly
Aug 24, 2020
Have stayed here many times.
Aug 24, 2020
Excellent service and attitudes!
Aug 24, 2020
Great place, top notch management, beautiful spacious sites.
Aug 24, 2020
Stayed in the farmstead cabin. loved our stay. the staff at this campground was awesome. fast deliveries on anything we needed or ordered. we will definitely be back.
Aug 24, 2020
Everything was great. Except the disc golf course could use some professional help especially the back 5 holes.
Aug 24, 2020
Best Koa in central Ohio area !
Aug 24, 2020
Great campground. Staff extremely nice, clean shower/bath houses. General store is really neat.
Aug 24, 2020
Awesome stay. I love that you can text when you need anything and they will bring it to your site. They have food also that can be ordered and they will deliver it.
Aug 24, 2020
Had a great time, everything was perfect
Aug 24, 2020
This was our first time camping at a KOA campground. We absolutely loved it! The campground was amazing! We loved all the things for our little girl to do. Everyone there was very very polite. The food at the Vittle Griddle was so good! We will definitely be back!!
Aug 24, 2020
Our stay was great. The food from the grill was excellent (we ate one of each meal from there), the delivery service for food, ice and wood was very timely and the staff was so polite and helpful. We will definitely be back.
Aug 24, 2020
Very nice staff, Very clean facility , lots of thing to do
Aug 23, 2020
Great place, especially for families. Clean, well staffed and organized, great wi-fi. Friendly, too!
Aug 22, 2020
Lots of things to do! Everyone is very friendly! My grandkids love coming here too.
Aug 22, 2020
We had a great time! So many new additions! Nice huge, shady sites. Clean, private restrooms. Can't wait to see the swimming pond finished. Suggestions: Free kayaks are great, but need more life jackets. Nice clean, huge pool, but it was freezing cold! The gold paddle boat didn't guide well...hard to get out from dock...too close to shore on 1 side. Clean out pond. Move golf out of w
Aug 22, 2020
It was wonderful! So clean! Great level sites. Hookups convenient! The ONLY negative was the ugly lake. I definitely think you need a new PROFESSIONAL to take care of the algae. I know of many people with ponds that have no problem controlling that algae. You need someone who knows what to do. We WILL be back! Lived the park!
Aug 22, 2020
Had cGrandchildren with us so that they could take advantage of the pool petting zoo jump pad swings in other playgrounds had a nice quiet time there with the other campers I'm sure we will be there back in the future
Aug 21, 2020
Always a great place to go!
Aug 21, 2020
The staff were all so helpful. They have some of the hardest working employees I have ever seen! And a big shout out to Haley for working so hard with me to manage long term stays to accommodate changing needs. The Boonies and Backwoods as places to be are what camping to de-stress are all about. Thanks!
Aug 21, 2020
Our stay was very nice. Easy process for reservations, great variety of activities for kids. The only reason for not giving 5 stars is because the last day of our stay the sprinkler/kiddie pool area was not working. The young kid working had no idea how to turn it on and there wasn't going to be a maintenance person available for hours. Very disappointing, but otherwise a nice stay.
Aug 21, 2020
GREAT CAMPGROUND.... GREAT STAFF......VERY NICE SITE
Aug 21, 2020
Short , but hope to come back.
Aug 21, 2020
The team that owns and operates Sunbury/Columbus North KOA is TOP NOTCH. We definitely recommend this beautiful site and thank their team for making everything feel just right.
Aug 19, 2020
grandchildren really enjoyed the pool and play area. little disappointed with General store but over all a great experience!!
Aug 19, 2020
When we first pulled in we were in a site where we could not pull our steps down. As soon as I called they came and showed us 3 other sites that were open for our stay. 1 of them was a deluxe site and they switched us with no hesitation. I don't have enough good to say about this campground they are all so lovely and so kid friendly.
Aug 18, 2020
We LOVE this campground!!! So much for our 3 kids to do!! They literally cry when we leave. The campsites are spacious and the grounds are so clean!! Can't wait to come back!!
Aug 18, 2020
It was an excellent experience. The kids and wife had a blast with all the activities. The food delivery to your site from their restaurant was very good and a relief as we were on our first trip with new camper and did not have our full set up with us. We booked several more weekends!
Aug 18, 2020
One of our favorite places to come always clean and a wonderful staff we come there about 4times a year always enjoy the stay see you in October
Aug 18, 2020
Great . We will be back
Aug 18, 2020
WOW very nice campground! Will be going back for sure! Employees were nice and can't say there's any complaint!
Aug 18, 2020
The owners have done a beautiful job improving this KOA, Every year we say here it get's beter and better.Great staff friendly and helpful. We will be back every year.
Aug 18, 2020
This is our favorite KOA
Aug 18, 2020
We enjoyed our stay very much!
Aug 18, 2020
Amazing place to stay! Very clean, everyone is helpful and friendly, lots of activities! One of our favorite places to stay!
Aug 18, 2020
We will definitely be back!1
Aug 18, 2020
First time at a KOA and boy was I pleasantly surprised! From check in to check out, I could not be more pleased. Super nice staff. Beautiful clean tent site. Bathrooms are immaculate. Will stay here again for sure. SO MUCH FUN!
Nov 04, 2020
Next season, check out the boondocks. It is their newest section. Huge campsites with full hookups! On your way into the campground order pizza and have it delivered to your site. Staff are friendly and helpful.
- Scott C. on Google
Nov 04, 2020
We absolutely love this campground! We highly recommend it to everyone that we can. The sites are a perfect size, Chip, Bambi, Hayley and the rest of the staff are all fabulous people and will do anything to help make your stay fun and comfortable. There are activities available for both kids and adults, the perfect balance. If you want a fun and great stay, come on over to the KOA Sunbury!
- Buckeye_Veteran on Google
Oct 14, 2020
Nice place 1 year ago
- terry beaver on Google