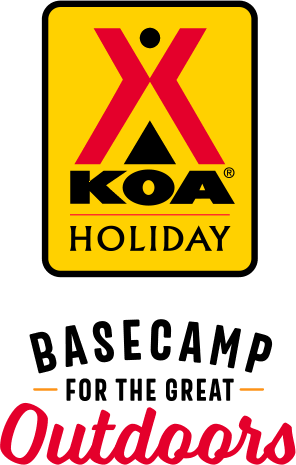 KOA Holiday Campgrounds
Whether you're exploring the local area or hanging out at the campground, KOA Holidays are an ideal place to relax and play. There's plenty to do, with amenities and services to make your stay memorable. Plus, you'll enjoy the outdoor experience with upgraded RV Sites with KOA Patio® and Deluxe Cabins with full baths for camping in comfort. Bring your family, bring your friends, or bring the whole group – there's plenty of ways to stay and explore.
KOA Holidays Feature:
RV Sites with a KOA Patio®
Deluxe Cabins with full baths
Premium Tent Sites
Group meeting facilities
Directions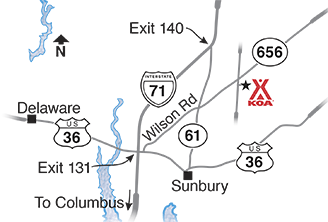 We are situated BETWEEN I-71 exits 131 & 140 approximately 8.5 miles off the interstate.  Your GPS may instruct you to take one of the other many routes but we have found that the routes below are the shorter with less turns. 
Headed North on I-71 (from Columbus): Take exit 131 (we are 8.5 mi off this exit).  Turn RIGHT off exit onto 36/37, get into left turning lane. LEFT onto Wilson Rd. (across from Burger King).  Never turn again (8.50 mi) until you reach PORTER CENTRAL RD. where you will turn RIGHT.  SPECIAL TRAVEL NOTES: (1) This is a busy exit.  If you notice it's busy and it's rush hour, stay on I-71 and just go up to exit 140.  (2) Wilson Rd. becomes 656 when you cross over 61 (3) Your GPS may instruct you to go through Sunbury, which is correct but is a longer route.   
 
Headed South on I-71 (from Cleveland): Take exit 140. LEFT onto St. Rt. 61 for 5 miles. LEFT onto 656 for 2.5 miles. RIGHT onto Porter Central Rd. SPECIAL TRAVEL NOTES: GPS will instruct you to take Chambers Road, which has a COVERED BRIDGE with height limit of 8' 10".  If your rig doesn't fit, go past Chambers and on up to either: 521 (left on 521 then left onto 656) or 656 (left on 656) to Porter Central.
Get Google Directions
Sep 11, 2020
People were very nice and the grounds were perfect
Sep 11, 2020
Awesome campground! We loved the great playgrounds and also the multiple dog runs. We will definitely be back!
Sep 11, 2020
Enjoyed our stay very much. So very nice to walk and people very friendly. Will definately come back to see you.
Sep 10, 2020
We stayed in the Macy's Manor cabin, and everything except the bed was fantastic. You might want to bring a foam mattress if you want a good night's sleep. The campgrounds are very clean as usual and there's plenty to do and see while you're there. I'm glad to see they're continually growing, and making so many great improvements. Great rates, friendly & professional staff, very clean environment!
Sep 09, 2020
Really cool campground. Huge, tons of stuff for the kids to do, and looks like they are still expanding. Staff was super friendly and accommodating. Camp store was fully stocked including a restaurant. Definitely will make a return trip.
Sep 09, 2020
There are lots of activities and it's always a good time when camping at Sunbury KOA.
Sep 09, 2020
We stayed at site 404 this last weekend and the only thing i Would like to see addressed is the dog pen near the door of the pen has a section that a smaller dog could get out my dog where larger so it was not an issue for me but I smaller dog could easily get out and get hit on the one way street. other than that Very nice campgound and we had a great time
Sep 09, 2020
Always enjoyable
Sep 09, 2020
The stay was great only we had some bad storms go through and lost power but other than that our stay was great
Sep 09, 2020
I love the express check-in and the service was excellent for food, wood, ice delivery! The only complaint I have is the picnic table in site 503 is very weathered and falling apart (loose boards). It is in desperate need of replacement. Otherwise, a wonderful experience.
Sep 09, 2020
Very clean, especially bathrooms and showers. We'll be back again.
Sep 09, 2020
The sites are too close together but overall it was nice.
Sep 08, 2020
Amazing as always. And to the young man working the store Sunday night.....rockstar. You were so, so busy but your service was fantastic And our ice cream was wonderful . See y'all in October.
Sep 08, 2020
This campground is always a favorite for our family to stay at each year. They offer activities for the kids that don't cost extra money and the kids love what is offered to do. The campground is beautiful and always kept clean. The only thing new that we do not like is the additional cost of $15 to lock in your site so that they won't move you locations; the deposit should be enough.
Sep 08, 2020
My family and I always have a wonderful time at the Sunbury KOA. The campground is very well kept and the people there are very warm and inviting. Already thinking about going back next week for a couple day break mid week!
Sep 08, 2020
Once again, it was an amazing weekend camping at Sunbury KOA. We love the new texting feature for anything we need and could not believe how fast things were delivered after we texted a request. Talk about excellent customer service! The staff is so warm and each one of them go above and beyond to ensure the guests are taken care of their entire visit. It's all of our favorite campground by far!
Sep 08, 2020
Great KOA!!! Friendly Staff!!
Sep 08, 2020
Wonderful KOA! Lots of activities for kids! Very clean campground! Will definitely make plans to return!!
Sep 08, 2020
Awesome. The staff members are very friendly and theIt is so much to do. Would love to come back and stay on a deluxe site
Sep 08, 2020
our first time there and we loved it
Sep 08, 2020
Loved the whole campground. Clean, lots of activities. Employees were super nice and helpful. One of the BEST KOA we have stayed at..
Sep 08, 2020
Love the owners and staff
Sep 08, 2020
This is an excellent family campground, a lot of activities for kids, well run with friendly staff.
Sep 08, 2020
We had a great time! Lots for the kids to do!
Sep 08, 2020
bathrooms were clean and stocked, tent site was taken care of and staff was super helpful and friendly.Lots to do.
Sep 08, 2020
We feel super lucky to have landed a site last minute before Labor Day weekend. We loved our stay. The kids are asking to go back and my husband, who is hard to please, even said he wants to go back. We were impressed. Thank you for a memorable holiday weekend!
Sep 07, 2020
Great cabin. Super clean and convenient restrooms. Friendly staff. Fun times had by all.
Sep 07, 2020
We enjoyed our site. Very walkable park.
Sep 05, 2020
Lots of activities for kids....big lots and very clean. Very easy check in process. Would stay again.
Sep 05, 2020
Great family campground! We will be back!!
Sep 05, 2020
It had been a while since our last stay here. We were not disappointed. We made reservations to come back in 2021! Thanks for maintaining such a nice park. This park certainly lives up to what I expect from a KOA.
Sep 05, 2020
We love staying here for the sites,the grounds,pool, pet friendliness,&the exceptional staff who make such a difference.This last visit we expected to get there about 3:30. I am a water lover and planned to swim before dinner. RV problems prevented us from getting there until 8ish. We were asked if we ate (we were starving)-they were so sweet & kind to deliver us delicious spaghetti dinners! 5*++
Sep 04, 2020
Overall the usual great stay. Food was awesome and can't wait to have another pizza. Service was super quick for everything except on Sunday. Dropped my propane tank off to get filled and 4 hours I went back and picked it up because it hasn't been filled or even moved.
Sep 04, 2020
Its was great .... clean and friendly place. We shall return.
Sep 04, 2020
Clean. Safe. Fun.
Sep 04, 2020
Loved everything about our stay. Plan to return someday soon.
Sep 03, 2020
The camp grounds were impeccable! We felt very safe. The staff was super friendly and attentive. Saturday was packed with fun filled activities for the kids and there were decent trails to walk on the camp grounds. The kids absolutely loves the playground! The only down side was the small pool and concrete splash pad, we had a few spills with some pretty good abrasions. We will be coming back!
Nov 04, 2020
Next season, check out the boondocks. It is their newest section. Huge campsites with full hookups! On your way into the campground order pizza and have it delivered to your site. Staff are friendly and helpful.
- Scott C. on Google
Nov 04, 2020
We absolutely love this campground! We highly recommend it to everyone that we can. The sites are a perfect size, Chip, Bambi, Hayley and the rest of the staff are all fabulous people and will do anything to help make your stay fun and comfortable. There are activities available for both kids and adults, the perfect balance. If you want a fun and great stay, come on over to the KOA Sunbury!
- Buckeye_Veteran on Google
Oct 14, 2020
Nice place 1 year ago
- terry beaver on Google