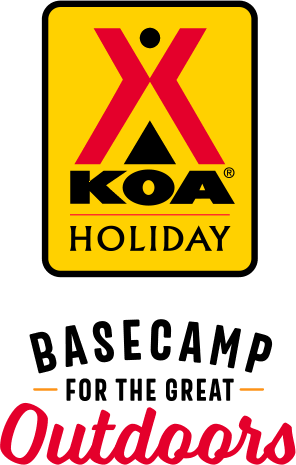 KOA Holiday Campgrounds
Whether you're exploring the local area or hanging out at the campground, KOA Holidays are an ideal place to relax and play. There's plenty to do, with amenities and services to make your stay memorable. Plus, you'll enjoy the outdoor experience with upgraded RV Sites with KOA Patio® and Deluxe Cabins with full baths for camping in comfort. Bring your family, bring your friends, or bring the whole group – there's plenty of ways to stay and explore.
KOA Holidays Feature:
RV Sites with a KOA Patio®
Deluxe Cabins with full baths
Premium Tent Sites
Group meeting facilities
Directions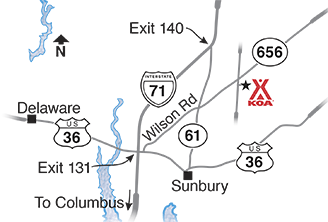 We are situated BETWEEN I-71 exits 131 & 140 approximately 8.5 miles off the interstate.  Your GPS may instruct you to take one of the other many routes but we have found that the routes below are the shorter with less turns. 
Headed North on I-71 (from Columbus): Take exit 131 (we are 8.5 mi off this exit).  Turn RIGHT off exit onto 36/37, get into left turning lane. LEFT onto Wilson Rd. (across from Burger King).  Never turn again (8.50 mi) until you reach PORTER CENTRAL RD. where you will turn RIGHT.  SPECIAL TRAVEL NOTES: (1) This is a busy exit.  If you notice it's busy and it's rush hour, stay on I-71 and just go up to exit 140.  (2) Wilson Rd. becomes 656 when you cross over 61 (3) Your GPS may instruct you to go through Sunbury, which is correct but is a longer route.   
 
Headed South on I-71 (from Cleveland): Take exit 140. LEFT onto St. Rt. 61 for 5 miles. LEFT onto 656 for 2.5 miles. RIGHT onto Porter Central Rd. SPECIAL TRAVEL NOTES: GPS will instruct you to take Chambers Road, which has a COVERED BRIDGE with height limit of 8' 10".  If your rig doesn't fit, go past Chambers and on up to either: 521 (left on 521 then left onto 656) or 656 (left on 656) to Porter Central.
Get Google Directions
Sep 21, 2020
was in 100 area thought sites were to close to each other , fire pits toclose to next camper some sites
Sep 21, 2020
Loved the park. Staff extremely nice and very clean campground. I was slightly disappointed in allowing people in the general store with no mask. I would not go in once it was obvious it was optional.
Sep 21, 2020
Awesome place to stay, Great people and lots to do. Grandchildren had a blast
Sep 20, 2020
Was a wonderful get away for us and our 2 dogs. First time staying at Koa Sunbury and we plan to return! Dog parks are wonderful for those of us who have 4 legged friends camping with us. The camping site was nicely surrounded by woods but still close to bathroom facilities, which were very nice and clean. Enjoyed using the fire pit and cooking over it. It was really a great time!
Sep 20, 2020
We loved the boathouse it was so relaxing. Thank you again for getting us in so quickly. We are looking forward to a couple more times before you close.
Sep 19, 2020
Our stay was wonderful and we will definitely return. Only downfalls were that they were short staffed and need to hire more help. I waited over 15 minutes in the empty office trying to check in then had to go and find someone to assist me. Store didn't open till 3:00 due to lack of staff. Also, trees need to be trimmed around the lake for fishing. Otherwise, it was great!
Sep 19, 2020
Very quick on item requests, wood, lp, etc. Bathrooms very clean grounds and playgrounds very well kept. Fast response on clearing road and returning electricity when tree fell in road and took out power.
Sep 18, 2020
Great ! ����‍���
Sep 18, 2020
Very nice, well maintained. Restrooms and showers were very clean.
Sep 17, 2020
Loved it! Can't wait to return to finish out our camping season.
Sep 17, 2020
Very nice and clean. Staff was nice and polite; we will be back
Sep 17, 2020
Our stay was really nice. The staff was great. What I like best you can text for anything and they text you back quickly. One down fall the breakfast villa griddle was over cooked to the point you couldn't eat it. Everything else was great.
Sep 16, 2020
We loved our entire time here! My boys loved waking up with the animals right there every morning and would run out to greet them! We would love to come back again and again!
Sep 16, 2020
Beautiful, Clean and Friendly. By far our favorite KOA to this point. We will return. Great Staff!
Sep 15, 2020
We thought this KOA was awesome! Well maintained, super friendly personnel. The only negative comment would be the unisex bath houses. First time we have encountered that at a KOA. We just are not fans of that type of setup. Great experience!
Sep 15, 2020
Great place. Kids had a blast.
Sep 15, 2020
Lots for the kids to do, clean campground, friendly staff!!!! Love this campground.
Sep 15, 2020
Great property with plenty to do and a outstanding group of people on the staff!
Sep 14, 2020
Really enjoyed our stay at your KOA. Everything was good.
Sep 14, 2020
Sunbury/Columbus North KOA has hands down become our favorite campground. The staff is friendly, campground is clean, and the amenities are wonderful. We can't wait for our next stay!
Sep 14, 2020
Absolutely loved staying at this KOA. Outstanding and friendly staff all around. Loved the petting zoo. The camp site was very nice and quiet (we stayed in the backwoods). I will definitely be back and would recommend this KOA to anyone. They have plenty of sites for all ages.
Sep 14, 2020
Great first camping trip for my 3 year old. We had plenty to do and enjoyed every minute. Staff was nice and accommodating, we will definitely be back!
Sep 14, 2020
We had the best time at this KOA very friendly staff and very Commondating to the campers. We will stay here again for sure.
Sep 14, 2020
We loved it! First time there and plan on coming back
Sep 14, 2020
Beautiful campgrounds! I don't think there is a bad site there. All sites are spacious and you don't feel like you're right on top of other campers. The facilities are super clean! We will be back!!
Sep 14, 2020
One of my favorite parks in general. The grounds are very clean. The staff is always very accommodating and helpful!
Sep 14, 2020
Our first time staying at KOA. We are now fans. Super friendly staff, facilities were awesome. Thank you.
Sep 14, 2020
So many unique qualities to this campground! The best yet!
Sep 14, 2020
Very clean! Kids had a blast!
Sep 14, 2020
Nothing to complain about.. only downside was the store wasn't open but clerk there was able to help me out anyway. Only stayed overnight.
Sep 14, 2020
Very nice , well kept . A lot of things to do for all ages . Staff was very nice. Will come back with family & friends
Sep 13, 2020
This was our second time staying here and we stayed over Labor Day weekend and into the next week. The weekend was packed as expected, but there was never a problem with noise or rowdy people. There happened to be a tornado that passed just west of the campground and we got a text about it with instructions on where to go. Staff is very friendly and food was great. We will be back!
Sep 13, 2020
We always enjoy our stays at Sunbury KOA. It's one of out favorite campgrounds. Everyone who works there is very friendly and helpful, and all the buildings and grounds are always clean and well maintained. We plan to continue being regular campers at this location.
Sep 12, 2020
Haley was able to get us a site for the holiday weekend and it was wonderful. Great site and great facilities!!
Sep 12, 2020
Grounds were well maintained and facilities were in excellent condition. The amenities made the stay excellent fun. A bit short staffed but that did not severely impact our stay.
Nov 04, 2020
Next season, check out the boondocks. It is their newest section. Huge campsites with full hookups! On your way into the campground order pizza and have it delivered to your site. Staff are friendly and helpful.
- Scott C. on Google
Nov 04, 2020
We absolutely love this campground! We highly recommend it to everyone that we can. The sites are a perfect size, Chip, Bambi, Hayley and the rest of the staff are all fabulous people and will do anything to help make your stay fun and comfortable. There are activities available for both kids and adults, the perfect balance. If you want a fun and great stay, come on over to the KOA Sunbury!
- Buckeye_Veteran on Google
Oct 14, 2020
Nice place 1 year ago
- terry beaver on Google