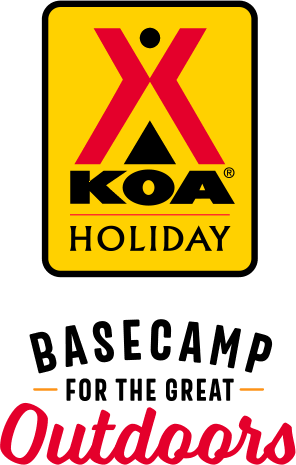 KOA Holiday Campgrounds
Whether you're exploring the local area or hanging out at the campground, KOA Holidays are an ideal place to relax and play. There's plenty to do, with amenities and services to make your stay memorable. Plus, you'll enjoy the outdoor experience with upgraded RV Sites with KOA Patio® and Deluxe Cabins with full baths for camping in comfort. Bring your family, bring your friends, or bring the whole group – there's plenty of ways to stay and explore.
KOA Holidays Feature:
RV Sites with a KOA Patio®
Deluxe Cabins with full baths
Premium Tent Sites
Group meeting facilities
Directions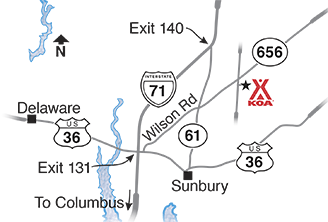 [b]EXIT 131: [/b]Use exit 131 Head East on State Route 37. Make a LEFT at the first traffic light onto Wilson Rd. You will stay on Wilson Rd all the way until you see our KOA sign to turn right onto Porter Central Rd. You will pass over the round-about over State Route 61. 
We are situated BETWEEN I-71 exits 131 & 140, approximately 8.5 miles off the interstate. SPECIAL TRAVEL NOTES: GPS will instruct you to take Chambers Road if your coming from the North headed South, which has a COVERED BRIDGE with height limit of 8' 10".  Go past Chambers and turn left onto 521, left onto 656 and then right onto Porter Central Rd.
Get Google Directions
Nov 03, 2020
Great campground! Very clean and great activities for children and adults.
Nov 03, 2020
My wife and I have been seasonal campers at this campground for over 10 years. Each and every year there have been numerous improvements. The owners and staff ALWAYS have went the extra mile to address our every need.
Nov 03, 2020
I love this family owned and operated campground We are seasonal and have no intentions of leaving until they kick us out!!!
Nov 03, 2020
best campground we have ever stayed at! The staff goes above and beyond to help patrons.
Nov 03, 2020
Friendly staff and beautiful grounds.
Nov 02, 2020
Nice , Clean , Campground with lots to do and a friendly staff . We will be back
Nov 02, 2020
Our favorite KOA!
Nov 02, 2020
This is absolutely my favorite KOA. We have stayed at a lot of KOAs this summer & this one is by far the nicest! Beautiful grounds, nice walking trails through the woods, & spotless! We can't wait to stay here in the summer when the trees are full. We stayed in the backwoods section, & it was awesome! If you are following GPS, DO NOT TAKE CHAMBERS RD!! You will not fit under the covered bridge!!!
Nov 02, 2020
Lots to do.. very very friendly staff
Nov 02, 2020
The staff here are Outstanding! They go above and beyond to take care of their guest!
Nov 02, 2020
Very Nice! Definitely will be back next year!
Nov 02, 2020
One of our favorite parks. The staff is always very accommodating and the sites are very clean and well maintained. We will definitely be back many times to come. There is also a brewery and winery nearby!
Nov 02, 2020
We love this KOA. The sights are big and roomy. Staff is friendly and helpful.
Nov 02, 2020
GREAT FAMILY TIME!
Nov 02, 2020
Employees were helpful and professional. There were signs posted that you must wear masks but it was not enforced. I was disappointed the KOA allows political displays. We go camping to escape reality for a couple of days and seeing flags, banners and political writings was uncomfortable and not relaxing.
Nov 02, 2020
Nice campground. We only stayed one night.
Nov 01, 2020
We loved this campground. This is the 14th KOA we have stayed at this year. It is by far, the best. It was peaceful and relaxing....a great way the end the camping season. We actually stayed an extra night because it was so peaceful. We have already booked our stay for next May.
Oct 28, 2020
Awesome weekend. See ya next year!!
Oct 28, 2020
Beautifully kept, relaxing stay. The area is quiet, and there are plenty of fun things to do on site. Fun themed central area, friendly farm animals and the playground was a hit too.
Oct 27, 2020
As always it is great! We love coming to your campgrounds!
Oct 27, 2020
Very nice campground and the staff was helpful and friendly. We plan to come back next summer!
Oct 27, 2020
Our family absolutely loved the treehouse cabin! The activities for the kids were also amazing! Staff is always awesome!!!
Oct 27, 2020
Let me start by saying that I DO recommend the KOA Sunbury! However, I can't say that we would rent the treehouse cabin again. The description said rollout bed but there wasnt one. The loft was infested with flies and wasps! Bathroom is outside not awful but not portrayed. There was a STARK lack of privacy! There are no curtains and you can see straight inside! I expected more for $250 per night.
Oct 26, 2020
Every visit is fantastic! No complaints here
Oct 26, 2020
Loved the campground! Very family friendly and very clean! Can't wait to go back again.
Oct 26, 2020
Stay was very good. It was very tight backing our 41 foot 5th wheel in to the space. Road is very narrow. My opinion is if you have anything over 35 foot make sure it is a pull thru space.
Oct 26, 2020
We love this campground! Every one there is extremely kind .all of the rest rooms were clean even at full capacity!
Oct 26, 2020
This was our first time and we loved it! We loved all of the activities and the grounds are beautiful!
Oct 26, 2020
This is a great campground!! Very friendly staff and lots of fun activities.
Oct 26, 2020
Best camping experience yet! Cannot believe good can be ordered and delivered to a campsite! Yessss!! Clean, very well kept and happy employees. Our site was nice with extra furniture and an umbrella. Halloween in full play with lots of decorations so fun for small ones! Definitely will return!
Oct 26, 2020
Always a great time!!
Oct 26, 2020
We had a wonderful stay! It was the first time at a KOA and we were VERY impressed! Everyone was so nice and friendly! We will be back, hoping to come in the summer!
Oct 26, 2020
Unbelievable! I love all the activities for the kids. We had a nice spacious site in the backwoods. We already placed our reservation for Memorial Day weekend.
Oct 26, 2020
So enjoyed our stay!!! Already talking about our summer adventures that will definitely include multiple stays at the Sunbury KOA!! The kids had such a good time.
Oct 26, 2020
Very friendly staff and the txting app for info or ordering anything was very helpful. Highly recommend this place to stay.
Oct 26, 2020
Had a great time! Nice campsite furniture and hookups all worked. Loved the play areas and food deliveries. Great campground and a good weekend. See you next year!
Sep 17, 2021
Great campground! Super employees! We love our site. Had dinner delivered from the on-site cafe, husband loved the burger and my Spaghetti with meatballs was delicious. They even called me this morning to see if we wanted to extend our stay. The people who reserved our site for Saturday canceled and we were given the opportunity to extend before the site was offered on the website. Wow! We will definitely come back!
- Linda Kay Rex on Google
Sep 15, 2021
Very nice Campground and clean. Friendly and welcoming staff. Will stay here again.
- Bob Smith on Google
Sep 08, 2021
The campground has many things to do but also has the calming effect of a small campground. Many amenities added in the recent couple years. Look forward to going back a couple times a year.
- Joshua Ross on Google