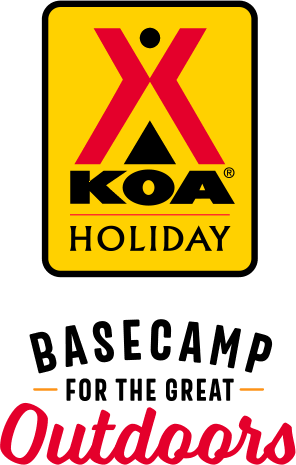 KOA Holiday Campgrounds
Whether you're exploring the local area or hanging out at the campground, KOA Holidays are an ideal place to relax and play. There's plenty to do, with amenities and services to make your stay memorable. Plus, you'll enjoy the outdoor experience with upgraded RV Sites with KOA Patio® and Deluxe Cabins with full baths for camping in comfort. Bring your family, bring your friends, or bring the whole group – there's plenty of ways to stay and explore.
KOA Holidays Feature:
RV Sites with a KOA Patio®
Deluxe Cabins with full baths
Premium Tent Sites
Group meeting facilities
Directions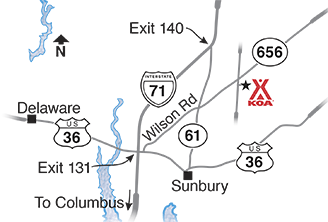 [b]EXIT 131: [/b]Use exit 131 Head East on State Route 37. Make a LEFT at the first traffic light onto Wilson Rd. You will stay on Wilson Rd all the way until you see our KOA sign to turn right onto Porter Central Rd. You will pass over the round-about over State Route 61. 
We are situated BETWEEN I-71 exits 131 & 140, approximately 8.5 miles off the interstate. SPECIAL TRAVEL NOTES: GPS will instruct you to take Chambers Road if your coming from the North headed South, which has a COVERED BRIDGE with height limit of 8' 10".  Go past Chambers and turn left onto 521, left onto 656 and then right onto Porter Central Rd.
Get Google Directions
Nov 13, 2020
We reserved a treehouse and had a really enjoyable stay. The treehouse was well stocked with items needed to do basic cooking and cleaning and the bathroom underneath was a great. During our stay we didn't have hot water but the owners were responsive in trying to fix the problem. Ultimately we were only there for 2 nights and so it wasn't a problem. We came in off season so it was quiet!
Nov 08, 2020
This is our second year at KOA Sunbury in October. The campground is beautiful and the staff is always great!
Nov 04, 2020
The campground is always clean and ready for families and is very pet friendly. The staff and employees are always very helpful and extremely friendly and efficient. Activities are fun for both children and adults. We love the experience of camping at Sunbury/Columbus North KOA and cannot wait to go back next year.
Nov 04, 2020
This KOA IS ONE OF THE BEST in the Nation. A lot of activities for the whole family. Chip, Bambie, and Haley and their staff ensures your camping experiences are the most enjoyable relaxing times you'll never forget. Please book your next vacation at this campground and enjoy. �����
Nov 04, 2020
Amazing campground with so many great activities! Staff is great too! We will be back!
Nov 04, 2020
We love coming here every weekend from May to October. Our "house on the lake" is made better by the staff and friends we have at the S/CN KOA, although in our hearts it will always be Autumn Lakes. Can't wait to see you all again in May!
Nov 04, 2020
We love it at the Sunbury / Columbus North KOA.
Nov 04, 2020
We always enjoy our time at Sunbury/Columbus North KOA. It is a great campground.
Nov 04, 2020
We absolutely love this campground! We highly recommend it to everyone that we can. The sites are a perfect size, Chip, Bambi, Hayley and the rest of the staff are all fabulous people and will do anything to help make your stay fun and comfortable. There are activities available for both kids and adults, the perfect balance. If you want a fun and great stay, come on over to the KOA Sunbury!
Nov 04, 2020
We fell in love with this campground this past summer. Ended up being there as much as we could. From the grounds, sites, and mostly the staff are wonderful and first class.
Nov 04, 2020
Overall, we thoroughly enjoyed our 3 night stay (1st time to visit you). We will definitely be back!! :) With COVID & the time of year (last camping weekend) we truly understand a few small issues that we encountered, but nothing to hold us back from coming back again. We truly LOVED your campground.
Nov 04, 2020
I always give a 5 but I was very disappointed this time. We were there the first week of October and got the golf cart for the first time. It was so great to get up on Saturday morning and have the golf cart right at the site to go to the activities. Then the rules changed for the last weekend of the season and I paid the same price to have the golf cart for less than half the time.
Nov 03, 2020
Seasonal stay. Awesome as always
Nov 03, 2020
Sunbury/Columbus North KOA is the best campground I have visited by far. I have visited four other local campgrounds. It is evident that the owners make a continued effort to improve and change the campground. Thumbs up for sure! Thanks for the service.
Nov 03, 2020
We have been seasonal members for 3 or 4 years now and absolutely love Camping here. The park is very Family oriented and the Staff are all Awesome.
Nov 03, 2020
Very pleasant, well maintained campground. Friendly owners and employees.
Nov 03, 2020
Awesome Place. Highly recommend them.
Nov 03, 2020
We had a very short season due to personal reasons but we ALWAYS have a wonderful time! We truly enjoy all the time we spend here! The staff are very kind and willing to help in any way they can. The Hanawalts have a great thing going!!
Nov 03, 2020
Great campground!
Nov 03, 2020
Been camping here for years. It just keeps getting better and better. Most family friendly campgrounds we have been to.
Nov 03, 2020
Great campground! Very clean and great activities for children and adults.
Nov 03, 2020
My wife and I have been seasonal campers at this campground for over 10 years. Each and every year there have been numerous improvements. The owners and staff ALWAYS have went the extra mile to address our every need.
Nov 03, 2020
I love this family owned and operated campground We are seasonal and have no intentions of leaving until they kick us out!!!
Nov 03, 2020
best campground we have ever stayed at! The staff goes above and beyond to help patrons.
Nov 03, 2020
Friendly staff and beautiful grounds.
Nov 02, 2020
Nice , Clean , Campground with lots to do and a friendly staff . We will be back
Nov 02, 2020
Our favorite KOA!
Nov 02, 2020
This is absolutely my favorite KOA. We have stayed at a lot of KOAs this summer & this one is by far the nicest! Beautiful grounds, nice walking trails through the woods, & spotless! We can't wait to stay here in the summer when the trees are full. We stayed in the backwoods section, & it was awesome! If you are following GPS, DO NOT TAKE CHAMBERS RD!! You will not fit under the covered bridge!!!
Nov 02, 2020
Lots to do.. very very friendly staff
Nov 02, 2020
The staff here are Outstanding! They go above and beyond to take care of their guest!
Nov 02, 2020
Very Nice! Definitely will be back next year!
Nov 02, 2020
One of our favorite parks. The staff is always very accommodating and the sites are very clean and well maintained. We will definitely be back many times to come. There is also a brewery and winery nearby!
Nov 02, 2020
We love this KOA. The sights are big and roomy. Staff is friendly and helpful.
Nov 02, 2020
GREAT FAMILY TIME!
Nov 02, 2020
Employees were helpful and professional. There were signs posted that you must wear masks but it was not enforced. I was disappointed the KOA allows political displays. We go camping to escape reality for a couple of days and seeing flags, banners and political writings was uncomfortable and not relaxing.
Nov 02, 2020
Nice campground. We only stayed one night.
Nov 01, 2020
We loved this campground. This is the 14th KOA we have stayed at this year. It is by far, the best. It was peaceful and relaxing....a great way the end the camping season. We actually stayed an extra night because it was so peaceful. We have already booked our stay for next May.
Sep 08, 2021
The campground has many things to do but also has the calming effect of a small campground. Many amenities added in the recent couple years. Look forward to going back a couple times a year.
- Joshua Ross on Google
Sep 03, 2021
So much to do at this campground! We really had so much fun! The amenities were always clean. The staff was super friendly and helpful. There was plenty to do for adults and kids! Will go back!
- Jennifer B on Google
Sep 03, 2021
We only spent one night at this KOA and it was outstanding. We have a travel trailer and had one of the deluxe patio sites. There is so much to do at this KOA and all the sites we saw were level and pull throughs. Highly recommend!
- Cindy Sowell on Google