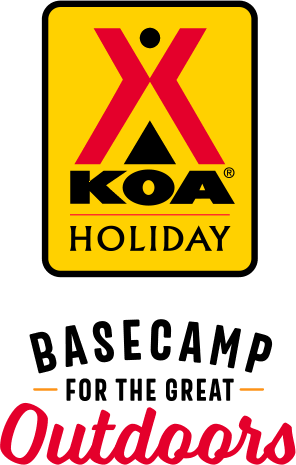 KOA Holiday Campgrounds
Whether you're exploring the local area or hanging out at the campground, KOA Holidays are an ideal place to relax and play. There's plenty to do, with amenities and services to make your stay memorable. Plus, you'll enjoy the outdoor experience with upgraded RV Sites with KOA Patio® and Deluxe Cabins with full baths for camping in comfort. Bring your family, bring your friends, or bring the whole group – there's plenty of ways to stay and explore.
KOA Holidays Feature:
RV Sites with a KOA Patio®
Deluxe Cabins with full baths
Premium Tent Sites
Group meeting facilities
Directions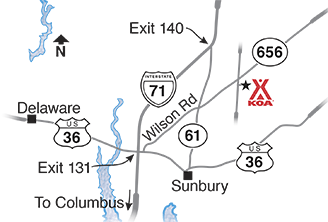 [b]EXIT 131: [/b]Use exit 131 Head East on State Route 37. Make a LEFT at the first traffic light onto Wilson Rd. You will stay on Wilson Rd all the way until you see our KOA sign to turn right onto Porter Central Rd. You will pass over the round-about over State Route 61. 
We are situated BETWEEN I-71 exits 131 & 140, approximately 8.5 miles off the interstate. SPECIAL TRAVEL NOTES: GPS will instruct you to take Chambers Road if your coming from the North headed South, which has a COVERED BRIDGE with height limit of 8' 10".  Go past Chambers and turn left onto 521, left onto 656 and then right onto Porter Central Rd.
Get Google Directions
May 10, 2021
Another perfect weekend. We sure love it here. Always clean and staff is beyond friendly. Can't wait to go back again....3 more weeks
May 10, 2021
Great campground for a nice weekend getaway. Kids love the zip line swing and bounce pads
May 10, 2021
Love this place! Friendly staff and the pizza was the best I've ever had. I just wish the weather had been better!
May 10, 2021
We have camped here for the last few years. We always got a good site except this time. Site 127 had no trees for shade, weeds were coming out of the gravel, the grass needed mowed and the worst part the poor donkey we petted had ear mites and mange. Also, my coworker said we should of only been charged 30.00 for Friday April 30th. The staff is super nice, and the pizza is good.
May 10, 2021
Wonderful and thoughtful customer service! Great fun for the family and can't wait to return!
May 09, 2021
Fantastic customer service and experience. It was our first time staying there but we decided to leave a day early for weather reasons and I was contacted that evening to make sure that there wasn't a problem with the campground, and we were even refunded for one night. I never expected that but it is always appreciated. We will definitely be back.
May 09, 2021
All of the staff went out of their way to make sure we had a great experience.
May 09, 2021
Very organized business and the campgrounds were high class!
May 08, 2021
This is one of our favorite KOAs. Only complaint this time was being put in a site with connections in a huge puddle of water when drier sites were available. We had to return to the check in area and ask to be reassigned to another site.
May 07, 2021
The ENTIRE staff was so nice. Upon our arrival and telling them it was our first trip out with our new camper, they upgraded us to a premium spot. During our stay we shopped at the general store, ate at the cafe, and bought wood for a fire which they delivered to us. The restrooms/shower areas were very nice too. It was a very clean campground and I would highly recommend staying there.
May 07, 2021
Very pleasant experience. The grounds are well kept with many activities for children. Great restaurant and store. All very friendly. The bathrooms are clean, private, and decorated as if you were at home. Loved feeding the animals.
May 06, 2021
Great place to camp!! We enjoyed this KOA very much and will be back. Great staff, sites, activities and the Friday night pizza is delicious. The Lucky Penny Sisters that performed Sat night was an added bonus!
May 06, 2021
A couple little glitches --- opening week --- but they were resolved quickly. First time there. Great campground. Will definitely come again
May 05, 2021
Always a great stay at the Sunbury KOA. Friendly, clean and always accommodating to your request. Can't ask for a better camp ground.
May 05, 2021
The Sunbury/Columbus North KOA is a campground I enjoy staying at every time I'm there. The site's are set up very well and the staff work hard to make your stay comfortable.
May 05, 2021
Sunbury is one of my favorites to stay.
May 04, 2021
Very nice park for families. Many kids activities. But for retired seniors especially just passing thru it was very crowded as many sites are seasonal. Our site was very tight for our big rig. The main road out was very curvy and narrow with many branches into it scratching sides of our rig
May 04, 2021
We love Sunbury KOA. Although, all the grassy areas needed to be mowed and a few other minor issues needed attention for opening weekend, we will definately be back...again!
May 04, 2021
We had a great visit and hope to return soon!
May 03, 2021
Great time, great staff that treats you like family. Glad we have a second tripped planned there later this summer.
May 03, 2021
Husband & I had a wonderful stay. This was our first time ever camping with our own camper. The staff is super friendly. The grounds are very well kept and facilities are clean and convenient. We loved our stay so much we booked for another weekend in 2 weeks! We live less than 5 miles from this KOA & we love it so much that we'll continue coming back & have told all our friends & family about i
May 03, 2021
Beat campground in Ohio. Staff is amazing.
May 03, 2021
Very nice, well kept, staff super friendly. Felt like being home. Booked this again excited to be back!
May 03, 2021
Beautiful park, well maintained and clean. A lot of stuff to do and see. The service was impeccable. Everyone was extremely nice and helpful.
May 03, 2021
Relaxing weekend. Playground/jump pad and bathroom were right next to our cabin (Tysons Truck). Cabin was bigger than I expected. While park Wifi was great! I really liked being able to text to ask questions. My only complaint is no dishwashing sink near the bathhouse. Will be back again!
May 03, 2021
Great stay, clean bathrooms, and helpful people.
May 03, 2021
We purchased our first camper earlier this year and couldn't wait to use it. We choose to stay close to home (about 20 mins!) for our first trip and the Sunbury KOA did NOT disappoint! It was perfect for everyone in our family! The kids loved the playgrounds and getting to explore out in the woods. The staff was incredible and the facilities were amazing. We already booked our next stay!
May 03, 2021
The only suggestion that I would have is that you may want to get a larger water heaters. It seemed by the time one person took a shower the next person shower was lukewarm at best.
May 03, 2021
A little pricey but very nice place to stay
May 03, 2021
we had a great time staying in the Macy Manor. Everyone was great from check in, the store, and the restaurant.
May 03, 2021
So many fun things for kids and adults
May 03, 2021
Wonderful! That was our first time at a KOA and the staff and service was amazing. It won't be our last!
May 03, 2021
Awesome amenities such as playground, paddleboats, live band, nice store & restaurant.
May 03, 2021
Great location. So many activities for adults and kids. Grounds are very well kept and clean. Staff was very nice and helpful! We will definitely we coming back
May 03, 2021
Our first time - we were really impressed - we'll be back!
May 03, 2021
Bautiful place! I'll be back!
May 03, 2021
Awesome as always I've this campground- clean and friendly staff Looking forward to coming back Mike and Polly Warren
Dec 03, 2020
The campground is in great shape. The site was really well maintained. Also, the owners are really nice and will take time to stop and chat with you! Highly recommend!
Nov 20, 2020
We had a great time. The place was very clean and included a lot more than we even expected. Haley was very helpful and responsive even though the park was closed for the season already
Nov 13, 2020
Great place to camp. Love that they do not charge for many of the extra activities. They go over and above to provide fun weekend activities.
Nov 13, 2020
Amazing grounds tons of fun and activities. Awesome staff that always goes above and beyond!
Sep 08, 2021
The campground has many things to do but also has the calming effect of a small campground. Many amenities added in the recent couple years. Look forward to going back a couple times a year.
- Joshua Ross on Google
Sep 03, 2021
So much to do at this campground! We really had so much fun! The amenities were always clean. The staff was super friendly and helpful. There was plenty to do for adults and kids! Will go back!
- Jennifer B on Google
Sep 03, 2021
We only spent one night at this KOA and it was outstanding. We have a travel trailer and had one of the deluxe patio sites. There is so much to do at this KOA and all the sites we saw were level and pull throughs. Highly recommend!
- Cindy Sowell on Google