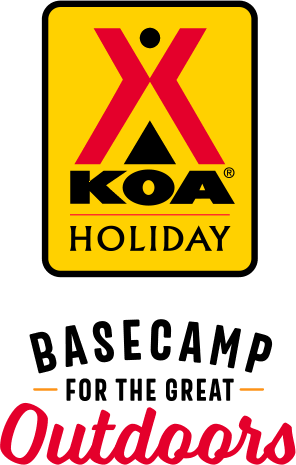 KOA Holiday Campgrounds
Whether you're exploring the local area or hanging out at the campground, KOA Holidays are an ideal place to relax and play. There's plenty to do, with amenities and services to make your stay memorable. Plus, you'll enjoy the outdoor experience with upgraded RV Sites with KOA Patio® and Deluxe Cabins with full baths for camping in comfort. Bring your family, bring your friends, or bring the whole group – there's plenty of ways to stay and explore.
KOA Holidays Feature:
RV Sites with a KOA Patio®
Deluxe Cabins with full baths
Premium Tent Sites
Group meeting facilities
Directions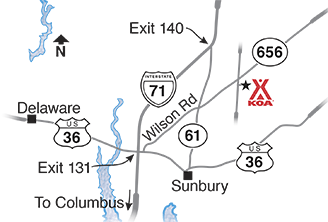 TRAVEL ALERT!  WILSON RD IS CLOSED!
Exit 130 is the most popular route then Wilson straight to campground. HOWEVER, The intersection of St. Rt. 656 & 61 will be CLOSED starting June 1 for roughly two months.  So exit 130 is NOT the first choice.  Use one of the two options below to get to us:
[b]OPTION #1:   I-71: [/b]Use exit 140. Head south on St. Rt. 61 TOWARD SUNBURY.  2 miles. LEFT on 521.  LEFT onto 656. RIGHT onto Porter Central.  Do not take Chambers Rd. to cut over, as it has a covered bridge that has a clearance of 10' 8".  
OPTION #2: St. Rt. 3 (If you ended up taking exit 130 and drove to Sunbury):  Do not turn onto 61!  Continue east.  Turn onto Condit Rd. all the way to the dead end.  LEFT ONTO Olive Green Rd.  RIGHT onto Porter Central.  RIGHT into our driveway.
We are situated BETWEEN I-71 exits 131 & 140 approximately 8.5 miles off the interstate.  Your GPS may instruct you to take one of the other many routes, but we have found that the routes below are the shorter with less turns. SPECIAL TRAVEL NOTES: GPS will instruct you to take Chambers Road, which has a COVERED BRIDGE with height limit of 8' 10".  If your rig doesn't fit, go past Chambers and on up to either: 521 (left on 521 then left onto 656) or 656 (left on 656) to Porter Central.
Get Google Directions
Oct 10, 2020
What every KOA should aspire to. Top notch in every way! Can't wait to return.
Oct 10, 2020
This was our first time there. It is a nice place and well laid out. Large sites are amazing. Thinking about seasonal site next year.
Oct 09, 2020
Our favorite KOA!
Oct 08, 2020
wonderful cabin ( the boat house) trick or treat was very nice and lots to do.
Oct 08, 2020
Very nice campground with friendly, efficient staff. Thank you!
Oct 06, 2020
My 2nd time at this KOA and as usual outstanding!
Oct 06, 2020
Came to the Columbus area from San Antonio,TX to safely see family and we selected this KOA as our headquarters for 2 weeks! Wonderful rural setting and the facilities were very clean and convenient. Great family campground. The entire staff was friendly and professional. Also enjoyed the start of Fall tree color change. When we head back next year, we will again stay here. Thanks.
Oct 06, 2020
Great service, will be back.
Oct 06, 2020
We loved it! This is a great campground with lots of things you can do and activities you can participate in. Or, if relaxation is your thing, you can do nothing at all.
Oct 05, 2020
Nice Campgrounds with lots of things to do
Oct 05, 2020
Each year it keeps getting better and better. We loved the 'buddy' site. Everything is family friendly, clean and a good time was had by all!
Oct 05, 2020
So many conveniences. Lots of kid friendly activities. Very clean. Beautiful park
Oct 05, 2020
We were sad because this was our last visit for the year. Tons of Halloween fun!!!! See ya 2021
Oct 05, 2020
We have been coming to this KOA for over 8 years now. My oldest was 2 when we started and she's now 10 and loves it just as much, if not more then her 1st time! My youngest is 3 and her inner "wild child" always comes out. This is her 3rd time coming. We love the staff and all the wonderful planned events that can keep the kids busy, in a wonderful family fun way. We will be back!
Oct 05, 2020
This is our favorite KOA
Oct 05, 2020
Always a great time here.
Oct 05, 2020
We always have a great time here! Great people and all the campers are super friendly!
Oct 05, 2020
we had a wonderful stay! the campground and our site was was clean with all the amenities we needed. the staff was friendly and helpful. our kids loved the playground and fall activities offered1!
Oct 05, 2020
Even during this pandemic the Sunbury KOA offered us a safe getaway. It was beautiful, relaxing and fun!
Oct 05, 2020
This is the ultimate campground. They have everything you could possible want or need. They are super gracious and truly enjoy making their campers happy.
Oct 05, 2020
I was very disappointed in the lack of scheduled activities especially for the kids
Oct 05, 2020
Another great camping weekend at Sunbury KOA! Halloween activities for our grandkids & trick or treat fun! Always our favorite campground, wish we could book every weekend but reservations are not always available!! �
Oct 05, 2020
First time there. Will be back
Oct 05, 2020
A great place to stay. Lots to do and kept up well.
Oct 05, 2020
Lots of fun activities for the kids. Loved the Halloween events! Jump pad was a huge favorite with all the kids! RV sites were very nice!
Oct 05, 2020
We stayed in the treehouse, the best outdoor living space!! The kids loved trick or treating and pumpkin decorating. We can't wait for next years camping season!!
Oct 04, 2020
Beautifully landscaped/decorated and very comfortable. Clean private showers; everything looked brand new. Loved walking around, sorry I couldn't stay longer for all the activities.
Oct 02, 2020
Great KOA with easy access to Columbus and the surrounding communities.
Oct 02, 2020
fAMILY WEEKEND. VERY NICE PARK GRANDKIDS HAD A LOT OF FUN
Oct 02, 2020
Huge park with a great nook and cranny layout....we had absolutely level pull thru...grounds are clean and well maintained....THANKS!!!
Oct 01, 2020
great camp grounds, will for sure be back and will tell all.
Oct 01, 2020
We spent 2 nights in one of their cabins. Very accommodating and was able to enjoy some of the comforts of home as well as nature at the same time. Will return.
Oct 01, 2020
From the moment we checked in, we were treated to the most excellent customer service by each staff member. The campground and facilities were very clean and well maintained. The grounds were beautiful and there were an abundance of activities available for every age. The hiking trails were clearly marked and easily accessible for hikers and bikes. We will be back!
Sep 30, 2020
Loved the buddy site. All is good. Already have two reservations for next summer!
Sep 30, 2020
Just a ideal campground, quiet, clean, many amenities. Many acres full of wooded hiking trails, fishing lakes, and things for children.
Sep 29, 2020
A beautiful weekend at a great campground. Loved the whole experience!
Sep 29, 2020
Very nice campground, awesome staff!
Jul 31, 2021
The nicest KOA around. Well maintained, lots of fun for the kids, and great attention to detail. You will not be disappointed!
- Wendy Rutter on Google
Jul 30, 2021
Awesome campground one of our favorite ones too frequent. we come to this campground three to four times a year, Very clean, planning to do for kids, large campground, large campsites back in and pull throughs, very friendly and knowledgeable staff, 98% of their sites have concrete patios, catch and release pond, Beach swimming area with lounge chairs and water toys, swimming pool, nice camp store,
- Larry Ferguson on Google
Jul 27, 2021
This was a wonderful KOA. We were just passing through, but if we lived around this area, it would be a wonderful get away. There is so much for the kids to do. Our 13 year old loved it, but since it was only one night, he didn't get to partake in all the activities. Now, there is a downfall. If you are pulling a car and driving a motorhome, DO NOT TAKE THE GOOGLE DIRECTONS. They take you to a very small bridge and your motorhome WILL NOT FIT! Take the longer route or as the KOA to give you directions. You will not regret it!
- Jacque Sallee on Google