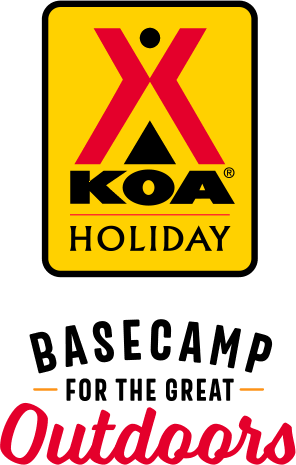 KOA Holiday Campgrounds
Whether you're exploring the local area or hanging out at the campground, KOA Holidays are an ideal place to relax and play. There's plenty to do, with amenities and services to make your stay memorable. Plus, you'll enjoy the outdoor experience with upgraded RV Sites with KOA Patio® and Deluxe Cabins with full baths for camping in comfort. Bring your family, bring your friends, or bring the whole group – there's plenty of ways to stay and explore.
KOA Holidays Feature:
RV Sites with a KOA Patio®
Deluxe Cabins with full baths
Premium Tent Sites
Group meeting facilities
Directions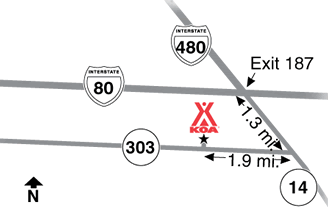 Exit 187 - Ohio Turnpike. East on Rt 14. Right on State Rt 303. 2 miles on right. 
GPS: If you're having trouble with the address, try 187 Streetsboro Rd.
Get Google Directions
Jun 02, 2021
The staff here is excellent. They are extremely fast to solve problems, and are polite and smiling.
Jun 02, 2021
Even though it was a rainy, Memorial Day weekend, the park was full and had a great 'vibe'. My family liked the bathhouses (we've stayed at many KOAs) and they were clean. We appreciated how easy it was to travel to and from the Turnpike. Will definitely stay again.
Jun 02, 2021
Everyone was so nice. Loved the campground. Very upset I can't do seasonal on the cabins they are beautiful! Very quiet, fun and worth the money for sure! �
Jun 01, 2021
Had a great time visiting with family and friends. Camp ground was very clean. Staff is very friendly. The only problem we had was very low water pressure. Seamed to be more than just our site. Several other campers were asking about the water. This will not stop us from coming back next year.
Jun 01, 2021
Ben was awesome!!!! We had a motor home spot and was great! My daughter and her family rented a cabin and it had bed bugs! Manager refunded their credit card and gave them a bag of treats. They had to rent a hotel room and it cost a lot more. I felt they should of got a free free weekend stay for a later time.
Jun 01, 2021
Everybody was extremely friendly and helpful!
Jun 01, 2021
Was our first time camping ever, and had a great time, staff was all very friendly and helpful. Would definitely recommend to anyone!!
Jun 01, 2021
People were nice....our campsite was nice only issue was water pressure was low at times at ours and the sites on either side of us probably the whole camp.
Jun 01, 2021
Very nice place, I would give it 5 but we, but there were problems with losing water pressure quite a bit through the stay...
Jun 01, 2021
Overall, I was very pleased with the campground. Only negative experience was that the bathrooms are not maintained well, up to date, and cleaned frequently enough. Bathrooms are in need of renovation, particularly the showers that had little to no water pressure.
Jun 01, 2021
Amazing place to stay!
Jun 01, 2021
The place is great the only problem was the campsite should have been mowed properly and leveled a little better
May 29, 2021
The CG has a great potential especially with the new management. I believe Rick and Jim will bring the CG to one of the best in the area. The location is very central and the grounds have a lot of great features. All employees very accommodating. It is one of the few CG that can recommend a detailer for all vehicles including motor homes.
May 29, 2021
Nice people. Location for us was great. But some issues; website said 'if you stay a week or more they'd come to your site and drain black tank'; they did not provide that service. Site was on grass and tilted; leveled but by end of week we 'sunk' and toilet base leaked. Pool supposed to be open 5/1; it was 90 degrees but pool not open. Didn't keep up with bathroom cleaning on weekend.
May 29, 2021
Clean campground and nice staff
May 29, 2021
You could do better with lawn maintenance. The grass was too high. When the young men came around to mow and weed whack in the rain the grass stuck to everything (electric cord, water hose, sewage flex hose and the side of the camper. It was a real mess. The young men were very nice and I understand they were just doing their jobs but I think the situation could of been handled better .
May 28, 2021
The staff was very friendly and accomodating. The restrooms and showers were very nice and clean.
May 28, 2021
We stayed there for two weeks and the park was a mess. Grass not mowed, WiFi that didn't work, the staff seemed to care less about the campers. When we would ask why a KOA was in such bad shape all we got was " new owners". During the week we saw no staff working on the park. I couldn't tell you who the owners/management were, never saw them. We are KOA VIP members this park deserves a low review
May 28, 2021
My favorite KOA so far. Very well maintained, tall trees, nice folks. NOT located by a freeway, train or airport.
May 28, 2021
Beautiful campground. Staff wonderful. Grounds perfect. One of the best KOAs I have experienced.
May 28, 2021
It's a very large KOA and the staff is very friendly and accommodating. It is well maintained but our site in the very back needed to be mowed but other than that we enjoyed our stay.
May 28, 2021
All good. Thank you!!!
May 28, 2021
Quiet and very nice. Good location.
May 27, 2021
Stayed here to go to Rock Hall of Fame. Gravel and grass pull thru site in our 5th wheel. Large clumps of cut grass on top of long uncut grass in whole park. Non- existent wifi except at the office. Dog park had broken gate and same long grass. There were lots of mud ruts on the sites as well as narrow roads. (Saw a trailer clip a car while pulling into his site).
May 27, 2021
The grass had not been cut when we got there they proceeded to cut it and leave clippings so they got tracked into my camper the whole time the bathroom on the hill was very very unclean and many of the light bulbs had been burnt out and not replaced. I've been to other koas and they were so much nicer than this one. I think it just needs some TLC
May 27, 2021
Friendly and helpful staff! Beautiful, clean, and perfectly located near Cuyahoga National Forest.
May 26, 2021
Was never able to get the cable working. Someone came to look at it and claimed our rig was the issue, but we don't have problems anywhere else. Also, the wi-fi didn't reach to our campsite at all. Didn't even show up on available networks.
May 26, 2021
When we first got there, our site was not mowed I am the electric 50 amp did not work. However the response was great and the electric was fixed in a very short time. After being closed up for almost a total year, And a new owner. It was in great shape.
May 26, 2021
Great staff. Thank you!
May 25, 2021
overall the campground had very spacious sites which they lacked in keeping mowed also they have a problem with water pressure throughout the campground and also the cable on my site had poor connection
May 25, 2021
Very peaceful environment. I know it was early in the season and the pool wasn't open, so there weren't as many people there this past weekend, but it was a great weekend for us. We used this weekend to introduce our new dog to "Camping". She's an Anxious breed, but she had absolutely NO anxiety the whole weekend. First time I was able to take a nap in the afternoon in Years. We will be back.
May 25, 2021
love coming here each year to visit with our kids and grandkids in Cleveland. But each year it gets worse with regards to lack of gravel on sites. You need much wider gravel sites so rigs do not sink down into mud and can hardly get out. Looks like the lower curve near pavillion has a water line break or something underground as there is always standing water there. pretty weird even when dry
May 25, 2021
Our site (201) was difficult to back into, not enough space in front and the road was very narrow, bathrooms had water pressure issues, lights not working, paper towels on the floor, store was over-priced, pond had no fence right next to playground-not safe for young kids, gate was broken on dog park, and yellow jacket nest in electric box.
May 25, 2021
Pool didn't work and not all workers where friendly
May 25, 2021
Negatives-Most of the sites here do not appear to be very level. I had a pull thru and it was not level. The Wi-Fi was not working where I was, but I don't know about the rest of the Park. I saw lots of deep ruts in several areas of the Park. The grass needed to be mowed. Positives-It was quiet, gate controlled, family friendly and Cleveland was easy to get to. Staff seemed to be friendly.
May 24, 2021
Too Short. Seem under staffed and they need help. A southern gentleman, Don or Dan, on the grounds maintenance staff was great.
May 24, 2021
Like the changes around the campground. Nice atmosphere. Staff are friendly and helpful.
May 24, 2021
It was a great first experience for our family. Staff was friendly and very informative. It was a relaxing weekend and can't wait to go again.
May 24, 2021
We had a great time in our little cabin by the pond. It was comfortable and clean, although the grass was a little long. They came and weed-whacked by the firepit so we didn't accidentally start a brushfire. The kids loved the jumping pad and the game room, as well as riding their bikes around the campground. The firewood and ice delivery was very convenient. Very close to Cuyahoga Valley NP.
May 24, 2021
We stayed the 3rd week in May during the heat wave and wished the pool would've of been open! I understand its Upstate Ohio and pools probably don't open until after Memorial Day do to cooler weather. Other than that, great campground, awesome camp store with ice-cream/desserts, and great location close to Cuyahoga Valley National Park!
May 24, 2021
The staff was very kind, however, the pool was closed unexpectedly. I wish we had known ahead of time as that was part of the reason we booked our stay here.
May 24, 2021
Nice, clean, quiet, little park. Bathrooms were super clean. We had very low water pressure a couple times, but I attribute that to lots of people showering at the same time. We will definitely stay here again soon!!
May 24, 2021
We enjoyed our stay, but the upkeep and cleanliness needs improvement. What's with the dirty broken game room? Some cabins need better ground maintenance. Update/maintain the playground and basketball court. It just felt like this was a campground past it's prime because it wasn't well maintained.
May 24, 2021
The grass needed mown and the Wi-fi was non existent. The buildings were nice and clean.
May 24, 2021
Bathrooms were disgusting, 2/4 toilets were completely clogged and unusable. Other 2 were not clean in the slightest. Campground grass was not cut, very long. First and maybe the last time at a KOA.
May 23, 2021
Friendly staff, clean and quiet park. They were in the process of upgrading the Wi-Fi network, but it worked fine for us during our stay. Very convenient location for access to shopping and local parks.
Jul 13, 2021
Enjoyed stay..Water stands on our site if it rains. Would like to see 120 V plug at power pole.
- Rick Holton on Google
Jul 13, 2021
Really beautiful campground. The lake is so nice. We were only here for a night, so we didnt get to enjoy the many amenities they seemed to have. Very nice place to stay!
- Roxy Beaudet on Google
Jul 08, 2021
Just stayed here for three nights, staff was very friendly, site was spacious and easy to back trailer into, facility was clean and beautiful, and swimming pool was refreshing during the heat of the day.
- Shawn Melis on Google