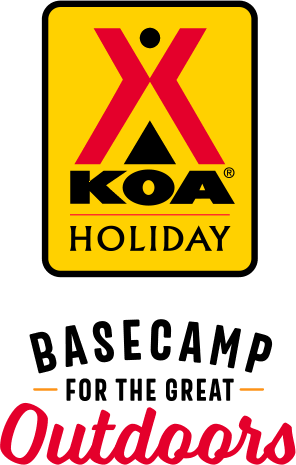 KOA Holiday Campgrounds
Whether you're exploring the local area or hanging out at the campground, KOA Holidays are an ideal place to relax and play. There's plenty to do, with amenities and services to make your stay memorable. Plus, you'll enjoy the outdoor experience with upgraded RV Sites with KOA Patio® and Deluxe Cabins with full baths for camping in comfort. Bring your family, bring your friends, or bring the whole group – there's plenty of ways to stay and explore.
KOA Holidays Feature:
RV Sites with a KOA Patio®
Deluxe Cabins with full baths
Premium Tent Sites
Group meeting facilities
Directions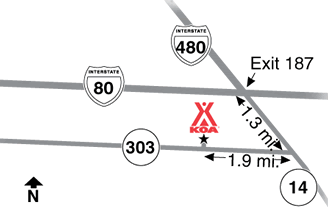 Exit 187 - Ohio Turnpike. East on Rt 14. Right on State Rt 303. 2 miles on right. 
GPS: If you're having trouble with the address, try 187 Streetsboro Rd.
Get Google Directions
Sep 23, 2019
Short weekend stay. Amazing amenities in the deluxe cabin. Great layout. Cozy for a group of six adults. We had some confusion about whether we we're allowed to bring our own firewood. And the smell of the surrounding RVs emptying their toilets was really bad at times. But inside the smell was fine.
Sep 23, 2019
Arrived late and we were still escorted to our site. Very helpful to see if we needed assistance with anything, firewood etc. Nice clean spacious sites. Thanks Jim & Cheryl
Sep 23, 2019
Nice park with water views, although the water views looked like they were for full timers. Nice staff. Replacing wood picnic tables with metal or plastic would be desired (I add this comment to every KOA survey). To sit outside on a bench full of splinters is not my favorite.
Sep 23, 2019
We loved our campsite and our hosts were exceptional! We will definitely return! Thanks!!
Sep 23, 2019
Driving cross country as a retirement celebration. KOA was recommended by our RV rental. This was our first KOA experience what a wonderful site. Clean, welcoming. We immediately bought a rewards card and have stayed at only KOA as we continue our cross country trek
Sep 23, 2019
many campers speed near the playground and pool area. It looks like there used to be speed bumps. I probably won't come back to this camp due to this reason. The door/screen on our cabin 203 wouldn't open or close. The cabin was filthy. At check in I asked for a second key card and I was told that there were not enough available. We had to wait for our card to reset to come in at midnight.
Sep 23, 2019
Great campground with easy late check in set up. Loved that it was gated and when we asked for a hornets nest to be sprayed it was taken car of by the time we came back from our hike. There was some wildlife behind the electric water camp tent sites that included multiple racoons and a skunk. Non where intrusive but they were around.
Sep 23, 2019
Nice campground Helpful staff
Sep 23, 2019
In overnight section with tenters. Not the best flat back-in on grass.
Sep 22, 2019
Nice location for visiting Cuyahoga National Park.
Sep 22, 2019
Really great place with wonderful grounds and helpful staff.
Sep 21, 2019
GREAT location for our travels Will come again.
Sep 21, 2019
Very nice park. Convenient. Very accommodating staff
Sep 21, 2019
We only stayed one night while passing through on our way home from Michigan to Pennsylvania. We thought it was a very nice campground
Sep 20, 2019
One night stay was great!
Sep 19, 2019
Great place, we only stayed 2 nights but were very happy with the grounds and staff.
Sep 19, 2019
it was very nice. did not swim but the pool looked nice. the laundry was reasonably too. people were nice. and it was nice to put our trash bag outside and then they were gone. thanks for taking our trash
Sep 19, 2019
Campground was nice and we enjoyed our stay.
Sep 19, 2019
Very convenient to the National Park. Friendly and helpful staff. I would like to see more available restrooms.
Sep 19, 2019
This is our fourth stay while passing through the area. Very nice place and convenient to I80.
Sep 18, 2019
We love our stay every time.
Sep 18, 2019
Beautiful setting. Very friendly and well organized. We would definitely stay here again.
Sep 18, 2019
Not eazy to get satellite reception
Sep 18, 2019
Friendly people clean and the the Halloween weekend was excellent
Sep 17, 2019
Great stay! We have come here 3 years now. The free night on the Sept 14 weekend actually was the same price for 2 nights after the weekend price jump so that was a bit disappointing.
Sep 17, 2019
Great stay! This was our 4th stay at Streetsboro KOA. We love the campground and the staff is awesome! The Glamp Tent is simply the best!!!
Sep 17, 2019
Had a great time this weekend with halloween theme - will be back! Thanks, site 503.
Sep 17, 2019
It was our first time ever camping in a KOA. And the campgrounds were wonderfully clean and all of the staff was just wonderful. Definitely will camp here again
Sep 17, 2019
Super nice place. Hope to be back next season.
Sep 17, 2019
Good weekend with family and friends!
Oct 10, 2020
Great stay here. A lot of activities for the kids several fishing ponds, within a half hour of towpath trail and Peninsula. Staff super helpful and friendly.
- Michele Zappa on Google
Sep 09, 2018
Beautiful place. Cleanest KOA I've ever been to.
- James Bussiere on Google
Oct 12, 2020
This KOA accommodated us overnight while passed through west. We ended up in a back in site, which had been a seasonal. Tough getting in in the dark. CG staff assisted and was conservatively cautious in assisting. Quiet, nicely manicured and scenic CG. Would not stay in the site we were in again but would gladly stay in any of the others offered.
- Eric Gregg on Google