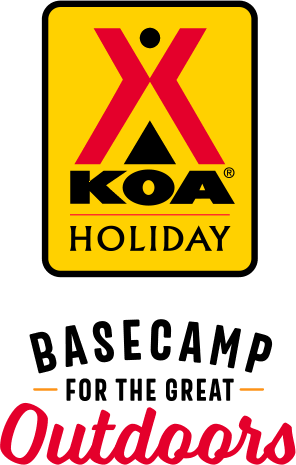 KOA Holiday Campgrounds
Whether you're exploring the local area or hanging out at the campground, KOA Holidays are an ideal place to relax and play. There's plenty to do, with amenities and services to make your stay memorable. Plus, you'll enjoy the outdoor experience with upgraded RV Sites with KOA Patio® and Deluxe Cabins with full baths for camping in comfort. Bring your family, bring your friends, or bring the whole group – there's plenty of ways to stay and explore.
KOA Holidays Feature:
RV Sites with a KOA Patio®
Deluxe Cabins with full baths
Premium Tent Sites
Group meeting facilities
Directions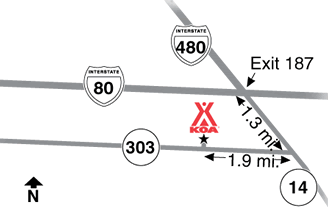 Exit 187 - Ohio Turnpike. East on Rt 14. Right on State Rt 303. 2 miles on right. 
GPS: If you're having trouble with the address, try 187 Streetsboro Rd.
Get Google Directions
Oct 05, 2019
The restrooms could use a little attention in the loop where we stayed. And I think if you would put signs on or near restrooms to close the door when finished it would relieve some or the bugs in the restrooms.
Oct 05, 2019
As usual a welcome when we arrived.
Oct 05, 2019
We were on our 1st trip in our travel trailer. The site was perfect and we had a wonderful time. We need to come back when the pool and game room are open.
Oct 05, 2019
Very nice campground. Staff was friendly and helpful. Large site with trees.
Oct 04, 2019
Ok except bathrooms /showers were far for us to walk to for our age. And the showers were small but nice layout otherwise. Thanks
Oct 04, 2019
Very nice and clean, beautiful location.
Oct 03, 2019
Very nice RV park, would readily stay again!
Oct 02, 2019
Checking in was simple and the campground was very clean.
Oct 02, 2019
Friendly staff, clean facilities, great sites. Overall good experience.
Oct 01, 2019
Great as always! Great location but site was a bit "bare". pads would be great and if not pads some additional gravel to alleviate dirt and mud
Oct 01, 2019
Stayed at this KOA before. This time just an over-night on or way home to MI. Nice park & nice people.
Oct 01, 2019
We had a back in sight that could use some leveling, otherwise, a nice location and friendly staff. WiFi was weak, no cable, but good OTA reception.
Sep 30, 2019
Beautiful mature trees and spacious sites!
Sep 30, 2019
Nice sites and all facilities were up to my expectations.
Sep 30, 2019
We loved everything! Grounds were beautiful, bathrooms sparkled and it was quiet at night while we slept.
Sep 30, 2019
Stayed to visit Rock n Roll HOF and found Park great and Streetsboro area very accommodating and services were excellent
Sep 30, 2019
Very nice clean facility. A great many activities for kids and adults and large easy to access sites.
Sep 30, 2019
Clean facility, nice folks. Would go again!
Sep 30, 2019
We got in late but I requested firewood and they had it ready for us at our site. They also made it super easy to find our cabin in the dark with the packet they put together. Thank you for everything!
Sep 30, 2019
Nice place. We would stay again.
Sep 30, 2019
Staff was not only very friendly but extremely helpful.
Sep 30, 2019
2nd time visiting this Streetsboro KOA and again had a great time! Great support from the staff and I've already highly recommended this location. Thanks!
Sep 29, 2019
It was a great place to stay over for a couple of nights
Sep 29, 2019
I would have given 5 stars but they forget to put my key in the envelope. I had to wait about 45 minutes after my arrival to get in my cabin. But, the campsite is incredible. They were even decorated for fall. Everything was clean and inviting. I would definitely stay there again, more than one night next time.
Sep 28, 2019
Nice park. This was our second stay and will come back again. Great staff.
Sep 28, 2019
Very well kept. The sites are very easy even for a big rig. Lots to see in the area.
Sep 28, 2019
Nice facility and I enjoyed the primitive tent camping. There is one picnic table that needs to be replaced down in the valley.
Sep 27, 2019
Clean friendly place to stay.
Sep 27, 2019
Love the CG. Clean, very nice showers, very nice hosts! We'll definitely be back!
Sep 26, 2019
Very friendly staff. Looked after our concerns re small ground holes on site efficiently and expeditiously.
Sep 26, 2019
KOA Streetsboro gets a big thumbs down. Bathrooms not KOA clean, low water pressure at the site, our site was way out of level, the camp store had a lot of empty shelves, and no wi-fi, even when we were standing next to the sign advertising free wi-fi. There will be no KOA Streetsboro in our future!
Sep 26, 2019
We wanted a decent campground that wasn't too far from the national park. This was a perfect location for us.
Sep 26, 2019
Going to the Streetsboro KOA is like home. The staff and campers we have come to know there are like family to us.
Sep 25, 2019
We used this resort as a stop over ....wish we could have stayed longer....great place!!!
Sep 25, 2019
Very nice KOA and all employees were very helpful and friendly. Thank you
Sep 24, 2019
The people where very friendly and welcoming. Great place and will definitely be back.
Sep 24, 2019
The restroom were real clean . And the service was great.
Sep 24, 2019
Gravel should be added to the low areas and some of the trees need to be trimmed.
Sep 24, 2019
Was not a good experience with children, but would have been good for adults needing a place to camp. Bathrooms & campground are nice but kids were bored out of their mind. No hayrides, craft or anything like other KOA's I have stayed at (labor day is cutoff). Store/ice cream closed 6 pm, the jump pillow was already deflated, outdoor pool closed, not a good experience for the little ones.
Sep 24, 2019
Very friendly staff. Roomy site - we didn't use the amenities, but they all appeared to be in good order. The ice cream at the camp store was fantastic!
Sep 24, 2019
We had a back in site. It was spacious and well laid out
Sep 23, 2019
Our site was very nice. I liked the shower set up with shower, sink and toilet all together. Very clean.
Oct 10, 2020
Great stay here. A lot of activities for the kids several fishing ponds, within a half hour of towpath trail and Peninsula. Staff super helpful and friendly.
- Michele Zappa on Google
Sep 09, 2018
Beautiful place. Cleanest KOA I've ever been to.
- James Bussiere on Google
Oct 12, 2020
This KOA accommodated us overnight while passed through west. We ended up in a back in site, which had been a seasonal. Tough getting in in the dark. CG staff assisted and was conservatively cautious in assisting. Quiet, nicely manicured and scenic CG. Would not stay in the site we were in again but would gladly stay in any of the others offered.
- Eric Gregg on Google