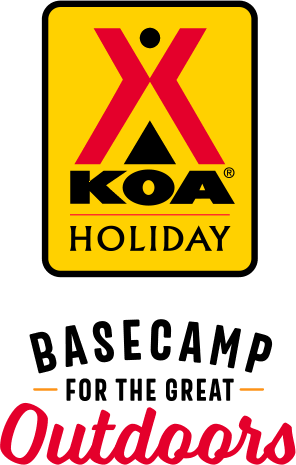 KOA Holiday Campgrounds
Whether you're exploring the local area or hanging out at the campground, KOA Holidays are an ideal place to relax and play. There's plenty to do, with amenities and services to make your stay memorable. Plus, you'll enjoy the outdoor experience with upgraded RV Sites with KOA Patio® and Deluxe Cabins with full baths for camping in comfort. Bring your family, bring your friends, or bring the whole group – there's plenty of ways to stay and explore.
KOA Holidays Feature:
RV Sites with a KOA Patio®
Deluxe Cabins with full baths
Premium Tent Sites
Group meeting facilities
Directions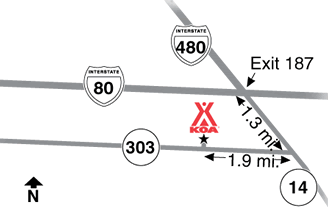 Exit 187 - Ohio Turnpike. East on Rt 14. Right on State Rt 303. 2 miles on right. 
GPS: If you're having trouble with the address, try 187 Streetsboro Rd.
Get Google Directions
Jun 08, 2020
The stay was amazing!!!! The cabin was beautiful and comfy the staff was super friendly the overall stay was perfect.. we are planning to go back next month and we can't wait!!! Thanks KOA Streetsboro �
Jun 08, 2020
This was our first time camping and we had a great time. Campgrounds and restrooms were clean and staff was helpful. We plan on visiting again this summer.
Jun 08, 2020
Really enjoyed camping here. Loved all the big trees for shade and the clean nice showers
Jun 08, 2020
The campground was clean with good size sites, however it was disappointing that mining was not open but swimming pool was. Seems like there would have been far less social contact with mining than swimming pool. But otherwise we enjoyed our stay
Jun 08, 2020
Our lives have been changed. Keep up your stellar work.
Jun 07, 2020
You are doing a great job. It's very different with covoid 19. But we felt safe. Thank you
Jun 07, 2020
Our grandsons had a great time. The site was clean and had activities and still kept social distancing , the general store made no contact deliveries and was very accommodating.
Jun 05, 2020
Campgrounds was very well kept and the shower houses were very clean.
Jun 04, 2020
We were going to visit Mogadore over the weekend, so a quick camp over made sense. KOA fit that need! It was our first visit to any KOA. Love the very clean grounds and facilities. The registration and check-in during covid times was a breeze. So happy to see you were open.
Jun 04, 2020
There didn't seem to be sufficient bathrooms for all who stay.
Jun 02, 2020
Good stay, but after it rained our site was very muddy. We asked 3 times at the general store for straw and the team member said someone would be out. By the end of the weekend no one delivered straw. Also the office is very hard to reach by phone the only response I got was by email months after I started leaving messages. I love the property and the amenities, but the staff is not help
Jun 02, 2020
Fun stay great facility
Jun 01, 2020
Our stay was great even with the restrictions set in place. I was disappointed that I couldn't use my KOA rewards for part of my stay because my card was run after contactless checkin and they couldn't apply it after the fact. Hoping to be able to use it at some point before it expires.
Jun 01, 2020
You advertise gravel lots however there is very little slag. Most lots were mud holes and the yards are tore up because the drives are so bad. The back drive had 2 potholes over 3' around. Many permanent campers are rundown. This could be a really nice park, but is definitely overpriced for what it currently is. We unfortunately will not be back.
Jun 01, 2020
Great location, but during non-covid times it needs more scheduled events for children. We like going to Jellystone parks because they have so much to keep kids busy and entertained and off electronics. We understand the covid pandemic is causing issues and we are just glad you are open. how likely to recommend this KOA with kids - 8 how likely to recommend this KOA without kids -10
Jun 01, 2020
We had a wonderful stay! Staff was friendly. Restrooms were very clean. Our family enjoyed the fishing and the campsite! Highly recommend!
Jun 01, 2020
Campground was clean, quiet, and friendly. The gathering spaces were all closed due to covid19. While I will recommend this KOA to others, do not bother with the W/E (yellow on the map) sites. They are too swampy and muddy. We will stay in a full hook up site next time.
Jun 01, 2020
Recommend better lighting at the entrance. There is a curve with no lighting, and someone who does not see well could go straight into the pond.
May 30, 2020
So appreciated the covid 19 safety measures in place. Such a well maintained pristine campground! Wonderful friendly staff.
May 30, 2020
Tent site was suppose to have water and electric I asked when making reservation if this site had a sand square for tent camping was told yes it wasn't We got there electric didn't work KOA had to bring a adapter for it to work there was dog poop left on site. Site grass was not cut & they were calling for a storm that night & site had a big dead tree right behind were tent was set up so left
May 28, 2020
I liked the staff, but with the current virus situation, their communication was lacking. I tried to cancel two weeks in advance and never got a response and couldn't reach anyone on the phone. I didn't get a call back until after my scheduled check in time when the car was already loaded. I had fun and the staff was great, but maybe they should work on communication in the future.
May 27, 2020
It was great!, we will be back definitely.they have a great staff
May 27, 2020
Hello, I drive a 32 ft class c motorhome and asked for a pull through and was told none were available. Upon arriving, we noticed plenty of pull-throughs available and when we woke up they were still vacant and available. My lot had no picnic table and the ground was muddy and low. It was raining, however, the lot should have been better stoned and level.
May 26, 2020
We had a great stay, in spite of a couple difficulties that the campground was dealing with (COVID-19 and heavy rains just before our stay). The camp was very clean. Bathroom/showers were very well maintained. Our site was a little wet the first night, but dried our by the second night. We look forward to camping at Streetsboro again.
May 26, 2020
Water pressure very poor. Spots not level and wet.
May 26, 2020
Despite several open spots, we were put in a huge muddy spot on a hill (with a dog and 3 kids). Many campers walking the grounds would make comments to us about having the worst spot on the campground. The shop not taking cash is frustrating and un-American at best. Firewood delivery was great. Bathrooms were close and well kept. Fishing ponds provided a lot of fun.
May 26, 2020
All the employees were very nice and did a great job. Less than perfect ratings were only because everything was cloesd including the dog park! We stayed here before and everything was great.
May 26, 2020
Staff was great. Had to overcome plenty of obstacles due to covid-19 and they did a great job. Freindly place. Only drawback for me was the site was too skinny. Too close to neighboring sites campfire ring. Other than that it was a great weekend. Good to get out finally.
May 26, 2020
We stayed in the primitive tent sites. Often at campgrounds there is a feeling of being excluded from a campground because you stay at these sites. For example, at this KOA there was only are area on the map for the sites verses having a site laid out like the rest of the map. This made this tricky as well for when we showed up and ordered items, without a site number it was hard to communicate.
May 26, 2020
It was nice. The site was very wet, but I suppose nothing can be done about that.
May 26, 2020
Our previous reservation at another campeground was not able to accomodate our reservation because of their misunderstanding about Covid-19 restrictions, but on a holiday weekend you were able to help us with just an hours notice
May 25, 2020
Lots was very muddy
Mar 09, 2020
We were pleased with their ability to accommodate us for a monthly stay with short notice as we had family needs in the area. The park was exceptionally clean and tended to, they were all friendly and welcomed our grandchildren who came to see us a couple times during our stay. We enjoyed the pool, the game room, the store, the ice cream, the fishing, and the playgrounds & haunted forest. �
Nov 13, 2019
This was by far the best KOA on our 10,000-mile journey! The office staff was always, kind, courteous and professional! The maintenance staff kept the grounds and the restrooms/showers clean and serviceable. The store was stocked well for a quick treat or camping essentials. I will definitely stay here again in the future!
Nov 03, 2019
It was an overnight stop on our way to Gettysburg, PA., in October of 2109. The campground is beautiful, spacious, quiet. We will come back in the summer for sure!
Oct 10, 2020
Great stay here. A lot of activities for the kids several fishing ponds, within a half hour of towpath trail and Peninsula. Staff super helpful and friendly.
- Michele Zappa on Google
Sep 09, 2018
Beautiful place. Cleanest KOA I've ever been to.
- James Bussiere on Google
Oct 12, 2020
This KOA accommodated us overnight while passed through west. We ended up in a back in site, which had been a seasonal. Tough getting in in the dark. CG staff assisted and was conservatively cautious in assisting. Quiet, nicely manicured and scenic CG. Would not stay in the site we were in again but would gladly stay in any of the others offered.
- Eric Gregg on Google