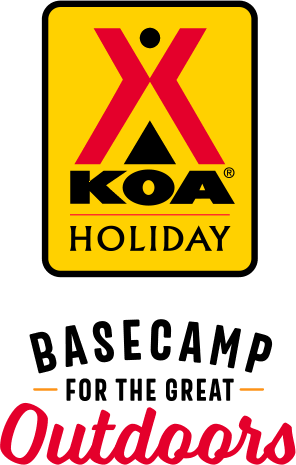 KOA Holiday Campgrounds
Whether you're exploring the local area or hanging out at the campground, KOA Holidays are an ideal place to relax and play. There's plenty to do, with amenities and services to make your stay memorable. Plus, you'll enjoy the outdoor experience with upgraded RV Sites with KOA Patio® and Deluxe Cabins with full baths for camping in comfort. Bring your family, bring your friends, or bring the whole group – there's plenty of ways to stay and explore.
KOA Holidays Feature:
RV Sites with a KOA Patio®
Deluxe Cabins with full baths
Premium Tent Sites
Group meeting facilities
Directions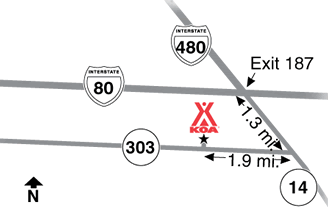 Exit 187 - Ohio Turnpike. East on Rt 14. Right on State Rt 303. 2 miles on right. 
GPS: If you're having trouble with the address, try 187 Streetsboro Rd.
Get Google Directions
Jun 22, 2020
It was great, very clean and the staff was very friendly!!
Jun 21, 2020
I think it would have been best to let us know either when the reservation was made or at check in, that there were no visitors allowed . I had planned on having my siblings for a cookout. Disappointed but won't hesitate to camp there again.
Jun 21, 2020
Always enjoy coming to this local KOA.
Jun 20, 2020
Liked this campground. Good water too! Loved all the nearby attractions.
Jun 19, 2020
Very nice park! Helpful staff and wonderful ice cream! Pool was nice and big. This park is on the border of Hudson which is an upscale community. You should advertise that fact! If I had known that I wouldn't have been worried if it was a nice park.
Jun 19, 2020
Great campground, beautiful grounds. I'd give it a 10 but the sites are way too close to each other
Jun 19, 2020
Our site was a mud pit! It only rained once while we were there. However it had rained the previous week. They had just opened the campgrounds and had not yet filled gravel where it needed. They mowed while we were sitting out in the morning and threw grass clippings all over our stuff. We ended up checking out a day early and when I KINDLY let them know that we felt they didn't even apologize.
Jun 19, 2020
no one was in the office at any time. Said it was due to the covid V������. So no office support at all. Had to leave a message and email about my job canceling and rescheduling. Never got a response. Turned out I paid for 9 nights. Used 2 and after many tries to get someone to respond to me I was told no credits or refunds. I find this unacceptable So overlook their issues and too
Jun 19, 2020
We thoroughly enjoyed our site, located in the back of the campground. The site was very large, and had everything we needed to enjoy nights by the campfire after seeing the sites in Cleveland. Lots of shopping nearby, and very close to several interstates making access easy. We travel in a 40' motor home and tow a vehicle, so easy ins and outs a necessity.
Jun 19, 2020
Site was level. Central location for our needs. Restrooms were not well maintained!
Jun 18, 2020
one of the best KOA i have stayed at, this is probably my favorite KOA
Jun 18, 2020
Awesome staff very helpful
Jun 17, 2020
We've stayed here before about 3 years ago. This time we were somewhat disappointed in that there was only 1 window out of 3 that had a screen so we couldn't get any crossbreeze. We cook our own meals and the camp kitchen where we could clean up was yellow taped off so we couldn't clean up. We asked an employee about it and he said he would find out for us but we never heard back from him.
Jun 17, 2020
Our stay at Streetsboro was good considering all the restriction being placed on the site. The actual camp site was clean and the staff was excellent. we will return to enjoy time there again.
Jun 17, 2020
This was my first time visiting this campground. Everyone was super friendly. The bathrooms were very clean. I can't wait to return. I highly recommend this campground!!!
Jun 15, 2020
Had a really great week, really nice campground. They have done a nice job adjusting to the COVID-19 rules. One thing I would suggest is if no trash pick up at the sites then need to place dumpsters in the back of the campground as well as the front.
Jun 15, 2020
This, our third or fourth stay was a mess. A nice campground was a muddy mess with little fresh gravel and allegedly slow opening activities. After a friendly reservation call, I was assured a pull through as I am a long and heavy class A. Nope. First, my family and I had to back in to a hill where leveling was impossible. I had to be pulled out of the muddy mess and backed into a third spot.
Jun 15, 2020
It was relaxing and the pool and fishing were great! Our campsite was beautiful!! The bathrooms were clean and super nice!!!
Jun 15, 2020
Friendly, accommodating staff. Very clean campgrounds. The restrooms/shower were kept very clean. A little confusion with the COVID-19 restrictions but the staff took care of it immediately. Overall, a wonderful place to stay, we will definitely stay there again
Jun 15, 2020
We love this campground, and they did very well at adapting to our "new COVID-19 normal"!!! Felt great to be camping again!!!
Jun 15, 2020
VERY quiet. Bit of a sulfur smell. Handled COVID 19 situation well.
Jun 14, 2020
Stayed 4 nights, camp was clean and staff was pleasant. The section we stayed at was full but still quiet. We will recommend to others and surely will be back as it is close to home for us. Thanks!!! M.Day
Jun 14, 2020
Staff was very nice and grounds were clean. Hard to rate a place when nothing is open due to covid-19. We enjoyed our time away. My only issues were our site was nowhere near level and the fire pit area was a marsh. Towpath is close for a nice ride and close to the city to get whatever you may need.
Jun 14, 2020
I thought they should have cleaned the bathroom more often during these times
Jun 13, 2020
Nice site, clean bathrooms, nice pool, close to Walmart and Cuyahoga Valley National Park.
Jun 13, 2020
Really lovely campground. So quiet and peaceful.
Jun 13, 2020
Beautiful KOA with several lakes to enjoy. Even during social distancing their pool was enjoyable for families and no-contact check-in was a breeze. Clean facilities. We appreciated the small dog run as well.
Jun 12, 2020
Service was great clean campgrounds bathrooms reasonable price items.. We will be back..
Jun 12, 2020
staff were unfriendly, unreasonable, and in knowledgeable. One lied to me and was less than customer friendly. Site was littered. People at sites were not practicing social distancing. Noisy thug music played late at night. Not well maintained at all. Save your money and camp somewhere else. This camp does not live up to the KOA name.
Jun 11, 2020
It was very clean. The people and staff were fast, efficient and very nice. We will definitely be back
Jun 10, 2020
Wonderful Park, Friendly staff, Clean and comfortable.
Jun 10, 2020
We've stayed here before and keep coming back. Workers very friendly. Restrooms and showers always clean and stocked. Told couple people they should camp there.
Jun 09, 2020
Wonderful weekend. Lot had many ruts from tires with cardboard in mud and burnt firewood in the middle of site. A bit inconvenient so we cleaned up before we set up and had to level ruts a bit so we didn't have any falls. A nice site if dry
Jun 09, 2020
It was nice and quiet a bit different with everything going on was not informed about everything when booking
Jun 08, 2020
Other than the barking dogs, the campground was awesome. I appreciated the clean bathrooms! Thank you
Oct 10, 2020
Great stay here. A lot of activities for the kids several fishing ponds, within a half hour of towpath trail and Peninsula. Staff super helpful and friendly.
- Michele Zappa on Google
Sep 09, 2018
Beautiful place. Cleanest KOA I've ever been to.
- James Bussiere on Google
Oct 12, 2020
This KOA accommodated us overnight while passed through west. We ended up in a back in site, which had been a seasonal. Tough getting in in the dark. CG staff assisted and was conservatively cautious in assisting. Quiet, nicely manicured and scenic CG. Would not stay in the site we were in again but would gladly stay in any of the others offered.
- Eric Gregg on Google