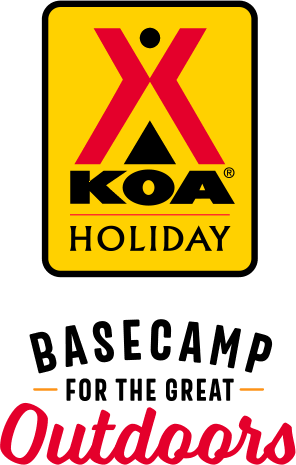 KOA Holiday Campgrounds
Whether you're exploring the local area or hanging out at the campground, KOA Holidays are an ideal place to relax and play. There's plenty to do, with amenities and services to make your stay memorable. Plus, you'll enjoy the outdoor experience with upgraded RV Sites with KOA Patio® and Deluxe Cabins with full baths for camping in comfort. Bring your family, bring your friends, or bring the whole group – there's plenty of ways to stay and explore.
KOA Holidays Feature:
RV Sites with a KOA Patio®
Deluxe Cabins with full baths
Premium Tent Sites
Group meeting facilities
Directions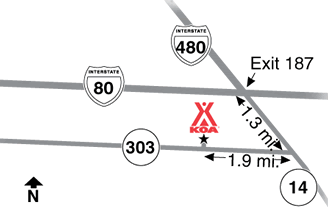 Exit 187 - Ohio Turnpike. East on Rt 14. Right on State Rt 303. 2 miles on right. 
GPS: If you're having trouble with the address, try 187 Streetsboro Rd.
Get Google Directions
Jun 30, 2020
This was such a nice campground! My wife and I stayed here for five nights with our two young children. The grounds, pool, etc. are well maintained and the staff was helpful. All the campers we met throughout the week were friendly, welcoming and courteous. Everyone drove slowly through the campground and were quiet - we felt safe and comfortable all week. Thank you!
Jun 30, 2020
Campgrounds was very clean
Jun 30, 2020
The stay was great. The staff was very friendly, very helpful. I just wish there was a body of water there where you can canoe or kayak.
Jun 29, 2020
Nice campground and friendly people, but like most KOA's the lack of shade and failure to space the sights out more keep me from giving a 5 star
Jun 29, 2020
Our site was muddy. Could not use the area at all.
Jun 29, 2020
Nice park only fault I had with sight was 110v electric plug did not work in the power box. Good stay park was well maintained.
Jun 29, 2020
The stay was great. The campsites are very muddy when it rains. Could use some better drainage and our fire pit was in middle of a puddle. We were new to the campground and though we were escorted to the site they did not help us back in. It would have been nice to have that. We are still in covid mode so overall I felt they did a great job. I liked they offer items from store to be delivered site
Jun 29, 2020
Very clean, beautiful grounds. Helpful staff and nice facilities.
Jun 28, 2020
Lovely cabin on shady site, perfect for our family of four. Campground was clean and quiet. Beautiful ponds for fishing. Staff did a great job during COVID delivering anything we needed right to our site. Great stay!
Jun 28, 2020
Very friendly staff, easy to get to although that turn off of 14 was a bit tight for a big rig from the turnpike. Campground was nicely maintained, definitely one of the nicer KOA's that we have been too. Very likely we will be back
Jun 28, 2020
Loud music til 1:48 am, no one to complain to left a day early had pd for it, asked for a refund for the day we left. So far no refund. Would not go back unless you want to stay awake all night.
Jun 28, 2020
The stay was good. The only problem was that there was no electricity on one of the nights.
Jun 28, 2020
It was way more fun before covid. They used to have all kinds of activities for the kids, including hay rides, karaoke nights, and you could swim in the pool anytime. Now there's no activities for the kids, no hay rides, and you only get 1 hour to swim a day after you register for it. So, it's quiet. But the ponds are fun to catch fish, frogs, turtles, and snakes. There are 2 little playgrounds.
Jun 27, 2020
No problems, nice grounds and good service!
Jun 27, 2020
No much to do. Pool was ok. Bathrooms very clean. Pot smoke was bothersome!!!
Jun 27, 2020
Unfriendly, sites need to be updated, did I mention unfriendly? Poor information etc ! Oh did I mention unfriendly... even with Covid restrictions they could have been more friendly and made you feel welcome
Jun 27, 2020
Lovely campground. This was our second time camping. I would return but would not want this site again. We were remote and away from other campers. Not a bad thing if you like that. Our electric wasn't even turned on and had to call. It took a half hour before someone showed up to flip the switch.
Jun 27, 2020
We had a 30/50 amp site and had to stop using our surge protector because the voltage constantly dropped below 104 volts. When that happens the surge protector shuts down until voltage comes back to higher than 104. Bottom line is the voltage is very low and very unregulated. Also, the WIFI was extremely week and could not even access emails. Bathrooms not very clean, but park was peaceful.
Jun 26, 2020
Quiet, clean, had what we needed, Not much shade for shaded site ... if the rig could be set on the site differently but the hook ups were not close to the shade Had to call Twice to gave them clear the sewer so we could empty our tanks
Jun 25, 2020
Stayed w/our motorhome for a few days w/o any major issues. This campground limits the number of time spent in the pull-through sites they have to just a few days. I guess they are more for just driving through for a night or so? Not the end of the world for us, as we prefer back-ins as they normally have more shade, but most w/larger rigs won't expect this, or the disconnecting of trailers, etc.
Jun 25, 2020
Our stay for the most part was good until the last 2 days when a line of storms came through and knocked the power out for over 12 hours. The weather was very hot and humid and it was uncomfortable being inside of our travel trailer with no air conditioning. No refund was offered for 1 night without power for over 12 hours. I called and asked about a refund for 1 night and the answer was no.
Jun 25, 2020
Slight error in that we were directed to the wrong cabin on the area map. Cabin number on map and number on key differed. We arrived after office closed and had to find someone to help. When we did, they were very helpful to make sure we found the right cabin. Very nice restroom/shower facilities.
Jun 24, 2020
We only stayed one night, it was a stop in the middle of our trip. We have stayed at a lot of camp sites and this one was one of the best we stayed at. The site was very clean and the personal were very very friendly. When we end up in this area again, this is one we will stop at again and again.
Jun 24, 2020
Very nice campground.
Jun 23, 2020
Through the pandemic our camping trip was excellent!! Very clean campground, friendly staff, first time to this site and we are very impressed. The bathrooms and showers are together and separated form the rest. Heated pool and easy to reserve time to swim. Overall they had everything so you could enjoy camping and still be social distanced and safe.
Jun 23, 2020
Great location of the campground relative to the National Park and quite large. I wasn't crazy about the pull through site I had - bit small and packed together. Also we lost power during a storm - apparently a tree came down somewhere on the property. We were told it would be about 1-2 hrs when it was more like 12 hrs. The staff was helpful and friendly though.
Jun 23, 2020
Wi-Fi did not work at all.Lake is covered in weeds.Not the best location
Jun 23, 2020
Very scenic and clean campground. While maintaining 'social distancing' , the staff was Johnny on the spot to bring us any supplies we requested. Awesome staff!!! The shower/toilet rooms were the best���
Jun 23, 2020
Great stay like always,but not letting my mother stop by for bbq was bull!!!WE see alot of people come and go and one camp site near us had 6 visitors stop in over half the day the campers tokd them thanks for stoping by and sneaking in ..wow!!
Jun 23, 2020
Even during the pandemic, it seems they were taking good precautions. The campsites were clean, Well-maintained and spacious. We weren't told guests weren't allowed due to the pandemic and the information sheet said they were allowed. We followed the rules and our guests were denied access but watched several other campsites sneak people in and not follow social distancing.
Jun 23, 2020
We enjoyed the campground as a whole. The last day we went without electricity from 730pm to 9am the next day. There was no communication with any of us camping around what happened or when it would be fixed. Not having the electric really affected our enjoyment since Sunday over to Monday was the only time we had to really enjoy the camp (we had a baseball tourney the rest of the time).
Jun 23, 2020
The only negative, which is huge, is that there were bed bugs. I am taking my laundry to the laundromat and treating my skin for bites. Unfortunately, I did not realize what was going on because bugs are normal at camp, right? Uhm, not these type of bugs and crawling all over me and in my bedding. I did let the staff know at check out. I am hoping they treat the cabin immediately.
Jun 23, 2020
Stay was good. Power went out on 6/21 around 6pm or so. Would be helpful is we could be notified when it might be available again. Decided to leave around 10pm when still no power and no sign of anyone working on the situation.
Jun 23, 2020
amazing! everything was perfect the staff was so nice and helpful! we were so happy that we booked another night for this weekend
Jun 22, 2020
They no longer pick up garbage at the site and do not provide a bin anywhere near the sites. Very inonvenient for getting rid of garbage when connected and ready to leave. Also asked for an escort, and one didn't show up. Missed the road and had to turn around with a big rig. Ended up getting tires all muddy. We have stayed here many times and hope this is all because of the virus this year.
Jun 22, 2020
Clean place, friendly folks that work there, lots of nice shaded sites.
Jun 22, 2020
It was good.
Jun 22, 2020
Loved all the green grass and shade from the trees. The only negative was that the bathrooms were absolutely disgusting.
Jun 22, 2020
Everything was GREAT! Staff was kind and very accommodating. Will be back next month and months after that.
Jun 22, 2020
Loved the camp, would have liked to have known the power hookup at the tent site was a 30 amp plug. Other KOAs we have stayed at had 15 amp standard plugs. Couldn't use our electric items.
Jun 22, 2020
Great grounds, nice ponds, overall a very nice vibe. Will stay here again!
Oct 10, 2020
Great stay here. A lot of activities for the kids several fishing ponds, within a half hour of towpath trail and Peninsula. Staff super helpful and friendly.
- Michele Zappa on Google
Oct 02, 2020
Pretty area. Really surprised how tucked away you are and love the 2 ponds, makes for a nice setting. Staff super helpful and friendly. Nice grassy tent sites. Great location to the national park.
- Elena Griesbaum on Google
Oct 12, 2020
This KOA accommodated us overnight while passed through west. We ended up in a back in site, which had been a seasonal. Tough getting in in the dark. CG staff assisted and was conservatively cautious in assisting. Quiet, nicely manicured and scenic CG. Would not stay in the site we were in again but would gladly stay in any of the others offered.
- Eric Gregg on Google