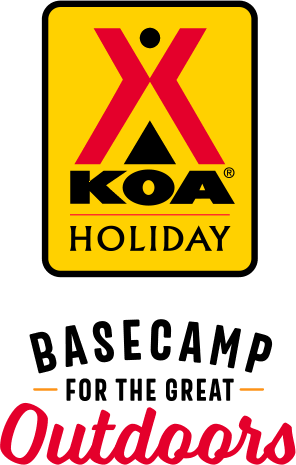 KOA Holiday Campgrounds
Whether you're exploring the local area or hanging out at the campground, KOA Holidays are an ideal place to relax and play. There's plenty to do, with amenities and services to make your stay memorable. Plus, you'll enjoy the outdoor experience with upgraded RV Sites with KOA Patio® and Deluxe Cabins with full baths for camping in comfort. Bring your family, bring your friends, or bring the whole group – there's plenty of ways to stay and explore.
KOA Holidays Feature:
RV Sites with a KOA Patio®
Deluxe Cabins with full baths
Premium Tent Sites
Group meeting facilities
Directions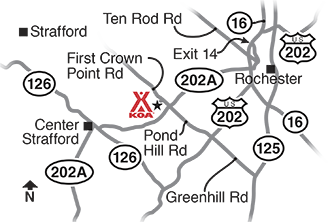 From Route 16 North take exit 14 Ten Rod Road. At the end of ramp bear right then turn right at lights. Go 1/8 mile between Home Depot and Burger King turn right on Twombley St. Go 4/10 mile to end. turn Right on 202A West . Go 2 1/2 mile to a blinking light at 4 corners go straight threw in 1/2 mile bear left on 202A go 2 more miles to First Crown Point road turn right. Campground is on your left in a 1/4 mile. (If coming from Route 16 south take exit 15 turn left at the end of ramp.)
GPS: N43.284099, W71.070311
Get Google Directions
Jul 09, 2020
This is a "HORRIBLE". Golf carts were everywhere and made walking on the roads very dangerous and annoying. Kids playing in the playground well after posted hours. Dogs left unattended and constantly barking. Kids running through our site, even under our awning while we were sitting in our chairs. Poor roads with excessive dust. Loud music after quiet hours. Never will visit here again.
Jul 09, 2020
Loved the place. Very nice set up will come again
Jul 09, 2020
Firewood and pizza delivered to tent site was a major plus, allowing us some time to enjoy the pond and pool on a one night stopover at a tent site. All 4 tent sites are close to bathhouse, which was goid and bad-The septic cleaning service truck arrived at 7:30 AM to dig out and pump out septic system! We had to evacuate the tent and area for an hour because of the stench! I'd recd do at chko
Jul 08, 2020
Great stay. We had an issue at check in with our site not being deep enough for our camper and the staff was very helpful at getting us assigned to a new site. Great place, will be staying again at some point in the future.
Jul 08, 2020
My stay was wonderful. The staff here are great.
Jul 08, 2020
A nice place to camp and bathrooms are kept clean,the staff were very friendly and helpful,the only downside was the cost to camp per night, its double the price if not more,where as other campgrounds in NH only charge half the price koa charges,also i stayed 8 days and there was no free night or any discount like other places offer.
Jul 08, 2020
Campsite it great! I was a little shocked by how far it actually is from Lake Winnipesaukee. I feel like it's slightly false advertising. My fault here since i didn't really map it out before booking, but overall it's not close. Campsite is well kept, clean, full of amenities, and I can't rate the bathrooms since I just use our RV. We would definitely stay here agagin.
Jul 08, 2020
Friendly staff, clean environment, and quiet! Could not have asked for a more peaceful stay.. have and will continue to recommend it to everyone I know. I will be back , next summer for sure!
Jul 07, 2020
Always enjoy our stay. The pool area is the best. The kids love it! However was surprised there was no enforcing any kind of distancing in the pool or waterslide line area. Also, our outdoor speakers in the RV did not work and there were no blinds on the window in the bottom bunk. Otherwise, it was a perfect stay.
Jul 07, 2020
One of our favorite campgrounds in NH for sure!
Jul 07, 2020
We had a great stay at Strafford/Lake Winnipesaukee KOA it was clean the sites we large and level, the staff was wonderful and all seemed happy doing their jobs. We will definitely come back here again.
Jul 07, 2020
Our site was very tight for our long camper. It was quite difficult to park and set up. The picnic table was falling apart. Couldn't sit on one side because it was so broken. The staff were all very friendly!
Jul 07, 2020
My family just returned from our first visit to strafford KOA and we definitely will return. The camp ground is very clean and everything is new and updated. We got a premium site that was very spacious and we loved the adirondak chairs. Our kids enjoyed the clean and new playground and the pool, splash pad and water slide. All staff were very happy and helpful.
Jul 07, 2020
Great campground stayed here 4 times. Kids love the pool and pond. Staff is friendly. They are making site improvements since our last visit. Only complaint is our site 84 was the worst in the campground, on a corner of a heavy traffic area. The site was small, full of tree roots, pine trees and no sun. They weren't able to move us, for the price I was disappointed this time.
Jul 07, 2020
Clean campground great staff. Your prices over the top. Definitely not a resort with resort prices. Won't stay again due to cost and what this campground had to offer.
Jul 07, 2020
We had a wonderful time staying at Strafford/Lake Winnipesaukee South KOA. Our kids, ages 10 and 7, loved the pool and waterside. They just couldn't get enough! We also enjoyed renting the various boats and our son even tried paddle boarding for the first time. We enjoyed the pond (swimming and fishing). Everyone was super nice and friendly. We would definitely come back!
Jul 07, 2020
The cabin was clean and well looked after. The staff were very helpful. The bathrooms were spotless.
Jul 06, 2020
Staff was very friendly. Park was clean and has a great family atmosphere. We will be back. Hopefully seasonal next year!! Thanks Heather and Ryan for everything!!
Jul 06, 2020
Best Koa ever.
Jul 06, 2020
A nice little campground, but not a whole lot of shade. We stayed during the week, so I'm sure there's more to do on the weekends.
Jul 06, 2020
very relaxing!! your staff was very helpful making sure we had everything we needed at our site. we were asked several times as they drove by to make sure we didn't need anything.
Jul 06, 2020
The staff was very friendly and always on top of the campground without being overly annoying.
Jul 04, 2020
Everyone was friendly and the camp grounds were clean and well maintained.
Jul 04, 2020
We didn't want to leave. The staff is very accommodating and extremely courteous. The grounds are clean, and the nature trail is perfect for a short walk. This is the perfect place for a retiree or a family. We booked another trip before we left.
Jul 03, 2020
KOA's are best campgrounds for your families. Strafford KOA has great pool facilities with slide that the kids will love. Camp store has the essentials and the bathhouse was clean.
Jul 03, 2020
Rained out and still had fun! The staff was pleasant and helpful. Thanks Ryan! Nice and clean.
Jul 03, 2020
It was a lovely visit and thank you for accommodating us for the reservation error. The only thing I would say is that $125.00 per night is very pricey.
Jul 01, 2020
Everyone was wonderful, but especially Ryan, Elyssa, and family! We can't wait to come back and have already booked our next vacation! We're even taking Mom on our next trip.
Jun 30, 2020
The site was very small. Limited amounts of pull throughs. And the out ragious price of the pull throughs. Dogs barking and barking! We left our dogs at home so theY wouldn't bark! Honestly I was so surprised at the decreased social distancing especially during the snow time with the kids! The staff we very friendly and helpful!
Jun 29, 2020
Disappointed they messed up our reservations. Book 3 sites back in 2019, request to beside by side end up with one of our site sent a crosstown. Camp site is small, bath room wasn't too clean and small.
Jun 29, 2020
Loved the campground. Had so much fun! Nice, clean, well kept campground with lots of amenities. My family loved it and we will be returning in the future!
Jun 29, 2020
Over all we were very pleased with our stay. The check in process was quick and easy. The staff are very friendly and willing to help. We enjoyed the pond and splash pad as well as the playground with our grand kids. The road conditions are a little rough. Most staff were wearing masks and keep appropriate physical distance. I appreciate that the sites were raked clean before we arrived.
Jun 29, 2020
Great management, laid back and friendly, and super kid friendly with lots of activities. We have made new friends and have a great time
Jun 29, 2020
Staff was so helpful! They would deliver anything to your site. The campground & bathhouses were so clean. We can't wait to go back.
Jun 29, 2020
Excellent campground--clean, active and great service. However, there was no stable Wi-Fi connection at our campsite; therefore, we had to leave a day early so I could work from home. Would definitely go back again.
Jun 29, 2020
None of the so called rules being enforced. Staff and campers flying around on golf carts way too fast. Families all around us and the put my wife and I directly across from the playground. That could just be luck of the draw but it was annoying.
Jun 29, 2020
The staff was amazing:) They seemed way to relaxed with restrictions regarding covid 19 no social distancing and the pool was so crowded. No limits on how many at a time or told to stay at least 6 ft apart? The waterslide did have marking to stay apart which was good. The camping site was good. Very quiet at night:)
Jun 29, 2020
Very clean sites. Heather and Matt were very friendly and helpful.
Jun 28, 2020
Easy check in and check out Spotless grounds Excellent amenities Clean and sanitary Friendly and helpful staff
Jun 28, 2020
Used one of the rental RV's on site. First time staying an RV. Great job to the housekeeping staff and Alyssa. The RV was clean and well stocked with supplies. Thank you Ryan for taking the time to show us the features of the RV and how to operate things. On site bathrooms were always cleaned well stocked. Pool area, splash pad and water slide were great features. Would stay there again
Jun 28, 2020
Excellent time with great accommodations. The staff were all very friendly and went above and beyond to ensure we were comfortable. The families who work & manage the property make it a very family friendly experience. Thank you for a great stay. See you again soon.
Jun 28, 2020
Everything was clean. Very nice campground. We enjoyed our stay very much. We only live 30 minutes away and went here just to test out our new camper. But we may return for a short trip in the future.
Oct 17, 2020
Fabulous campground for a family with kids. Great water park. Had a nice cabin. Friendly staff
- Scott Patefield on Google
Oct 12, 2020
They out do themselves ever time. Went back for a second time in as many months. Will be returning next year. We found a place we really love to vacation at. Will be telling everyone about it.
- Brian Cannella on Google
Oct 09, 2020
The safari tent sites are amazing! Very instagram-esque. There's even a space heater insider for those cold nights. Loved the pond for peddle boating. There was also a scavenger hunt when we were there. Would come back again!
- Briana Kan on Google