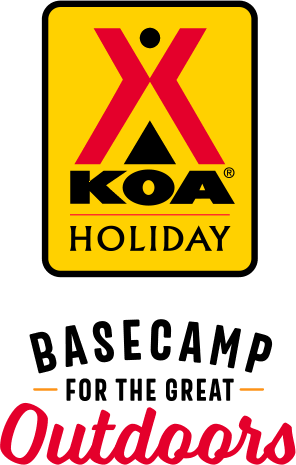 KOA Holiday Campgrounds
Whether you're exploring the local area or hanging out at the campground, KOA Holidays are an ideal place to relax and play. There's plenty to do, with amenities and services to make your stay memorable. Plus, you'll enjoy the outdoor experience with upgraded RV Sites with KOA Patio® and Deluxe Cabins with full baths for camping in comfort. Bring your family, bring your friends, or bring the whole group – there's plenty of ways to stay and explore.
KOA Holidays Feature:
RV Sites with a KOA Patio®
Deluxe Cabins with full baths
Premium Tent Sites
Group meeting facilities
Directions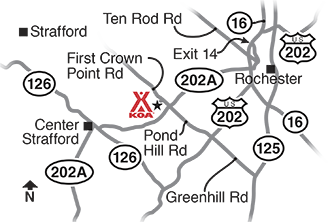 From Route 16 North take exit 14 Ten Rod Road. At the end of ramp bear right then turn right at lights. Go 1/8 mile between Home Depot and Burger King turn right on Twombley St. Go 4/10 mile to end. turn Right on 202A West . Go 2 1/2 mile to a blinking light at 4 corners go straight threw in 1/2 mile bear left on 202A go 2 more miles to First Crown Point road turn right. Campground is on your left in a 1/4 mile. (If coming from Route 16 south take exit 15 turn left at the end of ramp.)
GPS: N43.284099, W71.070311
Get Google Directions
Aug 05, 2020
I have stayed at koas around the country, this was my second visit to steafford the staff here is truly amazing!!!
Aug 04, 2020
surrounded by large group of friends - left dogs barking all day/night long. Not a single person wore a mask into restroom except for staff. No social distancing in the entire park - large groups at pool and horse shoe pit. Kept my distance from everyone but the rest of the campground was business as usual. check in and out was comfortable. staff was responsive.
Aug 04, 2020
What a great place! Very well-stocked camp store and many great activities! We'll be back!!!
Aug 04, 2020
We loved our stay. The amenities were perfect for our family. The RV we rented was in great condition and very comfortable for us. The staff was so helpful and kind. The only downside to our stay was that the camp sites are so close together, offering no privacy while outside.
Aug 04, 2020
Nice family style campground. We'll run and maintained. Good half mile trail. Quite a hot dry spell when we were there in July 2020 so swimming in the pond was not great. Lots of families with children but still quiet. Nice to see them enjoying the pool and activities available.
Aug 03, 2020
This was a great location with friendly helpful staff. The improvements to the grounds look great and there is plenty to do. We look forward to staying here again when we are able.
Aug 03, 2020
We will be coming back yearly! My children had a wonderful time! All the staff were pleasant and kind. Thank you so much and for the awesome birthday card!
Aug 02, 2020
We had a great time!! We did paddle boards, paddle boats, kayaks and row boats! We fished and swam and used the water slide! We stayed in a deluxe cabin and it was so clean and nice! A bit on the pricey side.
Aug 01, 2020
We were disappointed in the condition of the RV. The top bunk was broken with loose sharp screws. The faucets leaked so the counters were always wet. I cleaned everything when we arrived because I wanted to be cautious about COVID germs, and I found that the surfaces were pretty dirty and many areas appeared to have been neglected for some time. Activities (swimming, boating) were good for kids.
Jul 31, 2020
We really enjoyed our stayed. With all that going on right now with civid. We had fun at the lake, the small hike. The girls really enjoyed the pool, and sprinkle area. Friendly staff, helpful. We had a great time. We plan to come back soon.
Jul 30, 2020
We had the best time during our stay! The campground was very clean and every staff member we spoke with was very friendly! We will definitely be back!
Jul 30, 2020
Overall stay was pretty good, the only real issue we had while staying in site 122 was the sewage aroma every 5 or 10 minutes. I imagine that it was associated with what looked like septic holding tank lids in the small grassy clearing behind our site. Otherwise my only other comment was that there was only 1 dog park area in the camp ground and it was poorly located "outside" of the campground.
Jul 30, 2020
We took our children with us on our honeymoon what a amazing place the people here are so great we loved it so much we're coming back in October.In these tough time KOA helps you forget about what's going on in the world. There is no judgment everyone is treated with kindness my children love the staff so much. Thank for all your hard work.
Jul 30, 2020
Great water slide &poolFun Fun Fun!
Jul 29, 2020
Wonderful time, terrific staff! Only negative comment is that one staff member kept allowing a 3 and 4 year old child who were each 6-9 inches below the height requirement to use the water slide. Last summer my son was 5.5 years old and 2 inches short and wasn't allowed to ride. It's either a safety issue or not and shouldn't be based on individual decision-making or favoritism.
Jul 29, 2020
Great stay. Very clean and nice people.
Jul 29, 2020
Our stay was absolutely amazing! The staff at this KOA are over the top! We can't ever leave without booking another stay. Thank you All for your accommodations and warm hospitality.
Jul 29, 2020
Disappointed. Very noisy - lots of golf carts zipping around. People next to us had loud music. We complained and staff quickly spoke to them. Only lasted a few hours. Music volume went up again. No supervision at pool - alcohol, jumping in pool. WIFI was very poor. No enforcement of masks in public locations. Premium site - have had much better at other KOA. three uncomfortable wood chair
Jul 28, 2020
We just got home after 8 days on the campground and we had the best time places clean the staff is friendly could not have asked for a better vacation we can't wait to go back
Jul 28, 2020
The staff does a very good job with the overall upkeep of the grounds. The activities often get out of hand I think due to the staff's "it always happens" mentality. Management has a hands off approach, to a fault. For example a child of a seasonal renter entered the pool with a bloody leg, looked like he fell on his bike on the way down, when the front desk was notified, the manager did nothing
Jul 28, 2020
Love that place!
Jul 28, 2020
We had stayed there a few weekends before and our site was big. This past Thursday-Sunday we stayed. Never got escorted to our site! Site was too small for our camper, we could barley fit unable to have a fire with the trailer and truck in the site. Our site was not cleaned before we came as they usually are. Staff friendly some I knowledgeable. Ran by kids, no adult to be seen!
Jul 27, 2020
Love the place. Have visited in the past. The staff was masked, very courteous and helpful as usual. However, due to NH (non)rules (very dangerous), most guests were not masked and the weekend crowding was overwhelming. Being more at-risk, we tried to distance and wear masks when off our site. We were among the few. Now we wait to see if we have contracted the virus.
Jul 27, 2020
we had a wonderful time and look forward to booking next summer.
Jul 27, 2020
We had such a great stay with a couple families. Great staff. Booked out next trip
Jul 26, 2020
The RV bathroom didn't smell clean and did not look clean. The beds felt as though you were sleeping on a board. The staff was very friendly and accommodating. However there was an incident where a child approximately 10 years old got in the pool with blood running down his leg. We reported it to the store but nothing was done. Pool was not clear and you could feel sand on the pool floor.
Jul 26, 2020
We have stayed in various koas all over New England. This is our first time at Strafford koa and it quickly became one of our favorites. Clean, friendly staff, plenty of room between sites and great amenities. Definitely will be returning if we are in the area again.
Jul 25, 2020
Had noisy neighbors with multiple kids.stay up beyond quit time.had tree cutting around us most of the day.should have been put in area that was no noise area .there where plenty of other areas empty.the pool was cloudy with all the kids.where are people not wearing masks
Jul 25, 2020
We had a great stay. Lots of fun activities and great spacious sites.
Jul 25, 2020
Great people. We love the cabin we are staying in very clean very relaxing.
Jul 24, 2020
Loved our camping cabin! Air conditioning was a plus....the water splash pad was a success, so much to do. Everyone was covid compliant! Took out the paddle boats, enjoyed some good times in the beautiful playground with my two year old grandson! We will be back! Clean and we'll maintained place.
Jul 24, 2020
Campground was very clean. Staff was very friendly. Only improvement I can suggest is to add gravel to the bottoms of the fire pits.... the pits are so deep that it is the equivalent to trying to start a fire in the bottom of a well.... other than that, the stay was perfect.
Jul 23, 2020
Very clean. Very attentive staff. Pleasant experience. Just nit picking but being able to rent a golf cart for perhaps 4 hour blocks at less than the daily rate would be great but honestly that's just personal preference. Really enjoyed our stay.
Jul 23, 2020
The people that work there are very friendly and accommodating. The only thing that I didn't like is where the propane station was, and that is rig specific due to my propane is on the passenger side and filling station is on driver side on way in. There is a dip when turning into the park that rattles a lot of stuff in the rv when turning in. Otherwise a great place, clean and spacious.
Jul 22, 2020
Stayed in the new Safari Tent and Temps were in the 90s. Was a bit worried but with a cooler evening and fans they provided, I was very comfortable sleeping. The tent is real roomy and other than the fact the bed was not level, we really enjoyed it. Did not spend much time in there but the time we did was great I would highly recommend the Safari Tent and KOA Stafford as we had a great time. Ty
Jul 22, 2020
The staff are all super friendly. Grounds are clean. We love the activities. The pool and splash pad are fun , nice to have the pond for paddle boating and swim. We will definitely be spending many summers in the future here.
Jul 22, 2020
Always a great time. Beautiful sight and friendly helpful staff.
Jul 22, 2020
Campground itself was fine, very clean, friendly etc. Just were somewhat disappointed by the high price (same as Sebago resort) and nearness to "Winnipesaukee". We called the campground and asked if we could get to the 'lake', they said yeah you can walk there. They didn't express the lake they meant was their stagnant little pond. Winnipesaukee is a 30 minute drive to the most southern tip of it.
Jul 22, 2020
Perfect stop for a family . We love our safari tents right across from the lake , very clean, all the staffs are so friendly . We loved the pedal boats (the kids loved it more ) Can't wait to come back ! Restrooms were always clean . I have nothing bad to say about it !
Jul 21, 2020
Very nice place , very clean , every friendly and nice sites easy to back RV into and also were pet friendly which means a lot to use , we have two dogs thanks again
Jul 21, 2020
Very clean, friendly helpful staff and seems all sites have a nice level of privacy.
Jul 21, 2020
What a lovely campground! The staff was incredibly helpful and nice, the amenities were wonderful, and everyone there was respectful and friendly.
Dec 30, 2020
We love it here staff are amazing😍😍🤩👍 bathrooms always clean! Speedy services. Yes services!! Pizza ice or wood they'll bring it to you! They handled COVID great
- Brittany McCabe on Google
Oct 17, 2020
Fabulous campground for a family with kids. Great water park. Had a nice cabin. Friendly staff
- Scott Patefield on Google
Oct 12, 2020
They out do themselves ever time. Went back for a second time in as many months. Will be returning next year. We found a place we really love to vacation at. Will be telling everyone about it.
- Brian Cannella on Google