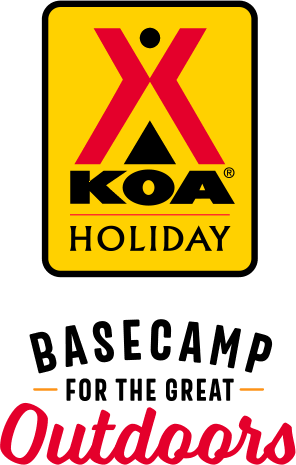 KOA Holiday Campgrounds
Whether you're exploring the local area or hanging out at the campground, KOA Holidays are an ideal place to relax and play. There's plenty to do, with amenities and services to make your stay memorable. Plus, you'll enjoy the outdoor experience with upgraded RV Sites with KOA Patio® and Deluxe Cabins with full baths for camping in comfort. Bring your family, bring your friends, or bring the whole group – there's plenty of ways to stay and explore.
KOA Holidays Feature:
RV Sites with a KOA Patio®
Deluxe Cabins with full baths
Premium Tent Sites
Group meeting facilities
Directions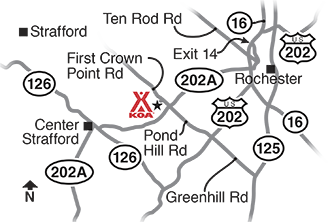 From Route 16 North take exit 14 Ten Rod Road. At the end of ramp bear right then turn right at lights. Go 1/8 mile between Home Depot and Burger King turn right on Twombley St. Go 4/10 mile to end. turn Right on 202A West . Go 2 1/2 mile to a blinking light at 4 corners go straight threw in 1/2 mile bear left on 202A go 2 more miles to First Crown Point road turn right. Campground is on your left in a 1/4 mile. (If coming from Route 16 south take exit 15 turn left at the end of ramp.)
GPS: N43.284099, W71.070311
Get Google Directions
Aug 29, 2018
Friendly, clean, very enjoyable.
Aug 27, 2018
This was the third year our family has stayed at the Strafford KOA. The staff are great, helpful, respectful, patient, and hard working (available, never sitting around). The grounds are well kept, pool and beach area always clean. Family oriented, gets better every stay, can't wait for next year!
Aug 27, 2018
Our kids had a great time at the pool, pond and playground. We also appreciated that in general it was a quite campground, especially at night. The camp store offered everything we needed and more. We plan to make this an annual trip.
Aug 27, 2018
What a beautiful campground! The bathrooms were spotless and staff were great! We can't wait to stay next year!
Aug 26, 2018
We enjoyed our stay very much and have already booked our next one with yo. I wouldn't change a thing. My only thoughts though were that I have you will be closing the pool and slide this week for the season. I found that surprising as September brings such nice weather but I'm sure you have your reasons with kids going back to school. Just wanted to share that the pool is a big attraction for us.
Aug 24, 2018
Very quiet and clean. We appreciate a lot our stay. Only noisy moment was when the seasonnals playing horseshoes with rock music very loud with their carts...
Aug 23, 2018
We love this campground! Beautiful sites, fun activities, love the water slide and Gaga ball.
Aug 23, 2018
We had another wonderful vacation at your wonderful campground. We hope a new bocce game will be ready for next years visit.
Aug 23, 2018
the actual sites are nice and have ample room for the campers and the employees were pleasant however, disappointed in the condition and up keep (or lack thereof ) of the swimming pool also on our last day 8/20/18 a construction crew was permitted to start working and unloading material and equipment slightly before 7am clearly against your own rules of quiet time
Aug 22, 2018
Was just an overnighter on our way to our final destination but seemed like a very nice, clean. & wooded rural type of campground
Aug 21, 2018
We have been coming here for 6 years now and love it! Lots for the kids to do with boat rentals, pool, slide, fishing and splash pad. The wifi AMD arcade is great for the rainy days. Campground and bathrooms are very clean and well maintained. Staff is friendly. Bathrooms were a bit overcrowded this year but was excited to see they are building more for next season!
Aug 21, 2018
Wonderful campground. Extremely clean. Friendly and helpful staff. We will be back already booked for next year!!
Aug 21, 2018
Very nice amenities with the heated pool the splash pad and the water slide great for the kids. They have a really good sized gaming room for the teens to hangout in. The campground also has a really nice store for all your need such as ice and firewood and anything else you may need for your stay. The bathrooms were super clean and the showers we'ret and and free which is a nice perk as well
Aug 20, 2018
Pool ,lake ,fishing was great,the cabin as soon as I got there had alot of ants ,I went to the store to buy ant traps but it did not help .
Aug 20, 2018
Friendly staff, Great prices on everything. Ice, wood, paddle boats etc...
Aug 19, 2018
Great site! Loved the beach and pool! Store needs more supplies though couldn't even get bread there also needs to open earlier for folks that want coffee
Aug 17, 2018
Great place.. loved the cabin.. clean and cozy ! We will definitely be back
Aug 16, 2018
Beautiful campground, very clean. Spacious sites, friendly staff
Aug 15, 2018
Great little campground. Not super scenic or anything, but clean and well appointed with very friendly staff. Honestly, what I love most is that they don't micromanage. No one making rounds to make you put out a campfire at a specific time, no feeling that you're being watched... Just a good laid back spot. The new patios and swings were a nice addition this year too. We'll be back.
Aug 15, 2018
Great campground, VERY clean. Will be back!
Aug 13, 2018
We liked it so much we asked about seasonal. Unfortunately we only wanted a one month place so we could travel around the rest of next season but they only do either daily rate or the 5 month seasonal.
Aug 13, 2018
Great campground and many things to do, nice size RV lots. I used the GPS numbers on the emailed ended up the long way around but we did get there. It was nice to be directed by KOA staff to your camping lot. Thanks again.
Aug 13, 2018
Friendly staff, pleasant site, clean bathhouse. A bit hard to find, but great!
Aug 12, 2018
Very accommodating to our needs. Called me when my mail came so I knew it had arrived. Very clean sites and well maintained and level!
Aug 11, 2018
krapp not good noting to do in the area will not go back !!!!!!!
Aug 11, 2018
We stayed in a cabin and we're thrilled with the cleanliness of the cabin as well as the updated and beautiful patio. We used the pool, splash pad and fishing area with our 4 & 7 year olds as well. All very well maintained. We spent the rest of the week in a beautiful home in the White Mountains and our kids favorite part of vacation was the campground!!
Aug 10, 2018
This is Ingrid Chapman, I rented the cabin at the campground where my husband and I are seasonal campers. My friends were very comfortable and pleased with the accommodations. Thank you very much. Ingrid
Aug 10, 2018
We had a beautiful site at the top of the hill, very relaxing stay.
Aug 08, 2018
All the facilities were extremely clean and well kept. The tentsite near the pond was right opposite the very toddler friendly playground which was really convenient. Everyone who works at Strafford KOA was very friendly and helpful. The dishwashing station wasn't on the map so they should mention where it is at checkin. The seasonal campers were really friendly, lots of really nice kids!
Aug 07, 2018
Camping très propre et les emoyés sympatique. Piscine, une glissade, jeux d'eau pour enfant, petit étan avec location d'embarcarion à propultion manuelle, salle de jeux, salle de lavage.
Aug 07, 2018
Great campground, clean,and relaxing stay.
Aug 07, 2018
Laundry facilities are not convenient. Site was all dirt. The campground is built on a hill with office at bottom and a bit of a distance from most sites. Dog park is nice but a long walk from all sites.
Aug 07, 2018
lots of rain but still had a great weekend
Aug 06, 2018
Location was excellent, always something for our 6 year old son to do, this was his second camping experience and he loved it. The pool, splash pad, water slide, fishing, scheduled activities made for some great memories! Thanks for the friendly staff KUDOS to Everyone!
Aug 06, 2018
Amazingly CLEAN! Super friendly staff members! Very helpful staff!!! Lots of activities for kids and adults. This was such a beautiful campground! Highly recommend it!!!
Aug 06, 2018
We loved it! Very clean, and the staff was very freindly..
Aug 06, 2018
To many rules in pool kids can't even have fun what's the harm in a floating pool pall if there are screens on the filter
CAMPGROUND RESPONSE / COMMENTS:
Thank you for your stay. Sorry you didn't like the rules but we don't allow Balls to be thrown around in the pool for everyone's safety.
Dec 30, 2020
We love it here staff are amazing😍😍🤩👍 bathrooms always clean! Speedy services. Yes services!! Pizza ice or wood they'll bring it to you! They handled COVID great
- Brittany McCabe on Google
Oct 17, 2020
Fabulous campground for a family with kids. Great water park. Had a nice cabin. Friendly staff
- Scott Patefield on Google
Oct 12, 2020
They out do themselves ever time. Went back for a second time in as many months. Will be returning next year. We found a place we really love to vacation at. Will be telling everyone about it.
- Brian Cannella on Google