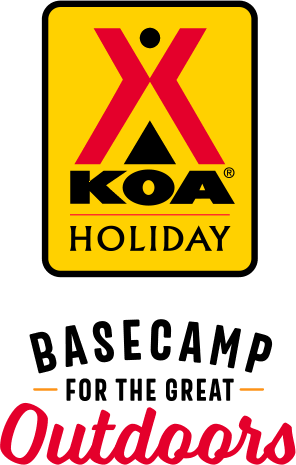 KOA Holiday Campgrounds
Whether you're exploring the local area or hanging out at the campground, KOA Holidays are an ideal place to relax and play. There's plenty to do, with amenities and services to make your stay memorable. Plus, you'll enjoy the outdoor experience with upgraded RV Sites with KOA Patio® and Deluxe Cabins with full baths for camping in comfort. Bring your family, bring your friends, or bring the whole group – there's plenty of ways to stay and explore.
KOA Holidays Feature:
RV Sites with a KOA Patio®
Deluxe Cabins with full baths
Premium Tent Sites
Group meeting facilities
Directions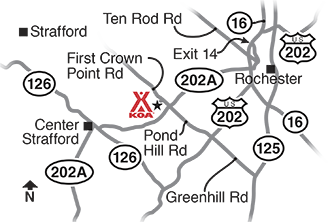 From Route 16 North take exit 14 Ten Rod Road. At the end of ramp bear right then turn right at lights. Go 1/8 mile between Home Depot and Burger King turn right on Twombley St. Go 4/10 mile to end. turn Right on 202A West . Go 2 1/2 mile to a blinking light at 4 corners go straight threw in 1/2 mile bear left on 202A go 2 more miles to First Crown Point road turn right. Campground is on your left in a 1/4 mile. (If coming from Route 16 south take exit 15 turn left at the end of ramp.)
GPS: N43.284099, W71.070311
Get Google Directions
May 28, 2019
Very nice sites. Clean site. Friendly workers. Very disappointed that I couldn't book a site fri, sat. night in July due to the 3 night minimum even though Sunday was booked. I've been to Strafford 3 times and am surprised for that 1 night I would be turned away.
CAMPGROUND RESPONSE / COMMENTS:
We are glad you enjoyed your stay with us, and we hope to see you again soon!
May 28, 2019
Excellent service, staff was great with activities for kids
CAMPGROUND RESPONSE / COMMENTS:
Thank you for your kind words! We are glad that you enjoyed your stay.
May 28, 2019
We loved our stay and the new management!! We had a wonderful time! The only critique I would give is that there were so many golf carts and so many dogs! Some sites had 3-4 dogs who barked endlessly. Other than that, we loved it!
CAMPGROUND RESPONSE / COMMENTS:
We are glad you enjoyed your stay! We hope to see you again soon!
May 21, 2019
Very nice staff and place is very clean. Will definitely stay here many more times.
CAMPGROUND RESPONSE / COMMENTS:
I will pass along your kind words to our staff! See you again soon!
May 20, 2019
Staff very accommodating with all your needs
CAMPGROUND RESPONSE / COMMENTS:
Thank you! We are glad that you enjoyed your stay! Come again soon!
May 15, 2019
Muddy roads but it had just rained. Men's room very nice, women's room needs updating. Very friendly staff and sites pretty level considering hilly area
CAMPGROUND RESPONSE / COMMENTS:
Thank you for taking the time to share your thoughts! Have a great summer!
May 13, 2019
Campground has a lot to offer families. Not as deluxe as other KOA deluxe cabins we have stayed at. No gas grill makes cooking harder for a family. Definitely not enough blankets for a cold spring. We have stayed at deluxe cabins at other KOAs and there was at least 1 real bed and full linens. Friendly staff. Nice game room. Store was not stocked with milk eggs etc ATM down. A lot of trips to town
CAMPGROUND RESPONSE / COMMENTS:
Thank you for taking the time to rate your stay! We appreciate all of your comments as they will help us improve the guest experience. We hope to see you again!
May 12, 2019
Great sites...super clean park
CAMPGROUND RESPONSE / COMMENTS:
Thank you for taking the time to leave a review! We are glad you enjoyed your stay!
Nov 26, 2018
Excellent campground. Well run, clean and very family oriented.
Oct 20, 2018
We workkamped this summer and enjoyed the staff, guest and area immensely. We have traveled around the country and this is the nicest (by far) campground we have stayed at. Kim and Jay are extremely proactive in the appearance and operation of this campground.
Oct 20, 2018
We got a seasonal site this year and it was a great experience of being able to visit the campground on a whim, go swimming to keep cool, enjoy the daily and night activities with the grandchildren. Looking forward to next season.
Oct 18, 2018
The whole stay was pleasant, peaceful and enjoyable. There are many in camp activities for the whole family. The only suggestion is for a dog beach (not just the boat landing as that was fairly muddy but an area similar to the people beach) and an exercise area such as some agility items.
Oct 13, 2018
It was a holiday weekend and we were a group of 14. Staff was great, campsites were spacious and restrooms very clean. It was a closing weekend but everything was in great shape! We didn't use many amenities but there was a lot to choose from.
Oct 13, 2018
Very friendly. A bit hilly so it's hard for some less able people to walk around the campground.
Oct 13, 2018
Friendly staff, clean campground, very nice campsites, nice amenities. The only negative was no activities on this Columbus weekend. Would have been nice to have a Dj, band, comedian etc. I understand it is near the end of the season, but something to do would have been nice. We will be going back.
Oct 12, 2018
The grand kids love the pool & water park. We live close so it's easy to do local needs, but still have the natural outdoor experience. However, the price of wood is a bit extreme. See you next spring.
Oct 12, 2018
As always we had a great time, we love it here! Thank you for all of the woundeful weekends this year.
Oct 12, 2018
Facilities and campground was great. Our problem were our neighbors who were drunk and played music until 2:30 in the morning. I avoided any problems so we just tried to go to sleep and ignore.
Oct 09, 2018
Pros: Enjoyed our site - one of only 4 patio sites. Apparently the campground has not been a KOA for very long, and work is currently being done to improve it - including a couple of new bathhouses. Wooded surroundings are relaxing. Nice employees. Cons: Campground has a LOT of either full timers or weekend owners, and many of their RV's/mobliehomes need to be cleaned up or removed.
Oct 08, 2018
The cableTV had 90 channels when we got there and only 23 when we left, don't know where the other 67 channels went overnight. Was pleased to see how quckly they serviced the campsites after people left. Place was clean, bathhouses immaculate.
Oct 08, 2018
We had a very pleasant visit wish we could have stayed longer.
Oct 06, 2018
Very nice campground - the roads within were a bit rough though
Oct 06, 2018
It rained alot! We had tire trouble and had to stay an extra day. Really nice park. Room to walk around. Laundry facilities too small and expensive compared to other places.
Oct 05, 2018
Our first time at KOA it was a pleasure camping there the place was very nice and very clea.
Oct 05, 2018
The sight we got initially would not work for our rig. They moved us to a different sight that was perfect. We loved our stay there and would like to stay there again in the future.
Oct 04, 2018
We enjoyed are stay very much. Very friendly campers Looking forward to next season. Plan on visiting a lot more.
Oct 04, 2018
We truly enjoyed our stay. The park was clean and the staff was friendly.
Oct 04, 2018
The sites were in excellent condition; well kept, spacious, surprising amenities (fire place, chairs and bench). The staff was very friendly and courteous. We thoroughly enjoyed our stay.
Sep 27, 2018
7 dollars for 7 pieces of well seasoned wood went up so fast had to buy 5 bundles for one night campfire otherwise we loved the site was clean and the staff friendly
Sep 27, 2018
I was there after the busy summer season. My tent sight was large and near the water as requested, however it was muddy and very musty/moldy smelling. I have stayed at other KOA's and find them to be very consistent and well maintained. As a side note, I checked in after the office closed and got settled in just fine, but it would have been nice to have staff check in with me the next morning.
Sep 26, 2018
The people in the office were very friendly. Wish we camped during the summer season so we could have checked out the swimming pool and paddle boats. We will definitely return. Camp sites were large and clean.
Sep 26, 2018
Loved the Halloween celebration
Sep 26, 2018
We had a great time! Wish the pool was still open, looked like a lot of fun for the kids!
Sep 26, 2018
We stayed at a patio site. The campground is well maintained. We look forward to returning to this campground!
Sep 25, 2018
Clean and spacious sites. Very nice owners.
Sep 22, 2018
First time visit. Very nice, new sites. Was very impressed. Owner very friendly and services were also great.
Sep 21, 2018
was great the site was good met some great people cant wait to stay again
Dec 30, 2020
We love it here staff are amazing😍😍🤩👍 bathrooms always clean! Speedy services. Yes services!! Pizza ice or wood they'll bring it to you! They handled COVID great
- Brittany McCabe on Google
Oct 17, 2020
Fabulous campground for a family with kids. Great water park. Had a nice cabin. Friendly staff
- Scott Patefield on Google
Oct 12, 2020
They out do themselves ever time. Went back for a second time in as many months. Will be returning next year. We found a place we really love to vacation at. Will be telling everyone about it.
- Brian Cannella on Google