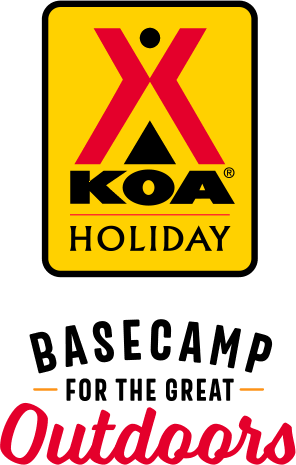 KOA Holiday Campgrounds
Whether you're exploring the local area or hanging out at the campground, KOA Holidays are an ideal place to relax and play. There's plenty to do, with amenities and services to make your stay memorable. Plus, you'll enjoy the outdoor experience with upgraded RV Sites with KOA Patio® and Deluxe Cabins with full baths for camping in comfort. Bring your family, bring your friends, or bring the whole group – there's plenty of ways to stay and explore.
KOA Holidays Feature:
RV Sites with a KOA Patio®
Deluxe Cabins with full baths
Premium Tent Sites
Group meeting facilities
Directions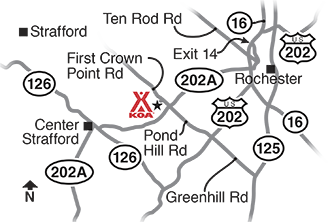 From Route 16 North take exit 14 Ten Rod Road. At the end of ramp bear right then turn right at lights. Go 1/8 mile between Home Depot and Burger King turn right on Twombley St. Go 4/10 mile to end. turn Right on 202A West . Go 2 1/2 mile to a blinking light at 4 corners go straight threw in 1/2 mile bear left on 202A go 2 more miles to First Crown Point road turn right. Campground is on your left in a 1/4 mile. (If coming from Route 16 south take exit 15 turn left at the end of ramp.)
GPS: N43.284099, W71.070311
Get Google Directions
May 27, 2020
This was my family's first stay at a KOA resort. We went tent camping for only one night but were very impressed with the cleanliness and friendly staff! We'll definitely be back and will recommend to friends and family! Thank you!
May 26, 2020
Great place to stay. Ryan is awesome!
May 26, 2020
Even without CoVID the bathrooms could be cleaned more. With the current situation I figured the bathrooms will be cleaned more often than they were. I went into find dirty bathrooms and the same markings are on the toilet when I went back hours later so I could tell it hadn't been cleaned. Staff was wonderful and very friendly especially Ryan!
May 26, 2020
There was a bush that interfered with my ability to lower my canopy and especially to raise it backup. Everything else was perfect. Everyone we worked with was accommodating, friendly and helpful.
May 26, 2020
the staff was excellent - how ever the over usage of electric golf carts by the guests was a problem and would be the only reason why we would consider not staying here. It is up to the family's who use the carts to us them responsibly and they can't. Other wise the property was clean and the staff was over the top friendly and helpful especially with the Covid
May 26, 2020
The staff was extremely friendly!! Every time I called I spoke with Jenna. She was very sweet. We also interacted with Ryan who was very nice and always made sure we had everything we needed from wood to propane to fun. The facilities were very clean. I did find it a little pricey compared to the resort campgrounds we typically stay at.
May 26, 2020
We stayed in a cabin. Had issues with the refrigerator, Ryan (was AMAZING) he came right up to look at it and went down to get us a smaller fridge. He also brought up ice for us to put in the larger refrigerator. The shower rod kept falling down. But other than that, we had an amazing stay!.
May 25, 2020
Overall it was a fun weekend regardless of the closed amenities due to Covid. I was surprised and disappointed that one of the limited amenities open being the boats were charged and not included. I think that's a bit silly considering all others were closed. They weren't sanitized in between uses so I'm not sure why the playground couldn't be open. RV mattress was poor & could def be upg
May 23, 2020
We stayed during the Covid-19 Pandemic. On Tuesday when we arrived it appeared they were adhering to the rules set by our state. They wore masks and had social distancing practices in place and it looked like they were going to follow the 50% capacity rules. However, By Thursday afternoon the campground was at least 85% full every spot around up was occupied, it made us nervous.
May 23, 2020
The campground is coming along great. Improvements are nice. The site was clean. Staff is friendly. As a suggestion, because of the current situation, during check in when staff come to the car they should have a mask on, not just with them.Also it would be great if documents could be signed electronically to further reduce contact and shared pens.
May 20, 2020
We had an excellent stay! The new buildings are the perfect size for a weekend getaway and were equipped with everything we needed. The staff was wonderful, very helpful and fun to talk with. It was quiet and clean and we had fun walking the trails and sitting by the campfire. Would go back again in a heartbeat!
May 19, 2020
Wicked Awesome!
May 19, 2020
Campsites were a good size and the campground was very well maintained. They had some very nice cabin options The! The staff was exceptional - friendly, helpful and courteous! Absolutely loved and appreciated the delivery services offered!
May 18, 2020
It was nice. Not sure why a resort fee was collected cause nothing could be used. I understand the governor closed activities.
May 14, 2020
Super friendly and helpful staff. Beautiful grounds. Top notch campground!!!
CAMPGROUND RESPONSE / COMMENTS:
Thank you for your kind words! I will pass them on to our great team members! Please come again!
May 12, 2020
Great place, we've stayed here numerous times and are never disappointed. Great staff and location. - We stayed in a TT, Site "B".
May 11, 2020
Our 1st trip in the new 5th wheel and we were so excited we were allowed to check in early. The wood delivery to our site was a bonus. Due to the snow & cold we couldn't take the kids on the barrel rides or use much of the campground but there is always next time. The patio sites are great! Glad to see more were added. Thanks for the great memories!
May 11, 2020
This was our first trip to this KOA. I cannot thank the staff enough for all their help and guidance during our stay. Heather, the manager of this location is super friendly and goes above and beyong to ensure the guests are happy and comfortable. Our heater went on our camper, and Ryan dropped one off to get us through the night. I cant thank everyone enough, and we will be back Thursday!
May 11, 2020
Our first trip for 2020 was a memorable one. The owners and staff did a great job making us feel comfortable and welcome during these trying times. The campground is clean and the sites are large and level. We really enjoyed the snow, that was a first. We look forward to returning to enjoy the outside activities.
May 11, 2020
I loved the campsite and the RV rental was perfect. Staff was extremely friendly and helpful. Looking forward to our next stay.
May 11, 2020
Great place well run and taken care of.
CAMPGROUND RESPONSE / COMMENTS:
Thank you! Come again soon!
Dec 29, 2019
Staff is great. Activities were very fun and kids had a blast. We love staying at this campground!!!
Nov 28, 2019
We had been seasonal campers for the last 5 years. Since the new owners took over the rules have become very lacks. Also the new owners waited until the last minute to tell the seasonal campers the rate was being increased by $600 to $800. If you are looking for just a quick stay it is nice.
Nov 11, 2019
We stayed in a rental camper. (First time) usually we rent a cabin. Camper was fairly new. Was a little tight with just two people. Had a problem with no heat. Staff responded right away. Very courteous staff. Mattress was awful. Campground was clean and had plenty of scheduled activities.
Oct 22, 2019
Although the cabin layout is NOT what was pictured, the staff made every effort to make things right. Very much appreciated for their effort and looking forward to next season.
Oct 21, 2019
We were there for our 3rd season of the 6 weekend fall special. There were plenty of activities for the kids and adults. The new managers are awesome and the entire staff was extremely friendly. We stay on a site (1) that gets a lot of traffic. I wouldnt mind seeing the 5 mph speed limit enforced more, especially with golf carts as we had a lot of road dust each weekend. Great season though
Oct 17, 2019
Our stay is always a great time. Matt and Heather and all the staff are all accomodati g. I cant wait to see everyone next season as we already boomed our first campi g trip for 2020. Thank you for a fantastic season.
Oct 17, 2019
Friendly and clean facilities
Oct 16, 2019
Loved it there. Until.... Blue Water Development. Needless to say we won't be back.
Oct 16, 2019
Very Disappointed on how the corporation handled the next year seasonal contract waiting till the last minute.
Oct 16, 2019
We enjoy the campground, activities, campers and staff. We have been camping here for the past 10 years. However we feel we are getting priced out of camping. What used to be a fun family adventure, we now have to decide if the fun is worth the cost. With a restriction from bringing outside fire wood we have to purchase the way over priced campground firewood. Would recomend and let them decide
Oct 16, 2019
Went for the Halloween weekend. On Columbus day weekend Office/store awesome... So clean .bathrooms clean. Staff. Friendly and helpful ���
Oct 15, 2019
Always love it there! Everyone is so friendly and the campground is well maintained! Can't wait to go back next spring
Oct 15, 2019
We had a large group and everyone had a great time!
Oct 15, 2019
It is always nice at KOA
Oct 15, 2019
I came in with 10 other camping friends and we had a blast. It was our last trip of the year. On Saturday we had our annual Thanksgiving (4 turkeys) and ALL the fixings (36 of us). We are even going to rebook a week next summer and possibly the Columbus Day weekend. We use to go to the KOA in Lincoln/Woodstock, but it's getting to far (2hrs) for some of us to go. Overall, this place ROCKS!!
Oct 15, 2019
Great time and great staff!!
Oct 15, 2019
Heather and her family were extremely helpful and personable, as hosts. The campground, our RV rental unit and the facilities were clean and updated. Gary helped us settle in for the week, making us feel right at home. It was a delightful time with our extended family in a beautiful, quiet setting!
Oct 15, 2019
The RV we rented was well stocked with all the equipment that we needed All the activities we're well planned the staff were very helpful and friendly .. I will definitely stay there again .
Oct 17, 2020
Fabulous campground for a family with kids. Great water park. Had a nice cabin. Friendly staff
- Scott Patefield on Google
Oct 12, 2020
They out do themselves ever time. Went back for a second time in as many months. Will be returning next year. We found a place we really love to vacation at. Will be telling everyone about it.
- Brian Cannella on Google
Oct 09, 2020
The safari tent sites are amazing! Very instagram-esque. There's even a space heater insider for those cold nights. Loved the pond for peddle boating. There was also a scavenger hunt when we were there. Would come back again!
- Briana Kan on Google