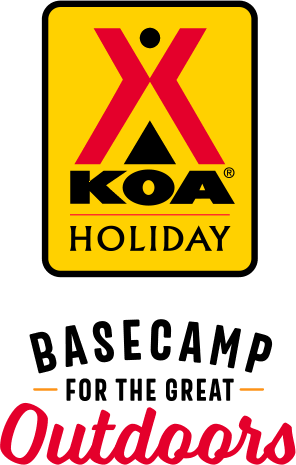 KOA Holiday Campgrounds
Whether you're exploring the local area or hanging out at the campground, KOA Holidays are an ideal place to relax and play. There's plenty to do, with amenities and services to make your stay memorable. Plus, you'll enjoy the outdoor experience with upgraded RV Sites with KOA Patio® and Deluxe Cabins with full baths for camping in comfort. Bring your family, bring your friends, or bring the whole group – there's plenty of ways to stay and explore.
KOA Holidays Feature:
RV Sites with a KOA Patio®
Deluxe Cabins with full baths
Premium Tent Sites
Group meeting facilities
Directions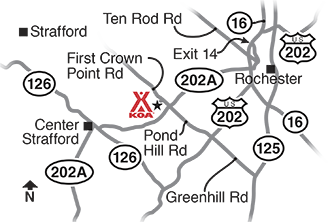 From Route 16 North take exit 14 Ten Rod Road. At the end of ramp bear right then turn right at lights. Go 1/8 mile between Home Depot and Burger King turn right on Twombley St. Go 4/10 mile to end. turn Right on 202A West . Go 2 1/2 mile to a blinking light at 4 corners go straight threw in 1/2 mile bear left on 202A go 2 more miles to First Crown Point road turn right. Campground is on your left in a 1/4 mile. (If coming from Route 16 south take exit 15 turn left at the end of ramp.)
GPS: N43.284099, W71.070311
Get Google Directions
Jun 15, 2020
Jenna, Heather, Matt and Ryan all super friendly and helpful. Already booked for September.
Jun 15, 2020
We had an awesome trip! We have stayed at a couple other KOAs and Strafford NH is the absolute best KOA ever! We can't wait to come back in October! Best campground and cabin ever!!!! Staff is so kind and knowledgeable! Sites are huge and gorgeous! We had a great time! Thank you!
Jun 15, 2020
Sorry to complain. On 5/15 inquired about a group of 4 of us wanting to camp together. KOA could make that happen. All 4 families called right away and booked sites 29, 30, 35 and 36. Well we arrived and there was no record of that and two of the families that had 35 and 36 were moved to 13 and 68. We received a wagon of wood for the inconvenience. Should have been free night.
Jun 15, 2020
We booked our reservations with 4 different sites together. Low and behold, 2 sites were rented to other campers; they had to be placed in other undesirable sites. To compensate, we did get a load of firewood. One of the sites was too small for the camper size; they should have returned their money for the error. Your campground must improve on your reservations! Unacceptable business practice!!
Jun 15, 2020
nice staff, very helpful especially since it was our first RV trip.
Jun 15, 2020
It always very clean and we love going there. The price of wood is the only draw back about the campground
Jun 15, 2020
I want to thank the staff especially Ryan on how helpful, courteous, and friendly they were. All the employees were so thoughtful and friendly always busy keeping the sites restrooms clean. The sites are a great size and the campground is not too big. This was our second time camping there and we would definitely camp there again!
Jun 15, 2020
Loved it, thank you for the friendly service. We were only sad that we had to leave before all the water fun opened. Thank you for opening the playground early. Your cafe/shake shop was awesome. Your staff members are incredibly helpful and friendly. See you again soon!! The Osgoods
Jun 14, 2020
Had a great week! Everyone went out of their way to make our stay a great one. Can't believe all of the changes and upgrades that have been done since our visit last fall! Looks fantastic, keep up the good work
Jun 11, 2020
office staff are very nice campground is very clean love coming here the people are AWESOME
Jun 10, 2020
We had a great time ! Staff was very helpful and friendly.
Jun 09, 2020
Great people. Everything was clean and the service was outstanding. We alredy booked our next trip.
Jun 09, 2020
Very nice! Will be back Father's Day weekend!
Jun 09, 2020
We had a great time! The staff were so friendly and helpful. Specifically Ryan- he made sure we had the best stay possible. Thank you!
Jun 09, 2020
With everything going on in the world right now, all the staff, especially Ryan, were super accommodating and helpful. Everyone was positive and had good attitudes, great place to camp and absolutely will be back.
Jun 09, 2020
The staff are excellent and ensured we had everything that we needed. The campgrounds were clean as usual. We had a large group that hadn't been there before and at the end they all extended their checkouts and we all booked another weekend together there. Great time and great people at this particular KOA!
Jun 09, 2020
very nice staff fun time
Jun 09, 2020
RV we rented smelled! No offer to move us was made. Man tried to fix it, but when we reported next day no improvement, the girl just said "huh"... pan was broken, seats torn up, and bath mat soaked with rain and dirt since vent left open in the rain. Staff all very young, customer service was not KOA standard. Not Going back
Jun 09, 2020
What made my weekend so special was the camp host,Ryan. He within 10 minutes, got us firewood, playing cards, and water. He checked in on (newbie campers) and was incredibly polite,cheerful, and helpful.
Jun 08, 2020
My husband and I enjoyed our stay so much we booked a four day weekend the following week. The staff is so pleasant and sweet and accommodating I can't say enough about how helpful everyone has been.
Jun 08, 2020
The campground was limited (no pool, playground) but they did have the arcade open. Makes no sense at all when the playground is open air and safer. To me if it made a profit, it was ok. Also we paid for the deluxe cabin but all the deluxe amenities weren't available. I had to ask for chairs for around the campfire. No discounts offered. Staff was friendly.
CAMPGROUND RESPONSE / COMMENTS:
Thank you for choosing to spend your weekend with us and letting us know your thoughts. Unfortunately, at this time, what is open and closed is determined by the state. We are hoping to be able to open the pool soon!
Jun 07, 2020
Great stay. The WiFi could be upgraded, otherwise everything was outstanding.
CAMPGROUND RESPONSE / COMMENTS:
Thank you for your kind words! We are working on upgrading our wifi throughout the park. Please come visit us again!
Jun 06, 2020
Very clean and staff was very polite and helpful.
Jun 03, 2020
The people who ran the campground were very nice. Big issue with noise. We are full time RVers -have never had such issues with noisy campers. Music loud all around us, someone had PA system that went to close to 11pm, no one else seemed to mind. Campground workers would be near by and not say anything. Camping should be a quiet experience not a noise fest. Campers do not block out noise
CAMPGROUND RESPONSE / COMMENTS:
Thank you for letting us know about your stay. Our quiet hours are from 11pm - 8am, but we do also address noise issues outside of those hours if it is disturbing to their neighbors or if it does not fit with our family-friendly values. We encourage guests to let us know about noise issues during their stay, so that it can be addressed.
Jun 02, 2020
Very clean and well cared for property. Great family spot
Jun 01, 2020
Friendly staff and clean facilities
Jun 01, 2020
The cabins were very clean. The outside patio was immaculate. The staff was very friendly and helpful. I will definitely recommend and return to KOA Strafford
Jun 01, 2020
Another great weekend at the Strafford KOA. The staff continues to amaze us with each stay. This weekend we participated in the Paint night with Heather, and it was a blast. So many great memories created, and overall fantastic and fun time. See you all soon!
Jun 01, 2020
Great family campground. Very roomy sites and very helpful staff. My only issue was the dust from all the golf carts.
Jun 01, 2020
We had a great weekend! the staff was very responsive to our needs and concerns and addressed them immediately. The kids had a great time fishing, baoting and swimming. The activities were great and the shuttle service to the restrooms was top notch (thanks zach) overall great experience.
Jun 01, 2020
We had a fantastic time despite all that is happening in the world. The campground is quaint, clean, and the staff are so friendly and helpful. We will absolutely be back!
May 30, 2020
We enjoyed our stay very much with one real main issue: the excessive # of golf carts / excessive # of golf carts going to fast, some racing each other (spitting up rocks, dirt, dust). Of the 20+ yrs we've been camping, golf carts represented a sense of security knowing staff was actively watching over campers. We didn't feel that here, as the ratio was 20-to-1 of non-staff driving a cart.
May 29, 2020
The staff was very friendly and helpful. The site was awesome! We look forward to coming back!!
May 28, 2020
Very clean a well run campground. Only problem wood is far too expensive
May 28, 2020
This was our first time camping. The place is beautiful! And managers were very nice always helpful. Would love to come back
May 28, 2020
The campground is very well kept and the staff are extremely friendly and accommodating.
May 28, 2020
Awesome campground. Very clean and follows Covid 19 rules
Dec 30, 2020
We love it here staff are amazing😍😍🤩👍 bathrooms always clean! Speedy services. Yes services!! Pizza ice or wood they'll bring it to you! They handled COVID great
- Brittany McCabe on Google
Oct 17, 2020
Fabulous campground for a family with kids. Great water park. Had a nice cabin. Friendly staff
- Scott Patefield on Google
Oct 12, 2020
They out do themselves ever time. Went back for a second time in as many months. Will be returning next year. We found a place we really love to vacation at. Will be telling everyone about it.
- Brian Cannella on Google