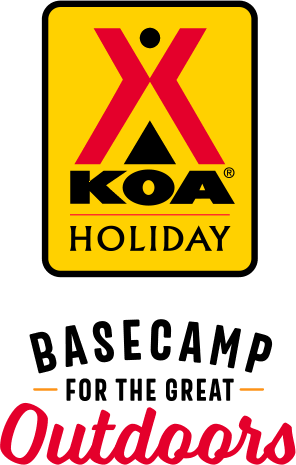 KOA Holiday Campgrounds
Whether you're exploring the local area or hanging out at the campground, KOA Holidays are an ideal place to relax and play. There's plenty to do, with amenities and services to make your stay memorable. Plus, you'll enjoy the outdoor experience with upgraded RV Sites with KOA Patio® and Deluxe Cabins with full baths for camping in comfort. Bring your family, bring your friends, or bring the whole group – there's plenty of ways to stay and explore.
KOA Holidays Feature:
RV Sites with a KOA Patio®
Deluxe Cabins with full baths
Premium Tent Sites
Group meeting facilities
Directions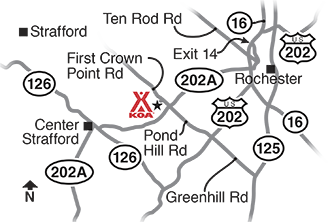 From Route 16 North take exit 14 Ten Rod Road. At the end of ramp bear right then turn right at lights. Go 1/8 mile between Home Depot and Burger King turn right on Twombley St. Go 4/10 mile to end. turn Right on 202A West . Go 2 1/2 mile to a blinking light at 4 corners go straight threw in 1/2 mile bear left on 202A go 2 more miles to First Crown Point road turn right. Campground is on your left in a 1/4 mile. (If coming from Route 16 south take exit 15 turn left at the end of ramp.)
GPS: N43.284099, W71.070311
Get Google Directions
Jun 27, 2020
It was a wonderful time. Grounds and staff are amazing.
Jun 26, 2020
It is a very friendly place (staff and other campers) Sites are large and shaded. Its nice and quiet during quiet hours. Bathrooms are clean. There is a fishing pond as well as a pool. My only downside was the amount of dogs. It seemed like most people brought their dog. If you have a child afraid of dogs, you might not want to go here. This was our second visit and we will camp here again.
Jun 26, 2020
Facility is ok but they don't care about the enjoyment or comfort of their guests. We travel all over at KOAs and this one has by far the rudest staff. The gm are quick to make excuses and blame others but when they condone one of their staff members leaving their young kids (about 2, 3 & 4yo) unattended by the pond and then ask us to leave when we voiced concern it's bad. Always an excuse fro
Jun 26, 2020
It was our 1st time camping and it was a blast!!!! My 4 year old and I enjoyed ourselves so much! Definitely looking into coming back before the end of the summer!
Jun 26, 2020
Beatrice has the most amazing customer service ever!
Jun 25, 2020
Extremely clean campground. The staff was very friendly and attentive. We will definitely be staying here again.
Jun 25, 2020
Your internet service need improvement. We could not receive call nor did we have connection to the hot spots.
Jun 24, 2020
This a great campground. It was clean with good sized campsites and excellent staff members. We had a wonderful stay!
Jun 24, 2020
We had a patio site and it was wonderful. We had lots of space, it was clean and the staff was friendly. The lake, pool and spash area were open with social distancing. Great park!!
Jun 24, 2020
What an amazing weekend! All staff was extremely helpful and courteous. The park was well taken care of and all amenities were well maintained. Special thanks to Ryan (manager) and Beatrice (staff member) for their extra special effort and care. We couldn't leave without reserving another weekend in near future. Look forward to our next stay! Your guests at Site 9!!!
Jun 24, 2020
Very clean, staff was friendly, grounds were well kept and the amenities were great. We enjoyed the pool, water slide, splash pad, new playground and boat rentals!
Jun 24, 2020
Everyone was very friendly. The grounds were well kept and very clean. All around great stay. I even put my name in for a seasonal next year.
Jun 23, 2020
Grandkids had a blast! Pool, paddle boarding, waterslide and splash pad was so much fun! Only negative thing I could say is way to dusty need to pave by the store to sites at least have a water truck go through periodically would keep the dust down . We definitely had an awesome time and will camp again!
Jun 23, 2020
We had two issues: All the dust from the road.. Was horrible trying to eat with it all being kicked up. The other was the amount of go carts that cruised around over the speed limit all day and night... Loved our site other than that and the staff was amazing....
Jun 23, 2020
Overall We had a great time - and my kids were exhausted! I think they need to figure out more shade near the pool area if possible. Definitely recommend for people to get a golf cart - walking in the heat is nuts. With the prices of the deluxe cabins they should be included.
Jun 23, 2020
As ALWAYS, Ryan is the best. I can't say enough about him. Great customer service for sure. Employees like him, make campers like me want to return!!! Heather was also helpful for booking out next stay.
Jun 23, 2020
Overall, it is ok. We were lucky to have a very large site. What was disappointing was that health regulations were not followed at all. Occasionally staff was wearing a mask on their faces, however there were FAR too many people in the pool and pond. It is unrealistic to think that people from out of state are taking the NH guidelines into consideration. The staff needs to step in.
Jun 23, 2020
Safari site was a cool concept, however not quite ready for prime time, so the experience was less than turnkey. We had exposed trenches with ugly yellow caution tape, A big pile of cut branches were left in front of our cabin which took from the view of the pretty lake and lastly, there were missing amenities (due to covid???) such as coffee maker and fan. Other than that we definitely enjoye
Jun 22, 2020
We were there during COVID so everything was closed but friendly staff and great sites!
Jun 21, 2020
Clean, quite, relaxing getaway. It was perfect!
Jun 20, 2020
Clean facilities. Very much appreciated Brian's help with parking my trailer. He was very patient and let me do it on my own.
Jun 20, 2020
We were very impressed with our first stay at this KOA. Very clean, well maintained, and great amenities. We will definitely be back!
Jun 20, 2020
I LOVED the campground. Everything was so pristine and clean, I thought it had just been built. Then I asked and found out they just celebrated their 50th anniversary, never would've guessed it! Only complaint I do have is we stayed on a tent site, there was no stand up charcoal grill or grate over the fire for cooking and our site was very rocky and had a lot of roots, Besides that we Loved it!
Jun 19, 2020
Positive: nice place. Lots of amenities Negative: teens speeding around in golf carts. Lots of big aggressive dogs
Jun 19, 2020
Absolutely wonderful campground and staff. Unfortunately we had to leave a night early, but we will definitely be back in the future.
Jun 18, 2020
excellent campground excellent staff people in the campground were very friendly and very clean we will be returning
Jun 18, 2020
We had a wonderful experience. Ryan is fantastic, very helpful when we had an issue with our camper. He continued to check in with us during out stay to make sure we encountered to other problems. The rest of the was also very nice. The kids where happy they got to use the pool.
Jun 18, 2020
First time here, stayed a few nights. Our site was very nice with grass an flowers. The campground was clean, bathrooms were clean. Staff was friendly. Lots of things to do for everyone. Would stay again.
Jun 17, 2020
Very nice campground , very responsive staff except for the rv tech that never showed up.
Jun 16, 2020
Wonderful time!! The sites are large, clean, and easy to navigate for camper placement. While the sites are in the woods, there isn't any/much privacy between them. This worked for us, as our large group booked multiple sites in a row, but may not work for individual parties. Heather, Matt, and Ryan were friendly faces we saw frequently and were always helpful and welcoming.
Jun 16, 2020
Great woodsie location. Fabulous amenities with fishing and boating pond as well as pool, slide, arcade and more. Friendly staff and campers!
Jun 16, 2020
This review has been removed by KOA due to profanity.
Jun 16, 2020
friendly staff, streamlined check in process, clean facilities, RV rental in good clean condition, spacious sites!
Jun 15, 2020
Spent a week here. Staff was great!
Jun 15, 2020
nice campground, friendly and helpful staff, bathrooms very clean. Prices are a little high, but we had a nice stay.
Jun 15, 2020
The campground was well kept, the only thing I would have liked to see was the bathrooms being cleaned more often. I went to 1 bathroom multiple times, the 1st day it was low on toilet paper, by Saturday it was out and was still not refilled by the time we left Sunday.
Jun 15, 2020
Jenna, Heather, Matt and Ryan all super friendly and helpful. Already booked for September.
Jun 15, 2020
We had an awesome trip! We have stayed at a couple other KOAs and Strafford NH is the absolute best KOA ever! We can't wait to come back in October! Best campground and cabin ever!!!! Staff is so kind and knowledgeable! Sites are huge and gorgeous! We had a great time! Thank you!
Oct 17, 2020
Fabulous campground for a family with kids. Great water park. Had a nice cabin. Friendly staff
- Scott Patefield on Google
Oct 12, 2020
They out do themselves ever time. Went back for a second time in as many months. Will be returning next year. We found a place we really love to vacation at. Will be telling everyone about it.
- Brian Cannella on Google
Oct 09, 2020
The safari tent sites are amazing! Very instagram-esque. There's even a space heater insider for those cold nights. Loved the pond for peddle boating. There was also a scavenger hunt when we were there. Would come back again!
- Briana Kan on Google