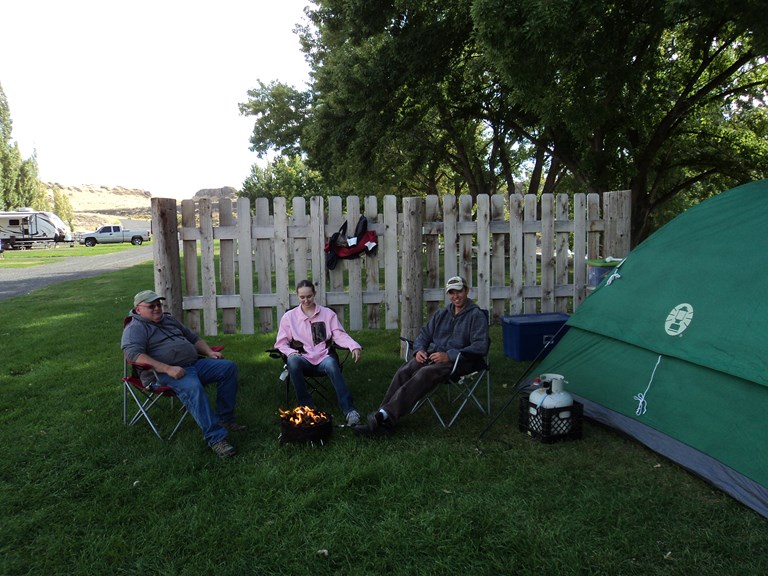 Starbuck / Lyons Ferry Marina KOA Reviews
Directions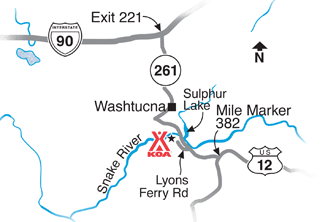 From I-90: Exit 221 to Hwy 261 south to Washtucna. Traveling south and west on both Hwy 260 & 261 approximately 6 miles, turn left (south) on Hwy 261. Go 15 miles, cross Snake River on Vantage Bridge, entrance on right. From Hwy 12: Turn north near mile marker 382 onto Hwy 261. Go 15 miles north. Entrance on left.
Get Google Directions
Aug 23, 2018
We stayed 3 days, and air quality aside, our stay was pretty good! We will consider coming back!
Aug 21, 2018
Enjoyed our overnight pit stop. The people are very friendly, owners, workers & campers. There should be recycling bins. � Unfortunately, the smoke from various forest fires dampened the views, but that isn't the campground's fault. It's a great oasis in the neighbourhood. ����
Aug 16, 2018
It's a decently clean campground. Plenty to offer in the store. Family didn't like going to bathroom or store for WiFi. This is also the first koa We've stayed in that has no pool. Not even river access for non-boaters.
Aug 14, 2018
The new managers Joanne and Wally are amazing and very accommodating. We have been camping there annually for the past 10 years and this has been our best stay ever. We were considering that this was our last year however we have decided to continue our annual family camping trip at Lyons Ferry Marina. Thank you to the staff and management for our best trip so far.
Aug 12, 2018
Our family reunions has been going on at Lyons Ferry Marina for the last 10 years we have never had it as welcoming as Joanne and Wally. they smiled as soon as we walked in the door and they were smiling when we left.they went over and beyond anything that we have ever had in the past 10 years we felt welcomed the whole time and I couldn't ask for any better those two and their crew went beyond.
Aug 07, 2018
Great place for fishing, and boating activities, very friendly nice owners who work hard to service everyone. But the campground lacks shade for children's play area and many of the campsites so not great for young families with children who want to play there. Could use more trees planted for a better summer experience. Boat dock slips are tight for today's larger boats.
Aug 07, 2018
Very accommodating for our last-minute arrival. Would definitely consider coming back
Aug 06, 2018
It is our favorite place to getaway. Love everyone there.
Jul 31, 2018
We absolutely LOVE you guys! This is going to be a family go to for years to come! Love the Shermans
Jul 31, 2018
We arrived late in the afternoon. Check-in was quick and easy. The site that we were originally supposed to camp at would not have worked for us so we talked to the office staff and they switched it easily for us. Which was great since we were then closer to our family who was also camping.
Jul 30, 2018
Great spot for tent camping. Met some new people. Overall had a great time.
Jul 30, 2018
Clean showers and bathrooms, well-kept campgrounds. Location is beautiful too, although we had to drive away from our campsite to go to Lyons Ferry state park for swimming as it did not look like there was a designated swimming area here. The river by the campsite was all taken up by boats but there were few benches to sit and enjoy the view. WiFi signal never reached us so we didnt have WiFi.
Jul 30, 2018
Love it there. I'll be back many times. Very friendly staff.
Jul 24, 2018
Very much appreciate the access to the store/restaurant and bathrooms/showers. The staff were courteous and allowed for changing our space assignment to a better location for us. Grounds are clean and we look forward to our next stay.
Jul 17, 2018
Was hotter than we expected it would be at the end of our long roadtrip so we made the last minute decision to just continue on towards home after visiting the nearby falls. Site itself was very nice and we would definitely like to come back in the future.
Jul 17, 2018
We were okay with our tent site. Disappointed that we couldnt have a campfire. Disappointed that there was no swimming allowed at the koa. Bathrooms were clean.
CAMPGROUND RESPONSE / COMMENTS:
We do allow swimming at the far end of the marina off the long pier. I apologize if you werent told about this. Due to the exteremely dry conditions we are allowing propane fires only and we have one we loan out to campers.
Jul 10, 2018
Clean. Friendly
Jul 08, 2018
When we checked in, we found out there is a burn ban in effect and has been for quite some time. It wasn't noted on the homepage. We ended our stay early due to not being able to do s'mores but was refunded with no issues. The place was clean and the staff was really friendly. Will be staying again but will bring a propane fire pit with us.
Jul 05, 2018
The stay was pleasant. The store could be open later. The noise at night was excessive.
Jul 02, 2018
Nice clean campground at a convenient location for Palouse Falls. Very friendly staff. Would rate it higher if it had access to water for the campsites.
Jul 02, 2018
Great camping trip everything was great, only bad thing was that during the night the bathroom doors wouldn't open when code was punched in, they where having some issues with them so during the day they were having to put ducktape on the door so it would stay open, but other than that it was a great trip.
Jun 25, 2018
I'm not a fan of commercial campgrounds. I prefer rustic dry camping where there's plenty of plant covered space between sites. This KOA was chosen by our group organizer. What impressed me most was the courteous staff. The sites and facilities were well kept.
Jun 25, 2018
All of the staff were fabulous - friendly, helpful, patient. They went out of their way to provide exceptional services.
Jun 10, 2018
Super friendly staff, beautiful spot. We didn't bring fishing gear this time but next time we will! The facilities were always clean and shiny, the neighbors nice, and lots of shade in the campsites.
May 30, 2018
Everything was great. I do wish they would stay open till 7:00pm Mon-Sat and till 5:00pm on Sunday.
May 30, 2018
Probably a nice place to camp for someone with a rig. Tent campers, not so. Water access a problem.. We had thugs camped next to us the first night, kept area awake until 2 a.m. We told this to the manager of this campground. If this KOA is an example of other KOA's I'd be wary of booking one in the future.
May 29, 2018
It was great. Excellent customer service.
May 22, 2018
We visited Palouse Falls State Park, and this was the closest campground that accepted reservations. The WA State park does not accept reservations and is first come/first serve. Starbucks/Lyons Ferry KOA was adequate for our overnight needs; it gave us a place to stay with guarantee. Amenities were okay; average - place to eat, grass to pitch tent, & playground (near highway).
May 21, 2018
Everything was good. Except no WiFi. One group was a bit loud past 10.
May 15, 2018
Nice and clean showers/bathroom. Noisy and crowded, with the neighbor's tent just a couple of inches away from you. Love your neighbors... Just a reliable place to pin a tent, nothing to be excited about...
May 14, 2018
As always the host and staff do what it takes to make the most experienced campers, and especially first time campers, have the best and most pleasurable time when they are at the Lyons Ferry Marina KOA. For that reason I continually recommend stays there and will continue to stay there in the future. I love what they do so much, that I almost do not camp anywhere else.
May 08, 2018
Very nice place but still needs some work here and there. Need more bathrooms and updated showers.
May 01, 2018
The managers were very kind and hospitable, so glad we stayed there!
Apr 30, 2018
Very pleasant folks that run the place. Enjoyed are stay!
Apr 29, 2018
was bum that there were no camp fires allowed
Apr 23, 2018
Very clean, well kept
Apr 10, 2018
Thank you for the fabulous hospitality given by Joane and the rest of your team at the KOA. Everyone was so kind, welcoming, accommodating, and polite. The bathrooms and showers were cleaned everyday and had a nice smell. The area was very neat and directions were clear making this a wonderful experience.The property had a nice playground! I would definitely recommend and stay again. Thank you!
Apr 09, 2018
This was our second visit. Staff always pleasant and helpful. Storm came through so we had to pack up early (kids got scared). Can't wait to visit again.
Oct 17, 2017
Nice park. Great time.
Oct 16, 2017
Everything was clean, fully stocked, and well maintained. The people were so friendly and a joy to have met. The only complaint is the dog area needs a little better upkeep (obstacles are chipping paint and broken in places so it could be dangerous for dogs that actually play on them). Overall, best KOA we've stayed at so far. Will go again!
Oct 04, 2017
We always like staying at this KOA has every thing you could ever need. The patty melt could have been a lot better in it had more onions and Swiss cheese like it shoud.
Sep 20, 2020
Very clean. We had an amazing stay
- Colleen Anderson on Google
Sep 08, 2020
It's easily accessible to get to my boat, tastes are affordable. Nice people and willing to help... thanks
- Brett Baker on Google
Aug 30, 2020
It was great. I went camping there for 3 days, the view and sunsets were nice, and the bathroom and shower room were great. There are a lot of beetles tbh but it's alright.
- Jazz Luciano on Google

Starbuck / Lyons Ferry Marina KOA
Open All Year
102 Lyons Ferry Road
Starbuck, WA 99359
Check-In/Check-Out Times
All Sites
Check-in: 1:00 pm, Check-out: 11:00 am
Accommodations
Check-in: 1:00 pm, Check-out: 11:00 am
Operating Hours
Sunday: Open 8:00 AM to 5:00 PM
Monday: Closed
Tuesday: Open 8:00 AM to 5:00 PM
Wednesday: Open 8:00 AM to 5:00 PM
Thursday: Open 8:00 AM to 5:00 PM
Friday: Open 8:00 AM to 9:00 PM
Saturday: Open 8:00 AM to 9:00 PM
Starbuck / Lyons Ferry Marina KOA
Get Google Directions

© 2020 Kampgrounds of America, Inc.