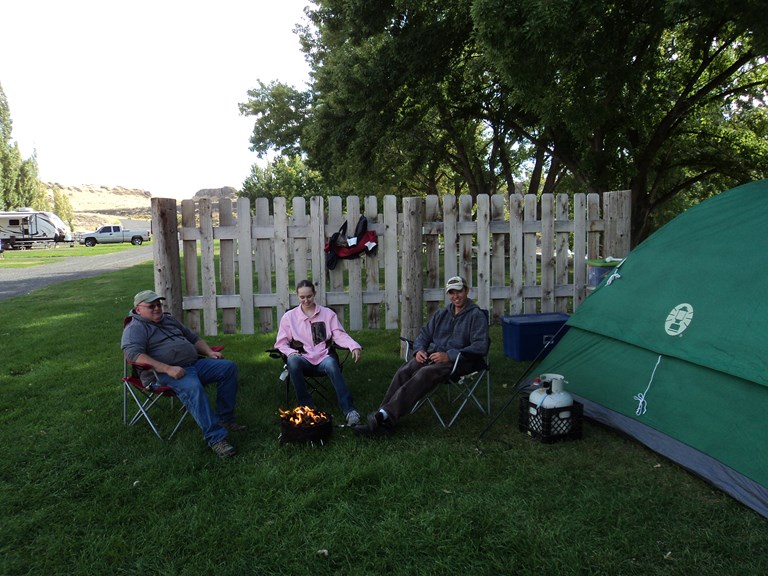 Starbuck / Lyons Ferry Marina KOA Reviews
Directions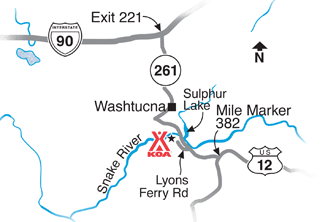 From I-90: Exit 221 to Hwy 261 south to Washtucna. Traveling south and west on both Hwy 260 & 261 approximately 6 miles, turn left (south) on Hwy 261. Go 15 miles, cross Snake River on Vantage Bridge, entrance on right. From Hwy 12: Turn north near mile marker 382 onto Hwy 261. Go 15 miles north. Entrance on left.
Get Google Directions
Jul 02, 2019
Super friendly and helpful staff. Beautiful surroundings.. clean bathrooms... we enjoyed it!
Jun 30, 2019
Everything was perfect. Staff was really friendly and helpful. Campground was very clean.
Jun 29, 2019
Beautiful spot
Jun 25, 2019
When we arrived at this KOA we were greeted with a smile and a hearty greeting, the gentleman that led us to our site and helped us get parked was real courteous and helpful. Once we were parked we found this to be a great site and found it to be a relaxing place. Gregg And Angie Fode
Jun 24, 2019
It's a great place to stay. The view is amazing. The fishing was perfect kids loved it. This was my 1st time here we are thinking of coming back next month.
Jun 24, 2019
The camp ground tells you that electricity is available but does not tell you a special adapter is required. We ate at the restaurant for one meal and the service was slow, they missed some of our order and the staff seemed very overwhelmed.
Jun 19, 2019
it was a fun relaxing week the staff was great and very friendly we will be back for sure
Jun 18, 2019
No WiFi no tv.....and air that smelled like burning trash. It was not one of our favorite koa.� ...and the road to get there was miserable. I wouldn't recommend a stay here.
Jun 18, 2019
Super nice owners nice clean campground. Very accomadating
Jun 17, 2019
An oasis of a campground! Wally and Joanne are so nice and helpful! Nice, level spaces, clean bathrooms, and a well-stocked store make this campground a must-return!
Jun 17, 2019
The staff was very helpful in backing in the trailer. Everyone had a good time.
Jun 17, 2019
Having the store and restaurant was a nice add for this KOA. I also liked the full hook up sites. The partial hook ups were nice but a ways away from everything. But overall another very nice KOA.
Jun 15, 2019
Nice spot good view, somehow lost 20,000 points,We didn't want the points applied to that stay, staff said she would fix it,But at the next KOA stay we no longer had the 20000 points or the discount. We are no happy campers with KOA
Jun 13, 2019
Wonderful. Very clean. Will highly recommend.
Jun 13, 2019
Came to see Palouse Falls, convenient for that, but not too much to do if your not into boating.
Jun 12, 2019
The staff were very friendly and helped guide our large trailer into the site like pro's. Great store, plenty of goodies and supplies. The restaurant was nice also. The site was exceptional-large for a private resort, full hookup, well-maintained, incredible view of the Snake River. I would recommend this resort to everybody!
Jun 10, 2019
A hidden gem. Safe, clean, comfy, and fun!
Jun 05, 2019
Great place, great people running it. Joanne & Wally were the best.
Jun 05, 2019
Very friendly and easy in and out
Jun 04, 2019
Rv sites were nice and big with plenty of grass and shade. Bathrooms were kept extra clean all day and having a restaurant on site was an added bonus. Amazing scenery and close to Palouse Falls. Would have been nice to have a swimming area. The people who take care of this campground work extra hard and it shows, thanks for a great weekend!
Jun 01, 2019
Pretty setting, close to Palouse Falls.
May 30, 2019
Staff is very friendly and helpful.
May 28, 2019
We had a great Memorial weekend. We planned on just relaxing and in that respect we were 100% successful. The owners/ managers are so friendly and helpful. This was our second visit and it won't be our last.
May 28, 2019
We had a great experience at this campground. It was well maintained and staffed. Friendly atmosphere and accommodations. I just wished the Wi-Fi was a little better.
CAMPGROUND RESPONSE / COMMENTS:
Wi-Fi is on our list to upgrade!
May 25, 2019
Outstanding!!! Great people, very cordial.
May 25, 2019
Nice, well maintained campsite with decent size grass area, picnic table and fire ring. Laundry room and shower/toilet room on site. Boat launch area and small store with restaurant serving lunch only. Owners are pleasant and helpful. We stayed 3 nights as a base for traveling the Palouse Scenic Byway area including Palouse Falls and Steptoe Butte.
May 21, 2019
Very nice park. Friendly hosts, well kept, clean. We will be back.
May 21, 2019
We arrived late, after 10 pm, and our reservation information was on the board just as they said it would be. We were able to find our spot easily, get backed in and set up for the weekend. The weather was gorgeous, our daughter made friends with other campers and our stay was restful and perfect. We will be back! Thank you!
May 20, 2019
Had a great time.
May 18, 2019
Beautiful scenery! Friendly hosts! Very clean campground! This place is amazing!! Highly recommended.
May 17, 2019
Clean sites, courteous and helpful staff. The one complaint we had was the store wasn't open. That was especially disappointing because it is located at a marina and we thought we could get coffee, bait and other supplies in the morning before heading out.
May 17, 2019
Very enjoyable. Clean, great food, friendly and helpful staff. Fishing guide suggested great. We would go back.
May 17, 2019
Awesome hosts!
May 17, 2019
With an nearly empty camp ground and paying for a premium sight. Our three nights were spent looking at my neighbors sewer hose. When asked if I could move to a more scenic sight I was told they were all taken. They were not. Everyone in the park had a beautiful view of the Snake River. Everyone but us. I stay there every year for the last three years I wont be going there next year
May 16, 2019
Everytime My friends and I stay at the KOA full hookup RV lot we are relagated to spaces 17 and 18 because we have Truck campers and those two spaces are small. I make reservations just like everyone else does. When I arrive if there are spaces closer to the WiFi signal or with shade that are not occupied it is bull***t that I cannot have my choice of those spaces.
May 13, 2019
Super friendly and helpful staff. Good accommodations and a nice needed relaxing time!! I didn't bring a boat or go fishing but that would've been excellent as well with the marina right there.
May 13, 2019
Nice park, very friendly service, great views, and close to nearby sightseeing.
Sep 20, 2020
Very clean. We had an amazing stay
- Colleen Anderson on Google
Sep 08, 2020
It's easily accessible to get to my boat, tastes are affordable. Nice people and willing to help... thanks
- Brett Baker on Google
Aug 30, 2020
It was great. I went camping there for 3 days, the view and sunsets were nice, and the bathroom and shower room were great. There are a lot of beetles tbh but it's alright.
- Jazz Luciano on Google

Starbuck / Lyons Ferry Marina KOA
Open All Year
102 Lyons Ferry Road
Starbuck, WA 99359
Check-In/Check-Out Times
All Sites
Check-in: 1:00 pm, Check-out: 11:00 am
Accommodations
Check-in: 1:00 pm, Check-out: 11:00 am
Operating Hours
Sunday: Open 8:00 AM to 5:00 PM
Monday: Closed
Tuesday: Open 8:00 AM to 5:00 PM
Wednesday: Open 8:00 AM to 5:00 PM
Thursday: Open 8:00 AM to 5:00 PM
Friday: Open 8:00 AM to 9:00 PM
Saturday: Open 8:00 AM to 9:00 PM
Starbuck / Lyons Ferry Marina KOA
Get Google Directions

© 2020 Kampgrounds of America, Inc.