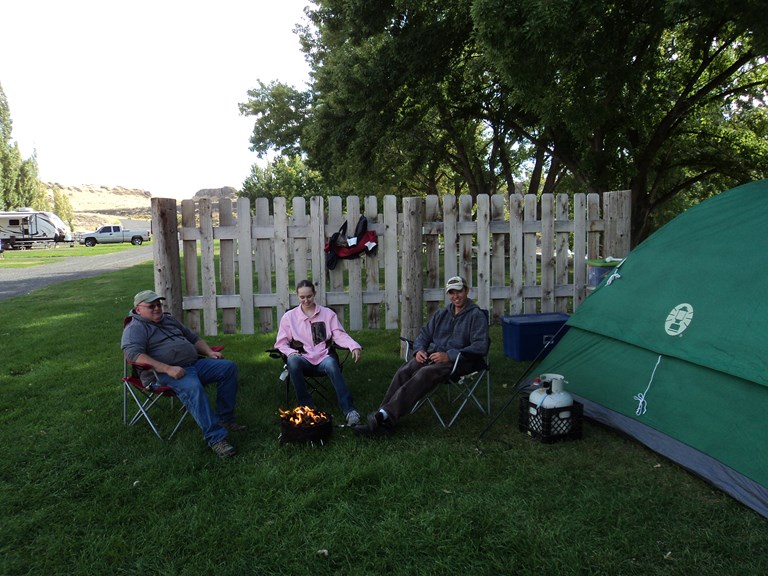 Starbuck / Lyons Ferry Marina KOA Reviews
Directions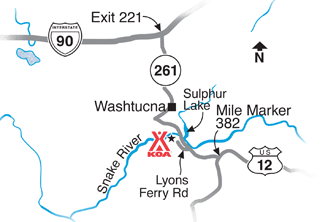 From I-90: Exit 221 to Hwy 261 south to Washtucna. Traveling south and west on both Hwy 260 & 261 approximately 6 miles, turn left (south) on Hwy 261. Go 15 miles, cross Snake River on Vantage Bridge, entrance on right. From Hwy 12: Turn north near mile marker 382 onto Hwy 261. Go 15 miles north. Entrance on left.
Get Google Directions
Jul 21, 2020
We always have a great time there!!
Jul 20, 2020
Had a great time with family and friends. Clean facilities, great food and excellent customer service. -Art
Jul 13, 2020
��
Jul 12, 2020
The grounds are kept clean and are well maintained. Staff is friendly and helpful. The restrooms are cleaned and sanitized daily, but lacking in capacity.
CAMPGROUND RESPONSE / COMMENTS:
Its on our list of things to upgrade.
Jul 11, 2020
We always enjoy staying at Lyons Ferry. Nice Park, great views, good river access, and excellent burgers at their restaurant!
Jul 09, 2020
We only stayed 2 nights as our A/C went out and the temp hit 100 degrees. The owners were extremely understanding with our cutting our stay short and gave us an unexpected refund. The staff was great.
Jul 08, 2020
The last two years we have gone there because of no fireworks, for our dog. It's very relaxing, staff is very friendly & helpful. It's nice because they have a cafe as well. If you desire a quiet, relaxing camping trip experience, this is the place. If you fish it's on the Snake river to launch your boat, dock it, all you fishing needs they have it. They also have I believe three rentals.
Jul 07, 2020
Great sites with grass. Great views from trailer and RV sites. Very friendly, helpful staff. Would definitely stay there again.
Jul 07, 2020
We were looking for a "fireworks" free place for our dogs and the Starbuck/Lyons Ferry KOA worked out great for us. Would highly recommend this to anyone trying to get out of fireworks zones. We were parked where there were a lot of tent campers and it worked out well! Camp hosts/workers were great! Thanks
Jul 06, 2020
Just want to say thanks to Joanne and Wally for the tireless work they do to keep that place going. This is a nice place, have stayed many times before. We noticed a concerted effort by the staff to keep things quiet and they did a great job. Very pleasant stay. We were expecting lots of noise because of the 4th, but it was very quiet. Would definitely stay here again, for sure. Thanks again!
Jul 04, 2020
The staff was friendly and great. The bathrooms were clean. The marina was easy to get in and out of. And the views there were spectacular. The wifi wasn't strong enough to work for us but that wasn't why we were there so we didn't mind. Fishing and boating was excellent.
Jul 03, 2020
Loved the spot we had the quietness and proximity to state parks
Jul 02, 2020
great place friendly crew
Jul 01, 2020
It was ok, but far from the best, given our frequent stays at other KOAs. Having spotty internet access was the downer, given no cell phone connection in the area and thus the reliance on making calls through wifi calling..
Jun 28, 2020
Awesome location and staff. I come over every year for a week or more of fishing w friends and family. Great time again this year!
Jun 28, 2020
The experience people get for the first time camping at Lyons Ferry, can be life changing. It has everything you could possibly need. Including a fantastic and incredibly kind staff. I've been bringing people out here for 10 years and it keeps getting better. Thanks again Lyons Ferry Marina, you have gone above and beyond yet once again!!!
Jun 27, 2020
It was perfect in every way.
Jun 25, 2020
Always beautiful, always clean, safe and welcomed. We are regulars!
Jun 24, 2020
We've been parking our fifth wheel here for weeks at a time and coming to stay when able, everything is as we left it, we feel it's a safe place. Owners are always pleasant and helpful. The sunsets are awesome
Jun 24, 2020
Great campground and staff. We will be back!
Jun 23, 2020
It is such a lovely place and we will be coming back for a week next time. It was quiet and peaceful, the office people were kind and helpful. We like the idea of having a restaurant at the park. The dog park was great and our dogs loved it.
Jun 23, 2020
Was a very nice place, hosts were awesome
Jun 22, 2020
Well kept, nice owners. The only negative was that wifi wouldn't extend to the lot I was on.
Jun 22, 2020
Enjoyed our stay again. Bathrooms were clean.
Jun 18, 2020
Nice facilities, beautiful setting, well laid out sites without crowding
Jun 15, 2020
Love this place staff is always friendly and awesome, Clean park
Jun 11, 2020
It was great!! I think fence privacy , like the tents have would be great for the motor home/camper areas would be an idea, bathrooms were clean, showers as well, garbage cans are located by the restrooms only, some people couldn't find them, and had to walk all the way down to throw their trash away, maybe another set of cans at the other end would be an idea???staff was very friendly
Jun 08, 2020
We had a great time! This campground is small but nearly perfect. The kids loved fishing and playing on the playground. We enjoyed everything! Only small problem was that the WiFi was available but not super reliable. But we will be back!
Jun 08, 2020
Very nice hosts. Always a great adventure
Jun 06, 2020
Incredible stay! Joanne and her husband are 100% available and constant supporting every person around. They are going way and beyond! We were welkomed and helped by parking our large RV and responded and supported immediately to our needs. The location is amazing. Quiet, relaxing and near the water. We love that! Our site #7 had an excellent view on the River and train bridge, which was fun!
Jun 03, 2020
Very well maintained. Had a bad storm come through, high winds and rain. A lot of limbs broke of and fell close to RVs. The very next day they were out bright and early cleaning up the mess, getting power back on and communicating with us campers. They did everything possible to help us out. Great job.
Jun 02, 2020
Enjoyed our stay there, unfortunately, the power at the campground was out due to windstorm and we couldn't be outdoors, but the staff was lovely and helpful. We will be back as it was a beautiful location.
Jun 01, 2020
First day was always good at LYONS FERRY very well run part
Jun 01, 2020
We had a great stay this past weekend. The RV space was clean and well kept. The cabin was also very clean and great for a weekend stay. There happened to be a big thunderstorm with significant winds (hit the entire northwest) during our stay. The staff did an excellent job of clearing tree limb debris and checking in on us to ensure all was OK. Will definitely be staying here again. Thanks!
May 31, 2020
Staff was ok, Marina was nice, quiet. Bathrooms could use work
May 30, 2020
Clean sites, quiet area . Efficent friendly staff. A great base camp to see the area. Thanks for the upgrade much appreciated
May 27, 2020
Friendly and helpful staff. My first travel trailer and first time backing into a campsite. Staff helped guiding me into place without incident. We loved Palouse Falls!
May 26, 2020
It was real good
May 26, 2020
Campground is small, quite and clean. Biggest complaint we had is the rv sites are very close to each other. You have no privacy and we even had people walking through our site to access trail to upper camping area. That is not what we want when camping. We did not know the sites were that close because there are no pictures of rv sites on website.
CAMPGROUND RESPONSE / COMMENTS:
I'm not sure what site you visited, but it shows that we have pictures on both of our KOA websites. Please let us know which site you used so that we can fix this issue.
May 23, 2020
Windy but very nice
Sep 20, 2020
Very clean. We had an amazing stay
- Colleen Anderson on Google
Sep 08, 2020
It's easily accessible to get to my boat, tastes are affordable. Nice people and willing to help... thanks
- Brett Baker on Google
Aug 30, 2020
It was great. I went camping there for 3 days, the view and sunsets were nice, and the bathroom and shower room were great. There are a lot of beetles tbh but it's alright.
- Jazz Luciano on Google

Starbuck / Lyons Ferry Marina KOA
Open All Year
102 Lyons Ferry Road
Starbuck, WA 99359
Check-In/Check-Out Times
All Sites
Check-in: 1:00 pm, Check-out: 11:00 am
Accommodations
Check-in: 1:00 pm, Check-out: 11:00 am
Operating Hours
Sunday: Open 8:00 AM to 5:00 PM
Monday: Closed
Tuesday: Open 8:00 AM to 5:00 PM
Wednesday: Open 8:00 AM to 5:00 PM
Thursday: Open 8:00 AM to 5:00 PM
Friday: Open 8:00 AM to 9:00 PM
Saturday: Open 8:00 AM to 9:00 PM
Starbuck / Lyons Ferry Marina KOA
Get Google Directions

© 2020 Kampgrounds of America, Inc.