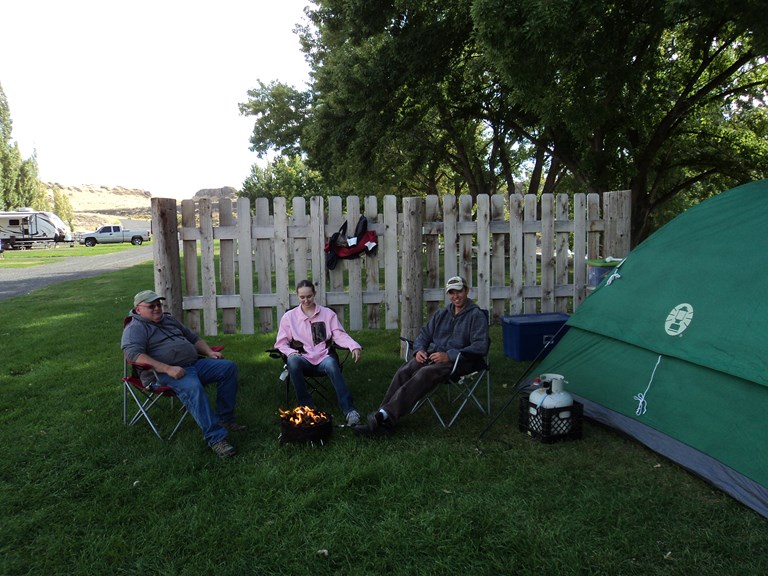 Starbuck / Lyons Ferry Marina KOA Reviews
Directions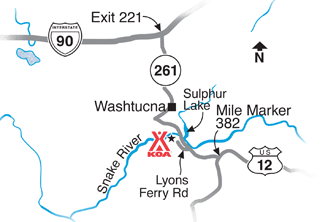 From I-90: Exit 221 to Hwy 261 south to Washtucna. Traveling south and west on both Hwy 260 & 261 approximately 6 miles, turn left (south) on Hwy 261. Go 15 miles, cross Snake River on Vantage Bridge, entrance on right. From Hwy 12: Turn north near mile marker 382 onto Hwy 261. Go 15 miles north. Entrance on left.
Get Google Directions
Sep 22, 2020
The property was not up to standards like the other Koas.
Sep 22, 2020
Missed having internet service. Bathrooms mediocre.
Sep 19, 2020
Very helpful and friendly staff..
Sep 15, 2020
Friendly and helpful staff.
Sep 14, 2020
We had a wonderful time.
Sep 14, 2020
The staff at the Starbuck KOA was very friendly and accommodating. The store was very limited on what was available and the shelves were pretty empty. The shower area has a bit of a smell when you approach it and could use some updating but it was sufficient. Because it was so smoky during our stay we could not enjoy the area as much as we had liked. Campground was very clean.
Sep 08, 2020
Too many people walking through campsites, and numerous dogs not on leashes.
Sep 08, 2020
Wally guided me back into my spot and it was on my blind side wally just told me to follow his direction and I did and was able to get in spot very easy
Sep 07, 2020
Could use a dump site for non full hook up sit yet loved the place and owners
Sep 02, 2020
The campground is fine. The view is gorgeous and there are places to fish from the campground/marina. We drove to the state park just over the bridge and spent time there picnicking and swimming. Great for a stopover if you're going through the area.
Aug 31, 2020
Stayed at this campground for one night (Saturday). When arrived to the campground there were several individuals under influence. They approached us and scared our children. Restrooms and showers had strong urine smell. Campground didn't look anything like the picture on the website. We'll never stay there again or recommended to family or friends.
Aug 26, 2020
Very nice KOA with a marina on the Snake River. All the facilities were nice, although the pet area could use a little work - but that's being picky. Our second stay there and we enjoyed it as much as the first time.
Aug 25, 2020
All well. Nice dock. The workers that I saw weed whacking etc were very nice and I gave them a few Otter Pops. They LOVED THEM since it was nearly 100 degrees out. Thanks again!
Aug 24, 2020
Our site was dirty with cigarette butts, q tips, used band aids, etc. Some campers were noisy and disrespectful late at night. I know you can't control the type of people who come, but one group came in and set up their tent with a lot of noise at 11PM and left the next morning. We suspect they came in without paying since the office was closed.
Aug 24, 2020
The staff is very nice and helpful. Booking our stay was easy. I wish that we had known what site we were on prior to arrival and getting a map so we could "see" ahead of time where we'd be and what it would look like. There was a tree in the way of our awning and the smell from the sewer hookups below was wafting up to where we were the entire stay. We were on the river most of the time though.
Aug 23, 2020
Price is perfect. Store and other facilities are OK. Sites are decent-sized, but can be tough to get into. We'll-maintained. Great location to explore surrounding area.
Aug 22, 2020
Beautiful scenery and peaceful
Aug 21, 2020
Best sleep I've had in months!
Aug 16, 2020
Friendly accommodating hosts and very clean and well kept!
Aug 13, 2020
Good food in the restaurant, well maintained, resourceful staff.
Aug 10, 2020
lots of fun. Very relaxing and great service. Best vacation ever.
Aug 10, 2020
Unfortunately for us, the location was great but we ran into some concerns with the restrooms. The bathrooms and showers both mens and womens smelled like urine and it looked like someone had peed in the corners or on the doors.
CAMPGROUND RESPONSE / COMMENTS:
We are so sorry you had to experience that. We have limited our bathrooms to tent campers only as we found that other campers were abusing the bathrooms.
Aug 07, 2020
Nice park on river with busy boat ramp. Good place for water sports. Second time I have stayed here
Aug 06, 2020
Nice campground and friendly staff. The restaurant had good food and we were well taken care of. It was nice being near the river and close to beautiful Palouse Falls.
Aug 04, 2020
It was great! Quiet, not crowded - Made great memories and plan to be back next year as a family trip!
Aug 04, 2020
This camper comment has been removed by KOA due to profanity.
Aug 03, 2020
When we go there everything is watered clean the stores run real well have a good stay every time
Aug 03, 2020
I thought the campground was beautiful&we arrived late, so we had a good experience until we realized our propane tanks weren't working. We haven't camped a whole lot in the past, so we looked at the refill station to see if was open late/if we could pay&pump it. A man stormed over& yelled "what are you doing?". We explained and apologized. The man was throwing things around& then stalked
CAMPGROUND RESPONSE / COMMENTS:
We watched you try to get into the locked propane tank, doing your best to get the hose out, after dark. It looked to us like you were trying to steal propane. It should have been obvious that it wasn't a pay and pump as there were no credit card terminals to pay and the hose was under a lock!
Jul 29, 2020
When you can it would be nice to have restrooms and showers on the main level also.
Jul 28, 2020
We had what we needed. People were nice.
Jul 27, 2020
The site is maintained well and requires some maintenance to the facilities (dog park / kids playground) The office / store crew was very helpful and courteous, Hopefully in the future there could be swimming access directly from the camp site rather than driving 6 minutes to the nearest state park
Jul 27, 2020
We truly enjoyed our stay. The staff was courteous and very helpful. The campsite was clean and well kept. The bathrooms were also very clean. The staff did a really nice job of enforcing the 10 pm quiet time for the campground. It was a nice getaway for the weekend. We will definitely return.
Jul 27, 2020
Nice place, there's fences between a few of the tent spots, it would be nice to have those between campers as well in some cases, our neighbors had a dog that was trying to get to our kids and our dogs. The play area is nice, lots of thistles on the walk up though. Same in the dog park, lots of weeds. Overall good weekend though.
CAMPGROUND RESPONSE / COMMENTS:
Please let the Hosts know about dog problems, We will take care of the issue so everyone feels safe. So sorry you were next to irresponsible pet owner.
Jul 26, 2020
Staff was very helpful. Great location. BUT the facilities are kind of tired and in need of renovation. The men's' upper shower room is appalling! It reeks of mildew resulting in an overpowering "urine-like" smell that made me cringe the few times I used it.
Jul 26, 2020
Park owners did a great job of placing guests and ensuring rules were followed by all.
Jul 25, 2020
We enjoyed the stay, the site was nice and nice view of marina and river. A good dog park, and being worked on to make even better. The only complaint was the wifi was terrible, but shouldn't be a deal breaker for anyone thinking of going. Owners were pleasant and helpful.
Jul 23, 2020
The campground is clean and very well maintained. The staff and owners have always been helpful, kind and very accommodating. They explained their Covid-19 protocols and are doing their part to protect their guests and employees. The undercover boat slips are clean, well kept and secure with a code needed to enter. I recommend the Lyons Ferry Marina.
Jul 22, 2020
Unfortunately the party that camped with us found some of the staff to be short with them ad rude. We have our KOA membership number but didn't receive the 10% discount on our stay. I've never had that happen before it has always been automatic. We would stay again we like the area. The lower part of the camp had good shaded area for eating outside. There is a bit of a bee problem.
Sep 20, 2020
Very clean. We had an amazing stay
- Colleen Anderson on Google
Sep 08, 2020
It's easily accessible to get to my boat, tastes are affordable. Nice people and willing to help... thanks
- Brett Baker on Google
Aug 30, 2020
It was great. I went camping there for 3 days, the view and sunsets were nice, and the bathroom and shower room were great. There are a lot of beetles tbh but it's alright.
- Jazz Luciano on Google

Starbuck / Lyons Ferry Marina KOA
Open All Year
102 Lyons Ferry Road
Starbuck, WA 99359
Check-In/Check-Out Times
All Sites
Check-in: 1:00 pm, Check-out: 11:00 am
Accommodations
Check-in: 1:00 pm, Check-out: 11:00 am
Operating Hours
Sunday: Open 8:00 AM to 5:00 PM
Monday: Closed
Tuesday: Open 8:00 AM to 5:00 PM
Wednesday: Open 8:00 AM to 5:00 PM
Thursday: Open 8:00 AM to 5:00 PM
Friday: Open 8:00 AM to 9:00 PM
Saturday: Open 8:00 AM to 9:00 PM
Starbuck / Lyons Ferry Marina KOA
Get Google Directions

© 2020 Kampgrounds of America, Inc.