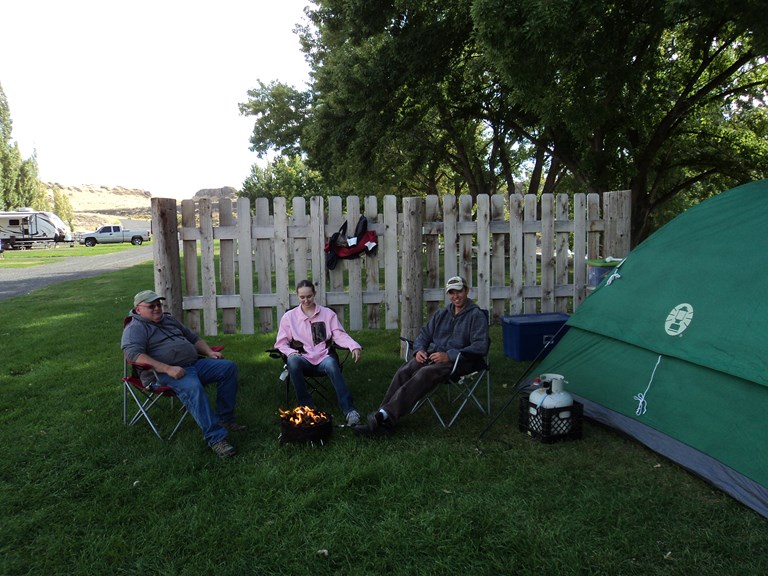 Starbuck / Lyons Ferry Marina KOA Reviews
Directions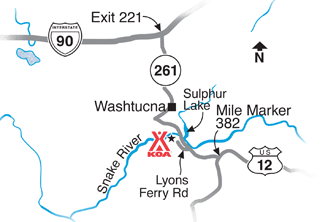 From I-90: Exit 221 to Hwy 261 south to Washtucna. Traveling south and west on both Hwy 260 & 261 approximately 6 miles, turn left (south) on Hwy 261. Go 15 miles, cross Snake River on Vantage Bridge, entrance on right. From Hwy 12: Turn north near mile marker 382 onto Hwy 261. Go 15 miles north. Entrance on left.
Get Google Directions
May 21, 2019
I'd like to tell everyone it's a bad place to stay just to keep the numbers down but I be lying if I did. The owners are awesome and the campgrounds are taken care of very well. Really a very pleasant place to stay. Nice boat launch and covering boat slips are a bonus. Bring your boat and get out for some prime fishing. Perch, walleye, bass, bluegill, and catfish are abundant.
May 21, 2019
We arrived late, after 10 pm, and our reservation information was on the board just as they said it would be. We were able to find our spot easily, get backed in and set up for the weekend. The weather was gorgeous, our daughter made friends with other campers and our stay was restful and perfect. We will be back! Thank you!
May 20, 2019
Had a great time.
May 18, 2019
Beautiful scenery! Friendly hosts! Very clean campground! This place is amazing!! Highly recommended.
May 17, 2019
The staff at this KOA is like no other, very simular to the setting..simply amazing very nice people ,they assist in getting you too your site and set up ,super clean sites very well taken care of and the facilities are flawless.Thank you and we hope too see you again soon.
May 17, 2019
Clean sites, courteous and helpful staff. The one complaint we had was the store wasn't open. That was especially disappointing because it is located at a marina and we thought we could get coffee, bait and other supplies in the morning before heading out.
May 17, 2019
Very enjoyable. Clean, great food, friendly and helpful staff. Fishing guide suggested great. We would go back.
May 17, 2019
Awesome hosts!
May 17, 2019
With an nearly empty camp ground and paying for a premium sight. Our three nights were spent looking at my neighbors sewer hose. When asked if I could move to a more scenic sight I was told they were all taken. They were not. Everyone in the park had a beautiful view of the Snake River. Everyone but us. I stay there every year for the last three years I wont be going there next year
May 16, 2019
Everytime My friends and I stay at the KOA full hookup RV lot we are relagated to spaces 17 and 18 because we have Truck campers and those two spaces are small. I make reservations just like everyone else does. When I arrive if there are spaces closer to the WiFi signal or with shade that are not occupied it is bull***t that I cannot have my choice of those spaces.
May 13, 2019
Super friendly and helpful staff. Good accommodations and a nice needed relaxing time!! I didn't bring a boat or go fishing but that would've been excellent as well with the marina right there.
May 13, 2019
Nice park, very friendly service, great views, and close to nearby sightseeing.
May 12, 2019
Beautiful setting. Friendly staff. Great pancake breakfast on Saturday for the kids camp.
May 11, 2019
No cell service, WiFi is real spotty. People are really nice and friendly.
May 10, 2019
I don't need to be connected all the time, but I'd expect to be able to keep wi fi connected which it wasn't. Other than that, it was ok. Dog area had no water and not kept up. We met some nice folks which made the stay more enjoyy
CAMPGROUND RESPONSE / COMMENTS:
Unfortunately we are down in a valley and wifi is as good as it gets until we can get fiber out here. Keeping our fingers crossed that it's soon.
May 08, 2019
A quick trip to Palouse Falls and Steptoe Butte led us to this beautiful oasis in the desert. We stayed in a deluxe cabin and had a beautiful view of the river from our deck under a large tree which provided much needed shade. The hosts were very accommodating and hospitable. We plan on returning soon and would highly recommend this KOA as the place to stay�
Apr 26, 2019
Nice facilities and friendly staff
Apr 19, 2019
Beautiful place to stay! The big draw back is swimming is not allowed!
Apr 16, 2019
Super clean, beautiful place! Love love loved the staff!!! �ϸ�ϸ�ϸ
Apr 10, 2019
The camp hosts were very friendly and accommodating. The spots were close together but had nice green lawns. The bathrooms were nice and clean and we loved the dog area. We fished at the little lake and caught a few trout.Views of the snake river are beautiful and very close to Palouse Falls.Overall a very nice campground in the middle of nowhere. WiFi/Internet is terrible. Be prepared to unplug.
Apr 10, 2019
Unfortunately it was 3 days of rain & wind, but it was less than what we'd had on the west side! Comes with the season. The camp ground is off the beaten path, quiet and very little traffic. Great place to just lay back and relax. If you are a fisherman (I'm not) it has it's own marina with covered slips. Very handy for water use/sports.
Apr 08, 2019
Great little campground with great staff. Would recommend and come back again.
Apr 07, 2019
friendly people and a great place to go if you have a boat and want to leave it at the dock
Apr 07, 2019
Very enjoyable we will be back
Mar 26, 2019
Very friendly and responsive staff...clean and organized. Hidden gem ����
Nov 13, 2018
Wonderful campground, pet friendly, and the staff were great! Will be back!
Nov 06, 2018
This place was great! We used it as a stopping point on a big road trip so it was empty and quiet. The woman who I spoke with on the phone for the reservation was very nice, helpful and accommodating for our late check in.
Oct 30, 2018
Perfect 2 day getaway only 75 miles from home with great amenities but for boating/fishing enthusiasts it would be perfect if they can afford it for boatslip plus camp spot. I assume these rates are set by KOA so do not blame it on current owners/operators as they were very nice and welcoming. Diana Flinn not LInn!
Oct 22, 2018
Great weather no traffic noise
Oct 09, 2018
We had a great time and loved the fishing. Had deer at our campsite. The owners were amazing.
Oct 08, 2018
Nice people..great food..facilities...we'll be back for sure..!
Oct 08, 2018
The managers are very nice and the location is beautiful. The campground is well cared for, but the spaces are cramped and we had to drop our toad in the boat launch parking lot before backing into our site. It is well suited to the fishing crowds. Power went out in middle of night and there was no one policing noise after quiet hours.
Oct 08, 2018
It was good, other than the power went out for 5 hours during the night and we got real cold. I'd recommend warning visitors that that is a potential. I would have brought or bought more propane for my small portable indoor heater... Food at the restaurant is good but expensive. Only game in town so prices are high. Showers were nice but needed a little maintenance.
CAMPGROUND RESPONSE / COMMENTS:
We are sorry about the unexpected power outage. Not something that happens frequently. Always wise to come prepared for such emergencies.
Oct 06, 2018
Cute KOA with beautiful scenery. Site was long enough. Dog run area is quite small.
Oct 05, 2018
Very nice place. Quiet , great views, very clean and friendly people!!
Sep 08, 2020
It's easily accessible to get to my boat, tastes are affordable. Nice people and willing to help... thanks
- Brett Baker on Google
Aug 30, 2020
It was great. I went camping there for 3 days, the view and sunsets were nice, and the bathroom and shower room were great. There are a lot of beetles tbh but it's alright.
- Jazz Luciano on Google

Starbuck / Lyons Ferry Marina KOA
Open All Year
102 Lyons Ferry Road
Starbuck, WA 99359
Check-In/Check-Out Times
All Sites
Check-in: 1:00 pm, Check-out: 11:00 am
Accommodations
Check-in: 1:00 pm, Check-out: 11:00 am
Operating Hours
Sunday: Open 8:00 AM to 5:00 PM
Monday: Closed
Tuesday: Open 8:00 AM to 5:00 PM
Wednesday: Open 8:00 AM to 5:00 PM
Thursday: Open 8:00 AM to 5:00 PM
Friday: Open 8:00 AM to 9:00 PM
Saturday: Open 8:00 AM to 9:00 PM
Starbuck / Lyons Ferry Marina KOA
Get Google Directions

© 2020 Kampgrounds of America, Inc.