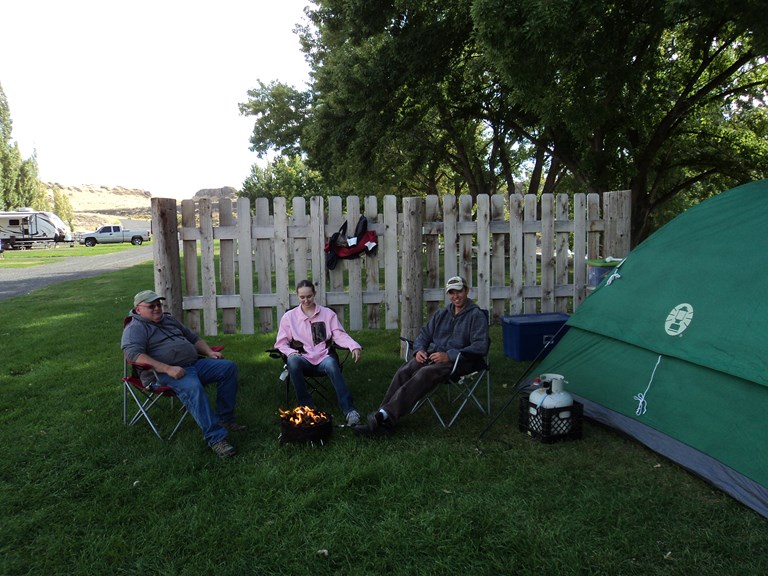 Starbuck / Lyons Ferry Marina KOA Reviews
Directions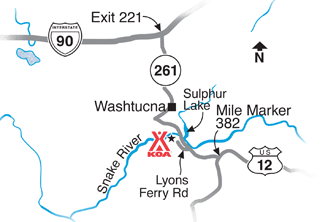 From I-90: Exit 221 to Hwy 261 south to Washtucna. Traveling south and west on both Hwy 260 & 261 approximately 6 miles, turn left (south) on Hwy 261. Go 15 miles, cross Snake River on Vantage Bridge, entrance on right. From Hwy 12: Turn north near mile marker 382 onto Hwy 261. Go 15 miles north. Entrance on left.
Get Google Directions
Aug 18, 2019
Beautiful scenery, clean campground, a little difficult to park a long rig and dog park needs a bit of work but overall it was very nice.
Aug 14, 2019
We might have had a better time if had not been 105 degrees. Very few trees: we had no shade, although trees seem to be prominent in campground pictures. Nice people.
Aug 12, 2019
all the staff go above and beyond to make your stay very enjoyable. We had 13 of our family come and stay and it was great.
Aug 10, 2019
I look for resort quality camping at KOA, as ive grown used to in places like Branson MO and Warrenton OR. This spot isnt it.
Aug 06, 2019
We love stay here, will be back soon. Wasn't happy with the leashed dogs (leashed walking around our camp without a person at the end of the leash) my dog doesn't like other dogs, so we had to keep her in our trailer when we were at camp. WE love fishing on the snake and the boat launch and the mooring is perfect. The gals in the office/cafe are friendly and super helpful. Wally is great!
Aug 05, 2019
Joanne and Wally make you feel like family. The park is in better shape than it has been since 1990...
Aug 05, 2019
Full hook up campsite are pretty close to your neighbors,
Aug 05, 2019
The facilities at Starbucks are very nice. I would have preferred a full hookup site had I been there before. The reason for that is the shaded areas are better then up above. The launch and moorage are very nice and easy to navigate. The fishing unfortunately was very poor due to water rising and lock jaw as a result. The only improvement would be a swimming area. I would book again thank you.
Aug 04, 2019
The campground is great for people who will be boating, otherwise not much else there. The paths to the bathroom were not safe and lead through other campers' sites.
Aug 03, 2019
We have been coming to Lyons Ferry Marina for the last 14 years before it was even a KOA and when they put it into a KOA there was so much more done to it that was nice and accommodating we've always loved our trip there it's a big family reunion and the people who own and work there have become family I will always bring new people and family there to be able to experience the time that we have.
Aug 02, 2019
First time staying at this campground. Our hosts and the facility was great! Everything was clean and our stay was really relaxing.
Aug 01, 2019
We love Lyons Ferry KOA. Very nice and well managed.
Jul 31, 2019
Large shade trees in sites & high desert near the campground are beautiful. Beware, the campground is not a simple right turn & you're there. I was lost... It's 45 min on a back road w no services incl. no cell service for most of it. No one at the campground answered the phone, nor responded to v.m. Also, drunk male campers woke me & again no help. Not recommended for females camping alone.
Jul 31, 2019
It was a nice stay, quiet, and a very nice view of the river. The area around the camp ground is nice, clean and just comfortable.
Jul 30, 2019
Very friendly staff, willing to help with anything they can.
Jul 30, 2019
It was mostly good, but people didn't really respect quiet hours, especially in the morning.
Jul 28, 2019
We had a wonderful time and we will be back every year. Wally and Joanne are great, friendly and just very nice people. when someone checks out they are up there right away and mowing and watering so it will be perfect for the next campers. Everybody that works there is so very friendly and helpful at all times. we will recommend Lyons Ferry to all of our friends.
Jul 28, 2019
Tent sites are large, and there is real grass! And staff is so friendly!
Jul 27, 2019
owners very helpful, all staff very friendly.
Jul 27, 2019
I have enjoyed the friendly owners and their hospitality. The park is beautiful, very clean And a pleasure to enjoy. This is a great part of my vacation plans.
Jul 27, 2019
We absolutely LOVE the peace and quiet of the beautifully maintained KOA! The new owners are AMAZING and they've hired the most amazing staff.
Jul 25, 2019
Great place, well kept!
Jul 25, 2019
Beautiful, well maintained campground and very friendly and helpful employees!!
Jul 24, 2019
Fabulous kabin - best we have ever stayed at, by far. Quiet, easily accessible. Friendly staff. It's pretty far out, and the store could benefit from more edible selections - and better options for Palouse Falls postcards.
Jul 22, 2019
Great place, lots of sea wall and dock space for kids to fish. Owners were very friendly and took care of camp grounds. Definitely will be back.
Jul 22, 2019
Estuvimos muy confortables nadamas que no pudimos encender fogata y para nosotros un acampamento sin fogata es muy triste. yo entiendo por el pasto a los alrededores es muy seco pero se puede improvisar si se mantuviera limpio a los alrededores del campamento.
CAMPGROUND RESPONSE / COMMENTS:
Permitimos que se utilicen pozos de fuego de propano durante la prohibición de quemaduras.
Jul 19, 2019
Joanne and Wally make this the best it can be. I have been going there for over 25 years...3 owners...no comparison! A+
Jul 17, 2019
Coffee before 8:00 would be great
Jul 17, 2019
Seems like the tent area above the sites are always noisy to all hours of the night with music, etc.
Jul 16, 2019
Wally and Joanne make this place the best !!! Friendly yet full business responsibility. This is our favorite place to be
Jul 15, 2019
Very efficient staff. They make sure your stay is very enjoyable.
Jul 15, 2019
Very helpful friendly hosts. Campground could be set up better to take advantage of view instead of parked cars. Marina offered no activities, boats to rent, etc.
CAMPGROUND RESPONSE / COMMENTS:
We do have kayak's and pedal boat rentals.
Jul 15, 2019
Arrived kind of later than planned and was trying to make dinner only b told it was quiet hours at 10:01. Pretty extreme w the rules as per most KOA's need to take it easier w that part of the camp experience
CAMPGROUND RESPONSE / COMMENTS:
We have quiet hours for a reason and will stick to that rule as it is a good rule for a family campground. If this doesn't fit with what you consider part of your camping experience, I suggest you find a campground that doesn't have that rule or abide by it when staying at our KOA.
Jul 12, 2019
Overall it was a good experience. As a small pop-up trailer we needed to use the KOA bathroom facilities. Our location (site 16) was not very accessible for us since it was on the next tier with steep steps and pathways the only way up and down. Not great for people in their 70's! We loved the scenic location and especially loved watching the trains. Friendly staff and fellow campers. Quiet
Jul 11, 2019
Nice little spot on the river with a fishing pier.
Jul 11, 2019
Great place for a family get together
Jul 10, 2019
They had water going on my tent site when I got there and the guy ignored me when I asked him to help because he was helping some guy back in his million dollar motorbike, and the BLT was $13 Won't be back!!!!
Jul 10, 2019
Great place, other then the flies. The front office girl was super sweet and helpful and Wally was very helpful and friendly. Definitely recommend.
Jul 09, 2019
Don't choose site 19, no WIFi signal, no shade, no sewer, gravel only.. every car passing by lifted dust, particularly bad if you're cooking or eating outside.
Jul 08, 2019
Great staff presence throughout the holiday weekend. Very nice set up for camping! Will definitely come back
Jul 08, 2019
We enjoyed our stay, very nice.
Aug 09, 2020
Loved it and to store the boat in the water under a roof over night was only 2$ per night
- Kaitlyn Buchanan on Google
Aug 10, 2020
We stayed 2 nights here to paddleboard up Palouse river (highly recommended but in May or June to get further up canyon to the falls). Best camping option nearby. Tent sites (30 to 43) and full-hook-up sites (1 to 18) are shady but close together, especially rv sites. Electric and water hookups only (sites 109 to 29) have no to very little shade. No rv dump station.
- Kim J on Google

Starbuck / Lyons Ferry Marina KOA
Open All Year
102 Lyons Ferry Road
Starbuck, WA 99359
Check-In/Check-Out Times
All Sites
Check-in: 1:00 pm, Check-out: 11:00 am
Accommodations
Check-in: 1:00 pm, Check-out: 11:00 am
Operating Hours
Sunday: Open 8:00 AM to 5:00 PM
Monday: Closed
Tuesday: Open 8:00 AM to 5:00 PM
Wednesday: Open 8:00 AM to 5:00 PM
Thursday: Open 8:00 AM to 5:00 PM
Friday: Open 8:00 AM to 9:00 PM
Saturday: Open 8:00 AM to 9:00 PM
Starbuck / Lyons Ferry Marina KOA
Get Google Directions

© 2020 Kampgrounds of America, Inc.