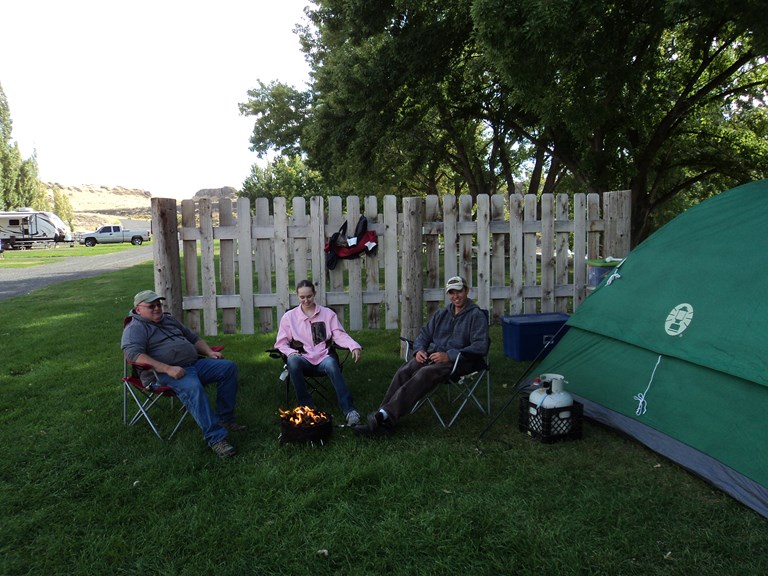 Starbuck / Lyons Ferry Marina KOA Reviews
Directions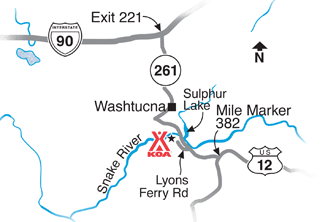 From I-90: Exit 221 to Hwy 261 south to Washtucna. Traveling south and west on both Hwy 260 & 261 approximately 6 miles, turn left (south) on Hwy 261. Go 15 miles, cross Snake River on Vantage Bridge, entrance on right. From Hwy 12: Turn north near mile marker 382 onto Hwy 261. Go 15 miles north. Entrance on left.
Get Google Directions
Oct 14, 2019
The hospitality here in this area is unlike anything I've experienced before it was a great time with great people will be back in the spring!
Oct 13, 2019
It was great! Weather was windy and rainy the first 2 days. But the rest were beautiful. It was difficulty fall weather there. Staff was great too!
Oct 08, 2019
Great!! as always.
Oct 07, 2019
Very clean The owners were very helpful and friendly. Very nice area with things to do and see
Oct 01, 2019
Very nice and quiet place. Workers always taking care of the necessary things
Oct 01, 2019
It was just a short overnight stay in order to visit Palouse Falls and move on. Thanks, all was extremely satisfactory.
Sep 27, 2019
Met our expectations
Sep 27, 2019
It was a peaceful, beautiful setting but my surge protector indicated "reverse polarity" on the electrical box so I didn't use the electricity.
Sep 25, 2019
Gorgeous views and beautiful weather made it a wonderful stay. Joanne worked hard to make it a great stay by serving us at the restaurant and communicating with us throughout the reservation to end of stay. It was perfect!
Sep 23, 2019
Great place to stay and go fishing.
Sep 23, 2019
Very nice site and goodweather
Sep 22, 2019
Wonderful staff...very helpful..extremely nice..great food...we stayed for 3 months..we will be booking again for next year...it will be a family tradition..love Lyons Ferry Marina...
Sep 21, 2019
3 trains pass in the night
Sep 20, 2019
The stay and staff were excellent. Thanks
Sep 18, 2019
The owners couldn't have been kinder they helped me locate their koa when gps failed also he helped when I was locked outside my rv beautiful place
Sep 18, 2019
The owners were amazingly patient giving direction when the gps would not lead us to their location. They helped when my friend locked her keys in the rv
Sep 17, 2019
Friendly and helpful staff. They work hard to keep the campgrounds in good shape. I enjoy the tranquility of the place and the fact that we are right on the river
Sep 17, 2019
The off leash dog run area was small and in need of upkeep.. The restrooms and laundry were very clean and bright.
Sep 14, 2019
nice getaway on our way back to montana
Sep 13, 2019
Very great hosts. Made us feel very at home. Would stay there again
Sep 11, 2019
We had a late checkin and the process went very easy without the camp host being on duty. We had a pleasant stay except I should have used more insect spray to avoid getting bitten.
Sep 09, 2019
Great place to fish and canoe other than that you have to leave the grounds to swim and hike. The store has a great selection and the restaurant was decent with great service.
Sep 08, 2019
The stay was good, as were our neighbors. The grounds and facilities are well kept. I was told that this was a "full service" KOA, which I took as having easy access to black/gray water dumping. It turned out that I would need to move our trailer to a slip in another part of the camp and back into another tight parking space to dump. We decided to look for a simpler solution elsewhere. Ask first.
Sep 04, 2019
Once again, Wally, Joanne and team work tirelessly to make sure the property is safe, clean and fun. We had zero negative issues as is always the case. We always have an amazing time here.
Sep 04, 2019
Loved our site, Everyone was very friendly, campground is in great shape and very clean. some of the family used the showers and said they were also great. You even had the weather set up right. We had a great time. Thank you. Clark Posey
Sep 04, 2019
We really enjoyed our stay. Its a great place we always like to be there at least once or twice a year. I was told the internet speed has been upgraded, however, because our spot was at the far end (#18), therefore, we were not able to access it anyway. Some people didn't want to clean up after their dogs (we saw it) which caused a little mess when people stepped on it. We surely will be back!
Aug 31, 2019
Super clean and very friendly. Helpful staff. Ideal place to stay if you want to visit Palouse Falls.
Aug 30, 2019
Great for fish and hunting. Very helpful service
Aug 28, 2019
Good tent space, staff were helpful, can get all of your essentials including propane or gasoline at the store or grill. Showers, bathrooms, laundry, dish sink. Nearby to a beautiful waterfall with fascinating wilderness. It's a nice little get away, away from the hustle and bustle of city life.
Aug 27, 2019
Cabin was clean and very nice. Everything was awesome while there. Only complaint was people next cabin over stayed up till almost 2 am drinking and had fire ring right next to our cabin bedroom window so got to listen to them being drunk n laughing until middle of night. Other then that it was great stay and special trip with my grandsons. I will be back again.
Aug 26, 2019
It out in the middle of nowhere. That being said it was quite but site are a little close. Way too many bees if you are allergic. If you have a boat or jet ski it would be a nice stay on the snake river. �
Aug 25, 2019
Hot with very little shade and nowhere to swim. Just to get down to the marina was a hike down 2 long stair cases and there is no swimming down there anywhere unless you drive to another park. The grass area in front of our trailer was a small patch of dried and mostly dead grass.
Aug 24, 2019
Campground and owners were awesome!
Aug 20, 2019
Sites were pretty well maintained. Only complaint is that sites were a little close together. Bathrooms were cleaned regularly and showers were nice too. Staff was very friendly and helpful.
Aug 19, 2019
Need better wifi everything else is good nice staff friendly.
Aug 18, 2019
Beautiful scenery, clean campground, a little difficult to park a long rig and dog park needs a bit of work but overall it was very nice.
Aug 14, 2019
We might have had a better time if had not been 105 degrees. Very few trees: we had no shade, although trees seem to be prominent in campground pictures. Nice people.
Aug 12, 2019
all the staff go above and beyond to make your stay very enjoyable. We had 13 of our family come and stay and it was great.
Aug 10, 2019
I look for resort quality camping at KOA, as ive grown used to in places like Branson MO and Warrenton OR. This spot isnt it.
Jul 23, 2020
My son got to run on his first Marina he loved it he is 3 years old in a little risk taker. Also love the fact that you can rent paddle boats so we will be doing that next time we come out. Customer service was great. And may also carry my company's hand sanitizer so even a bigger Plus. And hopefully I can get them to purchase our sanitizer for public use we shall see.
- Stevie Hollandsworth on Google

Starbuck / Lyons Ferry Marina KOA
Open All Year
102 Lyons Ferry Road
Starbuck, WA 99359
Check-In/Check-Out Times
All Sites
Check-in: 1:00 pm, Check-out: 11:00 am
Accommodations
Check-in: 1:00 pm, Check-out: 11:00 am
Operating Hours
Sunday: Open 8:00 AM to 5:00 PM
Monday: Closed
Tuesday: Open 8:00 AM to 5:00 PM
Wednesday: Open 8:00 AM to 5:00 PM
Thursday: Open 8:00 AM to 5:00 PM
Friday: Open 8:00 AM to 9:00 PM
Saturday: Open 8:00 AM to 9:00 PM
Starbuck / Lyons Ferry Marina KOA
Get Google Directions

© 2020 Kampgrounds of America, Inc.