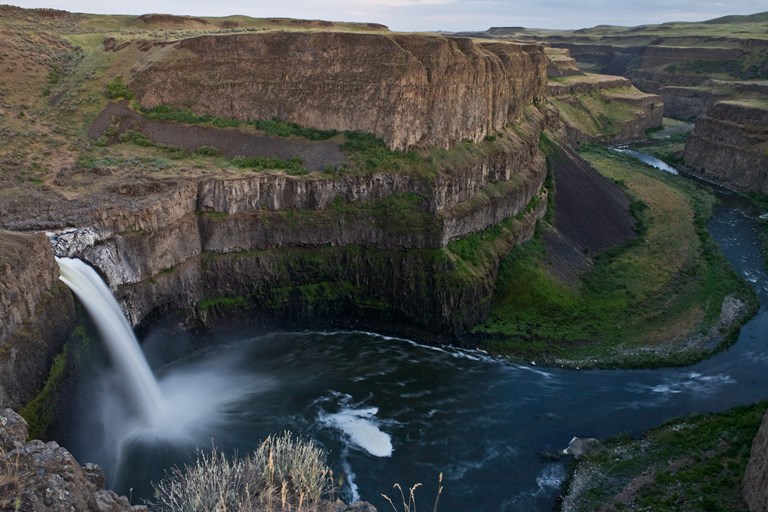 Starbuck / Lyons Ferry Marina KOA Reviews
Directions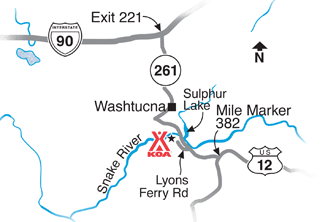 From I-90: Exit 221 to Hwy 261 south to Washtucna. Traveling south and west on both Hwy 260 & 261 approximately 6 miles, turn left (south) on Hwy 261. Go 15 miles, cross Snake River on Vantage Bridge, entrance on right. From Hwy 12: Turn north near mile marker 382 onto Hwy 261. Go 15 miles north. Entrance on left.
Get Google Directions
Jul 11, 2020
We always enjoy staying at Lyons Ferry. Nice Park, great views, good river access, and excellent burgers at their restaurant!
Jul 10, 2020
Aside from the typical loud campers (which weren't that bad), our stay was lovely. Joanne was wonderful and was able to get 3 sites together so our family could be side by side. Check in was a breeze, the staff was very helpful and friendly. Palouse Falls was a must do hike - that area is amazing. I felt like I was back in Iceland!
Jul 09, 2020
We only stayed 2 nights as our A/C went out and the temp hit 100 degrees. The owners were extremely understanding with our cutting our stay short and gave us an unexpected refund. The staff was great.
Jul 08, 2020
The last two years we have gone there because of no fireworks, for our dog. It's very relaxing, staff is very friendly & helpful. It's nice because they have a cafe as well. If you desire a quiet, relaxing camping trip experience, this is the place. If you fish it's on the Snake river to launch your boat, dock it, all you fishing needs they have it. They also have I believe three rentals.
Jul 08, 2020
Super helpful people, nice marina, easy to reserve and register, clean and neat! Beautiful location! Palouse Falls nearby is gorgeous.
Jul 07, 2020
Great sites with grass. Great views from trailer and RV sites. Very friendly, helpful staff. Would definitely stay there again.
Jul 07, 2020
We were looking for a "fireworks" free place for our dogs and the Starbuck/Lyons Ferry KOA worked out great for us. Would highly recommend this to anyone trying to get out of fireworks zones. We were parked where there were a lot of tent campers and it worked out well! Camp hosts/workers were great! Thanks
Jul 06, 2020
Just want to say thanks to Joanne and Wally for the tireless work they do to keep that place going. This is a nice place, have stayed many times before. We noticed a concerted effort by the staff to keep things quiet and they did a great job. Very pleasant stay. We were expecting lots of noise because of the 4th, but it was very quiet. Would definitely stay here again, for sure. Thanks again!
Jul 04, 2020
The staff was friendly and great. The bathrooms were clean. The marina was easy to get in and out of. And the views there were spectacular. The wifi wasn't strong enough to work for us but that wasn't why we were there so we didn't mind. Fishing and boating was excellent.
Jul 03, 2020
Loved the spot we had the quietness and proximity to state parks
Jul 02, 2020
Excellent visit, we will return! We can't think of anything that would need to be improved on, we had zero issues. The weather wasn't the greatest, it was extremely windy. Because of the wind we were limited on fishing so we will definitely come back and bring more family. Great campground!
Jul 02, 2020
Wally and JoAnn are the best.
Jul 02, 2020
great place friendly crew
Jul 01, 2020
Everything is good, except the showers. They are in need of repair and they stink.
Jul 01, 2020
It was ok, but far from the best, given our frequent stays at other KOAs. Having spotty internet access was the downer, given no cell phone connection in the area and thus the reliance on making calls through wifi calling..
Jul 01, 2020
Place is clean and quiet. Our dogs really enjoyed the fenced dog play area!
Jun 29, 2020
Cabin was cute and clean. Food was over priced. Our stay was uncomfortable as we were all the NOs right up to don't steal the dishes. We stayed there before 20 years ago. not much changed.
Jun 29, 2020
the location is very windy, no access to swimming beach from KOA
Jun 29, 2020
Our cabin was very clean. The only drawback was that the bathroom wastebasket wasn't emptied prior to our check in. The staff was very friendly and helpful. We enjoyed the easy access to the marina and the playground. We plan on returning--it was an enjoyable experience. We will recommend this location to our friends.
Jun 28, 2020
Awesome location and staff. I come over every year for a week or more of fishing w friends and family. Great time again this year!
Jun 28, 2020
The experience people get for the first time camping at Lyons Ferry, can be life changing. It has everything you could possibly need. Including a fantastic and incredibly kind staff. I've been bringing people out here for 10 years and it keeps getting better. Thanks again Lyons Ferry Marina, you have gone above and beyond yet once again!!!
Jun 27, 2020
It was perfect in every way.
Jun 26, 2020
Short and sweet
Jun 25, 2020
Always beautiful, always clean, safe and welcomed. We are regulars!
Jun 24, 2020
We've been parking our fifth wheel here for weeks at a time and coming to stay when able, everything is as we left it, we feel it's a safe place. Owners are always pleasant and helpful. The sunsets are awesome
Jun 24, 2020
Great campground and staff. We will be back!
Jun 23, 2020
It is such a lovely place and we will be coming back for a week next time. It was quiet and peaceful, the office people were kind and helpful. We like the idea of having a restaurant at the park. The dog park was great and our dogs loved it.
Jun 23, 2020
Was a very nice place, hosts were awesome
Jun 23, 2020
Easy to get into our spot and set up, plus the site was plenty large for our tent and car. Check-in was super easy and the bathrooms were cleaned twice in the single day we were there. Great job!
Jun 22, 2020
Small campground, cabin was really nice! Had propane grill and fire pit. The waterfall is close and so is the state park with a swimming area! Highly recommend.
Jun 22, 2020
Another great stay at the Snake/Palouse! Fishing was awesome and the cabins are the way to go.
Jun 22, 2020
Well kept, nice owners. The only negative was that wifi wouldn't extend to the lot I was on.
Jun 22, 2020
Enjoyed our stay again. Bathrooms were clean.
Jun 22, 2020
The bathrooms are nasty. The shower stalls are dirty. The surrounding are loud. Quiet hours are NOT enforced.
Jun 18, 2020
Nice facilities, beautiful setting, well laid out sites without crowding
Jun 15, 2020
Love this place staff is always friendly and awesome, Clean park
Jun 15, 2020
We chose this campground as it's about the only option that's close to Palouse Falls. The store and staff were nice but the experience wasn't great. We slept terribly due to loud people, children, headlights and late arrivals showing up. If you're in an RV, you'd probably be fine. We will never tent camp here again and would rather do dispersed camping next time we're in this area.
Jun 15, 2020
Well I did not agree with price showed up late at night friday got charged Friday Saturday and sund and left sunday morning and did not realize I was charged for a boat slip tell after I already paid and showed up was asked if I had a boat I said yes the lady said okay and that was all that was said about it nice campground tho just wish they were more reasonable on price and how they charge
Jun 11, 2020
It was great!! I think fence privacy , like the tents have would be great for the motor home/camper areas would be an idea, bathrooms were clean, showers as well, garbage cans are located by the restrooms only, some people couldn't find them, and had to walk all the way down to throw their trash away, maybe another set of cans at the other end would be an idea???staff was very friendly
Jun 10, 2020
Positive: the bathroom was clean and the sites were nicely spaced. Plenty of room for social distancing. Negatives: the noise level was bad. People came and went before and after "quiet hours." No mention on booking site of train tracks directly next to campground. Trains with alert horns went by twice in middle of night. Office and store closed on Mondays, no firewood for purchase when we arrive
CAMPGROUND RESPONSE / COMMENTS:
Sorry about the train, it normally doesn't run that late or twice in one night. Due to COVID, our vendors are having a tough time getting us some items and firewood is one of those items. This has also affected our summer help. We are doing our best with the limits put on us. Hoping that will chang
Jul 06, 2020
Great Place....
- Jeffrey Hott on Google
Jul 01, 2020
Well run and cared for. Clean and green
- Orrin Frederick on Google

Starbuck / Lyons Ferry Marina KOA
Open All Year
102 Lyons Ferry Road
Starbuck, WA 99359
Check-In/Check-Out Times
All Sites
Check-in: 1:00 pm, Check-out: 11:00 am
Accommodations
Check-in: 1:00 pm, Check-out: 11:00 am
Operating Hours
Sunday: Open 8:00 AM to 5:00 PM
Monday: Closed
Tuesday: Open 8:00 AM to 5:00 PM
Wednesday: Open 8:00 AM to 5:00 PM
Thursday: Open 8:00 AM to 5:00 PM
Friday: Open 8:00 AM to 9:00 PM
Saturday: Open 8:00 AM to 9:00 PM
Starbuck / Lyons Ferry Marina KOA
Get Google Directions

© 2020 Kampgrounds of America, Inc.