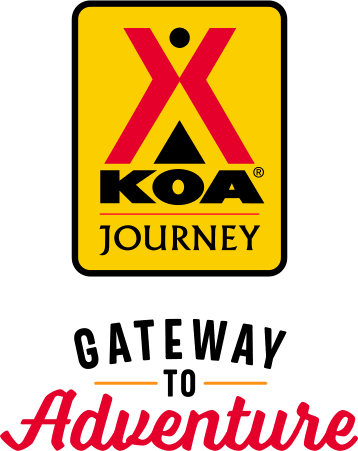 KOA Journey Campgrounds
KOA Journey campgrounds are the perfect oases after a day on the road. Whether it's along the way or a quick getaway, they've got you covered. Located near the highways and byways of North America with long Pull-thru RV Sites, they deliver convenience to the traveling camper. Pull in, ease back and take a load off.
KOA Journeys Feature:
Pull-through RV Sites with 50-amp service
Premium Tent Sites
Well lit after hours check-in service
Directions
Westbound on I-44: Exit 230, left 2 blocks. Eastbound on I-44: Exit 230, right 2 blocks.
GPS is not reliable in this area.  Your best option is to follow the directions given above.
Get Google Directions
Jun 29, 2021
Excellent overnight stop, sites are level & if you don't feel like cooking, the baby back ribs are very good.
Jun 28, 2021
We really enjoyed it. A nice friendly couple greeted, visited, and gave us suggestions on where to eat. We had a nice site. The site length wasn't real long, but there was grass on both sides and a nice picnic table. Also there was a nice pool which we would have liked to tried, but since it was our anniversary, we went out to eat at the Mexican restaurant they suggested (so good). Thanks!
Jun 28, 2021
cabin was very clean and just what I needed for a good nights sleep. Staff very nice.
Jun 27, 2021
Super clean and very helpful people
Jun 26, 2021
Clean KOA and very friendly owners. Sites are narrow (old School), but lengths good for most large units.
Jun 25, 2021
Great amenities and loved the Shady grounds.
Jun 24, 2021
The owners are extremely nice and helpful. The pizza they make at the kamp store comes hot and delicious, they even brought it to our RV. The Kamp looked well taken care of, bathrooms were clean. I would definitely recommend this place to my people.
Jun 23, 2021
I made this reservation last fall and paid the one night but upon check in I was asked to sign a receipt to acknowledge the COVID-19 liabilities and with a $45 amount on the receipt.. It was confusing to me because I thought I was being charged again for my one night stay and after setting up had to go back into the office for clarification that I did not get charged twice.
Jun 21, 2021
It was nice to order food that was homemade by hosts. The owners helped us w an extra nite stay as we miscalculated our days!
Jun 20, 2021
The food we ordered was cooked to perfection and brought to our site. Was wonderful not to have to cook on such a hot day. Enjoyed the pool also.
Jun 20, 2021
Sites were too close together but the pizza was good!
Jun 18, 2021
Friendly and nice place to stay
Jun 17, 2021
Clean site, all the hookups. Barebones, WiFi not great, no fire ring for cooking at the site - can use a fire ring in a public area. Site are very close together so not much privacy. Staff friendly, good for a one-night stop.
Jun 17, 2021
friendly hosts, campground was good. Small, so make sure to make reservations if you want full hookups, as others appear to be in grass.
Jun 16, 2021
Great place to camp!!
Jun 15, 2021
Management is very friendly and helpful
Jun 15, 2021
Easy pull-through slips. Quiet and friendly. Staff was great and the price was right. We will be back!
Jun 15, 2021
Very nice and clean! Friendly host
Jun 13, 2021
Bugs / Nats. Need to spray. NO personal Fire rings. Inconvenient to spend family time when you have to travel and carry your wood to the family fire rings. spacing bewtwen the campsites was extremely tight. facilities were clean, thank you.
Jun 12, 2021
Very nice. I would stay there again
Jun 11, 2021
Disappointed they didn't have cookies or coffee in morning. But other than that it was okay.
Jun 09, 2021
Very attentive and friendly owners Dan and Barb make your stay worry free and even offer nightly dinner menus that include bbq pork and rib plates along with an awesome tasting homemade customizable pizza to your liking!
Jun 07, 2021
Well kept park
Jun 04, 2021
ok for just an overnight stay
Jun 04, 2021
Charming little campground. Spaces are a bit tight and it's a little further out than I would have liked from St. Louis but it was a nice place for an overnight stay while traveling west.
Jun 03, 2021
Camp here many times.very good place to stay. No
Jun 03, 2021
Friendly staff, and very accommodating.
Jun 03, 2021
Nice and quiet park. Only reason for not giving a 5 was gravel sites
Jun 02, 2021
Level campsite, lots of shade, clean restrooms. Friendly host and a nice stay. They were able to get us in on the memorial day weekend, at the last minute. Only reason we couldn't give a 5 star,...is the beauty of other KOAs. such as Calvert City Kentucky and the one in Chattanooga Tennessee. We would recommend this campground to anyone.
Jun 02, 2021
Friendly and accommodating
Jun 01, 2021
Great little Campground
Jun 01, 2021
Very friendly and helpful
Jun 01, 2021
Great stay! Convenient entry and exit back to the freeway. GREAT BBQ delivered to the RV!!! Very quiet. Outstanding staff.
May 31, 2021
Overnight on the way West. Owners were nice and attentive.
May 30, 2021
Campground is nice. Sites are nice but not overly spacious. Folks running the KOA are fabulous. Very knowledgeable about the area - did not steer us wrong regarding sites to visit or places to eat.
May 29, 2021
we only stayed one night on a trip home. had no trouble whatsoever reserving a site short notice. It raimed the whole time we were there so we didn't venture outside. Liked our stay, easy to find, not noisy at all. Highly recommend this KOA.
May 28, 2021
Sweet little KOA conveniently off I-44. Quiet and peaceful. Friendly, helpful staff AND they sell beer in their camp store! What's not to love?
May 28, 2021
Level pull through sites, laundry facilities use I would also rate as a five plus, food service great, food great also.
May 26, 2021
One of the best KOA's we have ever stayed at. Friendly, clean and just what we needed.
May 25, 2021
Great location, good services, friendly staff.
Sep 08, 2021
We were originally supposed to be here for a week to explore St. Louis and the caves on the way to Branson, but my husband ended up needing emergency surgery. The doctor wanted him to stay close by while he recovered which put a dent in our plans. The owners worked with us and have bent over backwards to make sure we are comfortable as we extended our stay until my husband gets the all clear to keep traveling. We're thankful to be somewhere safe, clean, and with such kind hospitality in the midst of this unexpected event. They really care about making your experience a good one. We're really thankful!
- Rebecca Carroll on Google
Oct 08, 2021
One night stay on a long journey. Full hook ups were good; the internet was not very good - couldn't stream much at all.
- Heidi Huenink on Google
Oct 01, 2021
Not back prices kinda high but the cabins where nice
- Jodi Rabich on Google