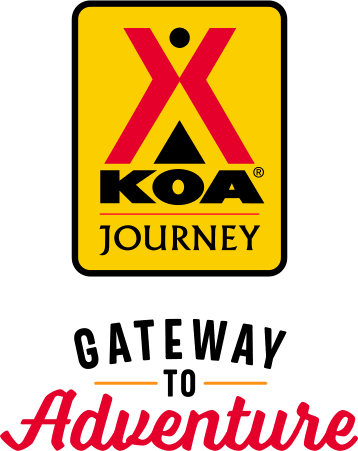 KOA Journey Campgrounds
KOA Journey campgrounds are the perfect oases after a day on the road. Whether it's along the way or a quick getaway, they've got you covered. Located near the highways and byways of North America with long Pull-thru RV Sites, they deliver convenience to the traveling camper. Pull in, ease back and take a load off.
KOA Journeys Feature:
Pull-through RV Sites with 50-amp service
Premium Tent Sites
Well lit after hours check-in service
Directions
Westbound on I-44: Exit 230, left 2 blocks. Eastbound on I-44: Exit 230, right 2 blocks.
GPS is not reliable in this area.  Your best option is to follow the directions given above.
Get Google Directions
Oct 20, 2021
It is a great 1 or 2 night stop point. Sites are not real level, but acceptable. Close to a lot of attractions.
Oct 20, 2021
This is a KOA Journey. Reservations were, as always, easy through the campground website. With the limited amount of sites, ones do not need to be taken to their sites, but we were told that if we had and problems/issues, to just give a holler. Because so many used it as a one night stop over, we had an opportunity op meet many fellow travelers. Sites are large, hook ups all worked perfectly.
Oct 20, 2021
Such nice staff! Plus a clean and pleasant campground, of course—but that's just normal for KOAs!
Oct 20, 2021
Friendly people and the restaurant food was really good!
Oct 19, 2021
Would have liked to have had fire pit by camper spots
Oct 19, 2021
Convenient location. Just off the interstate and close to the Meremac Caverns. Great hosts and super clean facilities. Would definitely stay here again.
Oct 17, 2021
Nice quiet �
Oct 17, 2021
Friendly, upgraded our site at no charge. Clean, dinner menu available upon arrival. Clean restrooms.
Oct 13, 2021
Very nice stay. Easy to get to off of the highway. The staff was amazing.
Oct 10, 2021
In 15 plus years of camping this was our first experience at a KOA and it was wonderful!!
Oct 10, 2021
It was great. Peaceful n other rver's were awesome. Owners were great too.
Oct 10, 2021
Uneven dirt sites. Bathrooms old and not very clean.
Oct 09, 2021
Camp hosts were great. Sites very close together. Camp store has limited hours in morning and afternoon. Nearby trains run during the day. Usually quiet at night. Close to Meramec Caverns and the murals in Cuba. Murals are definitely worth a visit as something off the beaten track. Quaint old cemetery next to the campground. Some very old markers were interesting.
Oct 09, 2021
The bathrooms were dirty!
Oct 07, 2021
This place is always just right.
Oct 06, 2021
We reserved a one night stay to break up our trip. It was wonderful to have a pull through site. Also a wonderful staff person came out and helped us even though we were arriving late. The rv site was unlevel and was gravel and the 50amp service was not working. It would have been a five star stay if the site had been level and the 50 amp service had been working.
Oct 05, 2021
Over night ,nice stay.
Oct 05, 2021
We only spent one night, but it was really enjoyable. Would defiantly stay again when that way!
Oct 04, 2021
Beautiful spot in the woods, nice folks!
Oct 03, 2021
Typical journey KOA. Packed in like sardines, barely enough room to open the awning.
Oct 02, 2021
Restrooms could use remodeling. They were clean, but a bit rough looking. This KOA is acceptable for an overnight stay, but not a lengthy stay as the amenities are quite basic for a KOA.
Oct 02, 2021
Love the owners and this campground.
Oct 02, 2021
Good dog run. Small, quiet site. Late night arrival and everything was waiting for us in their arrival cabinet.
Sep 30, 2021
Stayed 2 nights to visit the cave and do some Rt. 66 sightseeing. Site was level. Hosts were very pleasant and helpful. Dog park needed some care. Guests were not good at cleaning up after their pets even with bags readily available.
Sep 30, 2021
I really enjoyed the dinners that were available at the campground.
Sep 30, 2021
Just an overnighter but satisfied with everything. Had to have propane and that was handled with efficiency. Friendly staff and great ribs. Thanks for delivering! J&K
Sep 28, 2021
Very beautiful site. Dinner delivered to RV by office. Loved it.
Sep 25, 2021
Very convenient, clean and well maintained
Sep 25, 2021
Thought it was quiet, a small quaint park for once. Not a lot of people which we thought was nice as we are wrapping up our long trip. Friendly staff/owners too.
Sep 23, 2021
A wonderful Kamping experience. Thank you.
Sep 23, 2021
Very nice campgrounds wish we could have stayed longer will go back another time
Sep 21, 2021
Full service but small park. Great location near Meramec caverns. Very friendly and helpful staff. Clean park not too far from the highway for those just traveling through the area.
Sep 17, 2021
Excellent service well kept area. A key stopping point for us heading N and S. Need to consider reservations early as the pull thrus are great but limited.
Sep 17, 2021
Just an overnight stay. We've stayed here several times and it's easy on/easy off. Small but compatible with our 45' rig.
Sep 16, 2021
Owners very helpful, easy access far enough from I-44 no road noise, owners even offer BBQ meal delivery to your site. Site pads gravel very level, grassy areas mowed very nice. Owner came by later to check to see if we had any needs and to assure we knew where the storm shelter was just in case. Plenty of local TV channels but could improve with better WiFi & cable. Great for over night stay.
Sep 15, 2021
A very convenient overnight stop along I-44. Close to the Interstate and a railroad, but did not hear either during our overnight stay.
Sep 15, 2021
Very clean ,quiet, close to the town.
Sep 14, 2021
This is an extremely nice KOA Campground. All the employees were extremely friendly. We would definitely use this campground in the future The Burrells from Bogart Georgia ����������
Sep 14, 2021
Friendly service. Clean. Would stay there again.
Sep 08, 2021
We were originally supposed to be here for a week to explore St. Louis and the caves on the way to Branson, but my husband ended up needing emergency surgery. The doctor wanted him to stay close by while he recovered which put a dent in our plans. The owners worked with us and have bent over backwards to make sure we are comfortable as we extended our stay until my husband gets the all clear to keep traveling. We're thankful to be somewhere safe, clean, and with such kind hospitality in the midst of this unexpected event. They really care about making your experience a good one. We're really thankful!
- Rebecca Carroll on Google
Oct 08, 2021
One night stay on a long journey. Full hook ups were good; the internet was not very good - couldn't stream much at all.
- Heidi Huenink on Google
Oct 01, 2021
Not back prices kinda high but the cabins where nice
- Jodi Rabich on Google