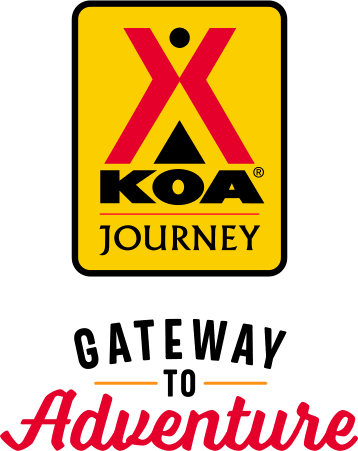 KOA Journey Campgrounds
KOA Journey campgrounds are the perfect oases after a day on the road. Whether it's along the way or a quick getaway, they've got you covered. Located near the highways and byways of North America with long Pull-thru RV Sites, they deliver convenience to the traveling camper. Pull in, ease back and take a load off.
KOA Journeys Feature:
Pull-through RV Sites with 50-amp service
Premium Tent Sites
Well lit after hours check-in service
Directions
Westbound on I-44: Exit 230, left 2 blocks. Eastbound on I-44: Exit 230, right 2 blocks.
GPS is not reliable in this area.  Your best option is to follow the directions given above.
Get Google Directions
Aug 29, 2020
Spaces are pretty tight, but everything worked as it should. Just wished for a little more space and some shade!
Aug 29, 2020
50A, FHU, pull through. Site mostly level. Check-in was easy, had to pull to the far front of the site to find a fairly level place, so had to park the truck behind the trailer. Bathrooms are small but adequate. Don't think they are cleaned daily as advertised. Wi-fi didn't work. Not far from a Super Wal-Mart, which was good.
Aug 28, 2020
Very Friendly hosts. Would stay again. Also try their home cooked pizza, my kids loved it!
Aug 27, 2020
Clean and tidy and got the job done for camping overnight but not much to look at.
Aug 26, 2020
Perfect for our family! Quiet, clean and we met some great people!
Aug 25, 2020
The staff was very helpful and personally helped us in making a transfer of a large boat to our son that we were towing with our motor home. The campground was well kept.
Aug 25, 2020
As a Journey had few amenities. Staff very nice. Laundry very clean, appreciated in Covid environment.
Aug 24, 2020
This was our first KOA. What a difference! Beautiful grounds, easy access, clean, nice, flat spot.
Aug 24, 2020
We had a great stay and had a wonderful time. Wish the pool was open but with all the Corona virus issues, we understand.
Aug 22, 2020
This is a small, quiet camp in a rural area. The campground is clean and the staff seems friendly and responsive. We camped one-night as we were traveling across the country - it was a night place and we would stay here again.
Aug 20, 2020
Excellent campground. Well maintained by very nice owners.
Aug 19, 2020
Dan always pulls through on added requested during stay
Aug 18, 2020
Great place to stay, great staff!
Aug 17, 2020
Easy to find. Clean and quiet camp ground. Cabin was equipped with basic cooking utensils.
Aug 17, 2020
Campground was a very nice clean place and the owners were very very wonderful
Aug 17, 2020
Great place with Great owners!
Aug 12, 2020
The owners are great. Always willing to help and even waited for us when we were running late. The grounds are neat clean. And the Ribs they offer in there cafe are great! Highly recomend this KOA to anyone traveling in the area.
Aug 12, 2020
Great place for an overnight stay!
Aug 11, 2020
The easy in and out makes it a great place for a nightly stop-over. The cabins are quite nice. The full-hookup (sewer, water, electric) RV sites are large enough to give you plenty of outdoor living space. There isn't any shade in the full-hookup sites, so if staying longer, we prefer the water/electric RV sites that are nestled in trees and using the dumping station. The owners are very nice.
Aug 10, 2020
"No guests allowed" made it very inconvenient for our family to have to find another place to have a cookout.
Aug 10, 2020
The rv sites are way too close together. No fire pits at each site is not good either. The hosts were fine and friendly
Aug 09, 2020
Very nice little park. The staff were extremely friendly and helpful, even during these extremely difficult times. I would definitely stay here again.
Aug 05, 2020
A nice place to stay. Very quiet no road noise and staff was friendly.
Aug 03, 2020
It's not bad for a journey. Biggest problem is the RV slots not being very level. Train early in the morning are pretty annoying also.
Aug 03, 2020
We stayed three nights and had a very pleasant experience during our visit. Very friendly people and the place was well kept.
Aug 03, 2020
Barbara was a pleasure to work with during the reservation, check in and out times. The cabins were what was described on the website. The pet area and play ground was a nice surprise and great help during this Covid time (pool closure). Overall very nice place for the money spent.
Aug 03, 2020
Nice KOA for overnight stay.
Jul 31, 2020
A decent KOA to stay at for a night. Was in a decent location, but the accommodations could have been better. The cabin was air conditioned, but it needed deep cleaned as there were a bunch spider webs. There was also a large gap under the door that let bugs in. The bathrooms were good as were the showers. They also just needed a good clean. The owners were super nice though and very helpful!
Jul 28, 2020
Good for an overnight stop.
Jul 28, 2020
Place was clean, staff was friendly, but they told my brother he couldn't stay, no visitors were allowed. Paid $50 a night and couldnt have any visitors. Not cool.
Jul 27, 2020
Spot was level. Pool was not open. Spots were very close together.
Jul 27, 2020
Great campground. Will return
Jul 25, 2020
Clean and easy to use. Individual shower stalls and a good pet run. More shade trees would be nice, but we had a good stop-over. Many thanks!
Jul 24, 2020
Check in person was very nice and informative. Park was close to interstate yet very quiet. Grounds were nice but unfortunately the pool was closed.
Sep 08, 2021
We were originally supposed to be here for a week to explore St. Louis and the caves on the way to Branson, but my husband ended up needing emergency surgery. The doctor wanted him to stay close by while he recovered which put a dent in our plans. The owners worked with us and have bent over backwards to make sure we are comfortable as we extended our stay until my husband gets the all clear to keep traveling. We're thankful to be somewhere safe, clean, and with such kind hospitality in the midst of this unexpected event. They really care about making your experience a good one. We're really thankful!
- Rebecca Carroll on Google
Oct 08, 2021
One night stay on a long journey. Full hook ups were good; the internet was not very good - couldn't stream much at all.
- Heidi Huenink on Google
Oct 01, 2021
Not back prices kinda high but the cabins where nice
- Jodi Rabich on Google