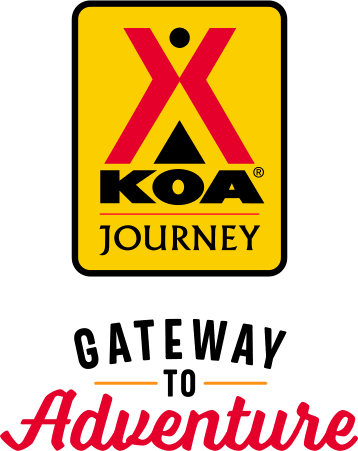 KOA Journey Campgrounds
KOA Journey campgrounds are the perfect oases after a day on the road. Whether it's along the way or a quick getaway, they've got you covered. Located near the highways and byways of North America with long Pull-thru RV Sites, they deliver convenience to the traveling camper. Pull in, ease back and take a load off.
KOA Journeys Feature:
Pull-through RV Sites with 50-amp service
Premium Tent Sites
Well lit after hours check-in service
Directions
Westbound on I-44: Exit 230, left 2 blocks. Eastbound on I-44: Exit 230, right 2 blocks.
GPS is not reliable in this area.  Your best option is to follow the directions given above.
Get Google Directions
May 13, 2021
Nice for exploring the area
May 12, 2021
Nice spot close but far enough away from traffic and road noise. Excellent food service also for supper.
May 09, 2021
Very clean , people very polite and friendly. Wish we could if stayed longer
May 07, 2021
Bathrooms were disappointing. Our site was nice because we were the only ones there. We will not be back!
May 05, 2021
Sites not well developed. Has basics, but nothing special.
May 05, 2021
Quiet and clean. Nice people. Would stay there again
May 05, 2021
Clean and friendly. The ribs from the cafe which were delivered to our site were great
May 05, 2021
Very helpful staff and clean cabin.
May 04, 2021
Dan and Barb were great people.
May 04, 2021
Small KOA but quiet. It feels more transitional than most, sort of a green parking lot but the dog park was nice and the pizza (delivered to the door) was tasty. I wasn't too thrilled about the people we interacted with...they were sort of grumpy and seemed short handed. We were only there one night so it didn't really matter.
May 03, 2021
Campground was full for the weekend. We had a water and electric only spot, not very level. Grounds were beautiful and the bath house was clean.
May 03, 2021
It was great spot for a weekend. They have nice fairly level drive thru spots and full hookups. Real close to Meramac Caverns and several other attractions. Playground and pond were nice for my kids to play with and around.
May 03, 2021
Perfect for overnight, but space between pull thrus is below average. Slide outs hung over the neighbors picnic table and available grass becomes non existent when campers are lined up. For the price you pay, along with per child extras, there is no value provided. We would look for alternate campgrounds next time.
May 03, 2021
The grounds were clean and quiet. Was a nice overnight stay. Will definitely be back.
May 03, 2021
The Kamp cabin was as expected. The customer service was my issue. I communicated that I would be arriving after hours and was told the light would be on in the cabin, the porch light would be on, the key inside and directions to the cabin inside the after hours box. No directions when I showed up. I had to drive around trying not to disturb the other guests to find the cabin.
Apr 26, 2021
Nice campground terrific staff very professional friendly and accommodating
Apr 20, 2021
Clean friendly and Barb will help you with any questions you may have
Apr 20, 2021
Thank you Barb and Dan for a great stay! Right off the I44 easy off and easy on! The BBQ dinners are the bomb, the best we had in the St. Louis area.
Apr 16, 2021
Very nice campground and people. We visit every three months.
Apr 16, 2021
The staff was very nice. A small campground but very nice. we only stayed over night. we would go back again.
Apr 15, 2021
Rarely stay at KOA due to the lack of value for us for the price. We mostly do a single night stay. This park is the poorest KOA we have ever been in. Should have traveled a little farther down the road. Whoever laid out and built this park must have never heard of a surveyor's transit. Overnighters need level sights so we don't have to unhook.
Apr 11, 2021
I highly recommend this KOA. The staff is very nice and helpful.
Apr 10, 2021
Overnight stay. Like always it met our needs for the night. Folks pleasant and friendly, the facility clean and easy to get to easy on and off.
Apr 10, 2021
it was a typical journey KOA, good for an overnight, the owners were friendly, the bathrooms were in need of upgrading or something, what made this a great place was their homemade meals delivered to your camper. we got the pulled pork dinner with potato salad and corn on the cob - excellent! good food, good price. would stay again.
Apr 09, 2021
Great for a stop on your way. Nice helpful people. "Hi" to Barb in the office. Easy access to the highway. Will stay there again. Oh yeah.. we had the BBQ ribs. They were excellent and came with yummy potato salad and corn on the cob. Great camping food.
Apr 08, 2021
Peaceful but got bitten up pretty bad in cabin while sleeping, hope not bed bugs!
Apr 07, 2021
Friendly staff and clean environment. Loved the location.
Apr 06, 2021
Nice place, but pull through sites are very close together.
Apr 05, 2021
Lots of road noise. Primarily a good "layover" spot for a night while traveling through. Not someplace you would stay for any extended time. Nice enough for a quick stop though.
Apr 05, 2021
The grounds were very clean. Everyone was super friendly. My 13 yr old son and I were looking for a quaint place to relax and fish. Their site said they had a place to fish which ended up being more like a puddle. Luckily there are nearby places to drive over to for a better chance of catching something. We ended up leaving a night early.
Sep 08, 2021
We were originally supposed to be here for a week to explore St. Louis and the caves on the way to Branson, but my husband ended up needing emergency surgery. The doctor wanted him to stay close by while he recovered which put a dent in our plans. The owners worked with us and have bent over backwards to make sure we are comfortable as we extended our stay until my husband gets the all clear to keep traveling. We're thankful to be somewhere safe, clean, and with such kind hospitality in the midst of this unexpected event. They really care about making your experience a good one. We're really thankful!
- Rebecca Carroll on Google
Oct 08, 2021
One night stay on a long journey. Full hook ups were good; the internet was not very good - couldn't stream much at all.
- Heidi Huenink on Google
Oct 01, 2021
Not back prices kinda high but the cabins where nice
- Jodi Rabich on Google