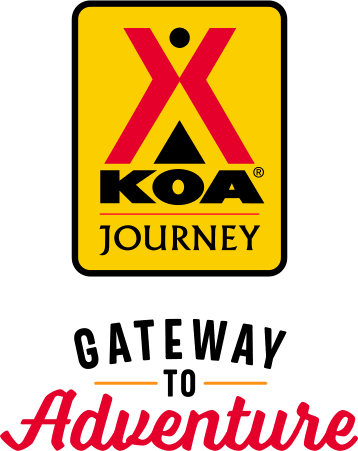 KOA Journey Campgrounds
KOA Journey campgrounds are the perfect oases after a day on the road. Whether it's along the way or a quick getaway, they've got you covered. Located near the highways and byways of North America with long Pull-thru RV Sites, they deliver convenience to the traveling camper. Pull in, ease back and take a load off.
KOA Journeys Feature:
Pull-through RV Sites with 50-amp service
Premium Tent Sites
Well lit after hours check-in service
Directions
Westbound on I-44: Exit 230, left 2 blocks. Eastbound on I-44: Exit 230, right 2 blocks.
GPS is not reliable in this area.  Your best option is to follow the directions given above.
Get Google Directions
Aug 14, 2021
Great facility! I enjoyed our brief stay. Friendly hosts were very accommodating.
Aug 14, 2021
Some shade would have been nice but pool was refreshing. Bathrooms could have used some sprucing up as well
Aug 13, 2021
Very clean, well kept and quiet. The spots are a bit close for my liking, however the hosts are very accommodating and allowed us to move to a spot so we could spread out. I appreciate the hosts allowing us to get in on a very short notice. AT&T service was good at this location. Be sure to visit the Meramec Caverns.
Aug 12, 2021
Small campground but quiet and neat.
Aug 12, 2021
Made us a great pizza after closing hours and delivered it to us!! Very nice and clean.
Aug 11, 2021
Friendly camp host. Disappointed in this KOA for the price. Poor shower facilities and subpar sites. Needs some work all around.
Aug 10, 2021
Always super clean. Owners are the BEST!!!
Aug 09, 2021
great owners and location perfect for points of interest. easy to locate and clean facilities.
Aug 09, 2021
It was an overnight stop. The campground was clean and well groomed. Site was not quite level. The water faucet was unique but functional. Pool looked great! Thanks
Aug 07, 2021
My stay was uneventful over night. It was quit and peaceful
Aug 06, 2021
Great service, nice level site
Aug 06, 2021
Extremely nice staff, and helped us with accommodations when we called at the last minute.
Aug 05, 2021
Ouite peaceful
Aug 03, 2021
It was a very quiet and clean campground.
Aug 03, 2021
Lady who works at the site was welcoming, informative and polite. The grounds were clean
Aug 03, 2021
Convenient, good facilities, clean, efficient
Aug 02, 2021
Super clean dog park and campground. Really helpful staff. Pool, well stocked fishing pond and great lots. Everything you could ask for.
Aug 01, 2021
Host/Manager was very nice. The KOA has very little trees for pull through spaces and very little grass. It is in a nice location to see Meramec Caverns.
Aug 01, 2021
Quiet, clean, nice little pool, very friendly staff, good camp store.
Aug 01, 2021
The camp hosts were so kind and wonderful. This could really be an awesome place to stay if the sites were graded properly. There must have been over a 12" slop from front to rear. This can be difficult to adjust with a Motorhome. However, easy access and exit. Also, KOA must require recycling. Unacceptable that it's not standard these days.
Aug 01, 2021
Just beautiful
Aug 01, 2021
This was our first trip and our first stay - and these owners were so welcoming and encouraging. We had a great time and when we are back in that area, we know where to stay!!
Jul 31, 2021
Quiet campground. Staff very friendly and goes above and beyond. We needed to change sites due to the 5th wheel not leveling. No problem. Gave us 2 choices and it worked. Thank you.
Jul 30, 2021
We enjoyed the cabin #4. Close to pool, showers and store. Clean amenities. Friendly staff. Will stay again.
Jul 29, 2021
Good campground. Staff is friendly and the faculties are good.
Jul 29, 2021
Good shade and friendly staff.
Jul 29, 2021
Friendly and kind staff. Very pleasant experience. The campground is well kept, clean bathrooms and showers. They even made me a pizza! Very enjoyable stay. I'd stay here again and highly recommend this place!
Jul 28, 2021
Very friendly and clean. Easy access for big RV. Close to freeway but you can't hear traffic. Pool was great for kids
Jul 27, 2021
The staff was super friendly, the park was really clean, pool was well kept. We did leave early due to our cabin, they were extremely cute with everything you needed but it was not throughly cleaned. There was hair/soup in shower from previous people, floors not clean. We made stop at dollar tree an did deep cleaning. Left next day to to brown recluses(spider) in cabin
Jul 27, 2021
stay was fine and the hosts were very friendly and the food was good in diner also. Only complaint was to closeness of the rvs to each other. slides were close enough had to be careful going to the sewer hookup and utilities. I know that is not unusual for campgrounds just would like it if there was a little more room. Picnic table was just a few feet from neighbors.
Jul 26, 2021
Wish the pool was open later than 8:30
Jul 25, 2021
Very quiet and unpressured. We felt we could relax here after a long day on the road. The owners are friendly and helpful. We will stay again when we make our annual cross country trip.
Jul 25, 2021
Folks, very nice, kind! Outdoor sink by bathroom, no hot water for dish cleaning- unhealthy. Men's bathroom flooding under sink. Marginal water pressure in sink in bathroom. No paper towels. Hand blowers non functional. A bit neglected overall. Store had some empty shelves.
Jul 24, 2021
The care takers are awesome and accommodating. We stayed for 15 days while waiting to closing on our new home. We felt safe, enjoyed the beauty around, played in the pool (a lot!), and explored the area. Their food services are great. Laundry facilities and bathrooms are clean. Grounds are very well kept. Thanks for a lovely stay.
Jul 24, 2021
We had a nice 3 day stay. The pool could have been a little cleaner, but overall it was good. We lost power each night that we were there for a short period of time. I don't know if it is the power company or the park. The owners are friendly and were working to keep the campground in good shape.
Jul 22, 2021
Very pleasant experience - nice people - clean pretty campground. We'll be back!
Jul 20, 2021
Everyone we met was friendly, the site was level, very close to Meramec Caverns, and the food was very tasty.
Jul 20, 2021
Super friendly owners! Would definitely recommend
Sep 08, 2021
We were originally supposed to be here for a week to explore St. Louis and the caves on the way to Branson, but my husband ended up needing emergency surgery. The doctor wanted him to stay close by while he recovered which put a dent in our plans. The owners worked with us and have bent over backwards to make sure we are comfortable as we extended our stay until my husband gets the all clear to keep traveling. We're thankful to be somewhere safe, clean, and with such kind hospitality in the midst of this unexpected event. They really care about making your experience a good one. We're really thankful!
- Rebecca Carroll on Google
Aug 08, 2021
Awesome place. Great gift shop. Plenty of things to do here.
- Shaun Allen on Google
Aug 02, 2021
Nice quiet park! Again, they went out of their way to find us a RV site; let me explain, we have property in Cuba Missouri that has 50 amp electric, sewer, and water, but when we arrived, our electric wasn't working, and a electrician (a handful) couldn't work on it for at least 7 to 10 days, so we were stuck without electricity. The Stanton Koa found us a RV site for 2 days, yet we needed 9 days and the following night, they had a cancelation and saved us. We love the friendly service and the kindness they showed us in finding us a RV site.
- davidpP1784EO on Trip Advisor