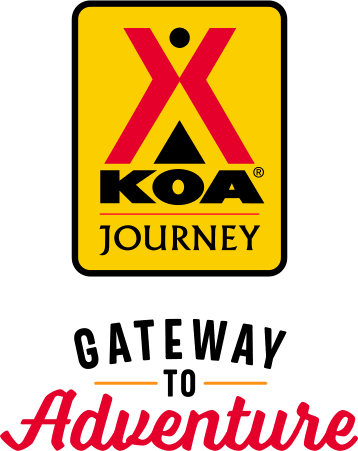 KOA Journey Campgrounds
KOA Journey campgrounds are the perfect oases after a day on the road. Whether it's along the way or a quick getaway, they've got you covered. Located near the highways and byways of North America with long Pull-thru RV Sites, they deliver convenience to the traveling camper. Pull in, ease back and take a load off.
KOA Journeys Feature:
Pull-through RV Sites with 50-amp service
Premium Tent Sites
Well lit after hours check-in service
Directions
Westbound on I-44: Exit 230, left 2 blocks. Eastbound on I-44: Exit 230, right 2 blocks.
GPS is not reliable in this area.  Your best option is to follow the directions given above.
Get Google Directions
Sep 21, 2021
Full service but small park. Great location near Meramec caverns. Very friendly and helpful staff. Clean park not too far from the highway for those just traveling through the area.
Sep 17, 2021
Excellent service well kept area. A key stopping point for us heading N and S. Need to consider reservations early as the pull thrus are great but limited.
Sep 17, 2021
Just an overnight stay. We've stayed here several times and it's easy on/easy off. Small but compatible with our 45' rig.
Sep 16, 2021
Very enjoyable. The hosts/owners are always hospitable. We typically come once a year. Would be very nice to have the pool open though.
Sep 16, 2021
Owners very helpful, easy access far enough from I-44 no road noise, owners even offer BBQ meal delivery to your site. Site pads gravel very level, grassy areas mowed very nice. Owner came by later to check to see if we had any needs and to assure we knew where the storm shelter was just in case. Plenty of local TV channels but could improve with better WiFi & cable. Great for over night stay.
Sep 15, 2021
A very convenient overnight stop along I-44. Close to the Interstate and a railroad, but did not hear either during our overnight stay.
Sep 15, 2021
Very clean ,quiet, close to the town.
Sep 14, 2021
This is an extremely nice KOA Campground. All the employees were extremely friendly. We would definitely use this campground in the future The Burrells from Bogart Georgia ����������
Sep 14, 2021
Friendly service. Clean. Would stay there again.
Sep 14, 2021
The facility is nice clean pizza is fantastic a couple running it is very friendly and they bring the food out to you when it's done cooking!
Sep 14, 2021
We stayed here so we could be close to our family for birthday festivities. Loved how close we were and the owners are so nice and very welcoming.
Sep 12, 2021
Easy overnight stay, nice sites, great rib dinner delivered.
Sep 12, 2021
The hosts were both friendly and made you feel very welcome. We walked the entire property with our dogs although there is a very nice dog park provided. The walk gave an opportunity to see how clean, peaceful and lush parts of the property were. We had no complaints and enjoyed visiting with the hosts
Sep 10, 2021
Small campground, closed pool day after Labor Day, it was still pretty warm. Near meramec caverns. The host was very helpful
Sep 10, 2021
Just here for an overnighter. Everything was fine.
Sep 10, 2021
Best KOA ever! Camping AND watching the horses!
Sep 09, 2021
We were placed right next to the dump station Horrible Smells lots of flies no fire pit We were very disappointed
Sep 09, 2021
Very accommodating. We had a little mechanical trouble so had to get the RV repaired. We were able to get into a cabin last minute. It is a charming country setting.
Sep 07, 2021
Enjoyed our stay. We liked it was smaller in size so not as many people around. Great pizza at the store. The pool was nice and refreshing.
Sep 04, 2021
I stayed in a pet friendly cabin.
Sep 04, 2021
All nice except a little unlevel
Sep 03, 2021
Nice clean KOA campground. Owners were friendly and helpful. Sites were not level and close together. Would stay again.
Sep 03, 2021
Bath and showers need help.We only stay at KOA campgrounds.Its not bad but needs a lot of work to bring them up to koa campground standards that we are use to.It is one step above state park campgrounds.Only because they have water and sewer connections
Sep 02, 2021
Very relaxing
Sep 02, 2021
Great quiet location. Host had great recommendations.
Sep 01, 2021
Site was nice, friendly staff, good for an overnight stay.
Sep 01, 2021
Wonderful campground with great people. We really enjoyed our camping ����
Aug 31, 2021
Bare bones RV park good for overnight stop. Sites are very close & no shade..
Aug 30, 2021
Great customer service, cabins were clean and comfortable. Everyone had a great time Thanks
Aug 30, 2021
Very clean and quiet. Pool felt great. Owners were very nice and accommodating.
Aug 30, 2021
Staff very friendly, campground very clean, very clean restrooms.
Aug 29, 2021
Stayed overnight on trip to Branson. Campground was very clean and well kept. Staff was very friendly. Stayed in a travel trailer.
Aug 27, 2021
Nice staff/Owners, well stocked little store, not bad BBQ made by the staff. We enjoyed our stay. I recommend seeing the caves near by. Tom
Aug 27, 2021
Small quiet country park with everything needed at an RV park. There was even hot food in the evening and a pool.
Aug 24, 2021
Site small, but very quite. Host very nice.
Aug 24, 2021
It was fine. Small park. Nice staff
Aug 23, 2021
This park is immaculate. The dog park is very clean and nice too. I received excellent care from the office staff. She gave me great directions to skirt around St. Louis. I will stay here again when in the area.
Aug 18, 2021
Hosts were great
Aug 16, 2021
Nice campground. Pool was very dirty with bugs wish there was a screen or something to help clean out.
Aug 15, 2021
Amazing stay, Dan and Barb could not have been more gracious to us...
Aug 15, 2021
The owners went above and beyond for us! We arrived just before the laundry closed but they left it open and only asked that we lock up. Sites were great for our one night stay. Easy access from interstate too! I would very highly recommend!
Sep 08, 2021
We were originally supposed to be here for a week to explore St. Louis and the caves on the way to Branson, but my husband ended up needing emergency surgery. The doctor wanted him to stay close by while he recovered which put a dent in our plans. The owners worked with us and have bent over backwards to make sure we are comfortable as we extended our stay until my husband gets the all clear to keep traveling. We're thankful to be somewhere safe, clean, and with such kind hospitality in the midst of this unexpected event. They really care about making your experience a good one. We're really thankful!
- Rebecca Carroll on Google
Aug 08, 2021
Awesome place. Great gift shop. Plenty of things to do here.
- Shaun Allen on Google
Aug 02, 2021
Nice quiet park! Again, they went out of their way to find us a RV site; let me explain, we have property in Cuba Missouri that has 50 amp electric, sewer, and water, but when we arrived, our electric wasn't working, and a electrician (a handful) couldn't work on it for at least 7 to 10 days, so we were stuck without electricity. The Stanton Koa found us a RV site for 2 days, yet we needed 9 days and the following night, they had a cancelation and saved us. We love the friendly service and the kindness they showed us in finding us a RV site.
- davidpP1784EO on Trip Advisor