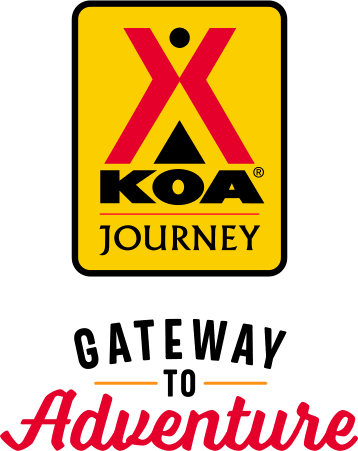 KOA Journey Campgrounds
KOA Journey campgrounds are the perfect oases after a day on the road. Whether it's along the way or a quick getaway, they've got you covered. Located near the highways and byways of North America with long Pull-thru RV Sites, they deliver convenience to the traveling camper. Pull in, ease back and take a load off.
KOA Journeys Feature:
Pull-through RV Sites with 50-amp service
Premium Tent Sites
Well lit after hours check-in service
Directions
Westbound on I-44: Exit 230, left 2 blocks. Eastbound on I-44: Exit 230, right 2 blocks.
GPS is not reliable in this area.  Your best option is to follow the directions given above.
Get Google Directions
Jul 26, 2021
Wish the pool was open later than 8:30
Jul 25, 2021
Very quiet and unpressured. We felt we could relax here after a long day on the road. The owners are friendly and helpful. We will stay again when we make our annual cross country trip.
Jul 25, 2021
Folks, very nice, kind! Outdoor sink by bathroom, no hot water for dish cleaning- unhealthy. Men's bathroom flooding under sink. Marginal water pressure in sink in bathroom. No paper towels. Hand blowers non functional. A bit neglected overall. Store had some empty shelves.
Jul 24, 2021
The care takers are awesome and accommodating. We stayed for 15 days while waiting to closing on our new home. We felt safe, enjoyed the beauty around, played in the pool (a lot!), and explored the area. Their food services are great. Laundry facilities and bathrooms are clean. Grounds are very well kept. Thanks for a lovely stay.
Jul 24, 2021
We had a nice 3 day stay. The pool could have been a little cleaner, but overall it was good. We lost power each night that we were there for a short period of time. I don't know if it is the power company or the park. The owners are friendly and were working to keep the campground in good shape.
Jul 22, 2021
Very pleasant experience - nice people - clean pretty campground. We'll be back!
Jul 20, 2021
Everyone we met was friendly, the site was level, very close to Meramec Caverns, and the food was very tasty.
Jul 20, 2021
Super friendly owners! Would definitely recommend
Jul 18, 2021
Basic KOA in good central location only 2 miles from Meramac Caverns. Nice food service options and very nice hosts.
Jul 18, 2021
The kamp was very clean and the restrooms were very nice and the Landry room was great clean and Ac also they make food and will bring it to your camp site
Jul 16, 2021
Nice location, quiet in the camping cabin.
Jul 16, 2021
Very nice ! Exceptional for a KOA Journey
Jul 14, 2021
nice, clean & easy in and out ordered pulled pork very good, the owners are frendly and helpful great for a one night stay on your way.
Jul 14, 2021
We were only there for 1 night....just passing thru. The small park was clean and well maintained. The staff at checkin were very friendly and accommodation. We will stop here again as we take a yearly trip to Illinois.
Jul 13, 2021
Its beautiful, clean and the food from their cafe was delicious.
Jul 12, 2021
great nice place owners where very friendly
Jul 11, 2021
This KOA campground is one of the smaller campgrounds that I've ever stayed at. But it's large for maneuvering the longer campers. It doesn't take away the courteous and polite staff. It has all the same amenities as the larger grounds and it is very well kept. It's only minutes from the attractions and restaurants. This is one of those to tell my family and friends about.
Jul 11, 2021
Blaring stereo music and yelling conversations, as well as fireworks set off, all after quiet hours. No staff present to take action.
Jul 10, 2021
Small friendly campground. Nice size sites with plenty of room for our Class A. Very clean and staff were friendly.. Close to Meramac Caverns and State Park.
Jul 09, 2021
Small sized park but nice stay
Jul 09, 2021
Owners were so very helpful. Place was super clean . Overall EXCELLENT!!!!!!!!!!
Jul 08, 2021
All gravel, no trees, an empty store, no recycling bins. Very disappointing.
Jul 07, 2021
Great place to stay. Very clean ... very quiet. The dogs loved the K-9 Kamp....perfect after being on the road all day long!
Jul 07, 2021
WONDERFUL PLACE TO STAY. LOVE THEIR BIG AND ROOMY K-9 KAMP AREA. THE DOGS LOVE BEING OFF LEASE AFTER A DAY ON THE ROAD. EVERYTHING IS CLEAN AND TIDY.
Jul 07, 2021
It is a very nice park. Everyone was very nice and helpful.
Jul 07, 2021
Clean Barb and Dan are great people who run it.
Jul 06, 2021
It was super nice!! We enjoyed the clean pool and the morning coffee�� It was quiet and our dogs enjoyed having a nice fenced dig run.
Jul 06, 2021
Great place to camp and close to everything- Meramec State Park, Meramec Caverns, etc. We will book again!
Jul 06, 2021
The Cabins we stayed in were clean and ready when we arrived early. We had a large group that booked 6 cabins. The only down side of anything was that the price is quite high for the small size of the cabins. Other than that we had a great float trip. The people that run the campground were very strict with the quite hours and repeated it to our group at check in many times. :)
Jul 05, 2021
Always has been great and clean. The owners very courteous and full of information for first timers and return visits.
Jul 03, 2021
Campground is quiet and good place for over night stay. Bathrooms need updates, but we're clean.
Jun 30, 2021
Clean and safe..too many trees and low.. not big rig friendly...appears to have alot of full timers...tight turns for a 40 footer towing... no signage from the freeway off ramps like most..and signs to the park from the street are hard to see to turn into.
Jun 30, 2021
Beautiful location. Spacious sites. Awesome staff. Thank you!!
Jun 29, 2021
Excellent overnight stop, sites are level & if you don't feel like cooking, the baby back ribs are very good.
Jun 28, 2021
We really enjoyed it. A nice friendly couple greeted, visited, and gave us suggestions on where to eat. We had a nice site. The site length wasn't real long, but there was grass on both sides and a nice picnic table. Also there was a nice pool which we would have liked to tried, but since it was our anniversary, we went out to eat at the Mexican restaurant they suggested (so good). Thanks!
Jun 28, 2021
cabin was very clean and just what I needed for a good nights sleep. Staff very nice.
Jun 28, 2021
Nice campground. Nice level site. Staff friendly and helpful.
Jun 27, 2021
Super clean and very helpful people
Jun 26, 2021
Clean KOA and very friendly owners. Sites are narrow (old School), but lengths good for most large units.
Jun 25, 2021
Great amenities and loved the Shady grounds.
Jul 26, 2021
Very nice with great hosts!
- Paul Michael on Google
Jul 05, 2021
I was traveling thru and wanted a place with a pool outside! I stayed in a cute cottage. (Luckily I had bedding packed so this worked for me!) I can't wait to stop thru again!
- Amy Anaya on Google
Jun 01, 2021
Very clean and quiet. The people who own it are very polite and helpfull.
- Karen Kirkendall on Google