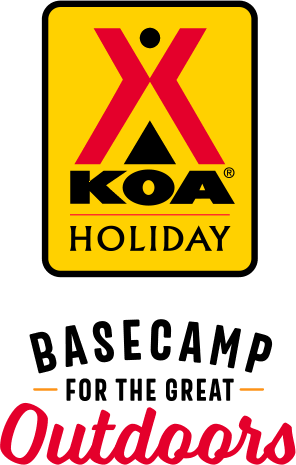 KOA Holiday Campgrounds
Whether you're exploring the local area or hanging out at the campground, KOA Holidays are an ideal place to relax and play. There's plenty to do, with amenities and services to make your stay memorable. Plus, you'll enjoy the outdoor experience with upgraded RV Sites with KOA Patio® and Deluxe Cabins with full baths for camping in comfort. Bring your family, bring your friends, or bring the whole group – there's plenty of ways to stay and explore.
KOA Holidays Feature:
RV Sites with a KOA Patio®
Deluxe Cabins with full baths
Premium Tent Sites
Group meeting facilities
Directions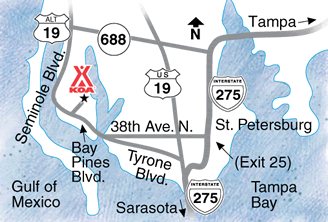 From I-275, Exit 38th Ave N (Exit 25). Go west 5.5 miles, veer right onto Tyrone Blvd (Bay Pines). Move to center lane and go 1.5 miles to 95th St N (Second traffic light). Turn right, go 1/2 mile.
You must call our front desk for the availability of pet friendly lodging. There is a  non-refundable pet fee/per pet
Check in time is 3:00 and Check out is 11:00 am
FREE BASIC WI-FI
Get Google Directions
Jan 26, 2021
It is a very nice clean place. The sites are to close making it noisy. It is WAY overpriced.
Jan 26, 2021
Staff and visitors all very friendly. Enjoyed the bike trail daily to walk the dogs. Very clean laundry room and bathhouse. Enjoyed the pool and 2 hot tubs. One hot tub was a very nice adults only area and much quieter than the other. Lots of activities there reasonably priced along with the camp store. We will be returning!
Jan 25, 2021
Very friendly
Jan 25, 2021
I'll begin with I only rated this as a 4 because there's always room for improvement. There isn't enough characters to tell all that's good and the few things that needs improvement. Everyone was very nice and helpful. Our site (DW48) was nice with a great view and we already scheduled a week in the summer to come back. So we'll see how this site is in the summer and looking forward to
Jan 25, 2021
only complaint was the pretty spotty wifi ..
Jan 25, 2021
It was relaxing as always, super great staff,outstanding customer service. Would highly recommend this koa st-pete/maderia beach.
Jan 25, 2021
The campgrounds were well kept and staff was friendly. However, there were several loud parties that ruined the entire atmosphere. Definitely a shame that the blasting of loud music is allowed!!! Once quiet hours started the stay was much more enjoyable- too bad the rest of the day wasn't like that!!
Jan 24, 2021
Friendly and helpful staff
Jan 24, 2021
Very nice campground. Traffic in the area is pretty intense but it is a big city.
Jan 24, 2021
This KOA is our home away from home in January. After relocating from DW30 to 641, our stay was amazing! We love the heated pool & hot tubs. Bathrooms are modern and clean. Wifi is good. Due to this campground's location, we were able to do many things in the surrounding areas. We love the community atmosphere here & really enjoyed the dance party on our last night. Already booked for next year!
Jan 23, 2021
Loved our stay and our site right on the river. Already have made reservations to come back later on this year!
Jan 23, 2021
Horrible park. Everything is too tight and way overpriced. You can tell it is company owned. Trying to get every penny that you can
Jan 21, 2021
Awesome campground. The sites are a little close together but that's ok because all the amenities and wonderful staff made up for it. Would definitely be back again!
Jan 21, 2021
Great place to camp with the family
Jan 21, 2021
Beautiful and peaceful place to stay.
Jan 21, 2021
All the staff were helpful and kind. The facilities were very clean. The cabin we rented was well kept and extremely clean. There were many amenities available for use. We had a wonderful time during our stay and can't wait to go again!
Jan 20, 2021
Very large well maintained campground. Staff was great. We had a beautiful waterfront site and really enjoyed our stay.
Jan 20, 2021
Loved the park and its location. The staff is efficient and friendly. We will be back!
Jan 20, 2021
All good! Nice place, cabin was clean and well maintained. Staff was friendly and check-in was quick and easy. Firewood was inxpensive and quickly delivered to our cabin. Our third stay here and always enjoy it
Jan 20, 2021
The lots on the Bayou provide plenty of room and nice view. I would stay there again. Thank You
Jan 20, 2021
We had a wonderful stay. The campground was lively, but yet we felt secluded and enjoyed our own space. The boat ramp and floating dock were great! Would highly recommend KOA St. Pete/Madeira to anyone looking for a fun place to stay in Florida.
Jan 20, 2021
Amazing camp ground!! Clean and friendly! We definitely will be back!
Jan 19, 2021
Plenty of activities, central location, friendly people, friendly staff, the grounds and facilities extremely well maintained. The campsites are a little tight. Every morning around the staff was out with blowers cleaning leaves and such so not a great place to "sleep in".
Jan 19, 2021
We had a wonderful time.
Jan 19, 2021
Sites were too close. And the sewerage was too narrow. Said some one would come and they never did. Thank hid it was only one night. Never had any sewerage issues at all the other koa or rv parks.
Jan 19, 2021
I have never had any issues. I have made this one of my favorite spots to stay. Going back in November. People are friendly, staff is friendly and helpful. Our dog also loves going there and meeting other dogs. The store is very clean and well stocked.
Jan 19, 2021
We stayed here for a week, exploring the St. Petersburg and Tampa areas. Our campsite was on the southern side, right by the water, and was very quiet. The staff was very friendly, always waving and saying hello. The location of the campground is great for exploring. Highly recommend!
Jan 19, 2021
Very Clean and friendly people
Jan 19, 2021
I had a cabin. The shower temp was just warm. I had the tech come down and he said he was unable to fix it but it would be fixed the next day. It wasn't
Jan 19, 2021
Let us try 3 spaces but all 3 were very tight seems like the only real good sites are back in along the lake rest are very small
Jan 19, 2021
Great service and great amenities however the sites were way TOO close to each other.
Jan 19, 2021
We love this place & have come back for the 2nd year in a row. We had to relocate as we booked a water site & were placed right next to the kayak launch in DW30. This spot shouldn't be a camp site. The constant noise & traffic from other campers & staff makes it a very public spot. There should be a high privacy fence on the right side of the gazebo & nobody should ever be in that space.
Jan 19, 2021
The only thing I would say negative was the price is a bit high.
Jan 19, 2021
Very crowded but the staff was EXCELLENT. I had questions and they could not have been more helpful! I would recommed for that reason alone.
Jan 18, 2021
I would have given a 10 and a 5, because it was a lovely stay with the exception of super cold showers. Even with letting the shower run for 10 min it still did not become hot. (Showers in restroom next to adult hot tub). Other than than beautiful site, and great staff.
Jan 18, 2021
Had a wonderful time; HOWEVER upon leaving I did not turn when i should have because there was no exit sign sending me to the dead end and we had to un-hook to turn-around and re-hook up. would be nice if there was a exit sign with an arrow showing me the way to leave the campground instead of sending me to the dead end and lots of problems
Jan 18, 2021
Excellent place to visit and relax. Lots to do! Going back for a week next time real soon!
Jan 18, 2021
Staff was very friendly and helpful!! Nice location for riding bikes along the pinellas trail!!