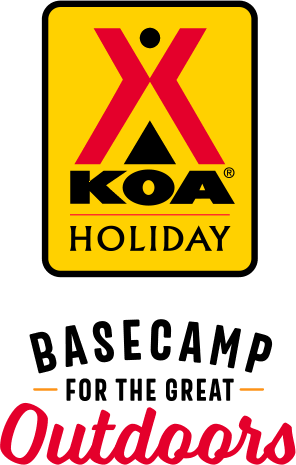 KOA Holiday Campgrounds
Whether you're exploring the local area or hanging out at the campground, KOA Holidays are an ideal place to relax and play. There's plenty to do, with amenities and services to make your stay memorable. Plus, you'll enjoy the outdoor experience with upgraded RV Sites with KOA Patio® and Deluxe Cabins with full baths for camping in comfort. Bring your family, bring your friends, or bring the whole group – there's plenty of ways to stay and explore.
KOA Holidays Feature:
RV Sites with a KOA Patio®
Deluxe Cabins with full baths
Premium Tent Sites
Group meeting facilities
Directions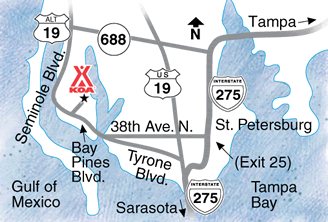 From I-275, Exit 38th Ave N (Exit 25). Go west 5.5 miles, veer right onto Tyrone Blvd (Bay Pines). Move to center lane and go 1.5 miles to 95th St N (Second traffic light). Turn right, go 1/2 mile.
You must call our front desk for the availability of pet friendly lodging. There is a  non-refundable pet fee/per pet
Check in time is 3:00 and Check out is 11:00 am
FREE BASIC WI-FI
Get Google Directions
Feb 19, 2021
Great location! Bathrooms very clean. Bike trails a plus.
Feb 19, 2021
We were in site 622, a small tight spot with a crumbling pad. For the cost the reservation we were expecting more. We weren't able to use any of the facilities since we were in the area on family business.
Feb 19, 2021
Excellent grounds and amenities! Service was phenomenal!
Feb 19, 2021
Staff is friendly and helpful facilities are kept clean. Upkeep on the building is great.
Feb 18, 2021
Staff is always friendly, helpful, and responsive. Internet in the cabins is horrible and never gets any better from year to year. Cabins are cozy and well-maintained. Great location, on the water and the Pinellas Trail. My winter home away from home!
Feb 18, 2021
great visit looking forward to next year
Feb 18, 2021
Great place, employees are constantly cleaning the restrooms and the grounds.
Feb 18, 2021
Great place. Close to food, shopping, and bike trail.
Feb 17, 2021
Beautiful campground. Well maintained and lots of amenities
Feb 17, 2021
Very enjoyable. Nice spacing in between rigs. We had a site that gave us a view of the bayou which was great. Early morning 8am, work on one of the cabins behind us was noisy but necessary, I'm sure. We will come back.
Feb 17, 2021
Good times with good friends at a beautiful campground. We enjoy every visit.
Feb 17, 2021
Susan was friendly and gave us lots of ideas of places to visit. Bubba helped get our TV working in time for the Super Bowl. JD brought us a fire pit that was safe. Everyone was so helpful. The facilities were clean and well cared for. The sites were clean. Workers led us to our site and helped us park our RV. Warm swimming pool and great hot tub. All workers wore masks—thank you. A terrific pla
Feb 17, 2021
When we come back and not in our Blazing star group we would like site dw39.
Feb 16, 2021
Always enjoy our stay. So much to do there and in the area. LOVE playing pickle ball every morning. Could definitely use a second court!!
Feb 16, 2021
Clean, super friendly and helpful staff, fantastic location right on the Pinellas trail! Easy trip to the beach or downtown St Pete. Can't wait to go back
Feb 16, 2021
Beautiful cabin!!
Feb 16, 2021
Staff was friendly and helpful, it would be nice if there were more activities such as bingo and other things to do on the campground while we stayed, and if what activities there were better post it around the campground so people would know what was going on.
Feb 16, 2021
The place is packed, but not so much so that it's annoying in any way. The staff was awesome and the facilities are nice &clean. Grass/Sand pads, so plan accordingly. Felt super secure and located next to a walking/biking trail that goes for miles. Highly recommend.
Feb 15, 2021
Very friendly staff, and camp kept clean. Would like to see a pet wash area in the future.
Feb 15, 2021
Very uneventful and peaceful time. Staff is great
Feb 15, 2021
They help with lovely and friendly.Everything is always clean never dirty. I will come back anytime.
Feb 15, 2021
I tent camped with no hook ups with my son. It was great. Clean bathrooms, private.
Feb 15, 2021
Wonderful cabin.
Feb 14, 2021
Staff very nice. Clean nice pool, well maintained. I would love to see concrete pads at sites if possible. Close to attractions, groceries. Will be returning.
Feb 14, 2021
Nice place. Lots of help! Pricey but typical for the area.
Feb 13, 2021
Short stay, but staff and residents were super helpful and friendly. The Maderia beach that is close by was wonderful.
Feb 13, 2021
Great place to stay! Grounds are clean and we'll maintained. All staff members are friendly and helpful. Great location! Fifteen minutes will get you to the beach, with plenty of good parking options. Will definitely be back again.
Feb 11, 2021
Great stay from start to finish. The campground has a very nice park feel with lots of ammenities. The waterfront sites are especially great. I really appreciate the guide service to get parked--very helpful!
Feb 11, 2021
Clean cabin, great for families or retirees! Will definitely be back!
Feb 10, 2021
Outstanding facility and super friendly staff! Our back-in full service patio site was level and a short walk from either bath house. Rec Center was re-opening in February just as we were leaving. Very active KOA with lots going on. Only downside was the Wi-Fi at our spot (DW-19) was very weak and not usable. We will definitely return when visiting St. Pete in the future!
Feb 10, 2021
Everything but the Super Bowl outcome!
Feb 10, 2021
Very clean campground and the employees are so kind
Feb 10, 2021
Very nice, clean, friendly staff
Feb 09, 2021
The staff are always friendly and helpful, always clean and orderly, location is great. Easy access to stores and restaurants . Best for us is near to family.
Feb 09, 2021
We love your campground. This time our spot was closer to heart of things. Near the hot tub, pickle ball court and volleyball court. We could hear the live music from our spot and were right across from the food truck. It was great. We met so many nice people and picked up a new hobby, pickleball. You need a second pickleball court. People were always waiting to play. Not many playing shuffle bl
Feb 09, 2021
The park needs a few more bathrooms. Not showers just toilets
Feb 09, 2021
Only two critiques: Very small/tight space and continuous acorns dropping. Loved the views and quiet park. A little expensive
Feb 09, 2021
It's located in an comercial area but you completely forget about it ones you are inside. We just stayed for one night I wish we had more time to enjoy it. Friendly staff fun place to be.
Feb 08, 2021
Beautiful location on the bayou. Staff friendly and responsive. Pinellas trail at entrance so biking is a dream, and a rare florida resort off the highway where you dont hear the drag racing every light change. However, we cant come back. Internet was non-existant. They actually block your wineguard if you have one. Your lucky if you can check email. Not enough places to walk your dog.
Feb 08, 2021
The grounds the sites the amenities and the staff all 10's