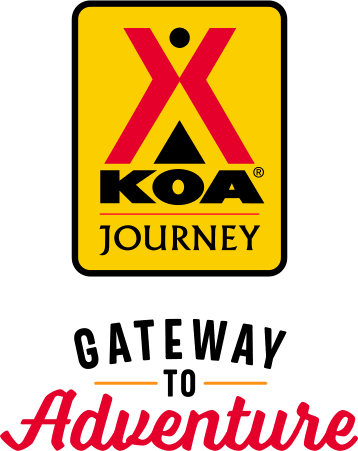 KOA Journey Campgrounds
KOA Journey campgrounds are the perfect oases after a day on the road. Whether it's along the way or a quick getaway, they've got you covered. Located near the highways and byways of North America with long Pull-thru RV Sites, they deliver convenience to the traveling camper. Pull in, ease back and take a load off.
KOA Journeys Feature:
Pull-through RV Sites with 50-amp service
Premium Tent Sites
Well lit after hours check-in service
Directions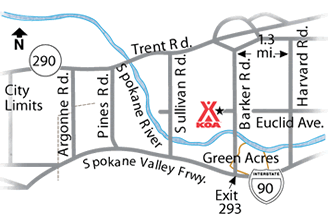 SPOKANE KOA is located in Spokane Valley, WA approximately 10 miles east of Spokane City Center and 6 miles west of the Washington / Idaho State line.
FROM I-90: Take Exit 293 / Barker Road.  Head north approximately 1.5 miles.  KOA will be on your left.
WE ARE ON PACIFIC DAYLIGHT TIME
Get Google Directions
Sep 24, 2021
Beautiful site. Property very well maintained. Staff extremely accommodating and pleasant.
Sep 24, 2021
There was only one bathroom/shower and it was a long walk away. There was a problem with the WiFi so we were never able to use it.
CAMPGROUND RESPONSE / COMMENTS:
We are so sorry you didn't notice the large set of restrooms and showers located on your map in the middle of the park. Also, no has reported any issues with our WIFI and we tested it and it is working perfectly. Many times security settings on your equipment need adjusting.
Sep 23, 2021
Grounds were well kept and attractive,, but the train noise all night was very bad. Also unable to get reception for calls during afternoon and so unable to social distance and had to ho into office.
Sep 22, 2021
Space was clean & level, though a bit short for our RV & tow vehicle. Stayed 2 nights. Close to railroad tracks, with fairly frequent trains passing by, & using their loud horns, since the park is close to a railroad crossing intersection. This was our 3rd visit this year, so it is very tolerable.
Sep 22, 2021
Good like usual!!
Sep 22, 2021
Needed help with some important papers, they were completely helpful. Clean and tidy campground.
Sep 22, 2021
There are lots of RV park choices so it is important to provide what is promised on your website as well as on the readerboard inside the office. We wanted to play pickleball but were told that we could not move the net from vollyball position to pickleball position. The weather was fantastic and the court was unused. This "small" decision sure left a bad taste in our mouths.
Sep 21, 2021
Shower and curtain were moldy. Loud train runs by. Internet didn't work.
Sep 21, 2021
No comments really as have stayed at the park before. Only negative is the closeness of the park near a railroad tracks with the trains running during the night when trying to sleep. Nice and quiet for the most part!
Sep 21, 2021
Again, an excellent KOA. Will stay there again. Maybe their internet connection will be fixed by then.
Sep 21, 2021
The receptionist was very kind on a rainy evening to give me a slight upgrade to a pull-through site so I didn't have to back my van in. That made a great impression on me as it was simply a nice thing to do. I stayed at this KOA 8 days before on my outbound trip and liked it so much that I stayed again on the return trip. I'm sure I'll stay again someday! Thank you very much.
Sep 21, 2021
Loved the little extra touches. Wood carving, fountains, outdoor games, checking cozy and free lentils. Nice clean park. Love the light lavender color in the women's bathroom. Would stay again. Trains are a little louder than most parks but didn't bother me and they have ear plugs at the desk if you want them.
Sep 20, 2021
Staff is very friendly and the park was clean and well kept.
Sep 20, 2021
8 day stay. Clean, easy on off from the freeway.
Sep 19, 2021
Great spot not far from I-90. Fairly easy access to Centennial Trail for jogging/biking. No restaurants within walking distance (a little surprising given the relatively urban location). Very tidy and nicely landscaped.
Sep 19, 2021
Very clean and close to the family that we were visiting
Sep 19, 2021
could not get anyone on phone for several times so went on line for reservation, when there they say no reservation as online doesnt work well, put us through 3rd degree as to why reservation didn't work ,like we were stupid ,then after all this they have a site.very disrespectful and then listen to freeway and train all night,..ask your self if your woulf stay there truley gary boldt
Sep 18, 2021
Beautiful grounds; clean with lots of nice flowers and green grass! Lovingly maintained by the owners! We love this place, and stay here often.
Sep 18, 2021
We love this place!!
Sep 18, 2021
This was our second time at Spokane KOA. The staff is super helpful. The place is very clean and well-maintained. I would have given it five stars once again except for the tenter next to us, who was plugged in and had his tv on LOUDLY until late at night and again early the next morning. Still, we'll stop here again (and hope he's gone!). Thanks for a clean, well-run campground!
Sep 18, 2021
Restricted video streaming on WIFI. Needs to upgrade network.
Sep 18, 2021
Very nice place to stay and easy to find. My rating would have been a 5 but very slow or non-existent wifi was a problem. I do a lot of online searching for my business and fell behind for the time we were there.
Sep 18, 2021
Well maintained, nice large sites, away from the city, and very nice dog park.
Sep 18, 2021
Stayed for two nights at this little koa. The grounds were clean and bathrooms were clean. Corrina the front desk girl was courteous and helpful. It's close to Spokane river trail. Biggest drawback is it's proximity to the train tracks.
Sep 17, 2021
We stayed here twice during out trip and this was the second. The campground is really nice and clean but the staff needs work. I tried to check in 1 hour early and the woman at the desk was snotty and wouldn't help us. I asked where we could park our 38' RV to wait and she only wanted to send us somewhere we didn't want to go. We had had a bad day with the RV and she made it worse. Not Happy!
Sep 17, 2021
Front office staff very friendly. Park grounds were tidy. Nice tall trees for shade.
Sep 17, 2021
We have stayed with you several times. It's always great!
Sep 16, 2021
WiFi and cable not very good.
Sep 16, 2021
We have stayed here every summer for a couple of weeks over the past ten years. It is a good campground—close to shopping and the interstate. Laundry facilities are adequate—new dryers this year. There is a railroad crossing very close and the horn is loud, but it has never been a deterrent for us.
Sep 15, 2021
Friendly staff, clean campground, easy pull in and out.
Sep 15, 2021
I was surprised to find a KOA in "town." We were on our way home from Glacier, NP and were unsure where to stay. I opened up the KOA app and found this location right on our path. The grounds were really nice and you could tell, well maintained. The bathrooms were clean. I didn't use the shower or pool facilities, but did take a peek and would surely feel comfortable to use them in the future.
Sep 15, 2021
Great and easy, just the way we like it.
Sep 15, 2021
We just stopped for the night and left early in am
Sep 14, 2021
Basically I was there on'y in the evening as I was with family who live in the area during the day. Had very nice neighbors, the bath house was very clean, fun area for the dogs, very friendly people in the office, too. Thank you so much.
Sep 14, 2021
Nice park. Wish it had a shower wand in the handicapped shower!
Sep 13, 2021
Great office staff and large clean pull through site.
Sep 13, 2021
Very clean KOA. Check in was fantastic. The only draw back was the train. We ran a fan to drown the whistle. It helped a little
Sep 13, 2021
Restrooms were really clean, staff very helpful and friendly. The only drawback was the sites were small and cramped.
Sep 18, 2021
Nice place. Nice people, very friendly and helpful. Good price rates as well.
- Scott Blakesley on Google
Sep 14, 2021
Nice campground, great dog park. Close to trains
- K M on Google
Sep 10, 2021
Very nice park only could stay one night without paying more - KOA needs to learn from the hotel industry that any rate is better than letting a site sit empty - a VIP member especially We camped at Spokane KOA Journey in a Motorhome.
- Retiredbeanctr on Trip Advisor