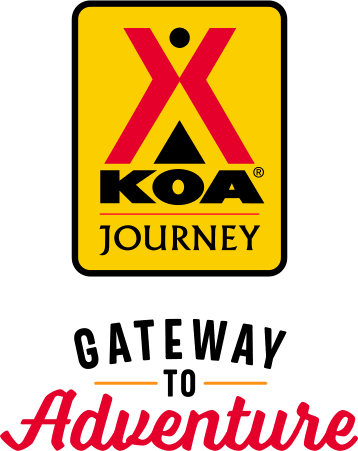 KOA Journey Campgrounds
KOA Journey campgrounds are the perfect oases after a day on the road. Whether it's along the way or a quick getaway, they've got you covered. Located near the highways and byways of North America with long Pull-thru RV Sites, they deliver convenience to the traveling camper. Pull in, ease back and take a load off.
KOA Journeys Feature:
Pull-through RV Sites with 50-amp service
Premium Tent Sites
Well lit after hours check-in service
Directions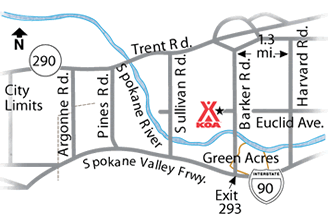 SPOKANE KOA is located in Spokane Valley, WA approximately 10 miles east of Spokane City Center and 6 miles west of the Washington / Idaho State line.
FROM I-90: Take Exit 293 / Barker Road.  Head north approximately 1.5 miles.  KOA will be on your left.
WE ARE ON PACIFIC DAYLIGHT TIME
Get Google Directions
Apr 06, 2021
Very nice campground with a lot of accomodations. Very very nice staff!
Apr 06, 2021
Quiet time and parking rules not enforced. Reserved spots not honored.
CAMPGROUND RESPONSE / COMMENTS:
We are sorry we were not able to get you the exact site you requested, as another Camper had already registered there. Site requests are honored when possible, but are never guaranteed. We hope you enjoyed your free site upgrade, as you reserved a less expensive site than the one requested.
Apr 04, 2021
I would rate as 5 with exception of train noise and road construction making access difficult. James, in front office, is awesome! I will be back!
CAMPGROUND RESPONSE / COMMENTS:
If only we could control the train, the county doing construction and the weather, we would get great reviews.
Apr 03, 2021
This is my second stay here - in fact, we had the same space last time. Overall, I really like this location, and I may be the odd one, but I love the trains. What I don't like is the dust, much of which is aggravated by people driving too fast. I went for a walk, and was passed by someone at a long-stay trailer. He had to be doing 20-25 mph easy. It may be time for speed bumps.
Apr 02, 2021
Clean campsite. Nice patios.
Apr 01, 2021
The campground is clean and staff was very friendly!
Mar 31, 2021
I love it here! The owners are very nice and keep a tidy park. Laundry room very clean. I love trains so enjoyed them going by.
Mar 31, 2021
Just picked up our new RV that day and came to stay nearby the dealer while using it for the first time. Spent a second night for fun.
Mar 31, 2021
Nice park, I'm giving it a 4 due to the train noise.
Mar 30, 2021
We enjoyed our stay at the Spokane KOA. The owners were very accommodating and even let us change the date of our stay due to a medical appointment. We had a very nice patio site which we would have really enjoyed if the weather had been nicer. We will definitely stay there again when we are in the area.
Mar 27, 2021
Overall good stay. Love the accommodations and cleanliness of site. Train kept some of us up. Also think there was a surge in the power or a loose/open neutral on the park power which fried our electric panel. Will be installing a surge protector as part of the fix. Just happy no one was hurt.
Mar 24, 2021
Everything was lovely - thank you
Mar 22, 2021
The campground is very well kept up and clean. The staff was friendly and helpful.
Mar 21, 2021
Worked for what we needed it to. The main reason I would not recommend this KOA is the constant train noise at night. I know that KOA cannot do anything about that... however the trains woke us up almost every 1-2 hours. The staff running the KOA were helpful. The park was easy to use, clean and easy to get in and out of and I really like their dog park.
Mar 19, 2021
Despite the road construction at the entrance, the park was very organized & the staff very hospitable. This was at least our 4th visit, and the improvements are pleasing. Appears to be a significant amount of "permanent residents", who are quiet & polite, also.
Mar 17, 2021
Nice park. They are always updating and making it more enjoyable to stay there. Stay is friendly and helpful
Mar 17, 2021
There is no signage to make it easy to get to the KOA. Roads shut down due to road construction. It has been this way for a year. May not be finished till end of December?? Very hard to get to!! Hookups NOT convenient for trailers as they are up front. Staying one night? You must unhook and hook back up in the morning.
CAMPGROUND RESPONSE / COMMENTS:
We are frustrated with the road construction as well. However we have zero control over it and that is why instructions to get here are an ALERT on the very front page of our website. The premium site you were in has hookups right in the center of the site so we are unsure why you had trouble?
Mar 11, 2021
The campground was well-kept and the staff was very nice. Thru no fault of the management, they in the midst of a road construction project with a confusing detour. Otherwise, they would have top ratings.
Mar 08, 2021
Great grounds, clean and well kept
Mar 04, 2021
Third or 4th time we stayed there. We will be coming back again some day.
Mar 03, 2021
very hard to get to because of the road construction.
Feb 20, 2021
Thank you Bill, we appreciate all that you did to help us under severe weather conditions.
Feb 09, 2021
Highly recommend.
Feb 08, 2021
Clean facilities, clean grounds. Nice level sites
Feb 03, 2021
I stayed for a month and 4 days, laundry was nice and lots of machines and clean. Nice pull thru sites. Owners very welcoming and nice.
Feb 01, 2021
Great campground with great owners! It's our little get away place.
CAMPGROUND RESPONSE / COMMENTS:
Thank you for visiting us again! We appreciate your business and can't wait to host you again!
Jan 21, 2021
Great staff and the park looks like a lot of work is being done to keep making it better. The wood carvings and the massive new fence is going to are so cool. It's going to look like a wilderness fort!! Would definitely stay again.
Jan 19, 2021
Online booking process was seamless. Grounds were clean, tidy and well maintained. We definitely will return in the summer months when we can enjoy the outdoor amenities more. Lovely campgrounds! Would definitely recommend.
Jan 07, 2021
We recently stayed couple weeks at this quiet well run campground. Bill gave us the best rate and choice of campsites to fit our needs. Pull through site was level, it easily accommodated our 31 foot travel trailer and truck. The cable TV and WiFi worked great. Campground was clean and well cared for, attractive, many improvements being added, laundry facility great condition. Recommend!
CAMPGROUND RESPONSE / COMMENTS:
Thank you for staying with us! We are so happy you enjoyed your stay!
Dec 23, 2020
All was good till 1am when a pickup pull in and ran his engine at high Rpms think he was home less had cardboard over window . Made us very comfortable.
CAMPGROUND RESPONSE / COMMENTS:
We are sorry to hear that another camper disrupted your evening. The vehicle described was actually visiting a Camper that was here for Christmas. Midnight security check did not report any disturbances. We apologize for a visitor disturbing your stay.
Dec 09, 2020
the host is very kind and helpfull. He suggested ways to make our stay more economical. My only suggestion would be more handicapped rails in office building shower and a real bench instead of a folding chair. great place and good service
Dec 08, 2020
Wonderful stay! Such nice and helpful people. Very clean and well-maintained spot. Best campground on our entire x-country trip!
Nov 30, 2020
Clean dog area and very friendly people..I was also able to check in late and also received the same care.
Nov 30, 2020
Very friendly staff...clean facilities....great location.
Nov 17, 2020
Best KOA we've ever stayed at. Sites are well maintained, level, and the owners obviously love the facility. Great store! We needed up staying a week instead of just one night because we were so pleased.
Nov 17, 2020
They place was great. Very clean, friendly staff. There is a train that can go through at night, but nothing that would stop me from staying again. I look forward to more stays in the future.
Nov 15, 2020
Very nice gentleman who even stayed late to help us set up water and buy firewood on very cold night!
Nov 14, 2020
It is a very nice setting with superb convenience for the business we had to conduct in Spokane over a two week period. However, there was a lot of truck traffic going by and the railroad trains ran the length of the property. We didn't mind the train whistles all night once we got used to them. We will stay there again due to the great location for our needs and the friendliness of the staff.
Nov 12, 2020
The staff was friendly on the phone. Our stay was during Covid and winter. The patio site was really lovely and well thought out
Nov 09, 2020
Friendly staff
Nov 09, 2020
Sharon is a gem and very accommodating and helpful. Bathrooms and showers are excellent and important when our RV's water froze amidst a blizzard!
Nov 04, 2020
It was a fine stay while we were thawing our from Bozeman's negative degree winter temps! Stayed for 2 weeks. Train was really loud but they are in the process of building a fence to reduce the noise. Our Yeti cooler was stolen while staying here which was a bummer. Employees were very nice.
Apr 01, 2021
A wonderful campground!
- Sally Foli on Google
Feb 25, 2021
Beautiful and close to town minutes away from Idaho. Nice
- Jimmie Hoyt on Google
Feb 13, 2021
Bill (the person in charge) is really on top of things. They foster a respectful and laid back environment. Just moved to a new role as a system admin, and need internet for remote work. Internet is slow but dependable my wife likes the free cable as well. Bathrooms are always clean as well as the laundry room. Spokane KOA is located in a good and safe surrounding area. Our neighbors are also cool. Overall happy with the price of rent and the lot.
- Steven Spring on Google